What does it mean to be Blessed and Healthy? In this article I share my journey + the development of Blessed and Healthy, which came about after I experienced serious changes in 2020. I also explore Colossians 4: 2-6, the foundational verse of this blog.
If you're struggling and need bible verses to help you overcome your personal battles, be sure to check out this helpful category for bible references.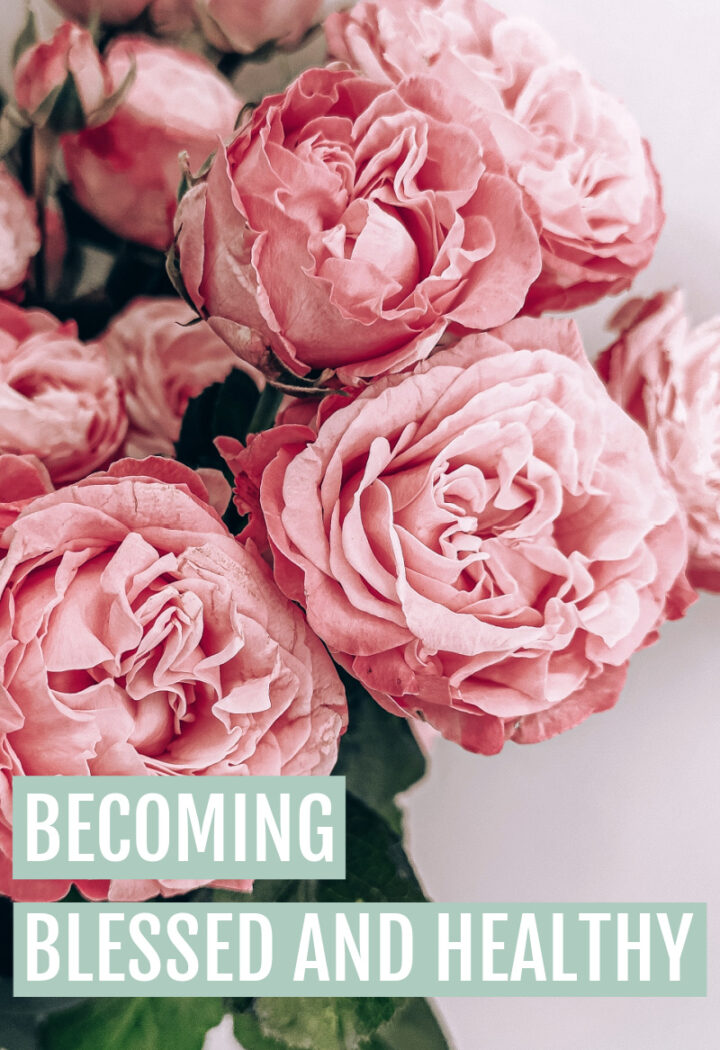 Jump to:
New wine old bottles
At the beginning of 2020, I never thought that by the end of the year I would be in church. Never.
I had, what I would call, an established blog that was growing. I spent countless hours creating recipes, posting on social media, and absorbing all I could about growing my food blog. I even spent most of the year self-publishing my own cookbook, pouring so much time and energy into the project that I barely had time to blink.
Not to mention that I was a full time mama and homeschooler, driving my kids everywhere I could to participate in school-related activities and working with my son on all his elementary studies.
It was…A LOT. And to be honest, my stress level was through the roof. I felt like I barely had enough time for anyone, especially myself. All hours of the day were spoken for, and my schedule was out-of-control packed from morning until night.
Then March, good old March happened. 2 weeks to "flatten the curve" we were told.
The abrupt stop to everything, I must admit, was an introvert's (and tired mom's) dream come true. I could then spend every waking moment permanently in my yoga pants with no makeup, plugging away at goals and commitments and priorities from the safety of my office or dining room chair.
But as you already know by now, this is not what happened. There is so much, TOO much to say about this particular time in our lives, and I don't have enough internet paper to do that.
So what I will say is that by the time we reached October, I was completely and utterly spent. Burnt out. Because even though I didn't have to leave the house anymore, I had started to feel like a prisoner in my own home. I was a slave to the computer and my desk, zoom calls, Facebook, and all things that are not reality.
And I realized that I had spent so much, TOO much time churning away at things that didn't really matter that much. I was depressed, and angry (at the world and myself), and a completely broken person. Because of all the events that transpired over that year (in the news and in my personal relationships), I felt completely disconnected with the majority of the people in my life, and I lost a lot of friendships.
Which made me even sadder, even angrier, and even more alone.
They say that hard times either strengthens your faith or deteriorates it. For me, even though I have always believed in God, I'd never actually picked up the bible in my adult life. Like most people, I had my assumptions and hangups, but never really gave God a chance.
But attending church, in this very dark period in my life, was a total game changer for me. I started feeling better, emotionally. I began building the foundation of my faith. I gained hope. And I realized that even though I was a broken person, God still loved me.
In fact, Jesus wasn't hanging out with the people that had it all together– he was with the broken people. The unloved people and the lost.
I had felt very lost for a long, long time, but 2020 is what made it spill out. It's like I had been trying to stuff all this baggage in a child-sized suitcase my entire life. The baggage always got bigger, but the suitcase stayed the same size. Even though I had tried counseling and different healing methods over the years, it always left me with more baggage and no resolutions. And I was tired of trying to stuff all my problems away, like dirty clothes. I was ready to start over, and rely on God to help me through.
The problem was, every time I came back to my blog, it started to feel off. I started struggling with who I was, and who I was becoming. And then I read this:
Matthew 9:17

17 Neither do men put new wine into old bottles: else the bottles break, and the wine runneth out, and the bottles perish: but they put new wine into new bottles, and both are preserved.
I realized that I was trying to put new wine into an old bottle. Everything I had worked for up to this point was a reflection of my old life and how I used to live. It didn't represent where I was, or where I wanted to go.
Leap of faith
I remember when God first started to nudge me about changing the direction of my blog. I was sitting in church, and we were listening to the story in Matthew, about Jesus calling his first disciples:
Matthew 4:18-20 NIV

18 As Jesus was walking beside the Sea of Galilee, he saw two brothers, Simon called Peter and his brother Andrew. They were casting a net into the lake, for they were fishermen. 19 "Come, follow me," Jesus said, "and I will send you out to fish for people." 20 At once they left their nets and followed him.
Listening to this story made me think deeply about abandoning a current job/situation/way of life to become a follower of Christ, without question. The boldness and TRUST that they had in following Jesus, even though they had no idea what he had planned. For me, as a listener sitting in the back row, it definitely had me reflecting on my own actions up to this moment.
Was I living my life for God? Am I willing to drop everything and become a follower of Christ? Can I place my trust in him and step out into something that is completely unknown to me?
Over the next few months, I continued to feel encouraged and nudged by God that my current "career" of food blogging wasn't entirely what he had in mind. Looking back, I had struggled (a lot) over the years with content creation, social media, brand building, and the mentality of "hustling". I was burned out.
The idea of leaving those struggles behind and following Jesus instead gave me a sense of peace. But when I thought about changing everything and doing a 180, I was also afraid. Would I be able to change the direction of my blog without serious repercussions? Would the audience I currently have be repelled by my decisions? And would I still share recipes????
But the verse that kept me grounded through all these uncertainties was this:
Philippians 4:13 KJV

I can do all things through Christ who strengtheneth me.

Over the next few months I prayed, almost daily, for God to change my heart and help me through this trial. I asked for clarity and wisdom to know where to go. And through this, I gained confidence in the fact that I was ready to change my current situation.
I wanted to talk more about what God has done in my life, because at one point, I needed to hear the same thing. And being able to share God's love, with his promises and mercies, became the driving point for this new blogging adventure.
Yes, I decided to continue sharing recipes because it's something I feel God still wants me to do. But I had a bigger picture now: it wasn't just about recipes, but more how you can live a healthy Christian life and really, truly know God.
And that felt good.
Becoming Blessed and Healthy
Let me tell you that I spend a lot, I mean A LOT of time thinking over the name.
I created pages and pages of notes, had a permanent tab open to the thesaurus, and drove my family insane by shooting off rounds of names I had scribbled down that day. Because changing the name was an extremely important decision to me– I wanted to be sure that whatever I changed it to, fully reflected where I was at in my life, and where I wanted to go.
I wish I could say that Blessed and Healthy came to me naturally, like it was sent down from heaven on a scroll and delivered by an angel, but it wasn't.
Instead, I came to this name kicking and screaming. I say that because even though I wanted to start sharing my testimony of faith, the thought of releasing control and allowing God to work through me was absolutely terrifying and uncomfortable. I could imagine myself continuing to share recipes (in a new light), but the image of sharing Jesus was…unknown to me, scary, and vulnerable.
Even so, time and time again, I kept coming back to Blessed and Healthy.
Blessed, because above all, I want to be in God's favor. And I think at the end of the day, we all want to see the blessings of God woven into our lives.
Healthy, because our body is God's temple and I want to be sure that I'm filling it with nourishing foods and words, so that I can be physically, mentally, and spiritually strong.
Matthew 5:3-10

3 Blessed are the poor in spirit: for theirs is the kingdom of heaven.

4 Blessed are they that mourn: for they shall be comforted.

5 Blessed are the meek: for they shall inherit the earth.

6 Blessed are they which do hunger and thirst after righteousness: for they shall be filled.

7 Blessed are the merciful: for they shall obtain mercy.

8 Blessed are the pure in heart: for they shall see God.

9 Blessed are the peacemakers: for they shall be called the children of God.

10 Blessed are they which are persecuted for righteousness' sake: for theirs is the kingdom of heaven.
Foundational verse
At the beginning of this process, I reached out to my pastor to ask him for advice on moving forward. I explained that God had laid it on my heart to change directions and live for him and not the internet.
He told me to spend time with God, pray about it, and ask God to show me what I needed in the bible. I would then essentially find my "foundational verse" and I could return to it again and again through this process.
Well, I read. And I read. I highlighted passages, wrote and researched verses. And while I got a lot out of that, it wasn't until very recently that I finally FOUND what I was looking for. The funny thing was, I wasn't looking for it when I found it.
It really just fell in my lap.
Colossians 4:2-6

2 Devote yourselves to prayer, being watchful and thankful. 3 And pray for us, too, that God may open a door for our message, so that we may proclaim the mystery of Christ, for which I am in chains. 4 Pray that I may proclaim it clearly, as I should. 5 Be wise in the way you act toward outsiders; make the most of every opportunity. 6 Let your conversation be always full of grace, seasoned with salt, so that you may know how to answer everyone.
I knew from the moment I read this verse that it was MY verse. I immediately wrote it down and kept it on my desk, and I look at it every time I sit down to write.
The goal then for Blessed and Healthy is that we aim to be full of grace and seasoned with salt. But what does that mean?
Seasoned with salt
Salt is very important in the bible. It has been used many times throughout the old and new testaments. Salt was used in preservation of meats, in sacrifices, and it was an expensive spice, making it highly valued.
When we think of "seasoned with salt," the first thing that can come to mind is seasoning a plate of food. After all, a meal can be pretty bland without a good hit of salt on top. Salt does not alter the flavor but brings the flavors of the dish to life.
There is a lot to say about the meaning of salt in the bible, but the concept of being "seasoned with salt" is really about communication and how we speak to others.
Seasoning our conversations (and our words) with salt means that we bring flavor to what we say and how we say it, just as we would a plate of food.
Because let's be honest: no one enjoys a bland, going-nowhere conversation.
Have you ever been stuck in a conversation you wish you could escape from? And instead of listening to the speaker, you're thinking of how you can end this painful interaction asap (exit stage left)? There's nothing worse than nodding your head along to a dialog that is completely pointless.
Basically, I don't want this blog to be completely pointless. And I don't want our lives to be pointless either, going absolutely nowhere.
That's where the salt comes in, and there's a lesson for all. When we speak to others, let our words be flavored with spirit, gusto, wit, purity, and kindness. Let us be wise in how we share our faith, not being judgmental about where others are on their path, but encouraging and guiding. As with faith, I also want to respect where you're at with food too (you can check out my Food Philosophy page for more on that though).
That is where I want Blessed and Healthy to be, and essentially what it is to be about.
Sharing God's love, being full of grace and seasoned with salt, and helping other new Christians live a healthy, happy life are all goals for this site.
I hope that learning about my journey here has helped you understand my reason behind the screen. And I hope that you join along with me as we embark on this new adventure, together.
Stay blessed and healthy,