Vegan meat substitutes have been booming for the past few years, but are you finally curious enough to jump on board?
I remember the first time I was willing to try plant-based meat, which was about 15 years ago. I took my kids to a birthday party at the park, and one of the hosts was grilling an assortment of meats on one of those crappy park grills that I never understand why people use in the first place.
Anyway, they ran out of hot dogs and (since his wife was a vegetarian) there were plenty of veggie dogs leftover. I remember being extremely skeptical but equally as curious about what "vegetable meat" tasted like. Long story short, it tasted terrible, and I channeled my inner 6-year-old self as I wadded up what I could into a large napkin and threw it in the trash for the raccoons to deal with.
Now, all these years later, good ol' vegetable meat has come a long way, and fortunately it doesn't taste like dead gym socks anymore.
The vegan meat of 2021 has FLAVOR, like, real meat-tasting flavor. It comes in a variety of textures and you can grill them just like the real thing. Only this time, no one is spitting it out while you look the other way.
But, wait– are vegans even ALLOWED to enjoy meaty flavors?
Listen, we're about to get real here. I'm sure there are vegans out there (actually, I KNOW there are vegans out there) that totally scoff at fake-meat-eating vegans, as they sit on their high tower eating sunflower seed wafer crackers that they dehydrated for 2 days…and there's nothing wrong with that, other than the fact that their patchouli deodorant is a little overpowering.
Just like there's nothing wrong with a person who wants to stop eating meat, but still has the taste buds of a child. I am that person.
I mean sure, I enjoy healthy stuff too. I have supported many hipster vegan restaurants where the service is terrible and I spend $15 on a "burger" that, while it tastes good because #vegetables, it does not in any way shape or form deserve the title of "burger," nor should it cost the price of two Starbucks coffees.
Personally, while I do not overload my body with vegan meat (remember, it is after all a processed food), I'm not going to pretend that I don't enjoy the flavors of charcoal and fried chicken. I grew up IN THE SOUTH for goodness sakes.
Point being, I think it's fabulous that now people can actually choose between meat and vegan meat. That is a total win. And while I still enjoy "meat flavors" which gives me a nostalgic feeling that I associate with certain meals, I cannot see myself going back to eating actual meat. Plus, when I travel out of state, I'm relieved that there's finally OPTIONS instead of packing a jar of peanut butter and a loaf of bread to survive on.
Yay! The Cookbook is Here Y'all!
Calling all carb lovers! My new cookbook, "Vegan Comfort Food" is available now. In this stunning collection of recipes, I take you on a journey as you experience comfort food from around the world.
So, this is the way I can have "my meat" and eat it too.
And so, I bring you a list of my favorite vegan meat substitutes, some with recommended recipes. And FYI, none of these are affiliate links. These are just genuinely what I enjoy most.
Vegan Meat Substitutes + Bonus Recipes
Vegan Beef
There are many brands and substitutes for vegan beef, from classic ground to quarter-pound burgers. Below are some of my favorites.
For beef ground and burgers, look for these brands:
Then, try these recipes:
Beyond Meat Vegan Meatballs that are beyond amazing
These baked vegan meatballs are so BEYOND AMAZING, no one will be able to tell the difference! Made using Beyond Beef and chopped spinach, these meatballs are EASY to make and perfect for any holiday, party, or romantic dinner in.
Check out this recipe
15 Of the Best Beyond Meat Recipes on the Internet
The thing I love most about Beyond Meat is that it is the perfect substitute for *most* of your classic meat-based dishes. From meatballs to tacos to double cheeseburgers, the sky is the limit when it comes to using Beyond. Check out these delicious recipes for some easy Beyond creations!
Check out this recipe
Vegan Turkey
Vegan turkey does exist and they keep getting better! While there are plenty of options for vegan Thanksgiving turkey, here are my favorites:
Vegan Chicken
Vegan chicken is one of the most popular meat substitutes, perhaps because chicken nuggets are the easiest to recreate. Here are just a few vegan chicken (also known as chick'n or chik'n) to try.
For vegan chicken, look for these brands:
Of course, one of my favorite chicken substitutes is Butler's soy curls, although you do have to flavor them. I provide a full tutorial in my new cookbook, "Vegan Comfort Food," which you can check out by clicking here.
Then, try this recipe:
Bomb Vegan Caesar Salad
Julius Caesar may not have invented the Caesar salad, but I bet he would love this vegan Caesar salad, which is loaded down with chicken alternative, fresh bread croutons, and a tangy homemade dressing. A snap to make, this salad hits the spot and can be enjoyed any day of the week.

Check out this recipe
Vegan Sausage + Pork
I'm seeing more options for vegan pork, sausage, and bacon, which is fabulous because pork is one of the main meats that people struggle with (one word: bacon).
For vegan pork, bacon, hot dogs, and sausage, look for these brands:
Then, try this recipe:
Celebrate Childhood with this Beyond Meat Sausage Slaw Dog
This vegan slaw dog is made using Beyond Meat Sausage Brats, and it's absolutely delicious! Topped with a creamy homemade slaw, smoky mayo drizzle, and corn relish, you'll be scarfing down a second helping before you know it!
Check out this recipe
Vegan Fish
While there aren't many vegan fish alternatives out there YET, Gardein is totally delicious and gives you that traditional fish sticks/crab cakes feel.
For vegan fish, look for these from Gardein:
Can vegans still enjoy comfort food???
Whether you're craving all the cozy feels of classic feel-good recipes, or want a healthier version of old (and new) favorites, Vegan Comfort Food has you covered.
Can vegetables or whole foods be a substitute for meat?
If you're not into plant-based imitation meat, never fear! There's still a way you can create your own vegan "meat," using simple, whole food ingredients.
Even if you do fancy the vegan meats, sometimes you may want to keep it healthier. In this case, here are a few alternatives that can be used:
lentils or beans, such as black beans or chickpeas
mushrooms, such as portobello, shiitake, or button
nuts, such as pecans or walnuts
quinoa, red or white
soybean-based products, such as tofu or seitan (these are considered "whole food" to some vegans, since they are minimally processed and not flavored)
And here are a few recipes to try:
Seriously the Best Vegan Breakfast Sausage Recipe Ever
This is seriously the best vegan sausage recipe EVERRRRR. Great on it's own or served on English muffins, now you can enjoy this classic protein-packed breakfast without all the junk. Naturally healthy, cruelty-free, nut-free, and gluten-free.
Check out this recipe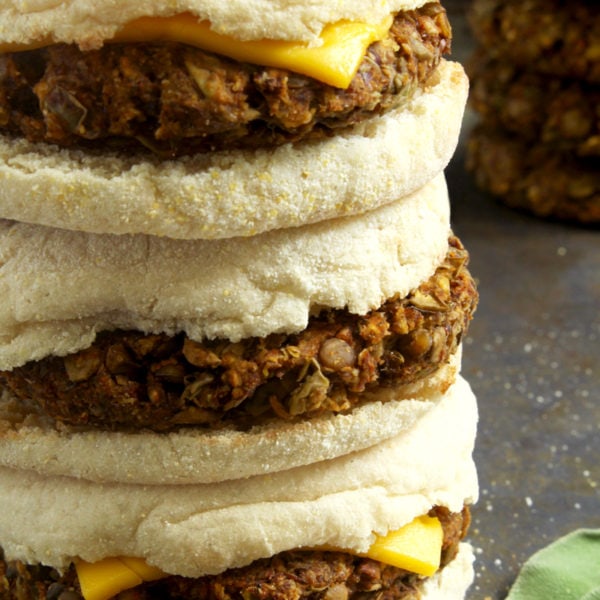 These Simple Vegan Bacon Bits Are Crazy Addictive
Satisfy your cravings with these easy vegan bacon bits! They're smoky. They're sweet. They're spicy. And they literally take 2 minutes to prep and 5 minutes to bake. Enjoy on baked potatoes, salads, and straight into your mouth.
Check out this recipe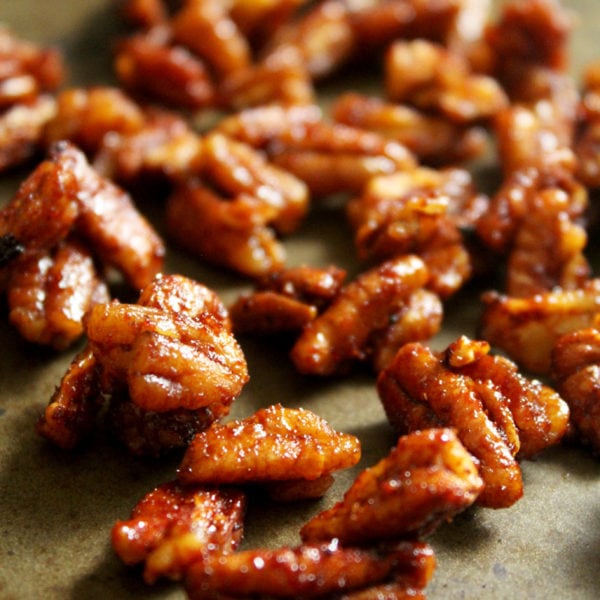 The Best Vegan Taco Meat You'll Ever Have
If there's one thing MacGyver taught me, it's that you can be creative with household items, and this vegan taco meat is no exception! Using simple ingredients you already have on hand, and marrying delicious Mexican flavors, you can take your tacos to the next level!
Check out this recipe

Frequently Asked Questions
What is the best vegan meat substitute?
So I know what you're thinking. Sure, there's a lot of substitutes out there, but what's the BEST vegan meat?
Well, that really depends on personal preference! For me, my favorite brans are probably Beyond Meat and Morningstar Farms, but there are more meat alternatives popping up every day. I suggest trying out each one, to see what suits your tastes (and budget) best.
Are vegan meat alternatives healthy?
While I am not a nutritionist, and it isn't wise for me to give random advice over the internet, I can say this: yes, vegan meats are processed foods. No, I personally don't think you should overload your diet with them, but I do think that they can have their place in a healthy vegan diet (enjoyed on occasion or once a week, for something "special"). And while not all vegan meats are created equal, many of them can be "better for you" than actual meat.
Are vegan meats expensive?
I get this question a lot. And honestly, it depends on how many people you're feeding. I have a family of 5, so sometimes that means that buying fake meat can get a little pricey. That's why I've learned to "stretch" my vegan meats just like I would if I was buying actual meat. That being said, if you're only buying it every once in a while, and you don't have that many people to feed, purchasing vegan meat won't break the bank. And actually, it's in line with the price of most organic meats, as far as I've seen.
In Conclusion
To wrap it up, there are PLENTY of vegan meats available on the market today, many which taste delicious and can compliment any vegan dish. But that doesn't always mean you have to rely on them– check out the recipes above if you're interested in creating your own vegan meats.
The point is, vegan meat is here to stay. The question is, what will you try first?
Pin it!
Thanks for taking the time to invest in your health and happiness!