Going to Disney World is something every parent wants to do for their child.
After all, it's the happiest place on earth! And you get visions of prancing around the park, waiting in minimal lines because you were savvy about your fast passes, with children laughing and beautiful weather and Disney characters galore.
In reality, the crowds get bigger, the lines get longer, and mid-day everyone is dropping like flies; if you start people watching you'll quickly see a ripple effect of child tantrums and sugar crashes, with disheveled parents trying to hold it all together because THIS IS DISNEY WORLD for crying out loud. GET HAPPY.
True, Disney may be the happiest place in the southern United States, but it's also kid meltdown city.
I think Disney is like the ultimate parent test. How you handle yourself and your kids in public when everyone is being pumped full of sugar and overstimulated is probably a good metaphor for how you take on life in general.
And when your kid is licking the wall (seen it) or misbehaving in line (seen that too) or screaming at a loud volume because GIMME (omg make it stop), and you are on INSTAGRAM instead of parenting, it makes me want to forget everything I've learned in therapy and tell you to please wrangle your child.
But I'm getting off topic…
Because even though Disney can be physically and mentally exhausting (dealing with other people), it's also a hell of a lot of fun too. And perhaps one of my favorite things about Disney is the effort they have put into providing quality vegan options around the parks.
I mean sure, at my last visit I felt like my family was quickly GOING BROKE buying hot dogs, but they did taste out of this world delicious. Which brings me to this killer copycat of the Disney slaw dog, which I knew I had to recreate.
It was truly love from first bite.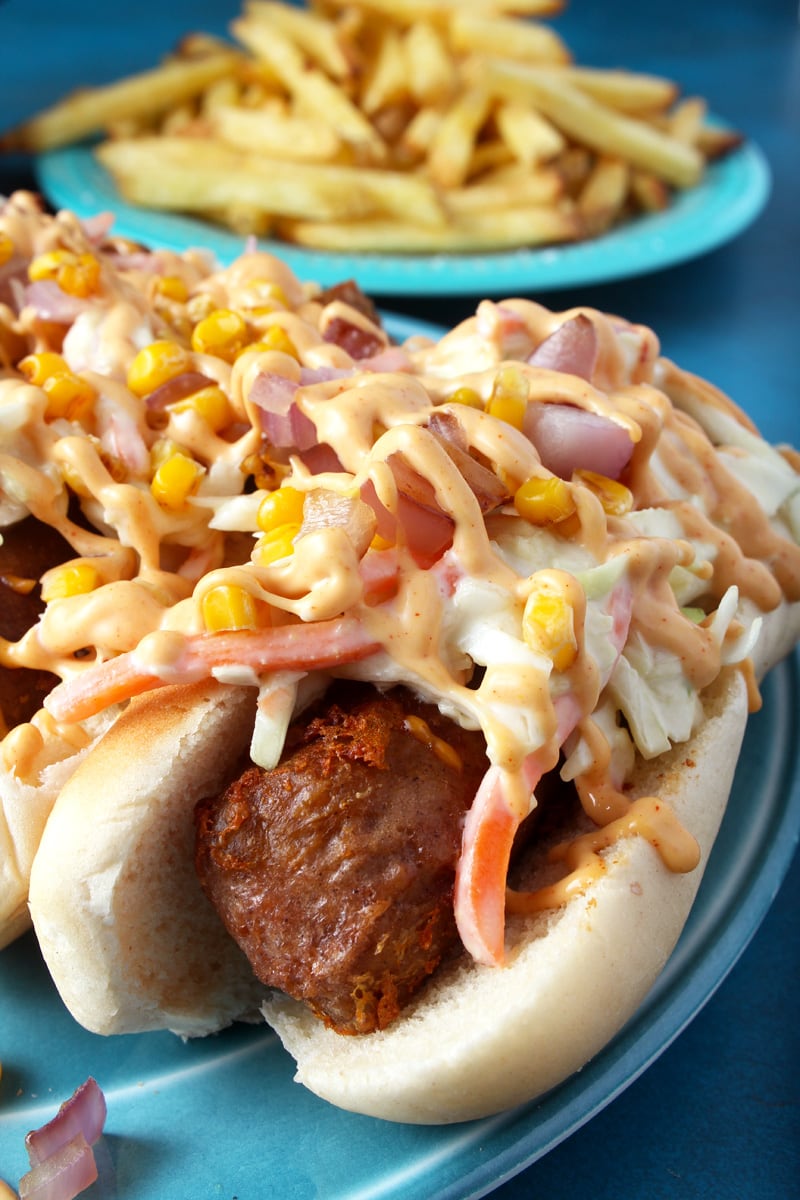 Enjoy a Disney vegan slaw dog at half the price
This vegan hot dog is based on Disney's slaw dog at Casey's Corner, which is right off of Main Street in the Magic Kingdom. At $11 a pop, it's a very expensive dog when you multiply it by 5.
But at least it comes with fries! And you can add the plastic Mickey cup for $17. #goingbrokevegan
Financial struggle aside, I tell you this slaw dog was SO GOOD that we had it twice (you can do the math on that one). Filling and super tasty, it was my favorite vegan meal at Magic Kingdom.
Can vegans still enjoy comfort food???
Whether you're craving all the cozy feels of classic feel-good recipes, or want a healthier version of old (and new) favorites, Vegan Comfort Food has you covered.
The magic behind the slaw dog is all in the toppings: you get a hefty dollop of slaw with vegan mayo, followed by a sprinkle of red onions and charred corn, and then drizzled with a special sauce. Even though I could not find the official ingredients of this vegan dog, after having it twice (and making mental notes along the way), plus analyzing the pictures I took, I think I was able to get a version that was so close I felt instantly transported back to Main Street.
Only this time, I was in the comfort of my own kitchen in my pj's and enjoying these dogs at half the price, muhahahaha.
No lines, no forking over cash for overpriced hot dogs, and FREE refills all day long.
"Super cheers!"
Party down with this easy Beyond Meat sausage slaw dog, Disney style
This vegan hot dog is perfect for Disney themed parties, fun family gatherings, or even just a Saturday night when you wish you were on vacation instead of stuck at home.
It's also SIMPLE to execute, since the prep work requires little effort (or skill for that matter). I was able to pull all of this together in about 30 minutes, an appropriate amount of time for a Disney dinner.
Using Beyond Meat also gives it that authenticity, since I'm 99.9% sure that's what Disney uses. But if you're not a fan, you can always switch out the Beyond for something healthier, like a carrot dog.
Pair this with a homemade Dole whip (coming soon!) and you're all set.
"Hot diggity dog!"
Allergy Information & Substitutions
This Disney dog is 100% vegan, meaning it is meat-free, egg-free, and dairy-free. It is also naturally soy-free when using Beyond Meat and Soy-Free Vegenaise.
Make it gluten-free by using gluten-free hot dog buns.
Don't like vegan mayo? Switch it out for smashed avocado. Just keep in mind that this will alter the taste (although I bet it's just as delicious!).
Don't want to use Beyond? You can use another vegan dog of your choice or switch it out for a carrot dog.
For more recipes + info on Beyond Meat, check out these posts:
Pin It!
Copycat Disney Beyond Meat Sausage Slaw Dog
Travel to the Magic Kingdom (while still in your PJ's) and enjoy this copycat Disney vegan hot dog, which is based on the slaw dog at Casey's Corner on Main, for half the price! Simple and delicious, this slaw dog will have you saying "super cheers!" in no time.
Ingredients
For the Disney slaw:
2

C

finely shredded cabbage

½

C

shredded carrots

¼

C

vegan mayo

(such as soy-free Vegenaise)

2

tablespoon

almond milk

(or another plant-based milk of choice)

1

tablespoon

nutritional yeast

1

tablespoon

white wine vinegar

pinch

Himalayan pink salt
For the Disney mayo drizzle:
For the Disney corn relish:
⅔

C

frozen corn

¼

C

red onion, diced
Disney extras to pull it all together:
8

Beyond Meat brat sausages

8

vegan hot dog buns
Instructions
First, get started with the toppings. To make slaw: add the shredded cabbage and shredded carrots in a medium bowl (I like using pre-shredded for less prep work!). In another small bowl, whisk together the vegan mayo, almond milk, white wine vinegar, and nutritonal yeast. Pour over shredded cabbage/carrots mix and toss to coat. Sprinkle with pink salt to taste. Set aside.

Next, make your mayo drizzle. In a small bowl, whisk together all drizzle ingredients until combined well. Set aside. If you want to toast your hot dog buns, make sure to preheat your oven to 300°.

Now it's time to get your dogs cooked! Heat a large frying pan on medium heat. Add your hot dogs and cook for 5-7 minutes, turning occasionally. You don't have to worry about greasing the pan beforehand because Beyond Meat has oil that will release while cooking. While you got your dogs going, prepare the corn relish: heat a small non-stick frying pan on medium. Add corn and diced red onions. Continue heating for 3-5 minutes, until corn is defrosted and onions are translucent. Remove from heat. Pop your hot dog buns in the oven for 2-3 minutes if you want them toasted. Once your hot dogs are finished (and browned on all sides), remove from heat.

This is the best part, it's time to assemble! Remove the buns from the oven, and place on plate. Snuggle your Beyond dog in the bun, and top with slaw, followed by the corn relish. Drizzle on your vegan mayo. Serve!
Tried this recipe? Tell me about it + share!
Comment and let me know how it was! Then follow BVK on Pinterest @bohemianvegankitchen
Share this recipe with a friend by Email
Thank you for taking the time to invest in your health and happiness!