Give me any excuse to serve something chocolate, and I'll jump on board wholeheartedly.
And when one of your twin daughters wants to celebrate her birthday with some heavy Harry Potter influence? Well, you get in the kitchen and you make vegan chocolate frogs like your life depends on it.
I'm a sucker for anything magical, particularly when it has HP written all over it. It was a no-brainer then, to purchase these candy frog molds a couple years ago, when our Potter fandom started to take on beast-like proportions (and I'm glad they have come in handy again!).
Chocolate frogs are an important staple in the wizard world, and damnit, you have to get it right.
It was equally as important then, to throw my daughter the best Harry Potter birthday party imaginable *on a modest budget*, while still honoring what her twin sister wanted for her birthday as well (enter LOTS of Halloween decorations).
Naturally, we went with a black and purple theme, which included fireplace letters, magic potions, bats, vampire teeth, candelabras, mismatched socks for S.P.E.W. fans, and of course, a recreation of the great hall, complete with floating candles.
The candles took three days to make.
Did I mention we take birthday parties seriously around here?
But anyway, back to the point, the frogs, my God the FROGS.
I've learned as an aspiring chocolatier, that you can pretty much add any extra flavors to theses babies, as long as your chocolate has the ability to return back to the hardness of a chocolate bar. For me, if I can work some healing herbs into the mix, by golly I'm gonna do it!
Because after all, what better way to "get your herb on" than with the help of sweet, lovely, saintly chocolate? I mean really?
You can of course, skip the chamomile altogether if you wish, but I find that it adds a calming element and is deserving of its position in this recipe.
Perhaps I must mention though, that some people have the opposite affect of calming chamomile, and can experience hyperactivity after consumption. If that is the case, you can easily switch this out for another herb such as lavender or whatever your pretty little heart desires.
Just make sure you keep your chocolate frogs away from open windows, k?
Allergy-Info & Substitutions
These chocolate frogs are 100% vegan, meaning they are dairy-free, egg-free, and of course, meat-free. They are also naturally nut-free, gluten-free, and soy-free when using Enjoy Life chocolate chips.
This recipe uses coconut oil to infuse the herbs; I have not tried using another oil, but I don't recommend trying another one, since coconut oil also helps harden the frogs quickly.
If you get hyperactive after consuming chamomile, try switching it out for another calming herb, such as lavender.
For another delicious chocolate recipe using herbs, check out my Chocolate Lavender Fondue by clicking here.
Want more Harry Potter? Check out my Healthy Treacle Fudge by clicking here.
I hope you enjoy these amazing vegan chocolate frogs! Make sure to share your creation with me on Instagram by tagging me @bohemian.vegan.kitchen + using the hashtag #bohemianvegankitchen.
Become a VEGAN NINJA in the kitchen.
Want to step up your vegan game? Just pop your email in the space below and I'll send you my complete email series on how to plan and prep vegan meals like a PRO. You'll also receive a FREE meal planning printable as a special thank you download, plus occasional future emails with easy vegan recipes!
Infused with calming chamomile, these medicinal vegan chocolate frogs taste straight outta Hogwarts! It's enough to make Harry Potter proud, plus help you ace the Herbology test. Naturally vegan, gluten-free, soy-free, and nut-free.
Vegan Chocolate Frogs with Chamomile
Instructions
Using the double boiler method, melt coconut oil in a small saucepan on medium heat. Add tea bags, resting the string SAFELY on the handle of the saucepan (don't let it touch the burner!!). Let herbs infuse in oil for about 20-30 minutes. Remove from heat.

Squeeze tea bags before removal, preferably using a tea squeezer (see notes). Discard spent tea bags. Add chocolate chips to oil, and stir until melted. You may have to return this to a low heat.

Divide evenly among frog mold. You may have a little leftover- in that case, pour into an additional mold OR use as a personal chocolate fondue (or pour straight into your mouth immediately). Place mold in freezer for at least 30 minutes, until hardened.
Tried this recipe? Tell me about it + share!
Comment and let me know how it was! Then follow BVK on Pinterest @bohemianvegankitchen
Share this recipe with a friend by Email
Pin It!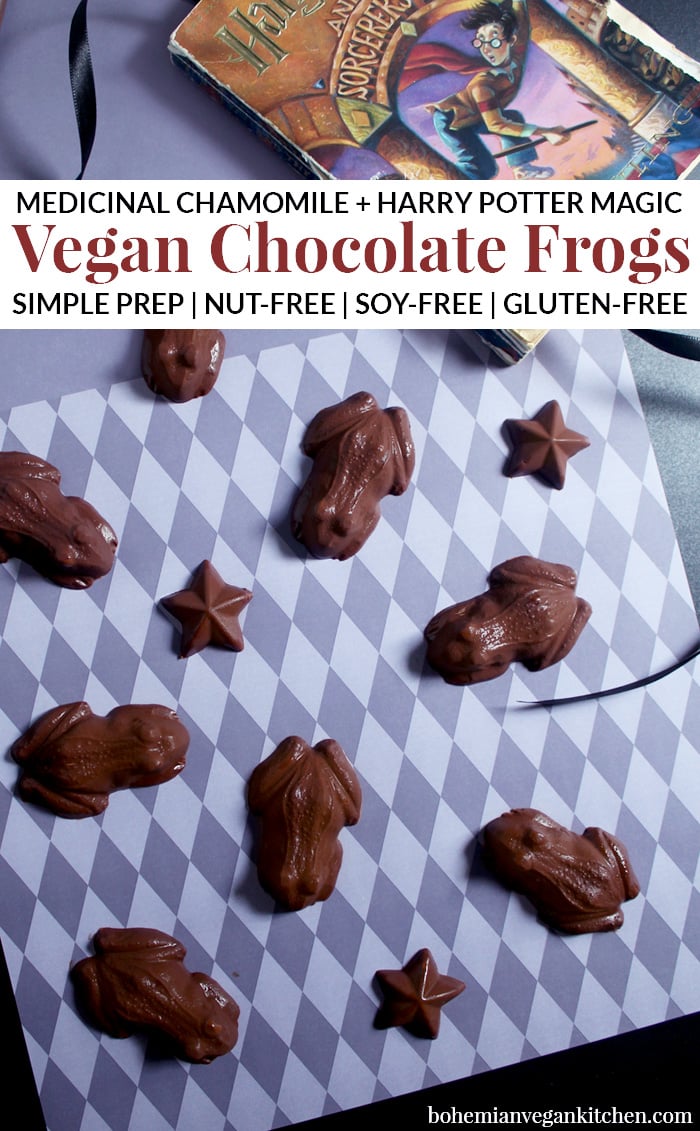 Thank you for taking time to invest in your health and happiness!