Full disclosure: I am not an early riser by nature.
I'm more of a multiple snooze alarms person. Because that's what happens when you're not only your own boss, but a homeschooler too; I can afford to procrastinate for about 15 minutes each morning, consequences be damned.
But when I finally do find the human strength to pull myself out of bed at the speed of sloth, I need FOOD.
Food that tastes good, feels good, and gives me the energy I need to get the day rolling.
My husband is the same way; with the food that is, not the sleeping in part. No, my hubby is the champion of early risers, and he takes his breakfast seriously.
And vegan breakfast can be a challenge for many. Just pull up the search results for "vegan breakfast" on Pinterest and you'll see an ocean of smoothies, pancakes, and overnight oatmeal recipes.
While these are all fab options, you can only repeat them so many times.
Because coming from a culture that values the drive thru window, most of us have our brains set on American default; which always includes plenty of meaty options such as eggs, bacon, or sausage.
But here's the thing: breakfast should not give you stomach pains, excessive bloating, or the squirts before 8 a.m.
And unfortunately, many of the options available today are so far removed from a "healthy" breakfast, that it's become the norm to feel strung out on ham before the day even starts. Not to mention that these quick options are also rooted in cruelty, putting a damper on any morning.
That's why I like to reach for options that are healthy and cruelty-free, while still feeling familiar to the American way.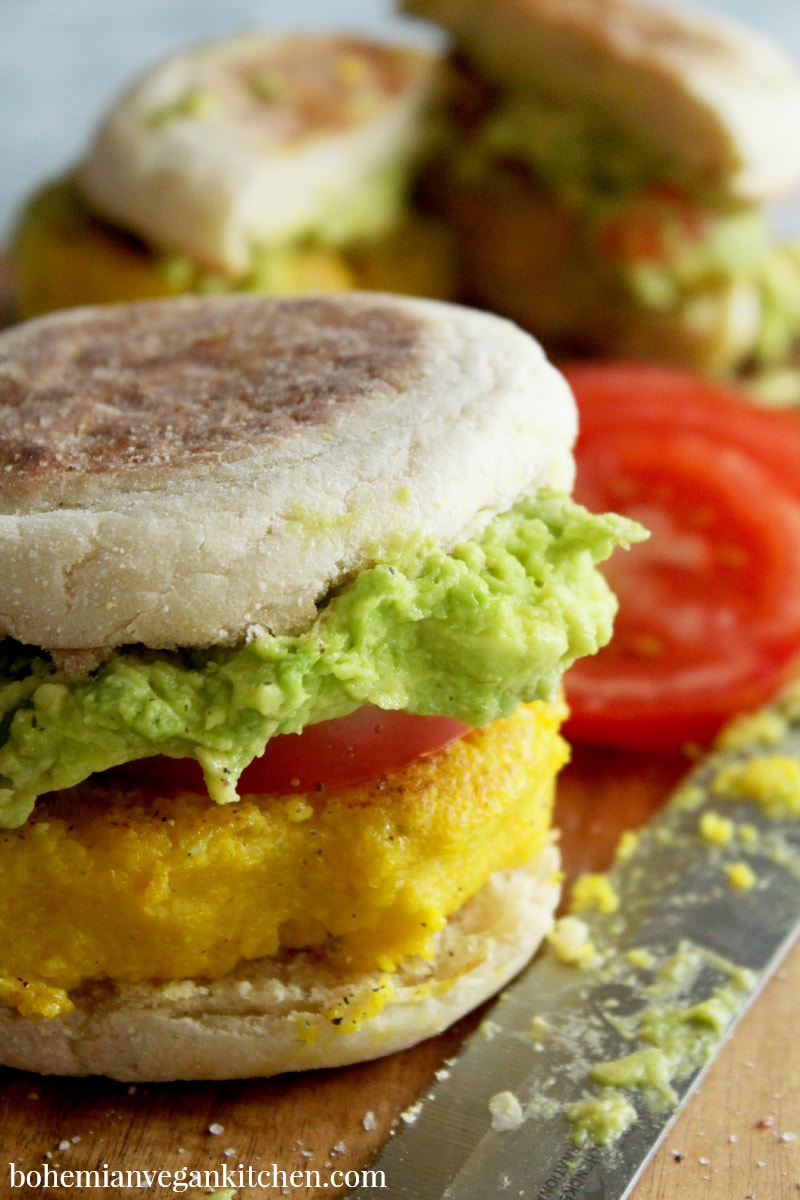 I'm lovin' it: this vegan breakfast sandwich
When you're up at the crack of dawn, you need a healthy balance of nutrients to prepare your body + brain for the day ahead. And what better way to get everything you need in one delicious, mouth-watering breakfast sandwich.
Basically, it's the ultimate food tower.
Because whoever thought of putting food between two slices of bread was a genius….and possibly financially poor.
Regardless though, this sandwich is the bomb because it delivers that vegan egg feeling, without any soy or processed nonsense. You can cook it up the night before and have it ready to go in just a few minutes before moving on with your day.
This sandwich is topped with heavenly smashed avocado and thick tomato slices, but you can add extra toppings if you want. Some ideas include vegan mayo, shredded lettuce, eggplant bacon (google it), or vegan cheddar shreds if that's your bag baby.
One of my favorite things about this sandwich is that it's so good, you can enjoy it for breakfast, lunch, or even dinner, so it's a win-win!
So tomorrow morning, forget the snooze alarm and get cookin' in the kitchen with this amazing vegan egg sandwich. You won't regret it!
Allergy-Info & Substitutions
This sandwich is 100% vegan, meaning it is meat-free, egg-free, and dairy-free. It is also naturally soy-free and nut-free.
Make it gluten-free by using gluten-free english muffins.
For nightshade-free diets, nix the tomato slices and use shredded lettuce instead.
Want it to be extra cheesy? Add ½ C of your favorite vegan cheddar shreds (while cooking the polenta) for a gooey, delicious breakfast. You can also spread vegan mayo on your bread if that's your thang.
For another healthy breakfast idea, check out my smoothie bowl croutons by clicking here.
Become a VEGAN NINJA in the kitchen.
Want to step up your vegan game? Just pop your email in the space below and I'll send you my complete email series on how to plan and prep vegan meals like a PRO. You'll also receive a FREE meal planning printable as a special thank you download, plus occasional future emails with easy vegan recipes!
For a delicious (yet simple) breakfast, enjoy these vegan egg sandwiches, which are topped with juicy tomato sliced and smashed avocado! Completely vegan and soy-free, these breakfast sandwiches can be made gluten-free by using GF english muffins.

Vegan Egg Sandwiches
Ingredients
For the vegan eggs:
3

C

filtered water

1

teaspoon

pink salt

1

teaspoon

onion powder

¼

teaspoon

turmeric powder

¼

teaspoon

black pepper

⅛

teaspoon

garlic powder

1

C

polenta (corn grits)

2

tablespoon

cooking oil of choice, optional
To assemble:
english muffins

fresh tomato slices

fresh lettuce

smashed avocado
Instructions
To make vegan eggs: Bring water to a boil. Add in the nutritional yeast + spices, and stir until they dissolve. Add in the polenta and continue stirring; cook an additional 5 minutes, until polenta has thickened and starts to bubble. Remove from heat.


Grab a large sheet of tin foil, approximately 9 x 13. Lay flat on counter. Pour polenta contents onto the middle of foil (be careful not to let it ooze onto the floor!). To wrap, grab opposite ends of the foil and lift up, curling ends of foil over and pressing to secure. This will resemble a large burrito. Once wrapped, transfer to a plate and pop in the fridge for one hour or overnight.


To cook, unwrap your polenta burrito and cut into 1-inch slices. Heat cooking oil in a large frying pan (or use a non-stick pan for oil-free option). Add polenta slices to heated pan and cook for 2-3 minutes on each side until heated through and slightly browned.


To assemble: toast english muffins; then top with polenta slices, lettuce, tomato, and a generous dollop of avocado. Munch.

Tried this recipe? Tell me about it + share!
Comment and let me know how it was! Then follow BVK on Pinterest @bohemianvegankitchen
Share this recipe with a friend by Email
Pin It!
Thank you for taking the time to invest in your health and happiness!