When you have an air fryer, at some point, you're going to ask: can you put parchment paper in the air fryer?
The short answer is YES, but the correct answer is YES, BUT…do it right!
Because the last thing you need is to accidently start a small fire that burns down the entire block all because you had a hankerin' at 10 p.m. In this guide, I'll show you the step by step process to get the job done right, bringing you one step closer to air fryer bliss (and away from getting to know your local fire department).
Need some recipes for your air fryer? Try these vegan biscuits to start.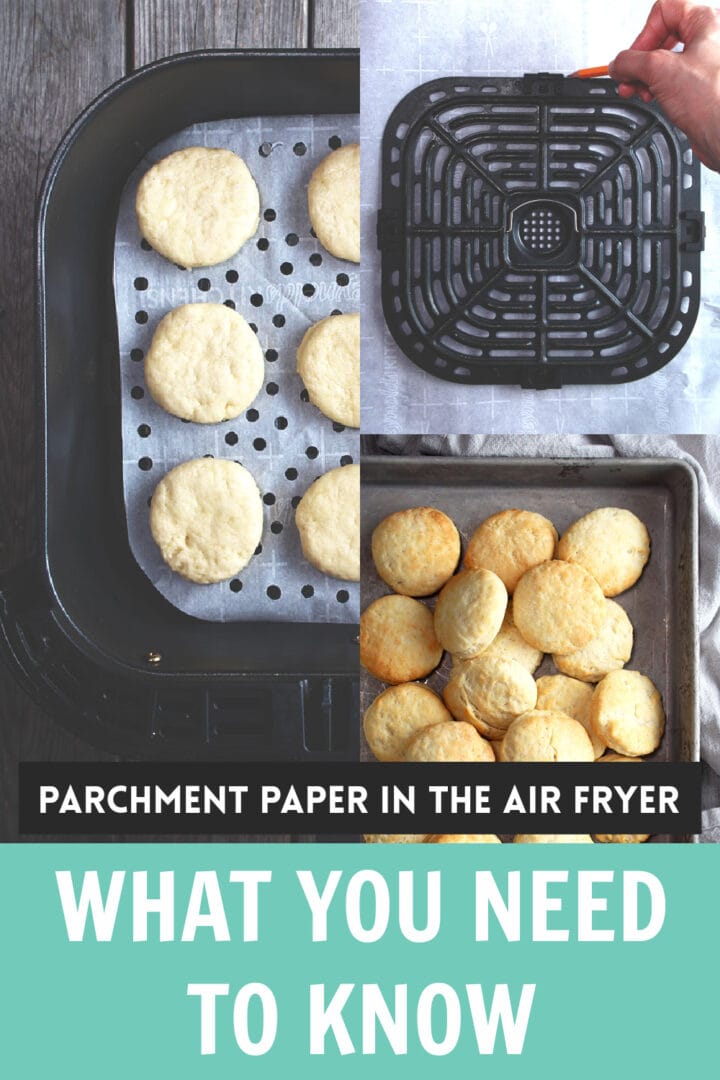 Why would you use parchment paper in the air fryer anyway?
Now your brain may also be thinking WHY would you do any of this in the first place? Here's a few excellent reasons you may want to use parchment paper in your air fryer:
As an added catch-all. For cooking things that can easily fall through the basket, such as air frying your own granola.
To prevent sticking. When you want to be sure that your food does not stick to the air fryer basket.
Easier cleanup for messy foods. Just toss the parchment paper afterwards.
Prevents extra wear and tear. Using parchment paper can prolong the life of your air fryer rack, since you don't have to scrub it as much.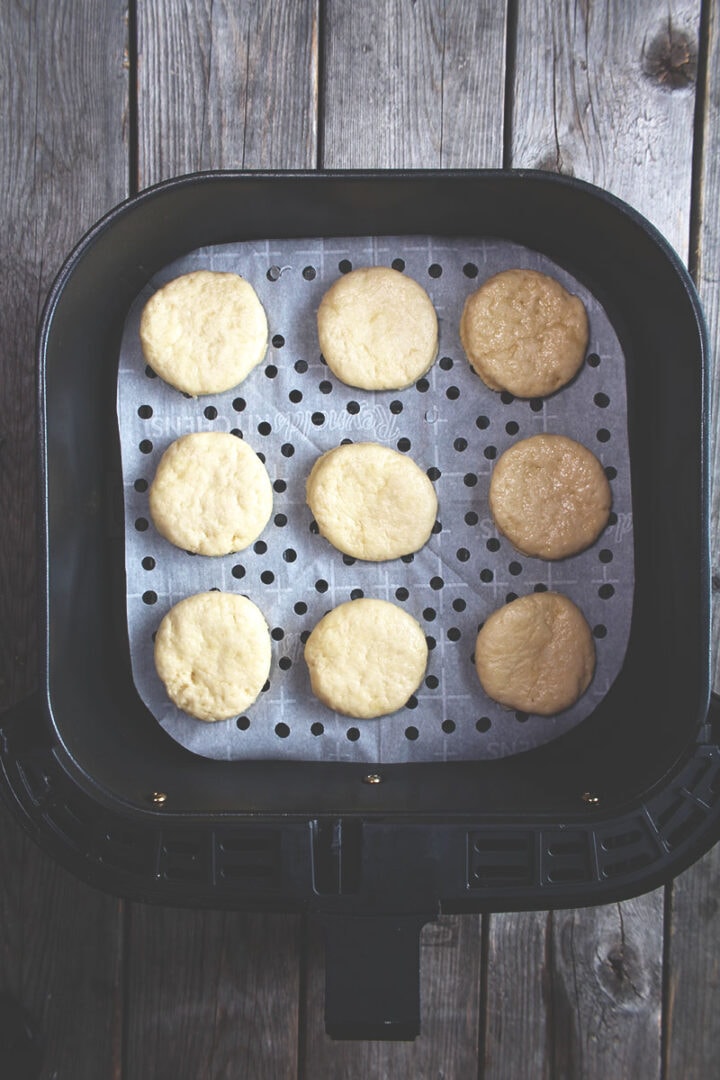 The secret to parchment paper in an air fryer
Luckily, this whole process isn't really complicated– the main thing you need to know is that your parchment paper has to be perforated. Yes, that is a word and it does mean something very important.
Wait…so what does perforated mean exactly?
Simply put, your parchment paper has to have holes in it. This allows proper air flow through your air fryer. Disrupting the air flow can cause your air fryer to, well, catch on fire. And you don't need to call 911 over PARCHMENT PAPER.
Of course, please make sure to check the manual for your air fryer before adding anything other than food to it. Then, check out the FAQs below + my step by step guide on how to make your own perforated parchment paper– trust me it will only take two seconds.
Frequently Asked Questions
Can I use regular parchment paper in the air fryer?
You can use parchment paper that can handle the heat. The standard highest temperature of an air fryer is 400° F (204° C), so please be sure that your parchment paper can reach those temperatures, preferably up to 428°. You'll also want to use parchment paper that is perforated. Check out the easy guide below to make your own!
Is there a difference between parchment paper and wax paper?
YES. Both are coated papers, but parchment paper is coated with silicone, while wax paper is coated with…well, wax. Parchment paper can be used to cook with heat, while wax paper cannot– if you use wax paper, your air fryer will start smoking and this could potentially cause a real fire.
Does the parchment paper have to be perforated?
Yes, your parchment paper really needs to be perforated. This helps with the air flow of the air fryer and can prevent a fire. But no worries, it's easy to make on your own! Just see the guide below.
How to make your own perforated parchment paper in 2 minutes
Materials:
1 sheet of parchment paper (large enough to cover the wire rack inside the air fryer basket)
pencil
scissors
hole punch
Instructions:
1. Remove the wire rack (that sits inside the air fryer basket), and center it on a large sheet of parchment paper. Using your hands and a pencil, hold the rack in place as you trace around the edges. Cut out with scissors and toss the scraps.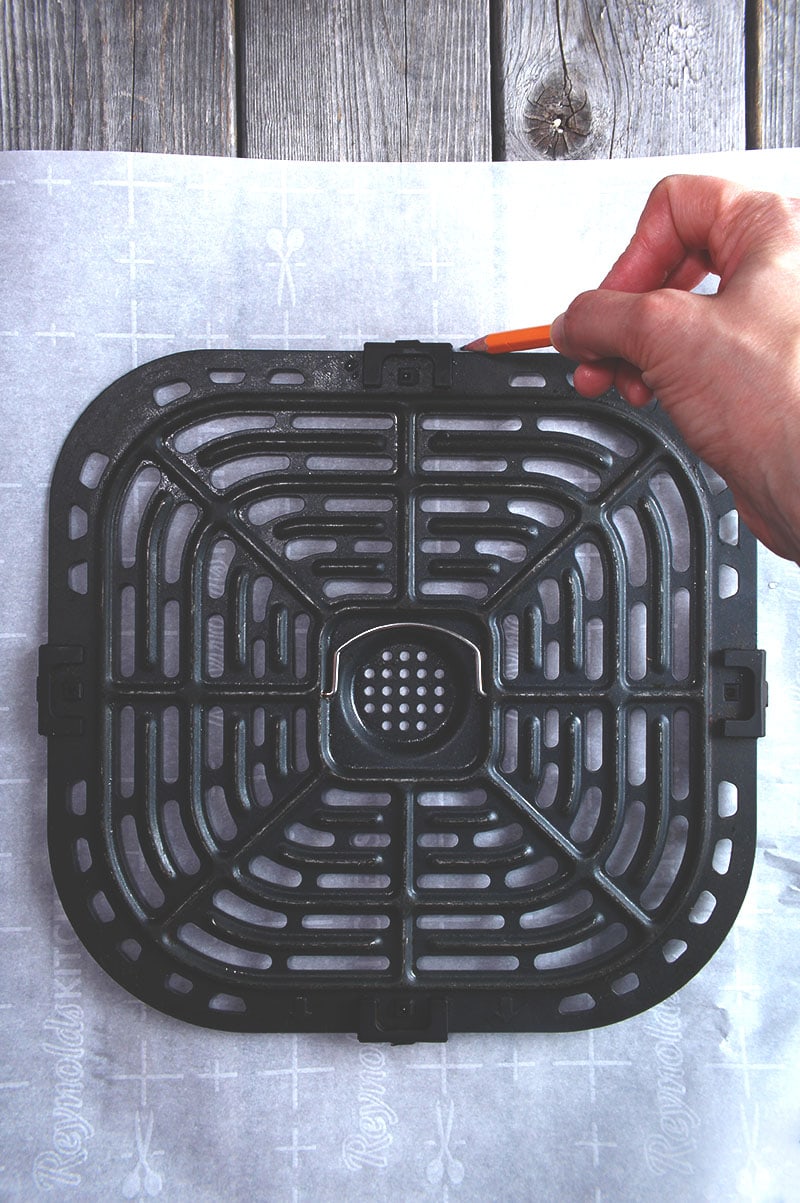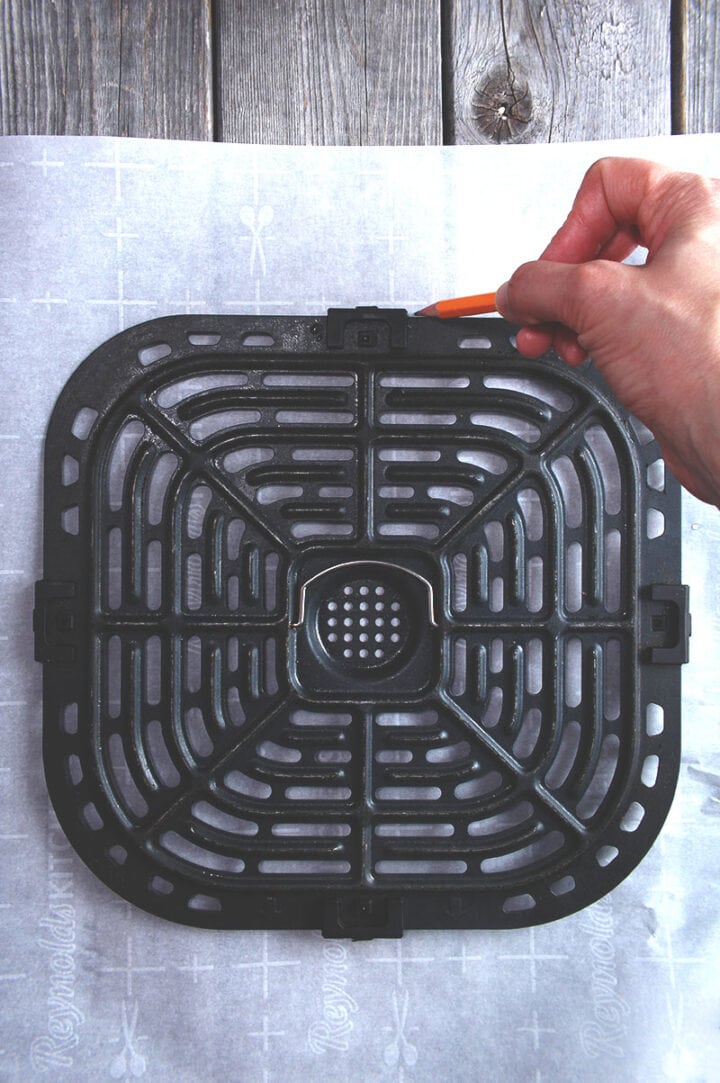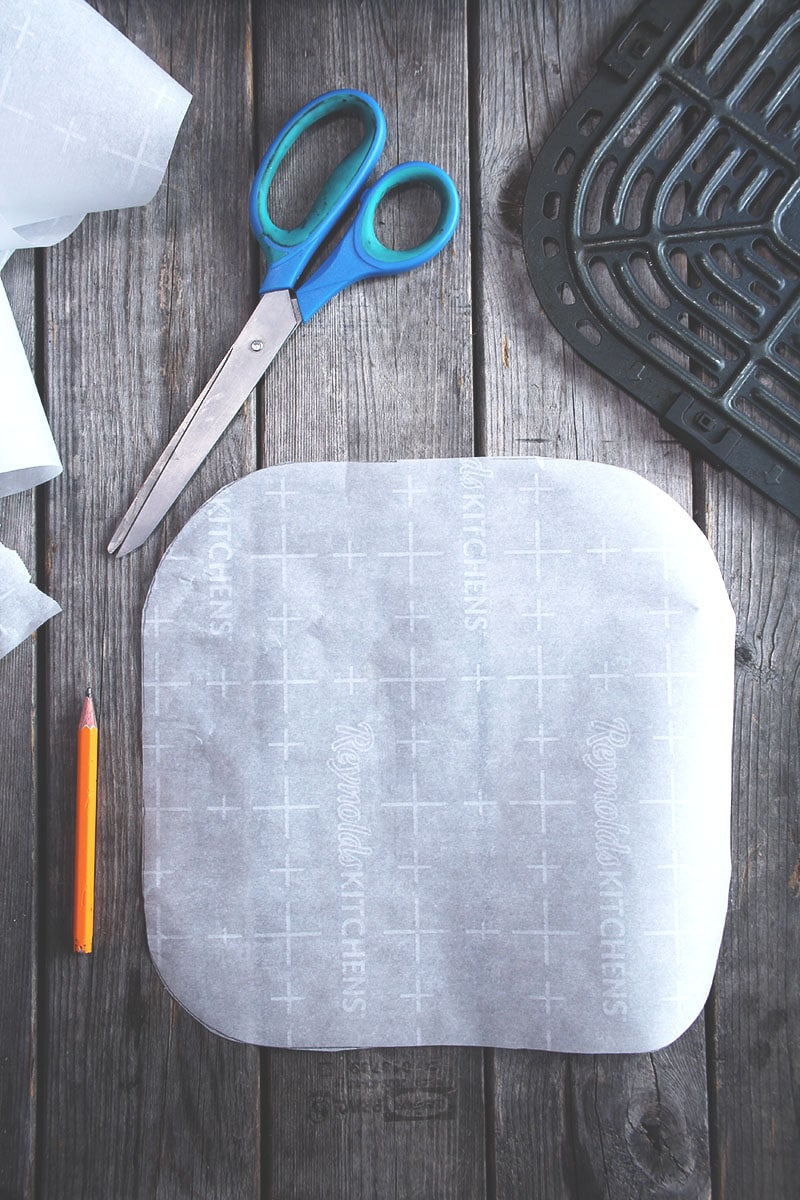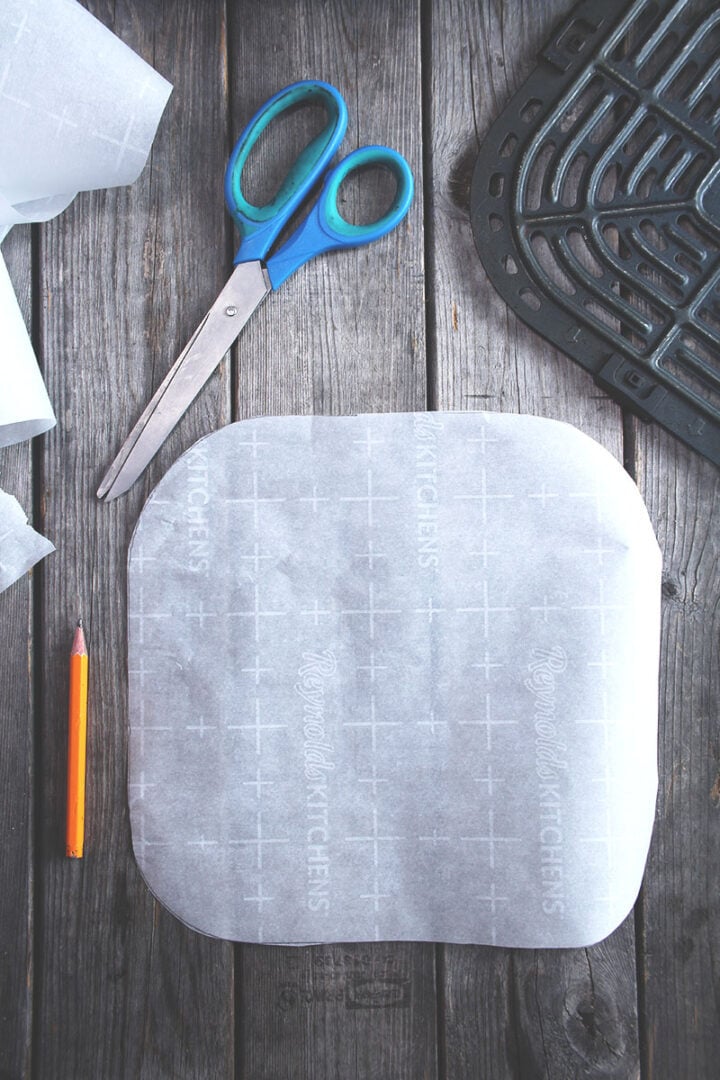 2. Fold the sheet. I like to fold mine in half, then half again, repeating until I get a triangle shape (see photo below). Using a hole punch, punch holes through your triangle piece. And yes, those little paper suckers are going to get everywhere, so have a broom nearby.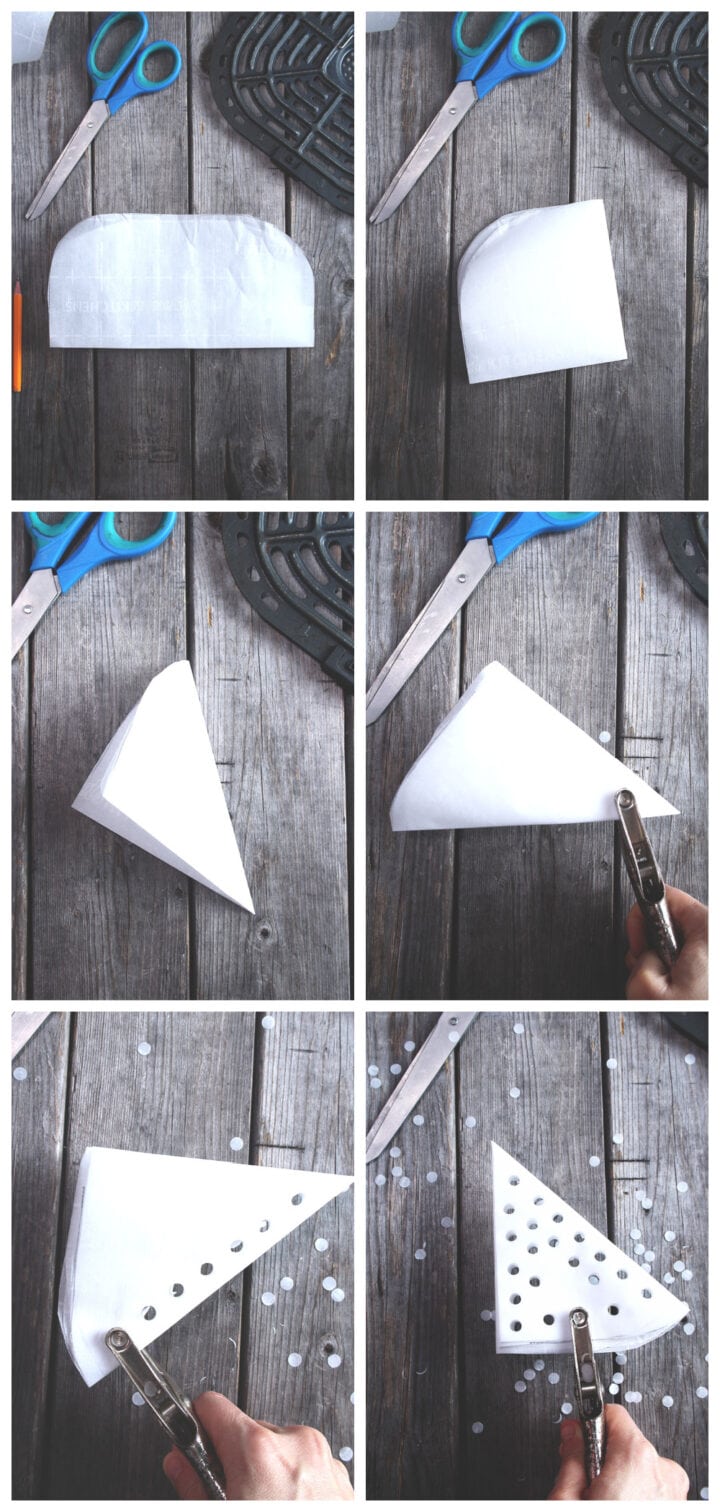 3. Unfold and use. Preheat the air fryer (with the wire rack and basket in place) first, and then carefully set your perforated parchment paper inside the basket (you don't want to burn yourself!). Place food on top immediately and return basket to air fryer to cook.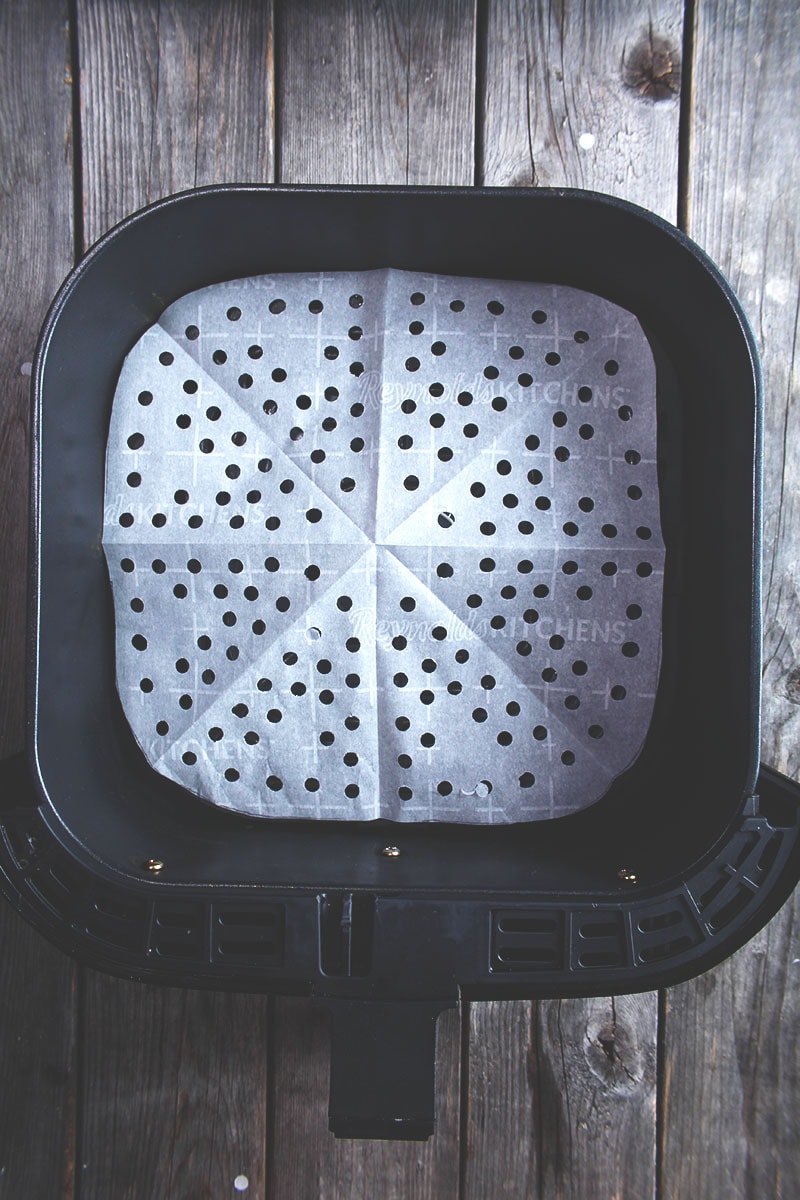 Last minute tips + safety stuff
This is the part where I act like your mom and give you all the last minute details before pushing you out of the nest head first. Don't worry I'm sure you'll be fine.
Still, please read these carefully. I'll wait…
Do not add the parchment paper to the basket before heating up. Heat your air fryer FIRST, and then add the parchment paper at the same time as your food.
Be sure that your food is weighing down the parchment paper– you don't want it sticking up, where it can potentially get caught in the heating unit (hint: fire bad, remember?).
Please read your manual before adding parchment paper or other things to your air fryer. Yes, the manual contains instructions and isn't just for looks or part of the packaging that you throw away. Don't have your manual anymore? Look it up online silly.
When using parchment paper, read the box to be sure that it can handle the temperature you're heating your air fryer to (max is typically 400° F/204° C).
Be sure you're using parchment paper, not wax paper! Wax paper WILL burn your house down, k?
When in doubt, read more articles on air fryer safety before proceeding.
What's next?
Get cookin'! Be sure to check out these easy vegan biscuits in the air fryer, plus more recipes coming soon. Did I mention I love using parchment paper in the air fryer?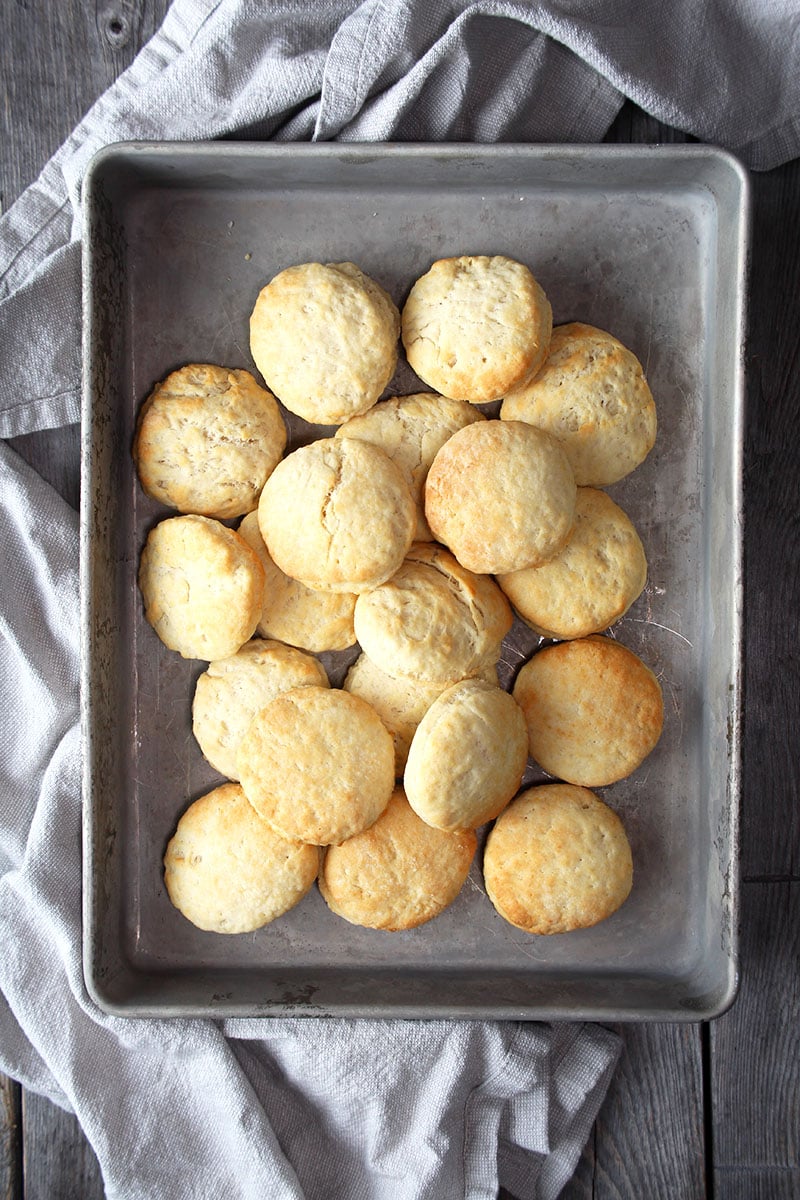 Thank you for taking the time to invest in your health and happiness!