I absolutely LOVE this healthy broccoli salad and could eat it all year round. But the best part is that there's NO SUGAR. Using freshly chopped broccoli, red cabbage ribbons, shredded carrots, and sunflower seeds, this easy broccoli salad has a natural sweetness and it rocks!
Did I mention this salad is strikingly beautiful too? You can't go wrong munching on a raw salad that looks like an edible rainbow. For more beautiful salads, be sure to try this vibrant ramen noodle salad and this healthy vegan Greek bowl.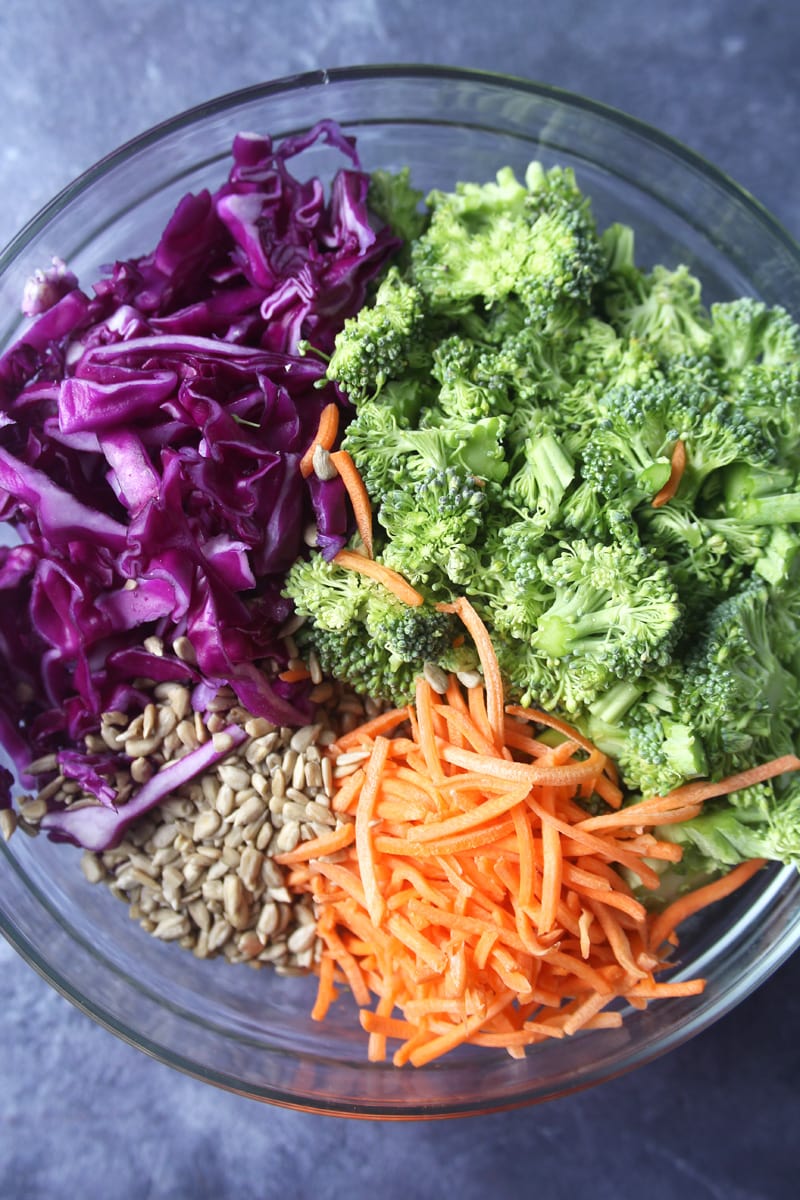 Forget the sugar and try this healthy broccoli salad instead
We are a society fixated on sugar. They say America runs on Dunkin, but I think saying America runs on processed sugar, caffeine, and crappy counter service would be a more accurate statement.  
It's not that having sugar is all bad, per se, but ingesting 152 pounds of sugar per year is definitely breaking the camel's (or stock boy's) back. And yes, that is factual: 152 POUNDS OF SUGAR PEOPLE. That is about 6 cups per week.
And it's funny because we know this, we humans. But we do it anyway and pretend it's not happening (DENIAL), especially during the holidays (ENABLING). "But the cookies! And the cakes! And those delightful holiday drinks!" you may have told yourself, right before getting high on whipped topping. As a recovering sugar addict myself, I feel you.
Post holiday though, everyone is feeling that morning after shame. 
And that's why I love this super healthy broccoli salad that's naturally sugar free. You feel amazing eating it and you can give yourself a million pats on the back for choosing something healthy. Not only is there no sugar but there's also no sneaky natural sugar additives, like stevia or maple syrup!
So if you're  wanting to start the new year with a sugar-free diet, this broccoli salad absolutely rocks.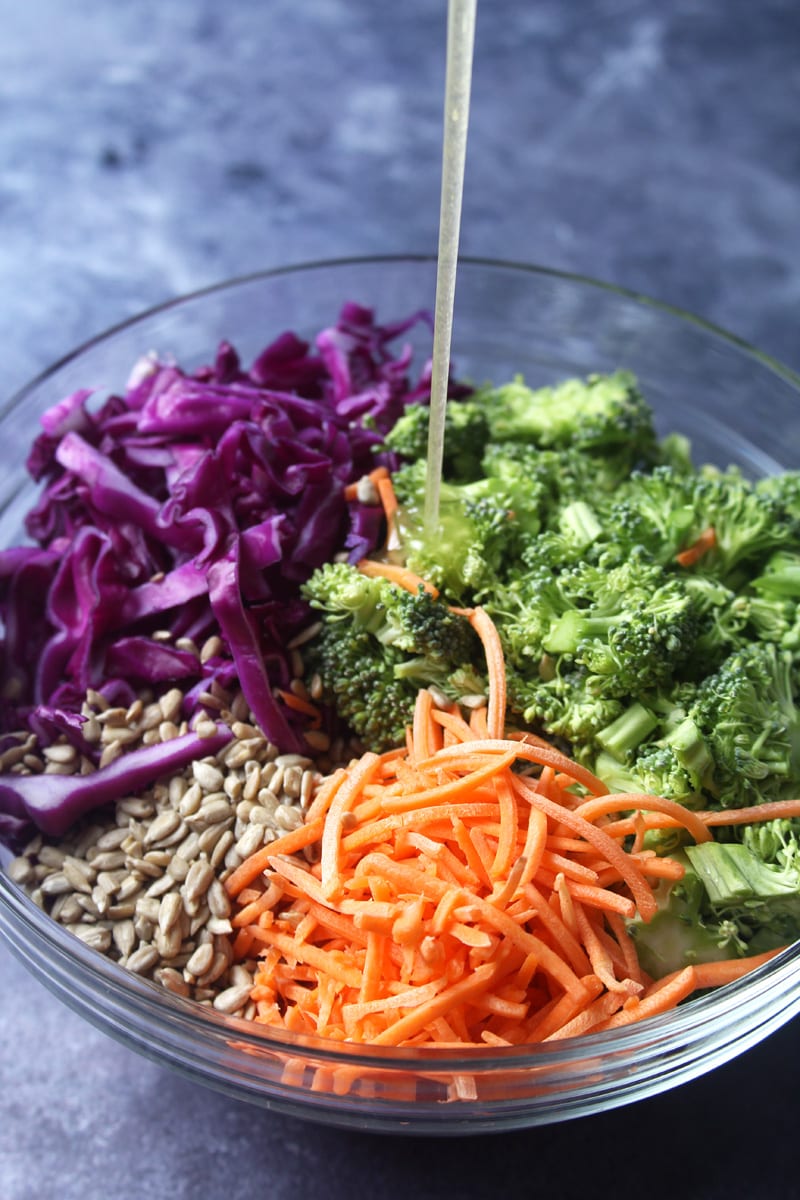 Ingredients needed
Broccoli.
Red cabbage.
Carrots.
Sunflower seeds.
Oil. Extra virgin olive oil, hemp oil, avocado oil all work here.
Apple cider vinegar. I like using raw unfiltered.
Lemon juice. Freshly squeezed or bottled.
Nutritional yeast.
Salt. I prefer Himalayan pink salt, but sea salt will also work.
Cayenne pepper.
How to make it
In a medium mixing bowl or container, combine chopped broccoli, cabbage, carrots, and sunflower seeds.
In a separate small bowl, whisk together oil, apple cider vinegar, lemon juice, nutritional yeast, salt, and cayenne pepper.
Pour dressing over salad and toss to coat. Eat immediately or divide between lunch containers for meal prep.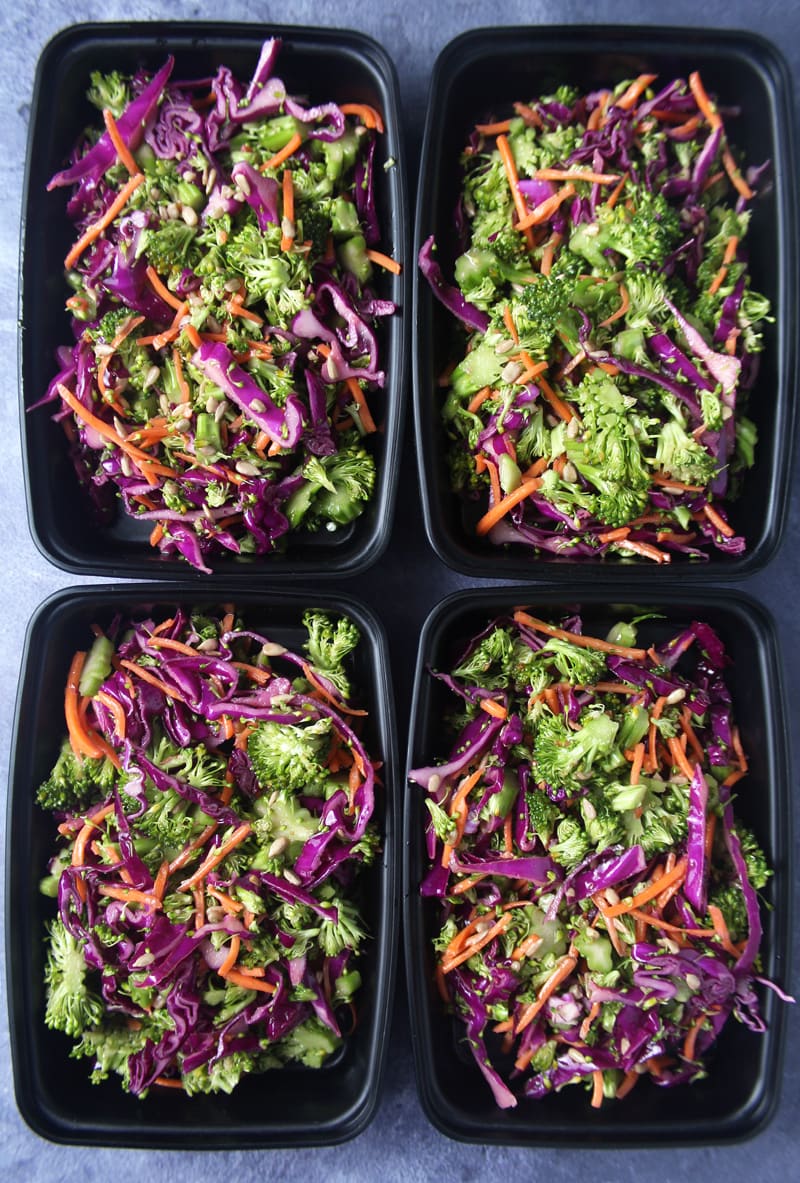 Allergy Information + Substitutions
This broccoli salad is 100% vegan, meaning it is dairy-free, egg-free, and meat-free. It is also naturally gluten-free, nut-free, and soy-free.
Can't do sunflower seeds? Omit them altogether or switch them out for a dried fruit instead. Just keep in mind that certain dried fruits may contain added sugars.
I use olive oil, but you can use the oil of your choice, such as avocado, vegetable, or hemp.
Spice it up with chopped jalapenos for extra heat.
More healthy recipes: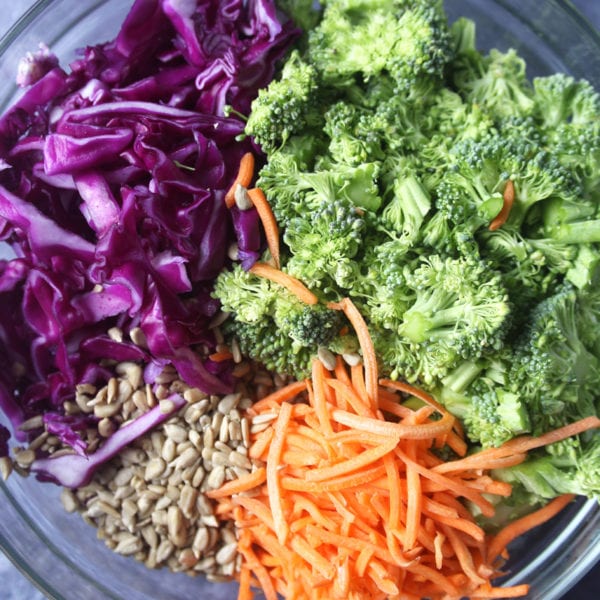 Healthy Broccoli Salad (Sugar Free + Vegan)
Start the week off right with this DELICIOUSLY SUGAR-FREE healthy broccoli salad, which takes only 15 minutes from start to finish! Perfect for healthy to-go lunches or a post workout snack, this detox salad will make you feel awesome.
Ingredients
For the Salad:
4

cups

broccoli, finely chopped

2

cups

red cabbage, cut into thin ribbons

1

cup

carrots, shredded

¼

cup

sunflower seeds
For the Dressing:
½

cup

oil of choice

such as olive, hemp, or avocado

2

tablespoons

apple cider vinegar

1

tablespoon

lemon juice

1

tablespoon

nutritional yeast

½

teaspoon

salt

(I use Himalayan pink salt)

¼

teaspoon

cayenne pepper
Instructions
Combine all salad ingredients in a medium mixing bowl OR a medium container with lid.

In a separate bowl, whisk together dressing ingredients.

Pour dressing over salad. Toss to coat or pop a lid on your container and shake to coat. Eat as is or divide salad mixture into meal prep containers.  
Notes
PLEASE NOTE: The nutrition facts has 4 grams of sugar per serving listed, but after checking my nutritional facts calculator, this registered as natural sugars from the vegetables and lemon juice.
Nutrition Information
Nutrition Facts
Healthy Broccoli Salad (Sugar Free + Vegan)
Amount Per Serving
Calories 291
Calories from Fat 234
% Daily Value*
Fat 26g40%
Sodium 285mg12%
Potassium 481mg14%
Carbohydrates 12g4%
Protein 5g10%
Vitamin A 5173IU103%
Vitamin C 88mg107%
Calcium 65mg7%
Iron 1mg6%
* Percent Daily Values are based on a 2000 calorie diet.
Tried this recipe? Tell me about it + share!
Comment and let me know how it was! Then follow BVK on Pinterest @bohemianvegankitchen
Share this recipe with a friend by Email
Thank you for taking the time to invest in your health and happiness!