You know when summer is coming to a close, and the panic that SUMMER IS ALMOST OVER YOU GUYS sets in?
You get flashes of #allthethings you were supposed to accomplish this season (like that epic summer vacation). And for a moment, you think you can successfully cram them all into one afternoon, despite having three children and no cash.
Ok then, we'll improvise: Double chocolate dairy-free ice cream…check. Sunbathing with good tunes…check. Hot day lounging in next to the kiddie pool…close enough.
Because SUMMER CAN'T END. *whimpers*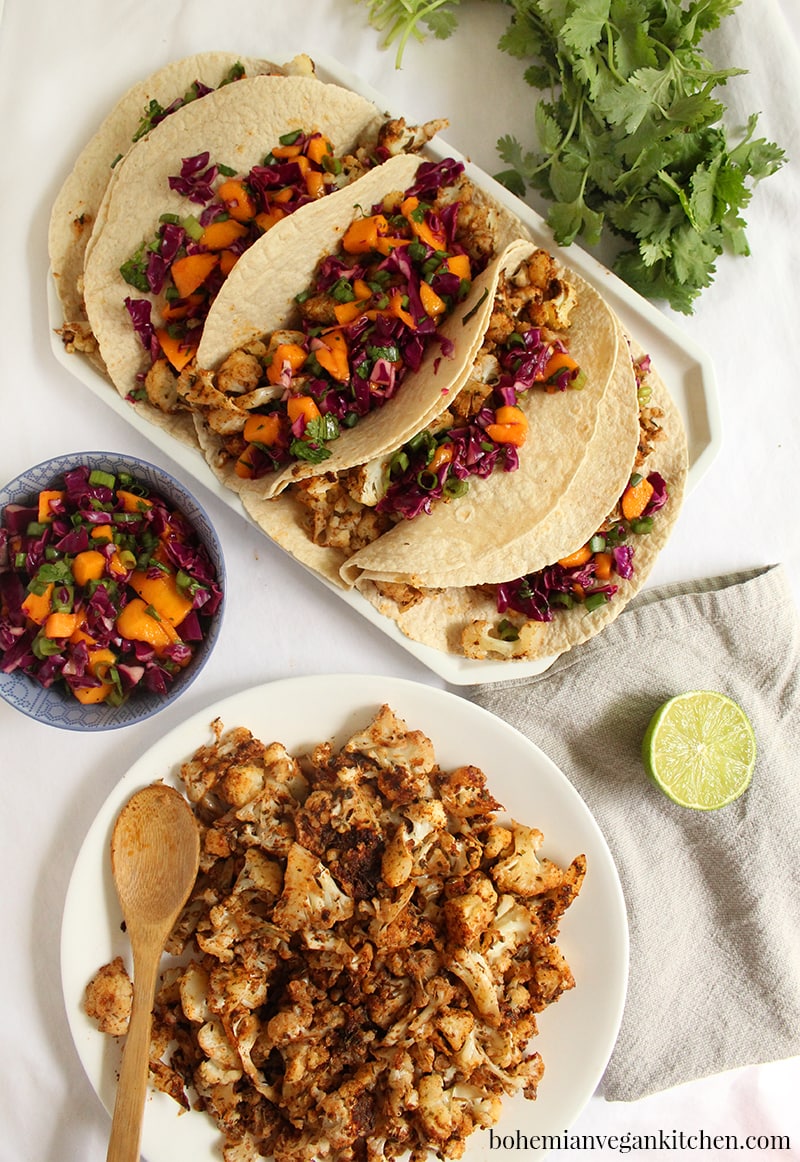 Enter this Spicy Jerk Cauliflower, a new favorite of mine and one that will definitely have you feeling ALIVE and ready to close your summer with a bang.
Who needs epic summer vacations anyway? Let's just eat good food and pretend like we're at the beach.
Maybe it's all those spicy jerk seasonings, but when I eat these delicious roasted cauli's and fresh mango stuffed tortillas, I feel like I've been whisked away to the Caribbean, even if it's only in my mind. Cue Bob Marley and the Wailers.
A girl's gotta dream, right?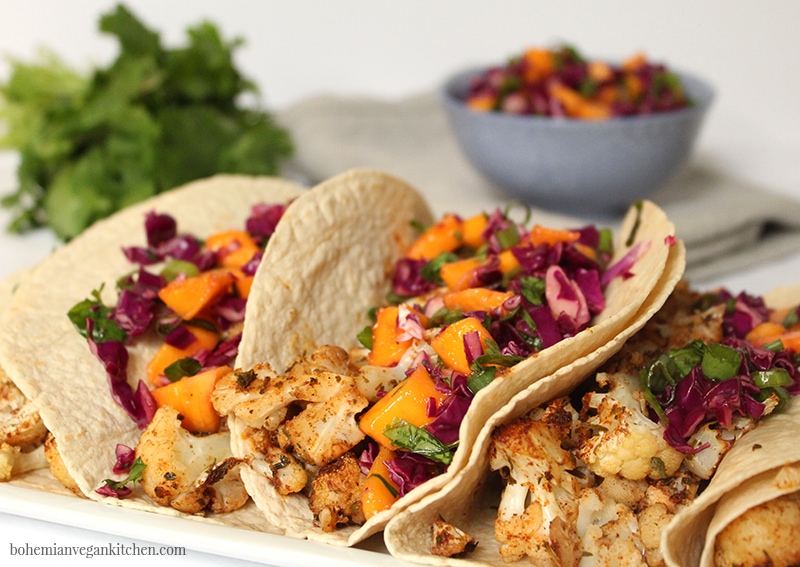 So when you want to have something that is both tropical AND healthy, this is the perfect dinner to end your day. Cauliflower is so beautifully versatile and this recipe certainly delivers both heat and flavor with a delicious combo of spices.
Top with tropical mango salsa and you have that fresh play between spicy and sweet. It's not complicated and it can be ready in about 30 minutes.
If, however, you love the flavor of "jerk", but don't want to worry about putting out the fire, simply cut back on the amount of spice mixture you sprinkle onto the cauliflower prior to baking.
As for me, I'm going to be jammin' with these tacos for the remainder of the summer…right next to the kiddie pool.
Hope you like jammin' too.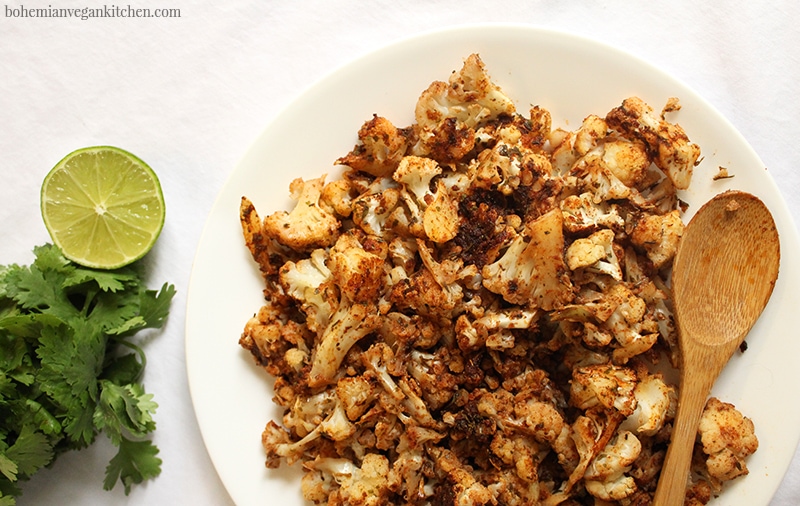 Allergy Info & Substitutions:
This recipe is 100% vegan, which means it is meat-free, dairy-free, and egg-free! It is also naturally nut-free and soy-free.
For a gluten-free version, please make sure to use gluten-free tortillas.
If you also want to avoid nightshades, you can omit the cayenne pepper and smoked paprika, but keep in mind that this will change the taste.
Enjoy!
DELICIOUS + SPICY tropical vegan cauliflower tacos! These tacos are easy to pull together and are completely meat-free, soy-free, nut-free, and can be made gluten-free by using GF tortillas. Serve with kidney or black beans for an extra topping!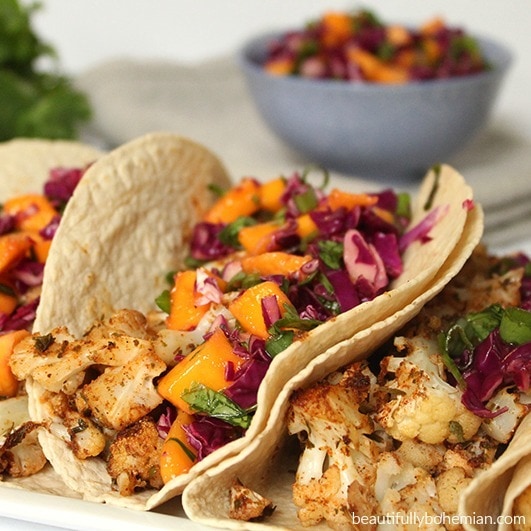 Spicy Vegan Jamaican Cauliflower Tacos with Mango Salsa
Ingredients
For the Cauliflower-
1

large cauliflower

cut into bite-sized florets

½

tablespoon

garlic powder

1

teaspoon

cayenne

less if you're sensitive to spicy foods

2

tablespoon

olive oil

2

teaspoon

onion powder

2

teaspoon

dried thyme

2

teaspoon

dried parsley

2

teaspoon

Himalayan pink salt

1

teaspoon

smoked paprika

1

teaspoon

allspice

½

teaspoon

nutmeg

¼

teaspoon

cinnamon
For the Mango Salsa-
1 ½

C

chopped red cabbage

½

C

sliced green onions

1

mango

diced small

½

lime

juiced

Handful cilantro

chopped

Light Himalayan pink salt and pepper
Instructions
Preheat oven to 400º.

Place cauliflower florets on a large baking sheet covered in parchment paper and drizzle with olive oil.

In a separate small bowl, mix spices together. Sprinkle spice mixture over cauliflower*, and pop in the oven. Bake for 20 minutes, or until cauliflower is fork tender and golden brown.

Meanwhile, make the salsa. Mix together salsa ingredients in a medium bowl and set aside.

To assemble, stuff warmed tortillas with roasted cauliflower and mango salsa. Serve.
Notes
*If you're sensitive to heat, but love the flavor of jerk, simply cut back on the amount of spice mixture (and cayenne!) you sprinkle onto your cauliflower prior to baking.
Tried this recipe? Tell me about it + share!
Comment and let me know how it was! Then follow BVK on Pinterest @bohemianvegankitchen
Share this recipe with a friend by Email
Pin It!

Thank you for taking the time to invest in your health and happiness!