Who says you can't enjoy vegan treacle fudge while celebrating one of the best holidays of the year, Halloween?
Sure, we all love candy, but the REAL MAGIC happens when you can indulge in a dessert that is 100% cruelty-free, gluten-free, and void of all those pesky dyes and preservatives- making you guilt-free while you munch. Add in a sprinkle of Harry Potter love, and you have yourself a match made in Halloween…heaven?
(Bloody hell.)
Because Harry is so much more than a fictional character, especially in my house. He has bewitched my heart, as well as inspired my culinary obsessions. And it is for that reason that I bring to you one of my FAVORITE healthy treats today: Harry Potter Vegan Treacle Fudge.
You can start squealing now.

First Published: October 18, 2017… Last Updated: August 28, 2019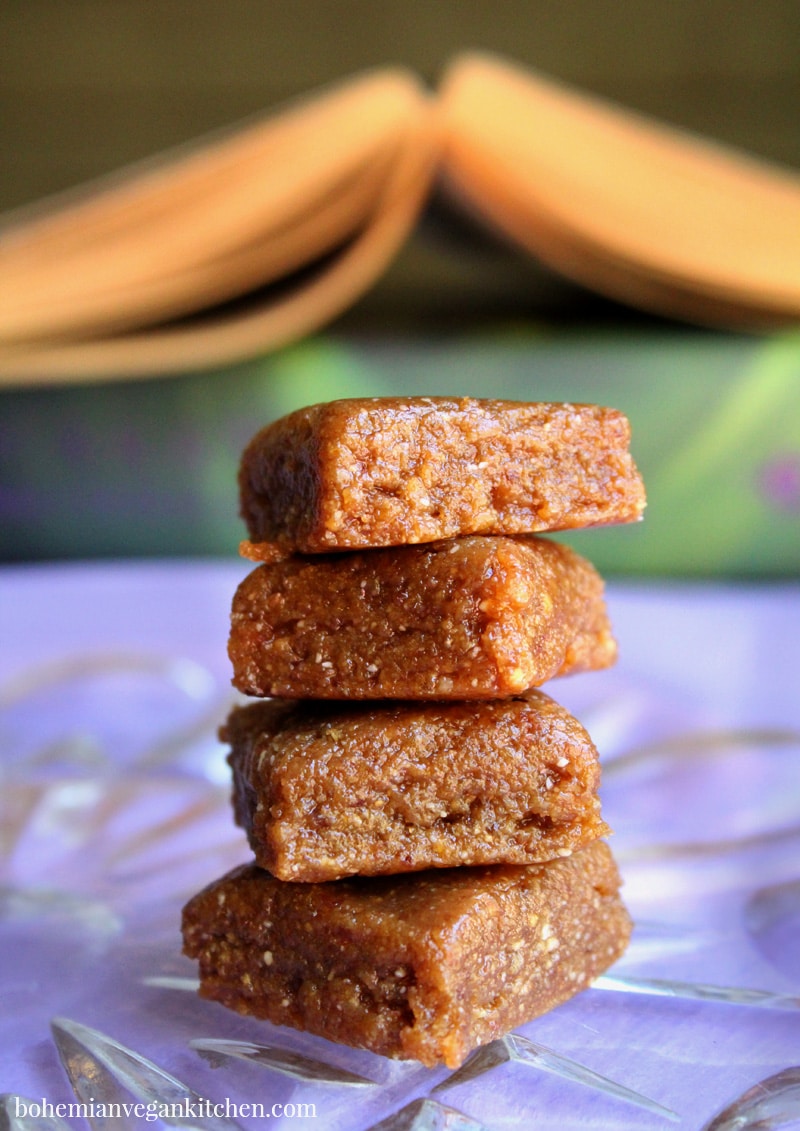 Become bewitched with this naturally tasty vegan treacle fudge!
Any admirer of Harry knows that he is a fan of anything treacle (particularly treacle tart). If you are in the dark about what treacle actually IS, well, basically it's British molasses.
Let me tell you, molasses deserves more respect here in the states than just the occasional use in gingerbread cookies or homemade BBQ sauce. Besides the fact that is tastes AMAZING, molasses is also super healthy too, helping boost your immune system, your nervous system, and aiding in relief from diabetes, cancer, stress, headaches, anemia, and more*.
Oh, and ladies? Molasses can also ease that time of the month, so bliss out on some fudge will ya!?
Just one more reason to tip my invisible hat to Rowling for opening my eyes (and taste buds) to the ways of the treacle.
Our first introduction of treacle fudge is in book two, "The Chamber of Secrets", post Ron's backfiring spell. Hagrid offers Harry some treacle fudge while a queasy Ron pukes slugs into a bucket. Yes, super gross.
The treacle fudge is described as being so sticky that it cements Harry's jaws together, making it difficult to talk- not my aspiration for my own version mind you.
To give you a little backstory, my first attempt at making this fudge was straight out of "The Unofficial Harry Potter Cookbook", which I bought knowing I'd have to make a WHOLE lot of vegan substitutes along the way. Luckily the fudge was a snap to "veganize", and it turned out to be as delicious as carnival fudge (and complete with cement glue texture).
Successful though it was, I felt totally food stoned due to the fact that it was made ENTIRELY of sugar, which was like eating a slab of crack cocaine. And then I gave it to my five year old. You can imagine the madness that ensued.
I now know why she wrote that an 8 x 8 square of fudge would equal 60 servings. *Ahem.*
And so, the quest for a healthier version began, with many attempts, successes, and failures. Finally, I was able to figure out the perfect ratio of ingredients, as well as proper execution. The result is truly a sticky, moan-worthy fudge that pops with treacle (molasses) flavor, while also keeping it 100% HEALTHY and refined sugar-free. Did I mention there's no coconut oil either!?
The majority of vegan fudges out there rely heavily upon coconut oil to hold it all together, and while I am a coconut fan, I wanted to keep the tropical taste (and added oil) out of it.
By using pecans and cashews, you get plenty of healthy fats, fiber, and antioxidants, as well as flavor and texture. The dates add a natural sweetness and work as a binder, while also supplying you with plenty of vitamins such as calcium, sodium, iron, phosphorus, potassium, magnesium, and zinc. Dates can also help regulate the digestive process, and can help prevent abdominal cancer*.
This Halloween, "have your fudge and eat it too" with this healthy alternative- I'm sure Hagrid (and Fang) would approve.
Happy Halloween!
Allergy-Info & Substitutions
This treacle fudge recipe is 100% vegan, meaning it is dairy-free, egg-free, and gelatin-free. It is also naturally gluten-free and soy-free.
While this is not a nut-free recipe, you could always experiment using seeds if you have a nut allergy, like sunflower seeds or pumpkin seeds. If you try this, I'd love to hear about your experience in the comment section below!
Want another fudge recipe? Check out this post for a classic dairy free fudge.
Cast a spell over your muggle friends by serving them up a few squares of this healthy vegan treacle fudge, which is naturally dairy-free, egg-free, soy-free, and gluten-free! Best part is this fudge requires no stove-top cooking or baking of any kind, making the experience truly magical. So give it a go- you'll soon be shouting "Accio fudge!'
Harry Potter Healthy Vegan Treacle Fudge
Ingredients
1

C

unsalted pecans

1

C

unsalted cashews

20

dates

pitted

1

teaspoon

Himalayan pink salt

2

tablespoon

molasses OR get REAL treacle here!

1

tablespoon

maple syrup
Instructions
Blend nuts in a food processor for 1-2 minutes until combined well (should start clumping together). Add dates and continue to process for 1 minute.

Mix in the pink salt, molasses, and maple syrup. Continue processing until a dough starts to form, but be careful not to over process- at some point the nuts will release their natural oils, creating oily fudge. If this happens, dab your fudge with a paper towel (after transferring) to soak up any excess liquid.

Transfer fudge dough to an 8 x 8 square baking dish. Pop in freezer for 15 minutes. Cut fudge into squares. Enjoy!
Tried this recipe? Tell me about it + share!
Comment and let me know how it was! Then follow BVK on Pinterest @bohemianvegankitchen
Share this recipe with a friend by Email
Pin It!
Thank you for taking the time to invest in your health and happiness today!