Are there vegan options at Chick-fil-A? Can you even get quality vegan food at a chicken sandwich place? And what about all the sauces?
These are just a few of the questions that ran through my head when I thought about purchasing food at a Chick-fil-A for the first time as a vegan.
Because when you have family that works there (or you're just a human being that craves fried food on occasion), questions arise. And no, you don't want to be THAT PERSON that's holding up the drive through just because you need to know all the ingredients contained in a BBQ sauce packet. Um, no.
The good news is that YES, there actually are vegan options at Chick-fil-A that are worth waiting in line for. Keep reading for the complete guide on all the vegan things at Chick-fil-A, including breakfast items, wraps, salads, and a sauce menu.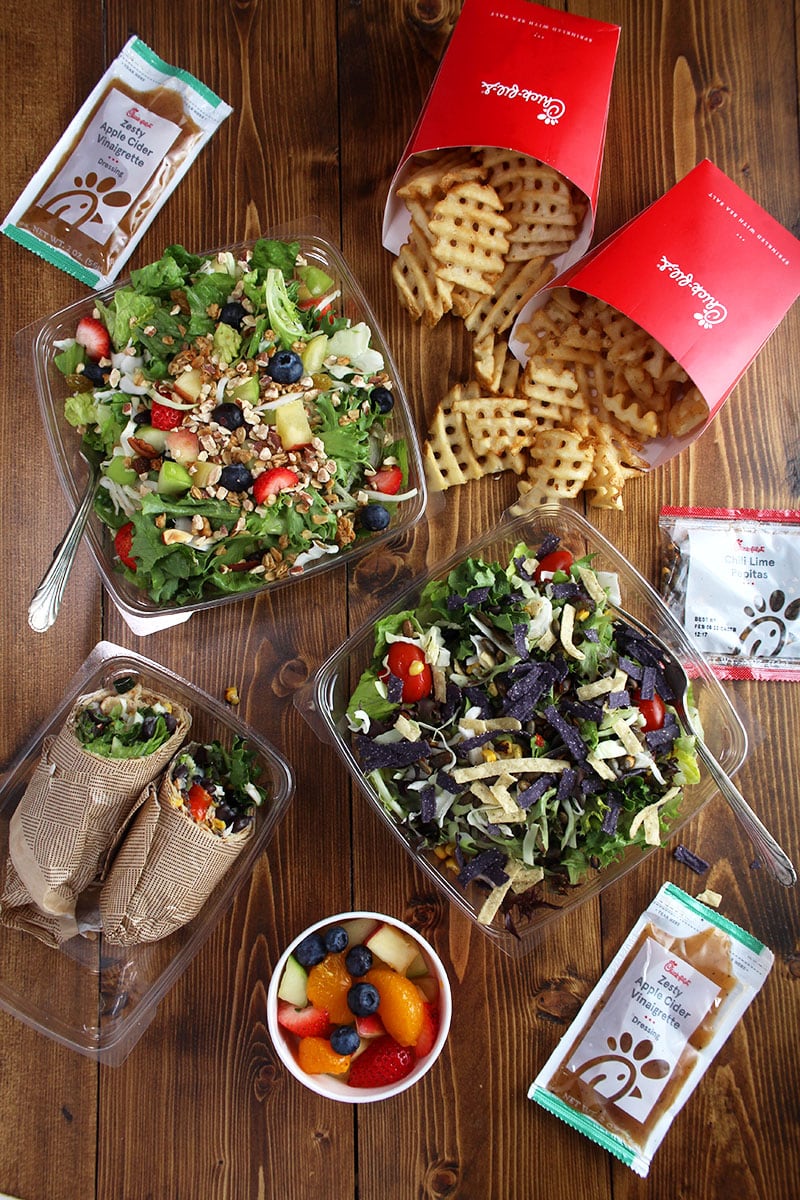 Why you should buy vegan food at Chick-fil-A
Before you check out the menu below, I think it's important to answer the question: but, WHY? Like, why would you go to Chick-fil-A to order vegan food in the first place? Why not go to the grocery store or support a local vegan hipster restaurant?
Here are three reasons to shop at Chick-fil-A for vegan food:
Availability. I can't tell you how many times I've been far from home and there's clearly a LIMITED amount of options for vegans. Knowing what major chain quick stops have vegan options is crucial when you're going out of town or are in a pinch. Seeing a Chick-fil-A means there's somewhere I can go if I need food, like NOW.
Quality. I feel like this is worth mentioning because the quality I've experienced at Chick-fil-A is top notch. I've had countless experiences where I've ordered something "without milk/cheese/meat" at other establishments and been very disappointed with the outcome. Chick-fil-A is STILL GOOD without all the animal products, and I think that is stellar.
Service. Lastly, for the most part Chick-fil-A is on point with their service. The majority of the time it is not difficult to order vegan options– you just have to be patient as they take your order. I must also mention that the way Chick-fil-A moves people through the drive through places them above every other fast food restaurant, and it's FAST (something you just don't get at hipster restaurants, sorry but it's true).
Of course, one of the most important reasons you should shop at Chick-fil-A is to show interest for more vegan options!! The more that people ask for dairy-free, egg-free, and meat-free options (and pay hard-earned money for it), the more likely we will see additional menu items added.
I realize that not all vegans want to shop at restaurants that support meat. However, unless you grow 100% of your food, or choose to only shop at 100% vegan grocery stores and restaurants, you are "supporting" companies that sell meat– even places like Whole Foods, Trader Joes, and Sprouts, which are basically vegan magnets, all sell meat.
And so, the best thing we can do is continue to purchase vegan-friendly meals and voice our desire at places we want to see sell vegan food. It's as simple as that.
Item availability
Please keep in mind that this is the general list for vegan menu items at Chick-fil-A. Depending on location/season, some items may or may not be available.
That being said, here is a breakdown of all the vegan items you can order:
Vegan breakfast menu
English Muffin (order plain with a packet of jelly, see sauces below). 140 calories per serving.
Hash Browns. 270 calories per serving.
Fruit Cup. 60 calories per serving.
Apple Sauce. 45 calories per container.
Order this: For a full breakfast, order one English Muffin with your choice of jelly (and no butter), an order of Hash Browns, and a large Fruit Cup with Orange Juice OR a Coffee with no milk.
Vegan lunch and dinner menu
Spicy Southwest Salad (order with no chicken and no cheese + one of the vegan dressings listed below). A mixture of romaine lettuce, red leaf lettuce, green leaf lettuce, black beans, roasted corn, tomatoes, red bell pepper and poblano pepper. Comes with a packet of season tortilla strips and chili lime pepitas. 690 calories per serving, and less when ordered vegan.
Market Salad (order with no chicken and no cheese). A mixture of romaine lettuce, red leaf lettuce, green leaf lettuce, strawberries, blueberries, and apples. Comes with a packet of roasted almonds and granola (contains honey, so leave off if you don't eat honey). 540 calories per serving, and less when ordered vegan.
Southwest Veggie Wrap (order without cheese). A flaxseed flatbread wrap that contains green leaf lettuce, tomatoes, poblano chilies, red bell peppers, roasted corn, and black beans. I love pairing this with the balsamic vinaigrette dressing. 650 calories per serving, and less when ordered vegan.
Waffle Fries. 420 calories per serving.
Waffle Potato Chips. 220 calories.
Side Salad (order with no cheese). Mixture of green lettuces, grape tomatoes, and red bell peppers. 470 calories per serving, and less when ordered vegan.
Kale Crunch Side. A mixture of cabbage and kale, and comes with apple Dijon dressing and a packet of almonds. 120 calories per serving.
Order this: For a full lunch, order the Market or Southwest Salad (no chicken or cheese) and your choice of vinaigrette dressing (Zesty Apple Cider or Balsamic), an order of Waffle Fries, and a fountain drink.
Or this: For a full dinner, order the Southwest Veggie Wrap (no cheese) with the Balsamic Vinaigrette Dressing, an order of Waffle Fries (or potato chips), the Fruit Cup, and unsweetened/sweet tea.
Vegan sauces at Chick-fil-A
Barbeque Sauce. 45 calories per container.
Polynesian Sauce. 110 calories per container.
Sweet and Spicy Sriracha Sauce. 45 calories per container.
Light Balsamic Vinaigrette Dressing. 80 calories per packet.
Zesty Apple Cider Vinaigrette Dressing. 230 calories per packet.
Smucker's Grape Jelly. 36 calories per packet (approximate).
Smucker's Strawberry Jelly. 36 calories per packet (approximate).
A note on honey: the honey consumption debate rages on between vegans. Some partake occasionally and some have sworn a sacred oath to never again. And yes, while honey is not vegan, we all have to make our own decisions when eating at restaurants– no judgments here.
So if you feel like being a rogue vegan (or want to go vegetarian for a day), here are two more sauce/dressing options that are dairy and egg free, but contain honey:
Honey Mustard Sauce. 50 calories per container.
Fat Free Honey Mustard Dressing. 90 calories per packet.
Vegan drinks
Fountain drinks
Sweetened and unsweetened iced teas
Home Style Lemonade
Apple juice (boxed)
Orange Juice (bottled)
Hot or iced coffee (order without milk). Select from original iced coffee or vanilla. During the holidays, you can also request to add peppermint flavor to your coffee!
Water (on tap or bottled)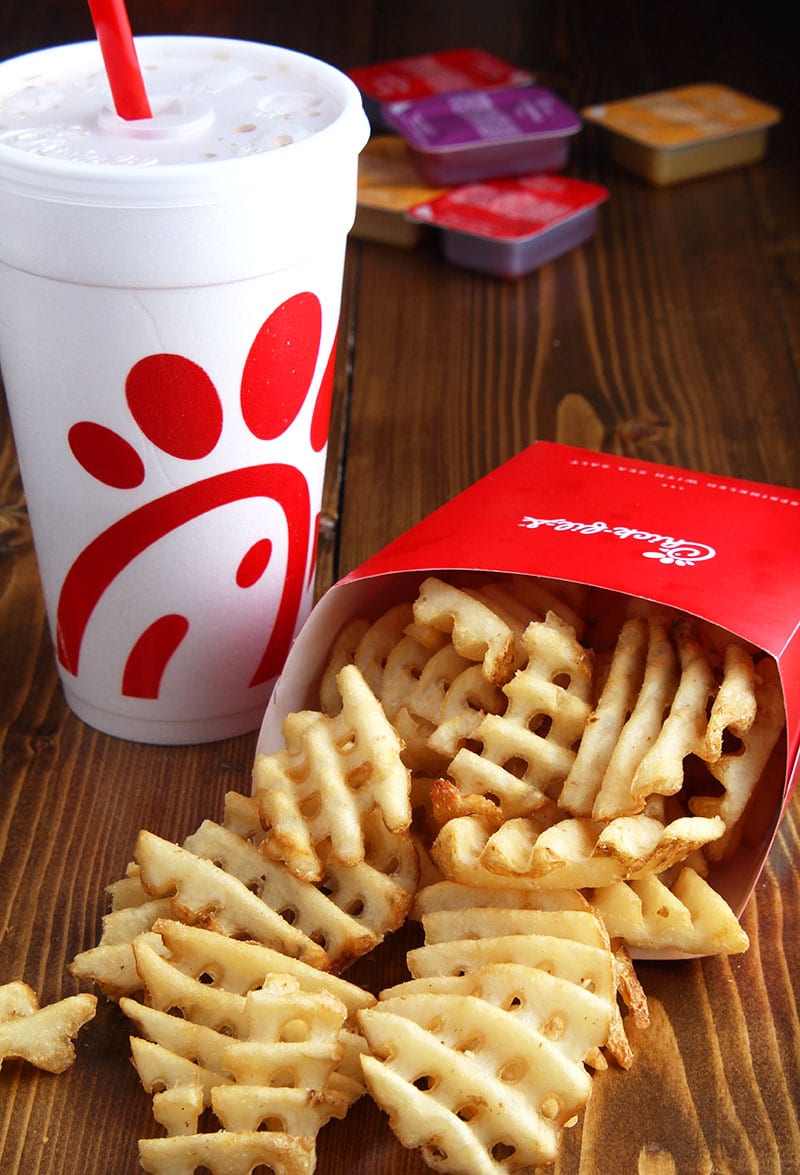 Will there be a vegan chicken sandwich or nuggets at Chick-fil-A?
This is probably the most asked question about Chick-fil-A from vegans. Sure, the salads are fantastic, but like, WHEN will we get a vegan chicken option?
The answer as of 2019, is that Chick-fil-A went on record with Business Insider to say that they were currently in the early stages of meatless options, including vegan chicken. "Specifically … a vegetarian option or a vegan option is something we're looking at, we're thinking about, and have some [research and development]."
No launch date was available, but they did say it could take up to 24 months. And folks, that time is drawing closer!
Hopefully going into 2022 we will FINALLY see some vegan chicken options, opening up more possibilities for sandwiches, wraps, and more. Just sit tight and be patient.
Are Chick-fil-A fries vegan?
The last question I want to answer is about the waffle fries. Fries, although made from potatoes, can sometimes still not be vegan. McDonalds for example, cooks their fries in beef fat, making MacDoo the last place vegans would want to stop for a quick bite.
Luckily, at Chick-fil-A, the waffle fries are cooked separately in oil, meaning they are not prepared in the same vat as the chicken.
So rest assured, you can have your waffle fries and eat them too.
How do you order vegan food at Chick-fil-A?
It's easy to order vegan at Chick-fil-A! Just have patience with your cashier as they ring you up– sometimes it may take a moment for them to find what you're looking for, and that's ok. Here's a couple things to keep in mind when ordering, that can also help your experience:
When ordering salads, using the term "base" salad means no chicken (knowing this can help your cashier when selecting the option). Then ask for no cheese and add your salad dressing.
Want more on your salad? Ask for extra packets of tortilla strips, pepitas, granola, or almonds.
Be sure to order your sauces with your food. Once you pay, your order is going through the chain and you cannot add sauces on after it's been processed. Asking for sauces afterwards can affect the speed (specifically in drive thru) so to ensure promptness, ask while ordering.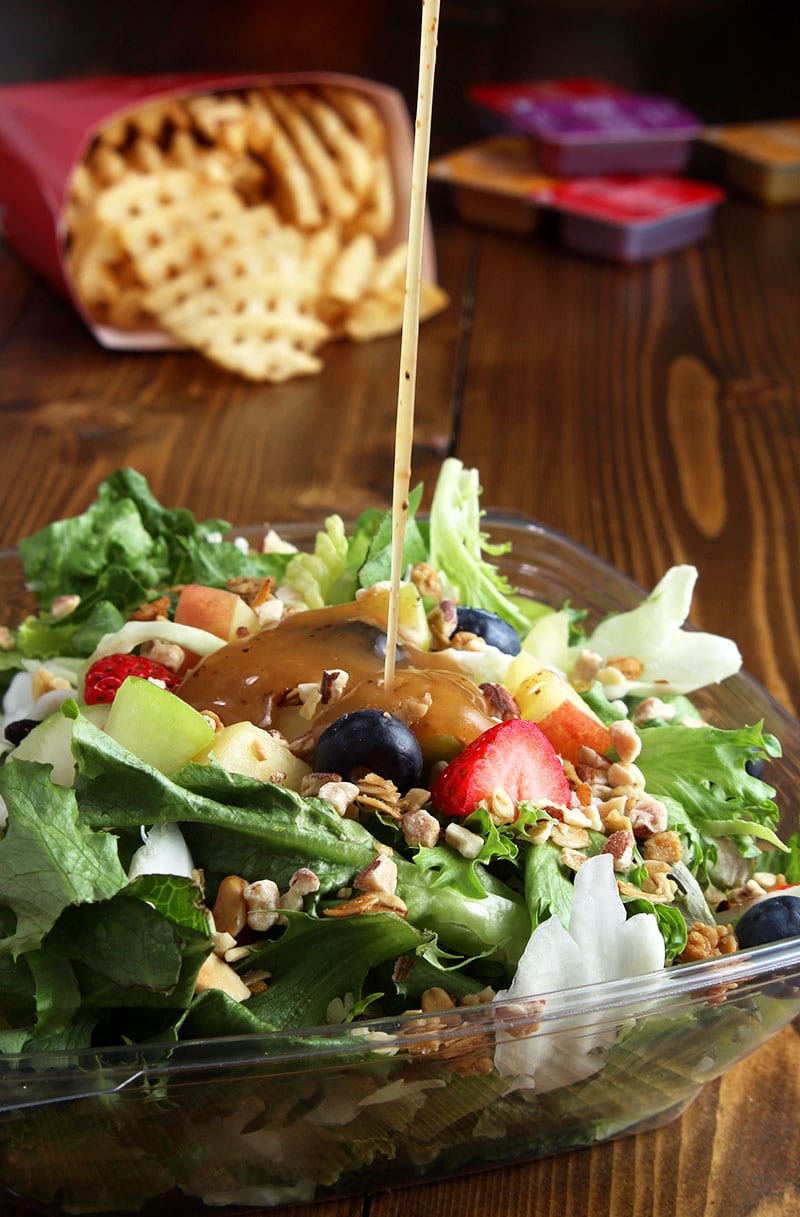 Conclusion
Now that you know all the vegan things at Chick-fil-A, you can be prepared and confident when placing an order, woo hoo! Be sure to check back for more vegan options in the future, which I will add as they come available.
Know someone who could benefit from this article? Share it with a friend!
Thank you for taking the time to invest in your health and happiness!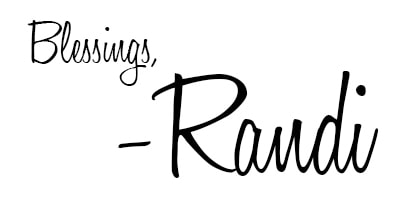 If any man serve me, let him follow me; and where I am, there shall also my servant be: if any man serve me, him will my Father honour. John 12:26