Get healthy this year with homemade V8 juice, and kick that bottle of processed poison to the curb! Takes only 5 minutes to prepare using fresh vegetables like tomatoes, carrots, celery, beets, and more. Not only does this healthy V8 juice taste amazing, but it makes you feel good too. 100% customizable to fit your dietary needs.
I love detox recipes! Next head on over to make this sugar free broccoli salad or serve up these healthy Greek bowls for dinner. And don't forget to check out this list of 9 detox drink recipes.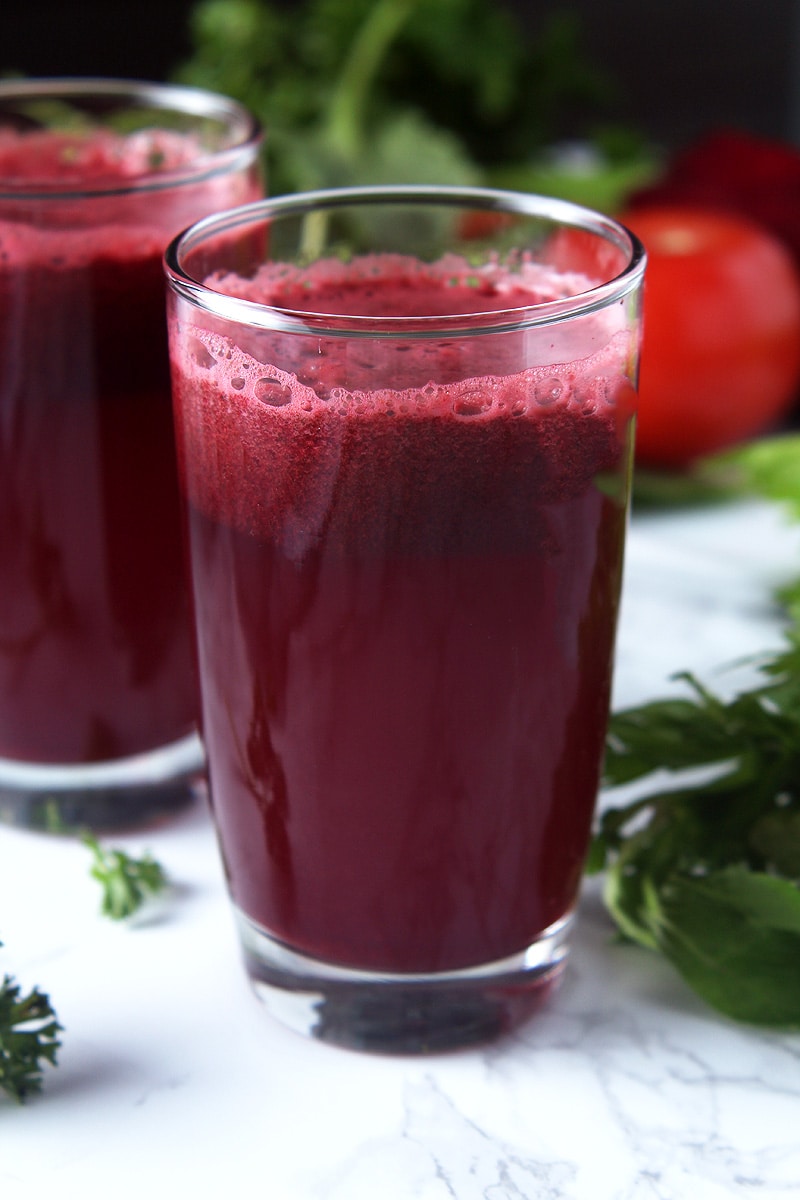 When I was a kid, I never liked V8 juice.
V8 juice was for when your parents wanted to get crazy with Bloody Marys…or decided they should get healthy after drinking too many Bloody Marys.
Because store-bought V8 was all about the illusion of health: "I'll just drink a V8 instead of eating actual vegetables" said every person who ever drank the stuff. As a kid in the 80's and 90's, drinking V8 juice was like a punishment for an unknown crime. If my mom wanted me to drink vegetable juice, it made me question my actions for the day:
"What did I do? Did I not clean my room? Take out the trash? Change my underwear?"
Sometimes my mom would try to trick me by making a Virgin Mary. She'd get a fancy glass, add a handful of ice cubes, then fill it to the top with V8 juice and finish it off with a jazzy celery stick. As if the celery would make me think it was anything other than vegetable juice.
As a side note, making me a mocktail as a small child may have not been the best parenting move Mom. But I forgive you.
Because even with my mom's best efforts, I still wouldn't drink the entire thing. She would get a couple sips out of me (probably because I was being watched, the way a lion watches a gazelle before it's ready to kill), but as soon as my mom stepped away, I slithered out of the chair faster than a garden snake.
Leaving that glass of V8 to die a slow, watery death.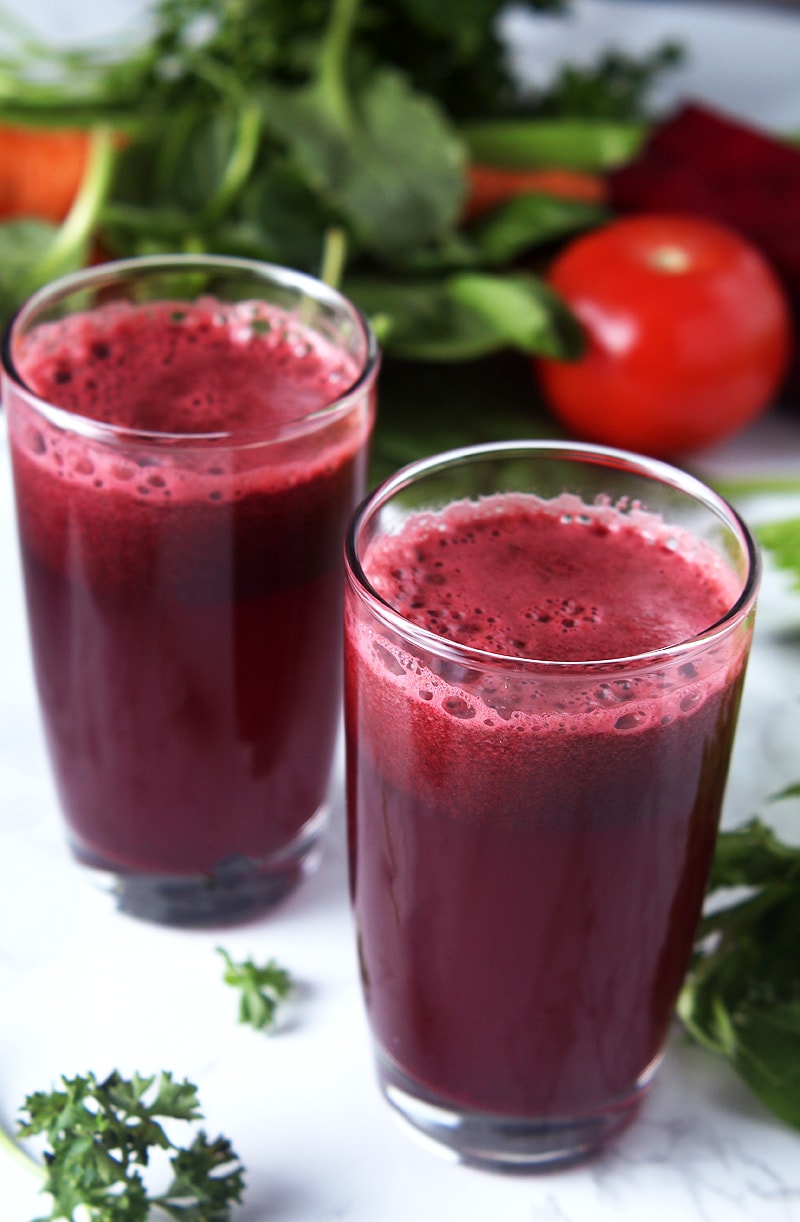 Years later, when I found myself wanting to "get healthy" as an adult, I couldn't help but fall back to that old remedy of drinking V8 juice, because it was all that I knew. Only this time, I read the label…something I had never done before.
And that's when I realized that my kid instincts about V8 being poison were true, and that refusing to drink my vegetable juice was most likely a heroic act. Or, at least, that's how I'd like to look at it.
The truth about processed V8 juice…dun dun DUUUNN
I found that store-bought V8 juice was no better than any of the other juice in the same aisle. I know this because I read ALL THE LABELS IN THE AISLE.
Ingredients like natural flavoring was clearly labeled on the back, but was overshadowed by big promises on the front, like "70 calories" and "2 servings of vegetables in each can". FYI, natural flavoring "may be contaminated with up to 80 percent of 'incidental additives,' such as propylene glycol, sodium benzoate, and glycerin. None of these additives need to be listed in the ingredients."*
And depending on the variety of V8, you may be getting a whopping dose of high fructose corn syrup along with it. Or even animal parts.
I'm not kidding on that last one either- Campbell's confirmed via Twitter that their natural flavoring may include "meat/seafood/poultry/dairy". Yikes!
Not to mention the fact that this is all pasteurized and reconstituted juice, meaning that the benefits of the veggies are destroyed during the high heat process + the water is removed and then added back later.
All of this information truly sunk in, gripping the bottle in my hands that day. It made me go Frankenstein rage and scream of the injustices as I side-swiped all of the V8 bottles off the shelves in poetic slow motion. Caps flew off containers and V8 juice exploded in a shower of bloody revenge as customers gasped in shocks of horror and someone called the manager because this woman should be stopped. My children, their eyes wide, staring at their mother as I sobbed and beat my fists into the floor tiles…
"WHHHHHHYYYYYYYY!"
That may or may not have happened. But just go with it.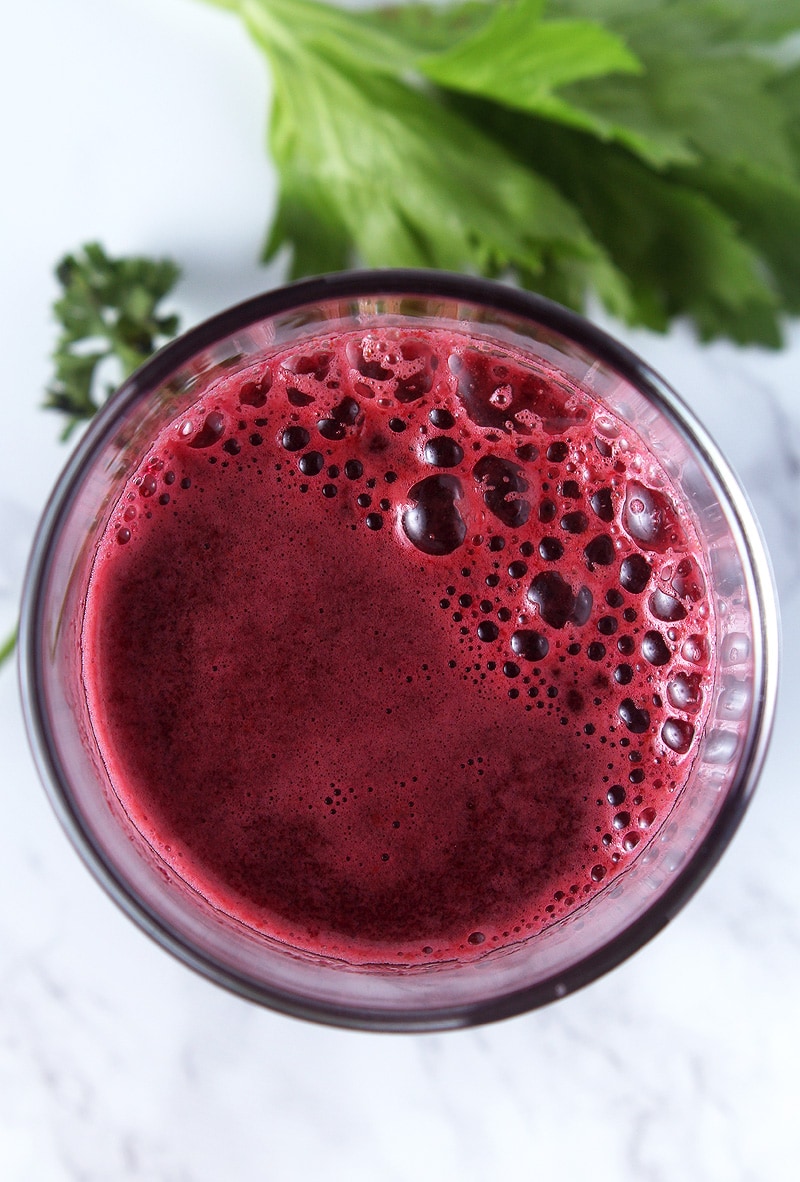 Point being, how could all these promises be LIES? How could my parents think this stuff was really healthy, when it's clearly just good marketing?
Yet, I realized in that moment of sweat and tears that my childhood memories were of a different time. Back then, to the mainstream public, the concept of eating healthy came in the form of convincing commercials and enticing front labels…only weirdos actually read the back. Or nutritionists. Or the people that made the labels.
Now, as consumers, things are different. Most of us want to be aware of what we are eating and where it comes from. And we have better options than buying store-bought bottled juice.
Gathering myself, I calmly placed the broken V8 bottle back on the shelf, apologized to the onlookers, and never looked back…although maybe that was partly out of embarrassment.
Again, this may or may not be true.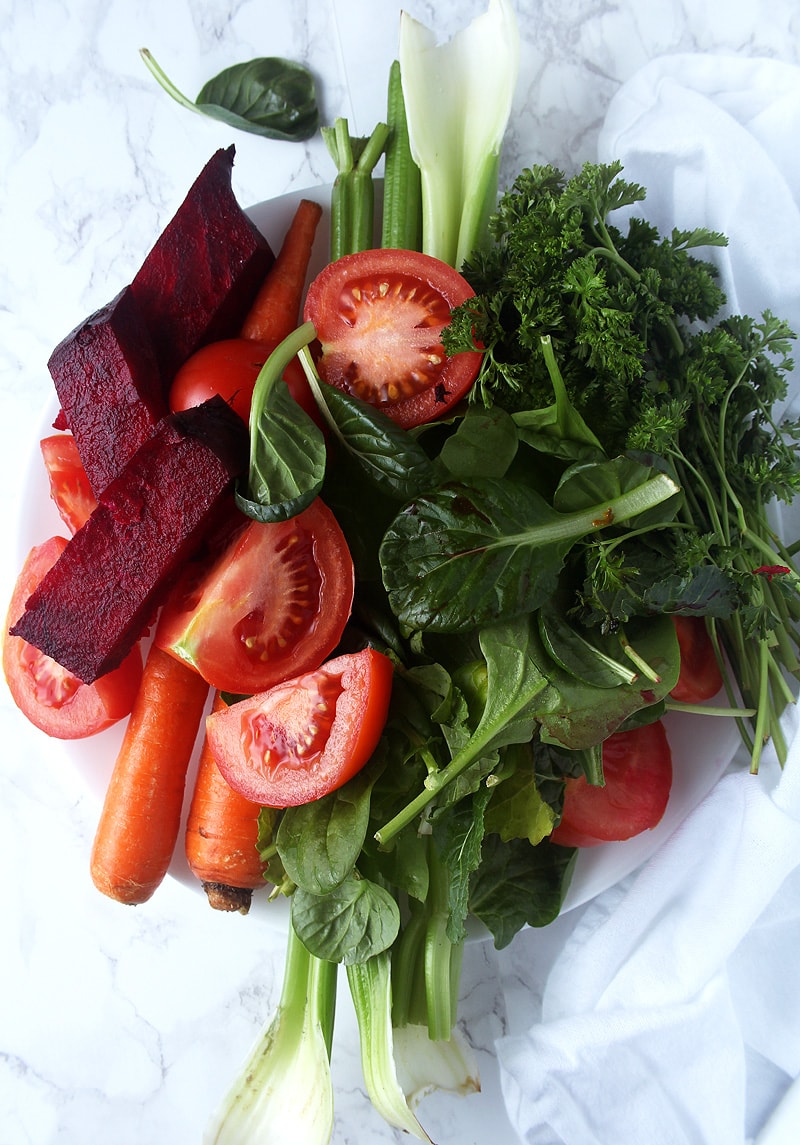 Juice you can feel good about
All dramatizations aside, I'm excited to share with you an actual healthy recipe for your own homemade V8 juice, complete with jazzy celery stick. It's sentimental.
And for the record, this stuff tastes GOOD. It's refreshing, flavorful, and can be customizable to fit YOUR tastes, not your moms (or Campbell's meat juice). For more ideas, see the "Allergy-Info & Substitutions" section below.
While the whole juicing movement has received both praise and skepticism over the past few years, personally, I think that there are benefits to incorporating homemade juice into your morning. This includes a healthy shot of nutrients and antioxidants + drinking fresh juice can help heal your gut, detox your system, and is a cancer preventative *.
Because trying to BLEND carrots, celery, and beets would make more of a chunky salsa than an actual DRINK. Just imagine yourself trying to down a gallon of salsa and you'll quickly see why juicing is a better idea.
I hope you enjoy this lovely Virgin Mary and please, leave your local juice aisle alone.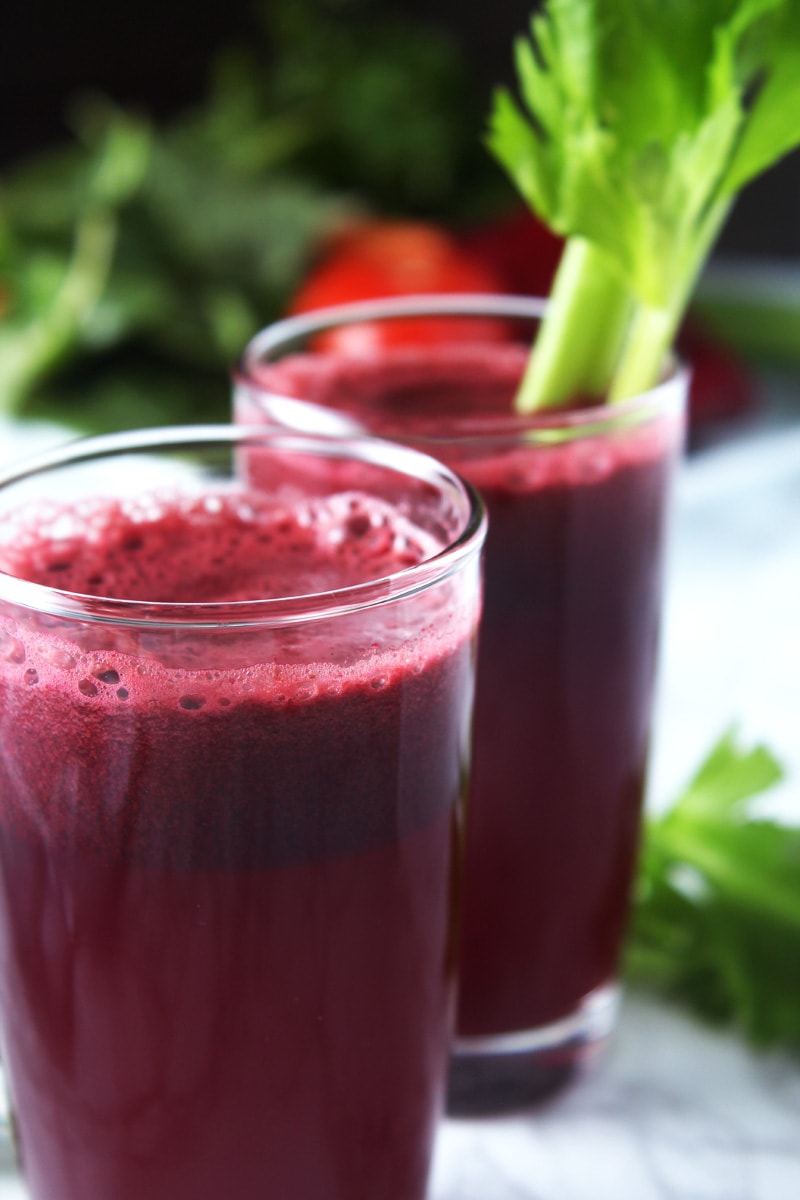 Allergy Information + Notes
This homemade V8 is 100% vegan (of course). It is also naturally gluten-free, soy-free, and nut-free.
Make it low-histamine friendly + nightshade-free by omitting the tomatoes and cayenne, and using watercress in place of the spinach.
Add in your own vegetables/roots/fruits for extra flavor, such as leeks, turnips, parsnips, sweet potatoes, turmeric root, ginger root, apples, lemon, lime, pears, etc. Just make sure to use only one fruit per round, as too many fruits can overdo it in the sugar department.
More healthy recipes: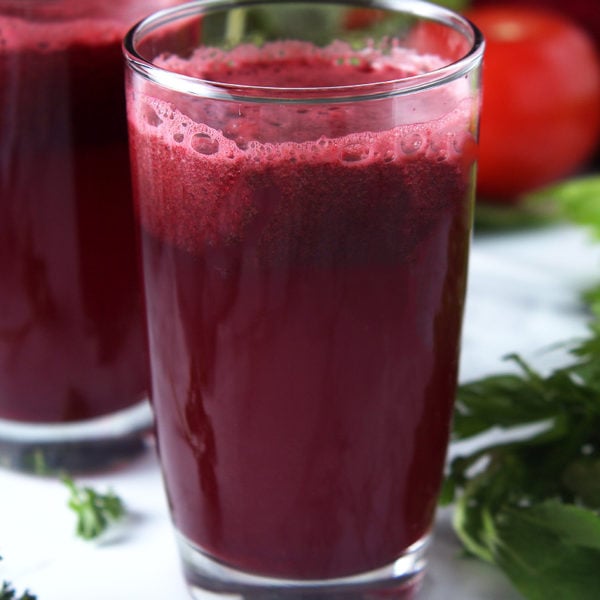 Easy Homemade V8 Juice
Get healthy this year with homemade V8 juice, and not processed poison! Takes only 5 minutes to prepare, and is 100% customizable to fit your dietary needs.

Ingredients
4

fresh tomatoes

4

fresh carrots

3

stalks fresh celery

½

medium fresh beet

handful

fresh parsley

handful

fresh spinach or watercress

dash

cayenne pepper, optional

dash

pink salt, optional
Instructions
Run the first six ingredients through a juicer. Divide into two cups and top with cayenne pepper and pink salt, if desired.

Nutrition Information
Calories:
113
kcal
|
Carbohydrates:
25
g
|
Protein:
4
g
|
Fat:
1
g
|
Saturated Fat:
1
g
|
Polyunsaturated Fat:
1
g
|
Monounsaturated Fat:
1
g
|
Sodium:
160
mg
|
Potassium:
1196
mg
|
Fiber:
8
g
|
Sugar:
15
g
|
Vitamin A:
22707
IU
|
Vitamin C:
44
mg
|
Calcium:
92
mg
|
Iron:
1
mg
Tried this recipe? Tell me about it + share!
Comment and let me know how it was! Then follow BVK on Pinterest @bohemianvegankitchen
Share this recipe with a friend by Email
Thank you for taking the time to invest in your health and happiness!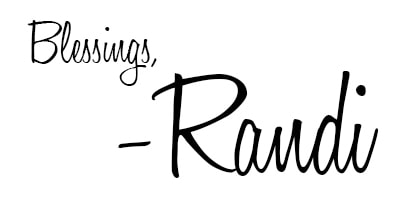 This post was first published on December 31, 2018 but has been updated for content.