When you're in a constant rush, you need something QUICK to throw together while still remaining healthy. Enter this beloved kale salad.
Sure, it's the leafy green vegetable that is gloriously praised by the health community while being brutally mocked by stand up comics on the daily (Jim Gaffigan I'm looking at you mister).
But the truth is, you don't have to be a raging hippy OR enjoy the taste of cardboard to like this controversial food. Because kale, when done right, is one of THE yummiest (and healthiest) greens to incorporate into your meals. Drizzle a moan-worthy *medicinal* dressing on top and you're good to go.
And this salad?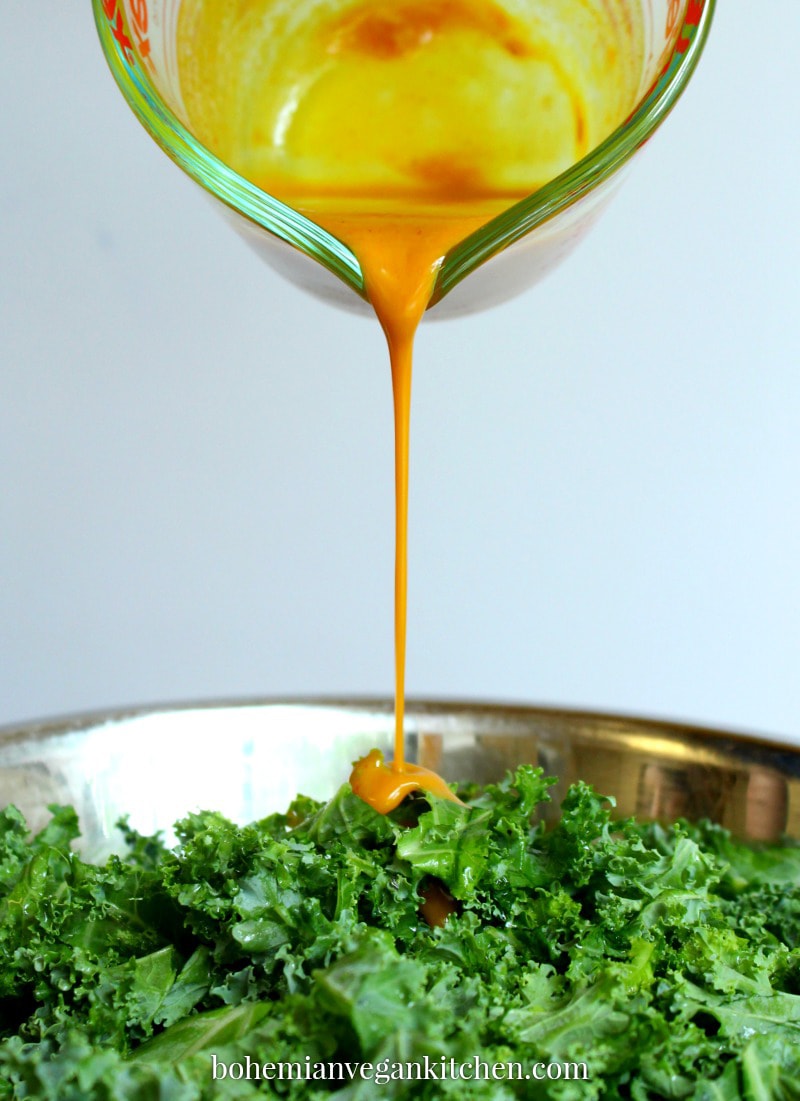 OH BOY. The flavors are absolutely POPPIN' while delivering a healthy dose of vitamins and minerals: kale is high in antioxidants, vitamin K, and vitamin C (plus can help lower cholesterol levels), while turmeric can help fight inflammation, easing joint pain and arthritis. Cayenne, while kept light in this recipe, is a great herb for digestion and your metabolism…and I'm just barely scratching the surface of the powers of these plants.
Plus, that's not even the best part. The best part, is that it ONLY TAKES 5 MINUTES TO MAKE.
Yup, you heard me. 5 minutes. That's as long as a commercial break or a crazy cat video on Youtube.
And if you've been wondering what you can throw together *quickly* before you run out the door, I highly recommend giving this kale salad a go– it's the perfect base for any number of additional toppings, plus can be used in sandwiches, wraps, and more!
Personally, I've used it stuffed in burritos, rolled up in flatbread, layered with juicy tomatoes on wheat, as well as loaded down with red cabbage, shredded carrots, avocado, green onions, olives, and even nutritional yeast. #drools
I love this kale salad because:
It's EASY to make with a limited amount of time.
Terrific on it's own, but can also be enjoyed as a topping, in between two slices of bread, or stuffed in soft tacos or wraps.
The versatility makes it a perfect candidate for any ON THE GO vegan meal.
Dressing contains medicinal herbs that, when paired with kale, impacts your health in a positive way.
Is low-histamine, cruelty-free, gluten-free, oil-free, and refined sugar-free.
With this many benefits, it's hard not to scream "KALE YEAH" at random strangers or small children from your car window.
And if you do, it's okay- just blame me:)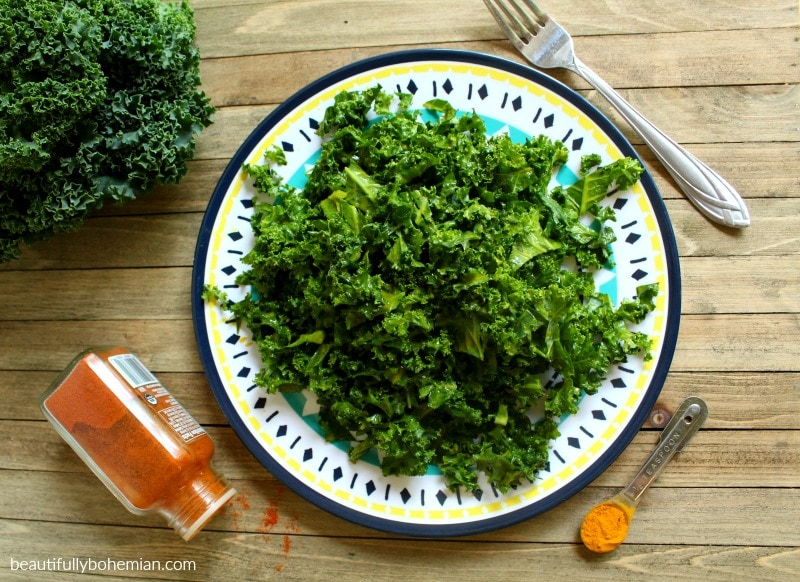 How to make 5 minute kale salad
Time needed: 5 minutes.
Please check the recipe box for exact measurements.
Make the salad dressing.

Combine tahini paste, maple syrup, turmeric, cayenne pepper, salt, and water and stir until combined well.

Prepare kale.

Rinse kale, and chop into small, bite sized pieces.

Toss and serve.

Transfer to a medium container that you can secure with a lid. Pour dressing on top of kale, and close lid. Shake until dressing in dispersed evenly over greens. Serve as-is or use in wraps or sandwiches.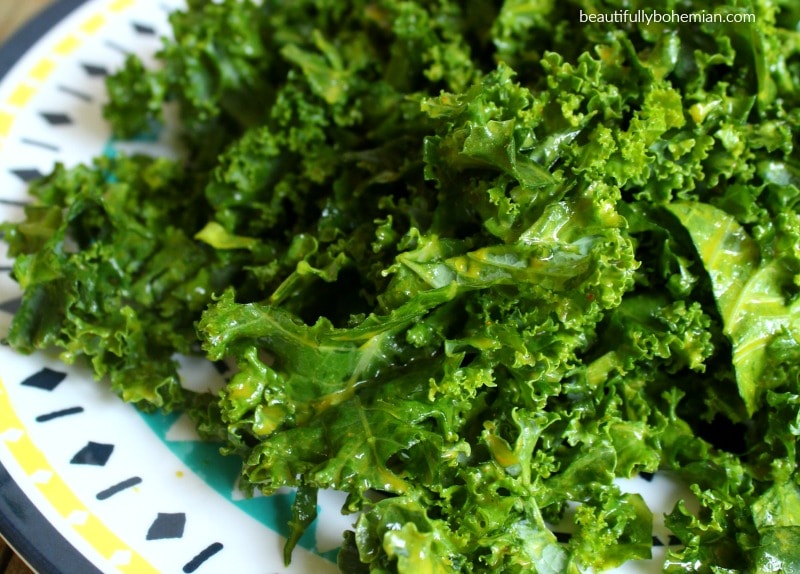 Allergy Information & Notes
This salad is 100% vegan, meaning it is meat-free, dairy-free, and egg-free. It is also naturally gluten-free, nut-free, soy-free, and low-histamine friendly.
For low-histamine + nightshade-free diets, omit cayenne pepper if your system does not handle spicy foods well.
For extra flavor, sprinkle nutritional yeast on top of your salad! Please note however, that nutritional yeast is not low-histamine.
Add extra veggies to pump up this salad, such as cucumbers, olives, shredded cabbage and carrots, or tomatoes.
More vegan salad recipes:
A Vegan Caesar Salad That Has Nothing To Do With Julius
5-Minute Kale Salad
Take 5 minutes and make this simple, yet flavorful kale salad that is naturally vegan, gluten-free, and appropriate for low-histamine diets! Perfect on it's own OR can be used in salad wraps or sandwiches.
Ingredients
1

tablespoon

tahini paste

1

tablespoon

maple syrup

½

teaspoon

turmeric

⅛

teaspoon

cayenne pepper

¼

teaspoon

salt

(I use Himalayan pink salt)

1 ½

tablespoons

water

1

bunch kale

chopped small*
Instructions
Combine the first 5 ingredients in a small bowl, stirring into a smooth paste. Add water, stir again until thoroughly combined. Set aside.

Rinse kale, and chop into small, bite sized pieces. I personally love my kale salad chopped small– it's easier to eat and use in wraps, burritos, and sandwiches. However, if you prefer the large kale leaves, go for it bro!

Transfer kale to a medium container that you can secure with a lid. Pour dressing on top of kale, and close lid. Shake until dressing in dispersed evenly over greens.
Tried this recipe? Tell me about it + share!
Comment and let me know how it was! Then follow BVK on Pinterest @bohemianvegankitchen
Share this recipe with a friend by Email
Pin It!
Thank you for taking the time to invest in your health and happiness!