Italian has always been one of my favorite vegan fallback cuisines, whether it be a quick weeknight meal at home or an easy selection at a local restaurant. It's not hard to get wrapped up in the romantic aspects of it either, since I'm pretty sure we all imagine dinner for two feasting over large portions of noodles by candlelight and the Italian opera (or Dean Martin).
Or maybe it's just me and my dreams of a date night alone with my husband and no children. It happens.
However, what if you are histamine intolerant or are trying to do a temporary low-histamine diet as a vegan? Suddenly the beloved Italian dinner can become non-existent, since tomatoes are considered a high histamine food, leaving marinara off the table.
Nope, can't do eggplant either, since that is also high in histamine. And when we can't rely on nutritional yeast or dairy-free market cheeses…well, what is there left to do?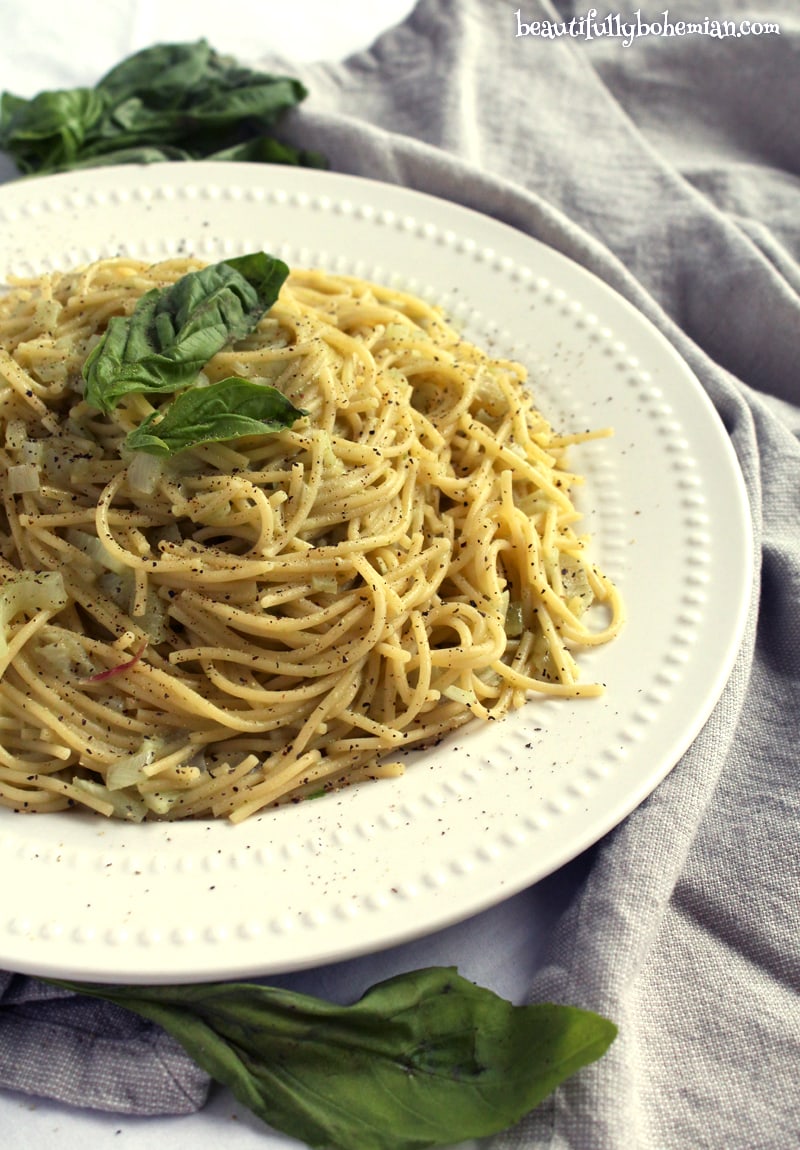 Do you know what happened to the vegan who realized his favorite food was off limits?
He was alfredo. *yuk yuk*
In all seriousness though, I'm here to tell you that YES, it's still possible to achieve that romanticized fantasy (or perhaps just a comfortable night in), and it doesn't have to take you much time either! In just 15 minutes you can have yourself the perfect Italian dinner that is not only gluten-free and vegan, but sits well with your system so you don't feel heavy (or have reactions!) afterwards.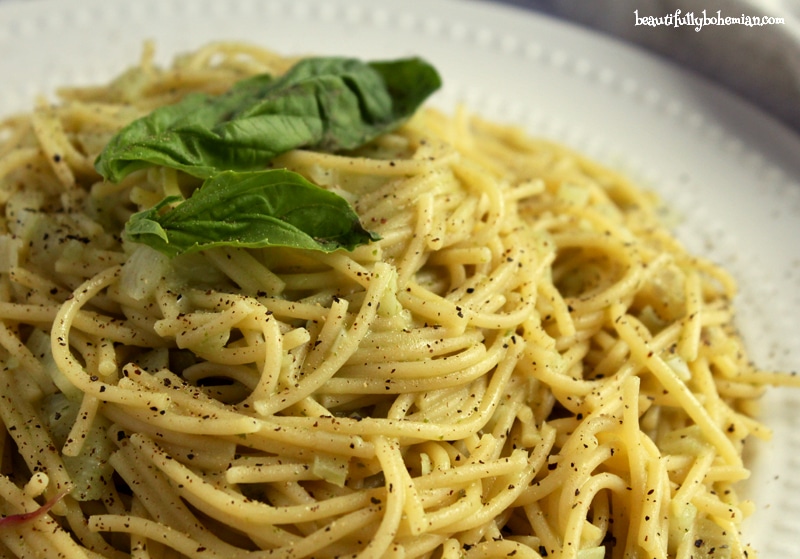 I love this meal because it's:
100% meat-free, dairy-free, gluten-free, + low-histamine.
Quick + easy, taking you only 15 minutes from start to finish.
Customizable for a variety of diets- add veggies of your choice or tweak the sauce to suit your tastes (see below for details).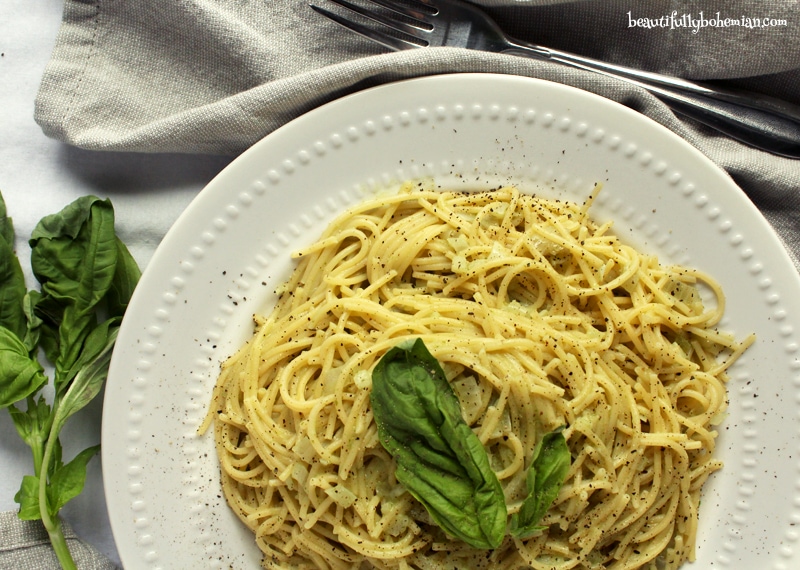 Allergy-Info & Substitutions
This recipe is 100% vegan, meaning it is meat-free, dairy-free, and egg-free. It is also naturally nut-free, gluten-free, and low-histamine.
If you're sensitive to full-fat/canned coconut milk, you may switch it out for a dairy-free milk of choice, however you may need to thicken it with cornstarch or arrowroot powder.
Don't like gluten-free noodles? If you are not gluten-intolerant, switch them out for regular spaghetti noodles OR replace them with zoodles (zucchini spiralized into noodles using a simple spiralizer, found by clicking here).
Add low-histamine baked veggies on the side, such as yellow or butternut squash, zucchini, or sweet potato.
Extra notes for vegans NOT following a low-histamine diet:
If you want more of a "cheesy" taste, try adding some nutritional yeast flakes to amp up the flavor.
Get your sauce "drunk" by adding your favorite cooking wine (or regular wine of your choice).
Add baked veggies of your choice or top with sliced green olives.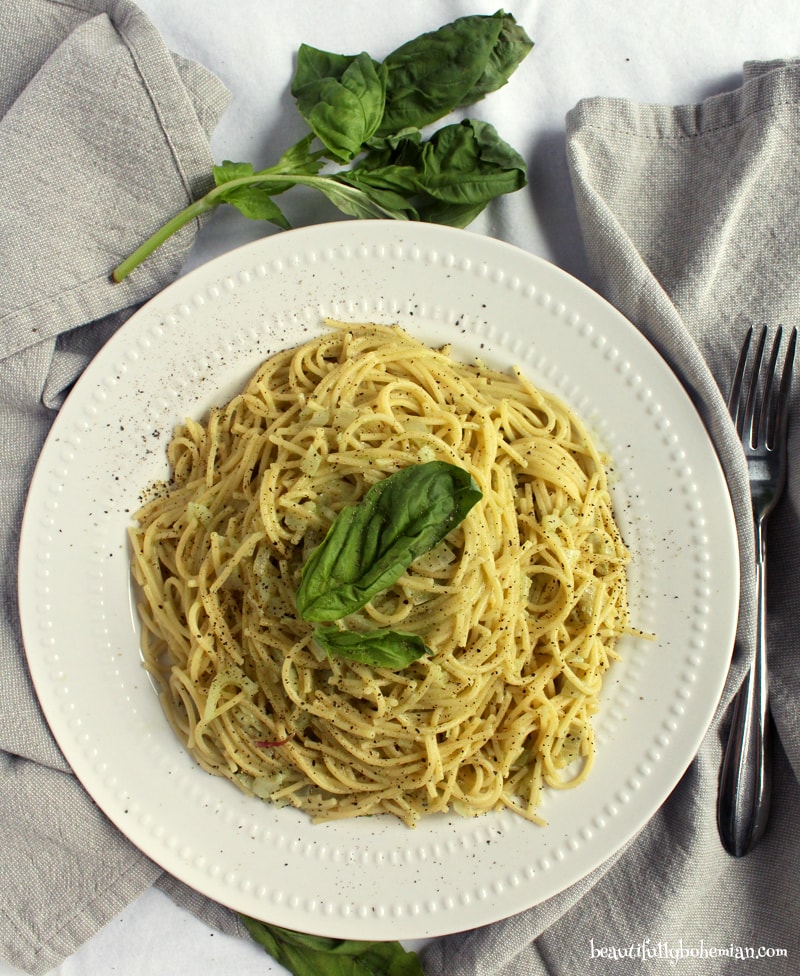 Trust me when I say that I was very happy with the results of this meal! I have been mulling over an easy Italian solution for the past month, and this one was so good my children and I devoured it in one sitting. #winning
I hope you all enjoy this easy weeknight dinner, and if you make the recipe, please let me know your experience by leaving a comment below! Because you know what they say..
"That's Amore!"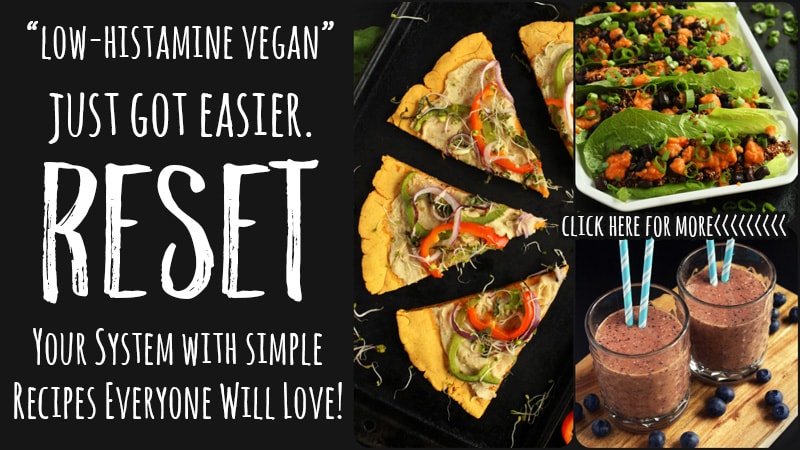 Enjoy this easy vegan Italian weeknight dinner that is free of tomatoes + can be ready in JUST 15 MINUTES! Perfect for vegans with allergies or histamine intolerance.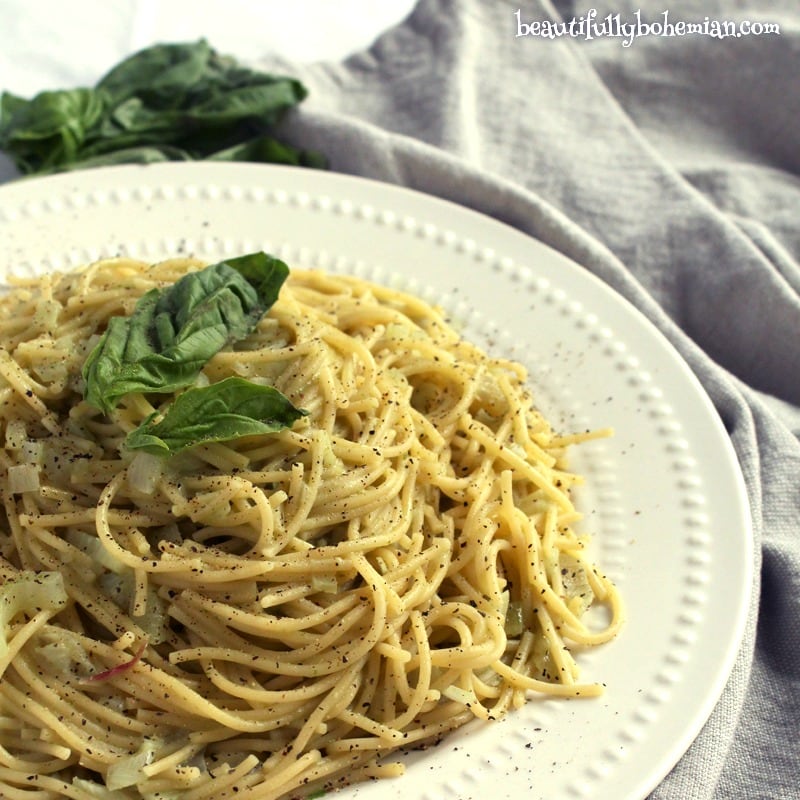 GF Low-Histamine Vegan Italian Basil Noodles
Ingredients
12

oz

gluten-free spaghetti noodles

I use Ronzoni brand!

15

oz

full-fat coconut milk

¼

C

fresh basil

3

cloves

garlic

minced

1

shallot

diced small

1

tablespoon

extra virgin olive oil

Himalayan pink salt and black pepper for seasoning
Instructions
Cook gluten-free pasta according to package directions (Ronzoni pasta will cook in exactly 9 minutes).

Meanwhile, blend coconut milk and basil in a blender (I use a single serving cup on my Ninja). Set aside.

In a large skillet, saute garlic and shallot in olive oil until soft, about 2 minutes. Add coconut milk/basil mixture, stirring until heated through, about 2-3 minutes. Season with pink salt and black pepper.

Once noodles are finished cooking, drain pasta and add to sauce, tossing to coat. Comfortably serves 4.
Notes
See notes in blog text (above) for more regarding customization of this dish!
Tried this recipe? Tell me about it + share!
Comment and let me know how it was! Then follow BVK on Pinterest @bohemianvegankitchen
Share this recipe with a friend by Email
Pin It!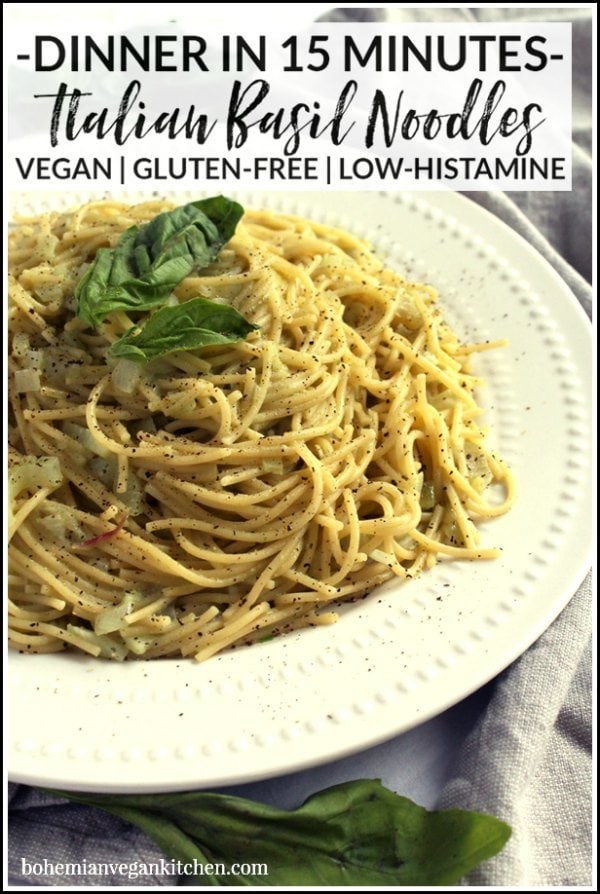 Thank you for taking the time to invest in your health and happiness!