Finding recipes that are quick, easy, and healthy can be a challenge, particularly when dealing with a food intolerance and/or sensitivities. I can tell you truthfully that I've been there, working on my own issues from the inside out; and no, it's not always glamorous or food blog worthy lol! In fact, sometimes it just straight up SUCKS out loud because you feel restricted or cut off from your favorite foods.
But on the bright side? All this experience has made me a master at substitutions. A superpower if you will, and one that I call on often (and you can too!).
Because the longer I'm on this path, the more I'm realizing that people ain't feeling good ya'll.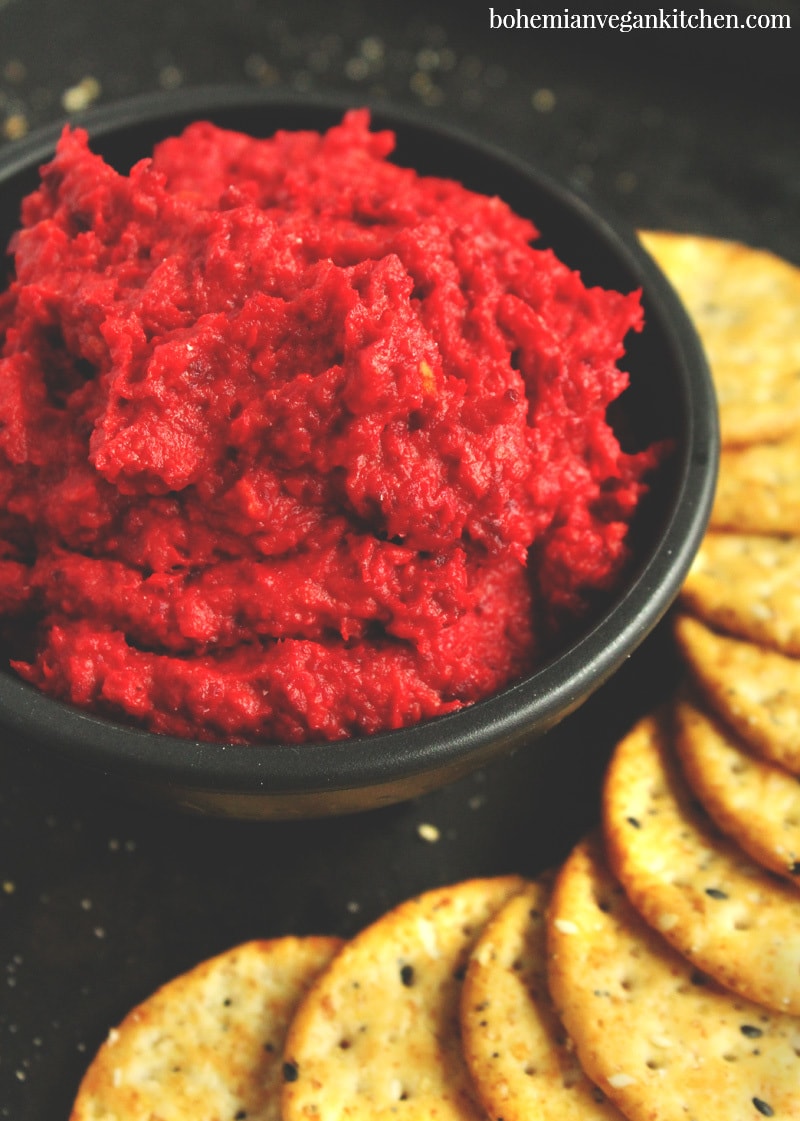 Sadly, many of us are secretly struggling and in pain on the daily. Whether it's histamines, gluten, soy, or what have you, our current food system is completely out of whack, and we are starting to see the consequences bleed through generations raised on unhealthy processed foods.
Which is one of the many reasons why I've been working hard on my new "Low-Histamine Vegan: Total Reset" Cookbook, coming VERY SOON to a kitchen near you (UPDATE: AVAILABLE NOW by clicking here!).
If you've been feeling "out of sorts" and/or constantly in meltdown mode because of food conflicts, then hang tight my friend. I've been putting the finishing touches on this downloadable companion, and will gladly release it by the end of February.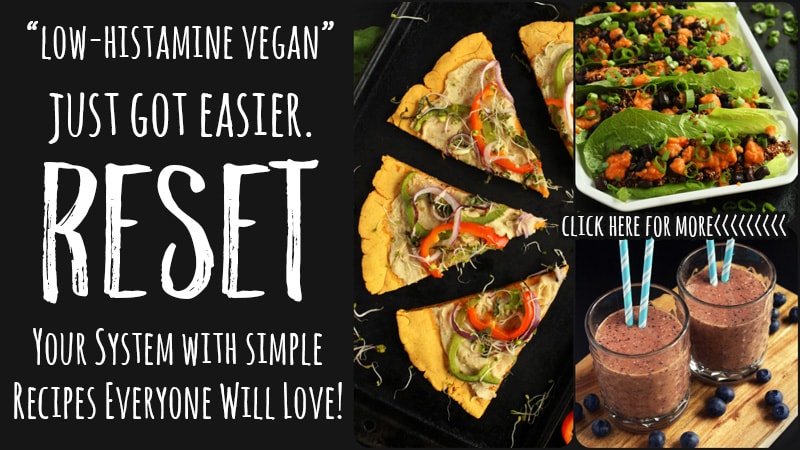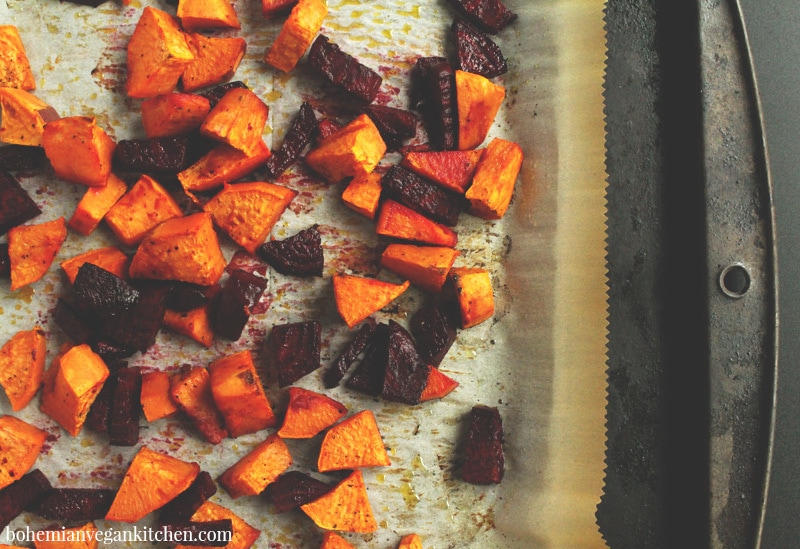 Personally, I believe that despite our food sensitivities, we can still enjoy good, simple food.
So in the meantime, I want to share this EASY low-histamine vegan dip, inspired by two of my favorite veggies: sweet potatoes and beets.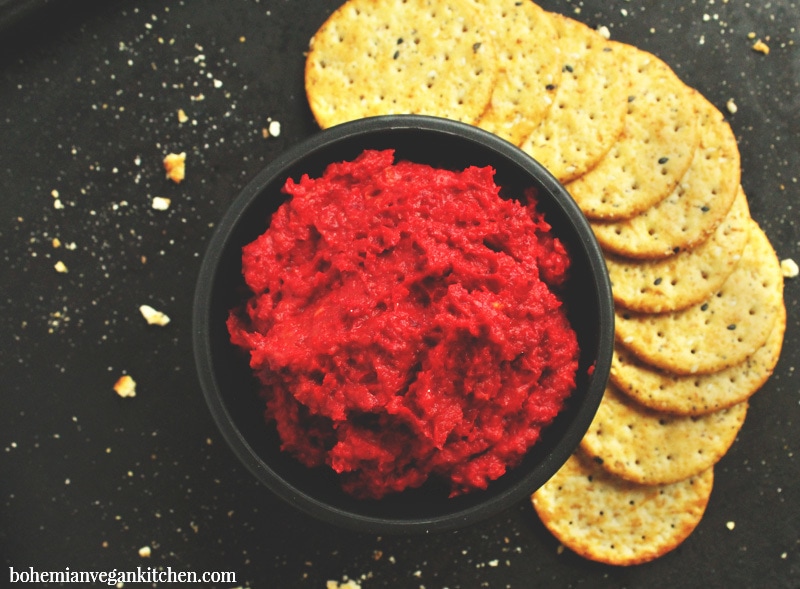 Rich in beta-carotene, B6, and Vitamin C + D, sweet potatoes can help prevent heart disorders, ward off colds and flu, plus help maintain a healthy immune system*. They are also naturally low in histamine and the perfect substitute for ANY dish that has white potatoes (which can cause digestive harm for those sensitive to nightshades).
As for beets, this beautiful root veggie is loaded with a range of vitamins, including Vitamin C, magnesium, iron, copper, fiber, and more; consuming beets can help improve your heart and liver health, as well as prevent certain cancers and respiratory issues*.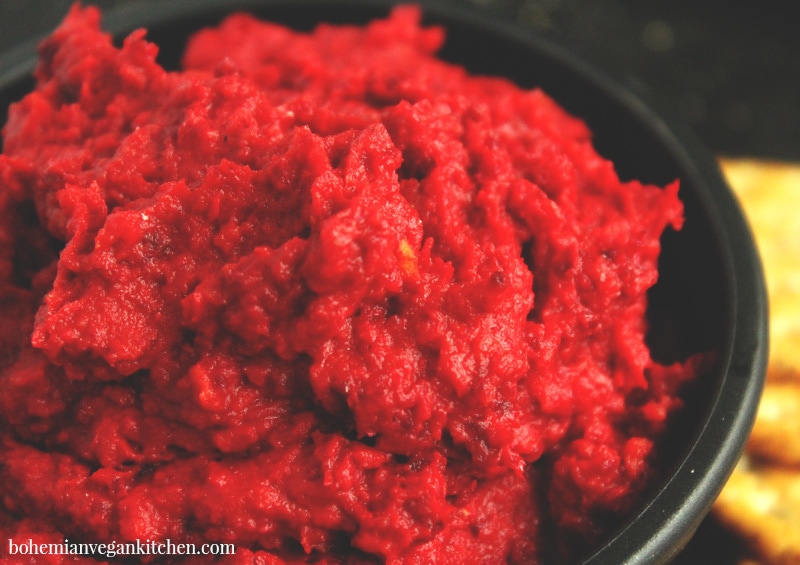 So who's got the "beet"? WE GOT IT with only THREE main ingredients + 10 minutes prep time! It's a simple recipe that doesn't take much effort and can be completed in about 30 minutes. All you have to do it bake, blend, and munch.
BONUS! You can use this recipe in a variety of ways:
Party dip with crackers
Sandwich spread
Breakfast toast topping
Salad dressing base (just thin out a scoop with a splash of water)
The possibilities are endless and flavor is on point!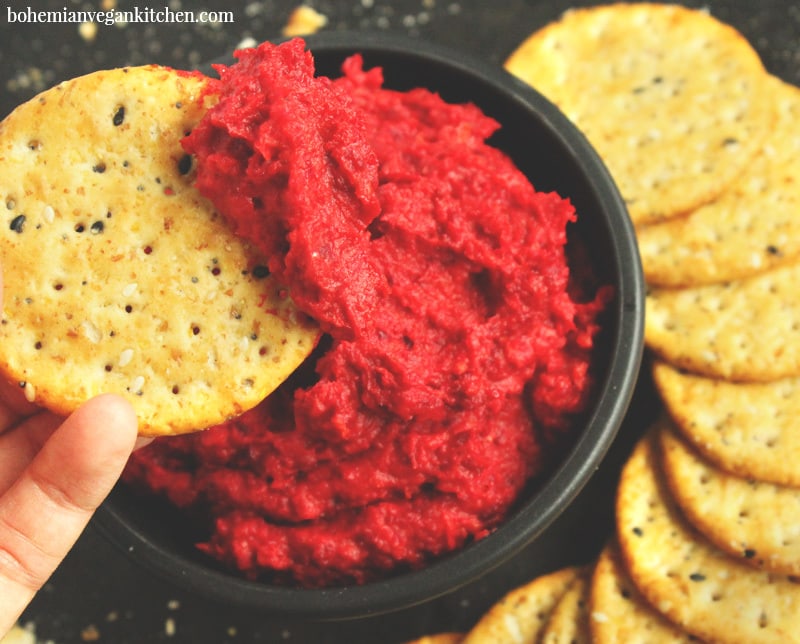 Allergy-Info & Substitutions
This dip is 100% vegan, meaning it is meat-free, dairy-free, and egg-free. It is also naturally nut-free, gluten-free, and low-histamine.
Make it oil-free by omitting the olive oil.
If following a low-histamine diet, you can use this dip with raw veggies, or even as a salad dressing.
For those NOT following a low-histamine diet, you can add nutritional yeast for extra flavor.
For another yummy + easy vegan dip, check out my avocado hummus by clicking here.
Sweet Potato + Beets "Sweethearts" Low-Histamine Vegan Dip
This delicious sweets and beets dip requires only THREE main ingredients + 10 minutes prep time! It's a simple recipe that doesn't take much effort and can be completed in about 30 minutes. All you have to do it bake, blend, and munch.
Ingredients
1

small sweet potato or yam,

skin removed and cubed

1

medium red beet

skin removed and cubed

Extra virgin olive oil for drizzling

Himalayan pink salt and black pepper for seasoning

1

tablespoon

tahini
Instructions
Preheat oven to 400º. Place sweet potatoes and beets on a baking sheet lined with parchment paper. Drizzle lightly with olive oil, and sprinkle with pink salt and pepper. Pop in the oven for 20 minutes, until veggies are fork tender. Remove and let cool for 5 minutes.

Add baked veggies + tahini to a mini food processor or high powered blender; mix until smooth. Adjust seasonings if necessary. Munch.
Nutrition Information
Calories:
80
kcal
|
Carbohydrates:
14
g
|
Protein:
2
g
|
Fat:
2
g
|
Saturated Fat:
1
g
|
Polyunsaturated Fat:
1
g
|
Monounsaturated Fat:
1
g
|
Sodium:
48
mg
|
Potassium:
274
mg
|
Fiber:
2
g
|
Sugar:
4
g
|
Vitamin A:
8025
IU
|
Vitamin C:
3
mg
|
Calcium:
26
mg
|
Iron:
1
mg
Tried this recipe? Tell me about it + share!
Comment and let me know how it was! Then follow BVK on Pinterest @bohemianvegankitchen
Share this recipe with a friend by Email
Pin It!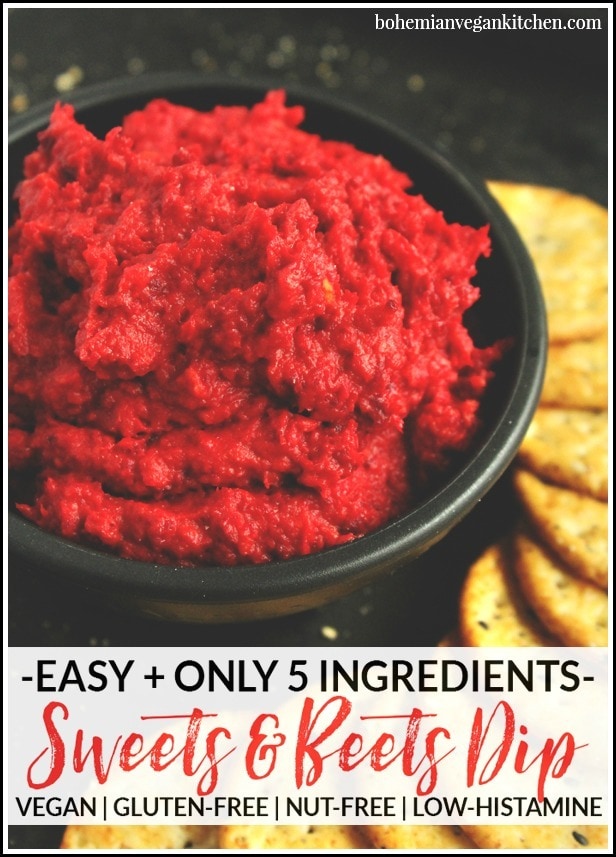 Thank you for taking the time to invest in your health and happiness!