Ooohhhh coffee- the drink that fuels the world.
You get a good cup of coffee and it puts you in turbo drive: you can knock out multiple tasks (and loads of laundry) with ease, power through physically draining chores, and clackity clack away on the keyboard at lightening speed.
Anyone that ever doubts the power of plants needs to remember the instant drug-like affect the coffee bean can have on the body. #truefacts

However, even with the all the perks that a simple cup can bring…
You can also get tired…quick. There's that coffee lag, or coffee crash. Your breath smells like a dragon turd. And your body could shake apart at any given moment.
Yes, there is a dark side to coffee, and I'm not talking about just serving it with no milk.
Coffee, while being positioned as something glamorous and "necessary", can also take a toll on your health. In excess, it can exhaust your adrenal glands and transform you into an abuser who needs 3-4 cups just to "function normally" throughout the day.
Starbucks, you're not helping.
Furthermore, if you've been trying to detox, get your health in order, or suspect that you have food sensitivities, I can assure you that coffee is hindering your progress, as it is acidic in nature. It can upset the PH balance in your body and cause excess stress (explored in detail below). Especially if you have been dealing with health conditions such as post nasal drip or acid reflux, or if you've been following a low-histamine diet recently, coffee is not doing you any favors!
And as a coffee drinker myself, I know all too well the dangers coffee can bring, if you don't keep her in check.
Coffee addiction…should you breakup?
I used to hate coffee, until I became a mother.
And then, after juggling countless sleepless nights and early mornings, all while making sure I was awake enough to punch a time card by 7 am, I realized I had become too reliant on this morning beverage.
Like most people, I had become severely addicted…and wasn't really sure how to stop.
I came to see though, that coffee was exhausting my adrenal glands and causing excess stress on my body. I would get morning sweats from drinking too much and trying to homeschool my kiddos. My sleep schedule was all over the place from too much coffee during the day. And if I tried to cut back? I would experience wicked withdrawal that made me a cranky mama. #coffeecrackiswhack
Followed by a very miserable crash by lunch.
Does this happen to you?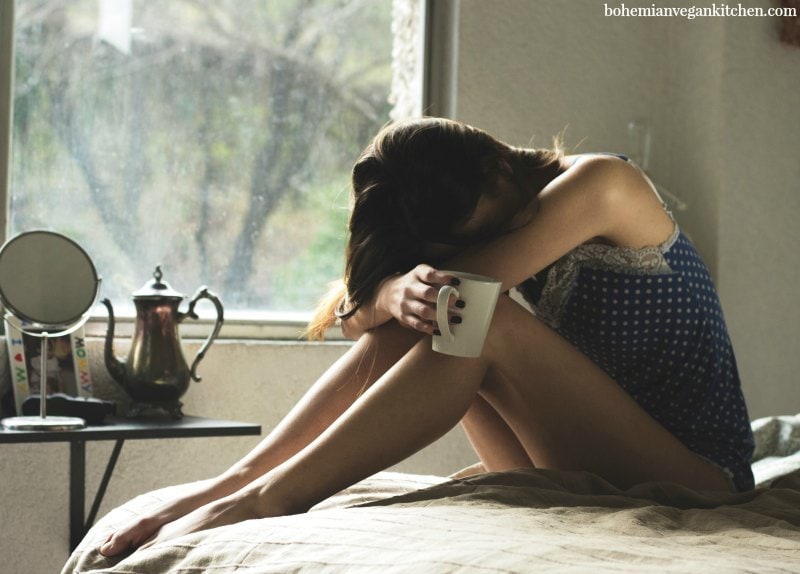 If you've noticed that your performance level is low, even while drinking coffee and/or you are starting to feel like you need more than one to function, well friend, it's time for a breakup.
Btw, as a side note, you can also exhaust your adrenals if you've been hitting the gym a little too hard lately, putting yourself in a state of stress as you work on your cardio. The struggle is real.
And as mentioned above, if you are trying to detox or sort out some health issues, I highly recommend you step away from the coffee (thaaaaaat's right, set down the cup nice and slow like, no sudden movements!!!), so you can reevaluate your diet without coffee dragging you down.
This may come as a (literal) buzz-kill to you, but hear me out: when you become too reliant on stimulants such as coffee, you are doing yourself a huge disservice.
The science-y stuff
Many of us who drink coffee are also trying to handle some sort of stress, whether that's a new baby or an early rising job. The two root causes of stress are blood sugar issues and adrenal fatigue/exhaustion.
After rising in the a.m., our body secretes cortizol to deal with the morning stress. It's the hormone that gives us our rhythm to get the day going.
This is going to taper off after lunch time- as cortizol levels go down, our melatonin levels are going to rise, getting us ready for the end of the day and naturally preparing us for a good night's rest.
But if you are drinking coffee to deal with stress, you may be exhausting your adrenals and making it hard for these natural chemicals to do their job. And by reaching for adaptogens, you can get the energy boost you need in the morning, WITHOUT having a crash.
The beautiful part about adaptogens is that they will actually help you ease your way from cortizol to melatonin, making your body function naturally instead of on stimulants. Hence the name "adaptogens", which in short is literally helping you ADAPT to the stresses of life.
Got that? Okay, moving on.
Going all natural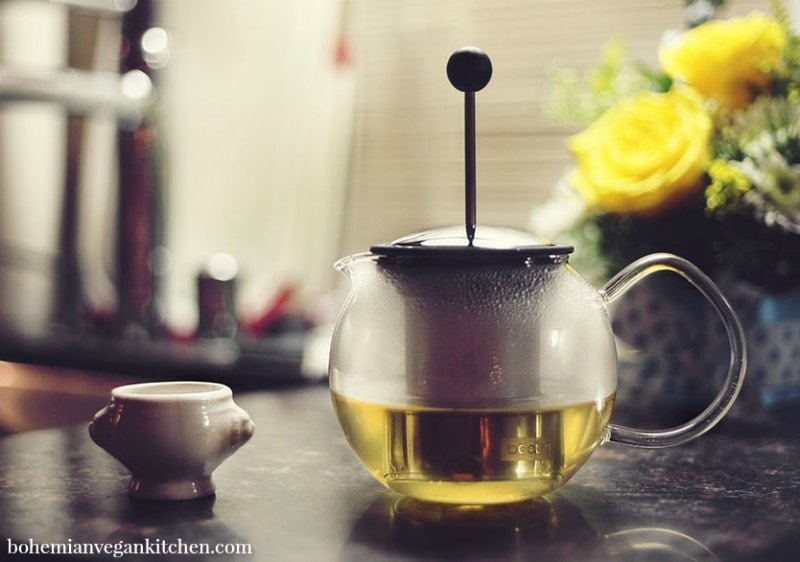 Before I list some of my favorite adaptogens (natural remedies) and coffee substitutes, I want to mention a really important factor when moving forward, and it's this:
While adaptogens and substitutes can certainly help you, they are not "quick fixes". Please remember that it's natural to experience withdrawal symptoms at first.
Headaches, lethargy, and crankiness are all signs of withdrawal. If you work outside of the home, don't start your no-coffee experience bright and early on Monday morning- yikes! Start on Saturday morning, and stay at home (or distract yourself with something happy, but not a load of caffeine or sugary sodas!).
Also, going "cold turkey" is really the best method for quitting. You may be tempted to swing into full force again if you are only cutting back. Let yourself air out for a few months before you even think about having a cup because #reasons.
Allow yourself time to come down from the coffee cloud, so you can really have a before and after comparison.
Natural remedies + beverages to help you wean off coffee
Below are a few choices to help get your body switched over to its natural rhythm. Provided are links to Amazon if you desire to purchase them online; I will receive a small commission at no additional cost to you. You can read more about my affiliate links by reading my terms here.
Important note: While these are great alternatives to coffee, I highly encourage you to hydrate yourself FIRST in the morning, before slamming a hot beverage or even a smoothie. It is crucial you replenish your body with the water + minerals lost overnight; you can start by doing a simple "mineral cocktail" upon rising, and you can read more about this (under the "stay hydrated" section) by clicking here.
This magical herb got my attention when I heard about the feel good properties it holds. When used in a study in Russia on 500 factory workers, a few things happened- productivity went UP, mistakes went DOWN, there were fewer sick days, and everyone experienced overall HAPPINESS. Have 1-2 teaspoon in the morning in a smoothie or water as a coffee substitute.
If coffee is helping you deal with stress, try ashwaganda (also known as Indian ginseng) instead. It's a great calming adaptogen, you can take it while pregnant, and it even helps with insomnia. The easiest way would be taking it in capsule form, however, you can also buy the powdered version here and stir it into your smoothie in the morning.
This is a root from peru. It's great for your adrenals, your reproductive organs, and gives you an energy boost. As an added bonus, you wont get the crash that you would from coffee. As a precaution however, some people have reported tummy aches from ingesting too much maca, so take 1 teaspoon for starters to see how your body handles it. For more info on adding supplements like this in your smoothies, read this.
I couldn't miss the opportunity to mention the wonderful magic of reishi mushrooms! Reishi's can help support your sleep cycles and is also known to help with stress. The company "Foursigmatic" makes a delicious mushroom coffee, but I recommend trying their hot cocoa version if you are trying to cut out coffee. You get the hot drink + medicinal benefits + chocolate. It's a win-win.
If you are very nervous about cutting your caffeine intake all at once, try green tea instead, which has a fraction of the caffeine coffee holds. You can drink one cup in the morning to ease yourself away from the coffee habit, if "cold turkey" sounds impossible. For a caffeine-free hot tea that is also a wonderful adaptogen, try sipping on holy basil tea.
Another wonderful green tea option, matcha is a "slow release" caffeine drink that will not have the same affects + give you the jitters like coffee would. However, I warn against trading one vice for another! If you must use it as a temporary transition, please do, but be aware of your caffeine intake. The goal is to get our body in it's natural rhythm, not to continue pumping it with caffeine.
Conclusion…
And remember, going through this process doesn't have to be a permanent thing if you don't want it to be. As an ex-coffee addict myself, I can tell you honestly that if I'm having a cup of coffee, I usually reserve it for a Sunday morning or special occasion, and even in that case, I may opt for decaf instead of the full dose.
Oh, and if you really really really want Starbucks? Try reaching for a Chai Tea Latte with coconut milk, OR a Matcha Latte with coconut milk…they are both delicious!
All that being said, getting your coffee addiction in order can show you that you don't actually need coffee to feel complete. Your body was naturally designed to get the job done, and get it done well, so…why don't you let it for a change? Stop exhausting yourself and jump on the natural bandwagon!
Cheering you on as you take the next steps, and if you have any questions, please don't hesitate to ask below!
Thank you for taking the time for your health and happiness!