When I was a kid, Halloween was all about the candy.
For tricks or treats, my brother and I would bring our pillowcases and walk around the neighborhood until they were full and heavy, like a giant candy filled weight. I can still remember the feeling of throwing my candy sack over my shoulder, lollipop in mouth as I walked home, my face running with sweaty makeup and my feet aching from my apparent lack of physical fitness.
After arriving home, I would plop myself in front of the television and watch whatever Halloween special was on that night, feasting on chocolate bars until my stomach hurt and I was cracked out enough that I just sort of crashed out.
Candy is one hell of a drug.
Now though, Halloween might as well have a "wa-wa" sound affect at 7 pm.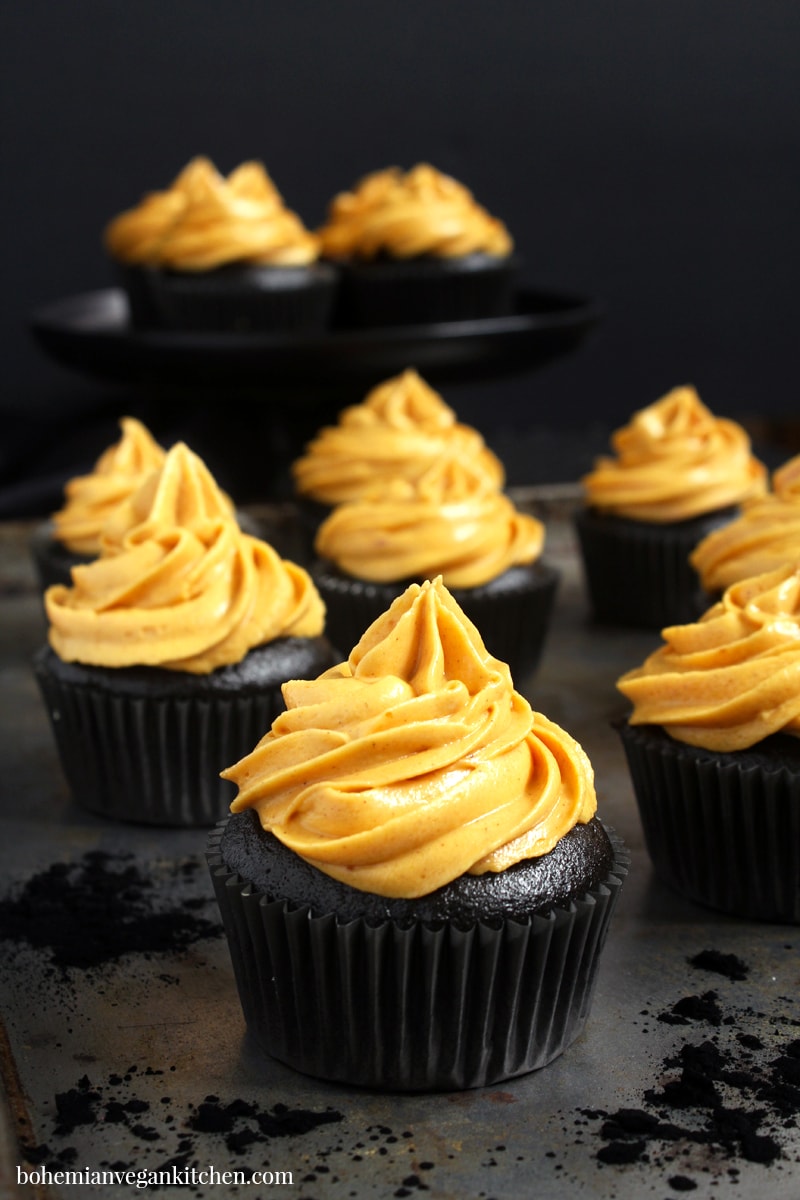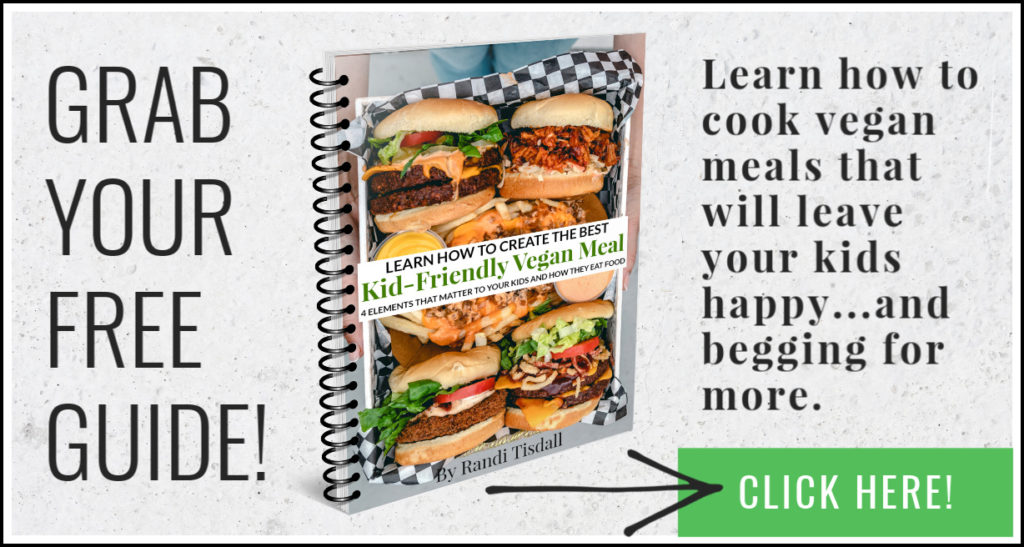 I mean sure, the Halloween costumes get better and better, but unless you live in a hoppin' neighborhood you can tote your kid around (which happens to pass out a lot of vegan-friendly candy btw), your street can feel like a ghost town, population zilch.

Leaving posting an Instagram picture as the only fun thing to do on Halloween night. #sweetlordno
And this is why I like to be prepared with my own secret weapon: vegan Halloween cupcakes.
Because let's be honest here: the older you get, the less you care about dressing up or going trick or treating (sorry kids + inner child, it's just the way it is). At the end of the day, all an adult needs is a good couch, a reasonably scary movie with no commercials, and these cupcakes. True facts.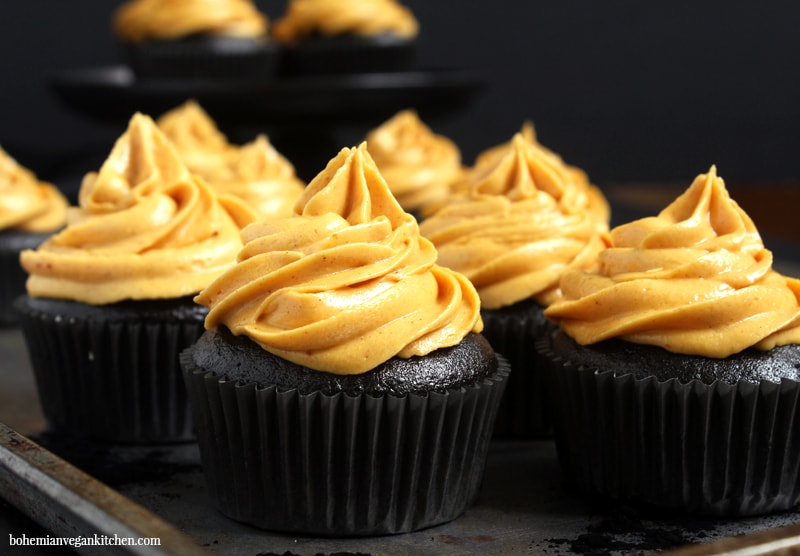 Vegan Halloween cupcakes are wicked delicious
These vegan Halloween cupcakes are so amazing that they will cast a spell over both kids and adults that's simply wicked delicious…or maybe that's just the coffee and sugar talking.
Either way, this culinary duo is a match made in Halloween heaven. Using coffee brings a richness in flavor, but with the pumpkin pie frosting, you get a killer combo that reminds me of a dirty pumpkin spiced latte in cake form. #winning
I've also made these cupcakes extra special with a little bit of black magic for All Hallows Eve. And by black magic, I mean charcoal powder, which is completely edible + gives these cupcakes a deep black color. This contrasts beautifully with the pumpkin pie frosting, which I brightened up with a little of McCormick's natural food dye.
The result is absolutely stunning cupcakes that will bewitch anyone who tastes them!
So if you're feeling too old to have any real fun this Halloween, or your neighborhood is just not that spectacular to take your kids trick or treating, make these coffee + pumpkin vegan cupcakes instead.
They're sure to deliver a Halloween you won't easily forget!
Allergy-Info & Substitutions
These Halloween cupcakes are 100% vegan, meaning they are egg-free and dairy-free. They are also naturally soy-free when using Earth Balance soy-free vegan butter.
Make them gluten-free by using Bob's Red Mill 1 to 1 gluten-free flour, which you can find here.
For a nut-free frosting, switch out the almond milk for another plant-based milk of your choice, OR use filtered water. Don't worry, using water will not drastically affect the taste.
To make these cupcakes a rich back, I used edible charcoal powder, but this is completely optional. Likewise, to make the pumpkin frosting pop with orange, I used McCormick natural food dye, but this is also completely optional.
For another awesome Halloween vegan cupcakes, check out my Stranger Things cupcakes by clicking here.
Just want more pumpkin? Try my pumpkin and chocolate chip muffins by clicking here.
I hope you enjoy these amazing vegan Halloween cupcakes! Make sure to share your creation with me on Instagram by tagging me @bohemian.vegan.kitchen + using the hashtag #bohemianvegankitchen.
Make Halloween wicked delicious with these black chocolate coffee flavored cupcakes, topped with vibrant pumpkin pie frosting. These vegan Halloween cupcakes are easy to make, but result in a stunning finish that will put a spell on anyone who tastes them!
Vegan Halloween Cupcakes with Chocolate Coffee + Pumpkin Pie Frosting
Ingredients
Rich Chocolate Coffee Sponge-
Instructions
To make the cake: Preheat oven to 350°. In a stand mixer (or medium mixing bowl by hand; make sure to use electric beaters), combine the flour, sugar, cocoa, charcoal powder, pink salt, baking soda, and spice on low.

Stir in oil, vinegar, and vanilla; slowly add in cooled coffee. Continue to mix on low speed, increasing to medium-high once ingredients are combined well. I like to let mine mix for a couple of minutes on medium-high, to really get a good batter going!

Once finished, divide batter between two cupcake baking sheets lined with cupcake wrappers (I used black ones). Bake for 15 minutes, checking to make sure that a toothpick inserted into the middle comes out clean. Set aside to cool COMPLETELY before frosting (hint: place cupcakes in the fridge after they have cooled on the counter for 30 minutes).

To make the frosting: In your cleaned stand mixer (or with electric mixers by hand), cream the softened dairy-free butter, vanilla, pumpkin, spice, and natural food dye together on low for 1 minute. With the stand mixer ON LOW, SLOWLY add the powdered sugar (if you add it all at once and then turn on the mixer, your kitchen will quickly become a winter wonderland of powdered sugar).

Add almond milk. Once the frosting is combined well, increase speed to medium-high and beat frosting for an additional minute (this makes it extra fluffy).

Ice cooled cupcakes with pumpkin pie frosting. I used an extra large piping tip for these!

Tried this recipe? Tell me about it + share!
Comment and let me know how it was! Then follow BVK on Pinterest @bohemianvegankitchen
Share this recipe with a friend by Email
Pin It!
Thank you for taking the time to invest in your health and happiness!