There's a lot of vegan recipes out there, but one thing that people always get hung up on? Vegan breakfasts.
Because when you sit down for breakfast at your local diner, the menu is typically far from vegan friendly. And asking Judy, your gum-smacking waitress with teased hair and the voice of a two-pack-a-day habit, is not going to give you much insight past the "we have salad" response.
Thanks Judy.
So it's hard for our brains to get creative and think beyond the diner and drive-thru norms, especially when we've associated things like scrambled eggs, sizzling bacon, and spiced sausage as go-to breakfast foods for decades.
I mean sure, there's plenty of breakfast options that don't involve meat, like cereal and pancakes and muffins; but if you're a fan of savory breakfasts, the sugar-laced options just aren't going to cut it.
Which brings me to savory oatmeal.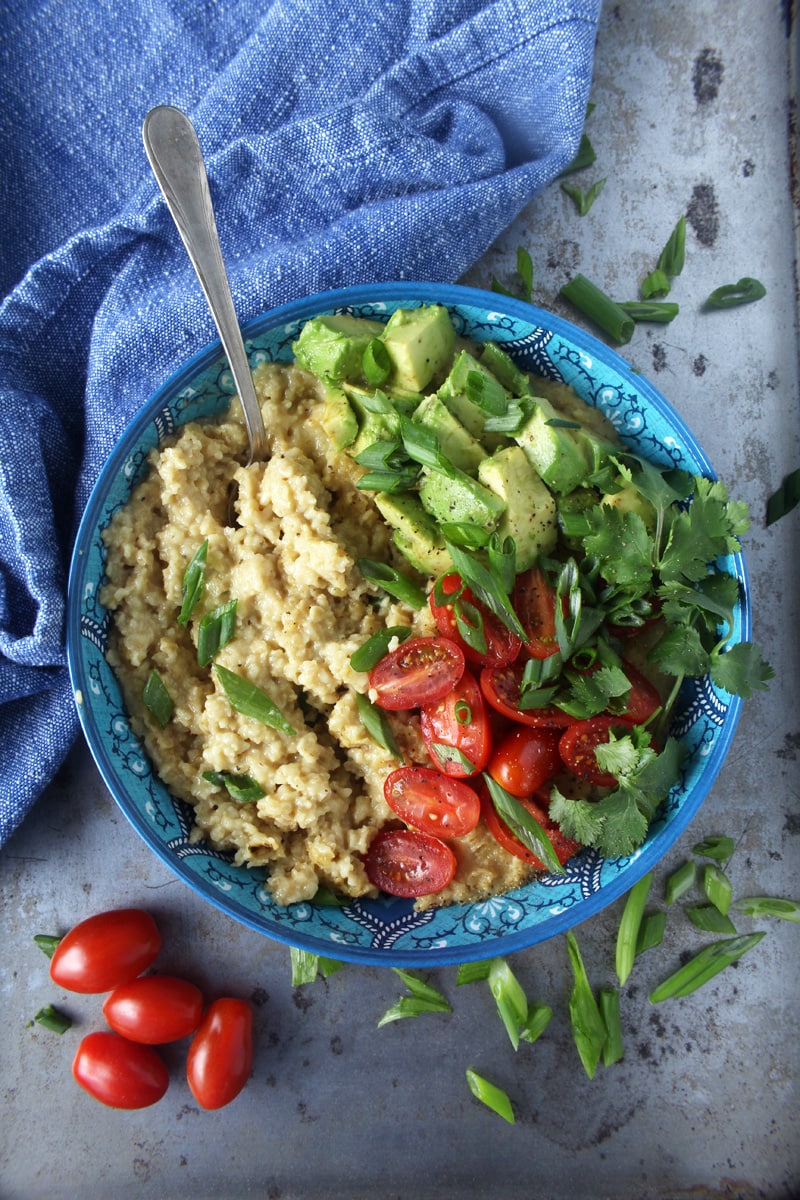 Savory oatmeal is THE best kept vegan breakfast secret, in my humble opinion.
And before you start going on about your failed attempts at overnight oats, hear me out on this one, because the oatmeal I'm sharing with you today will knock your socks off. It's that amazing.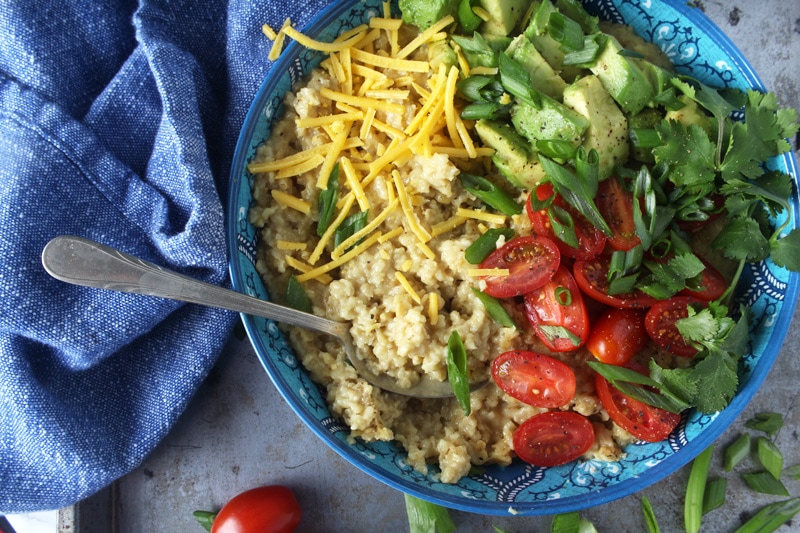 A savory vegan oatmeal that's like magic
Growing up, I only thought of oatmeal as being a sweet breakfast option, but boy was I wrong.
Savory oatmeal is not only absolutely delicious, but simple to make, filling, and healthy. And one of my favorite ways to make savory oatmeal is by adding nutritional yeast + dairy-free cheddar shreds to transform my oatmeal into a breakfast that resembles cheesy grits.
And no, we don't have to talk about the method for cooking a grit. #mycousinvinny #magicgrits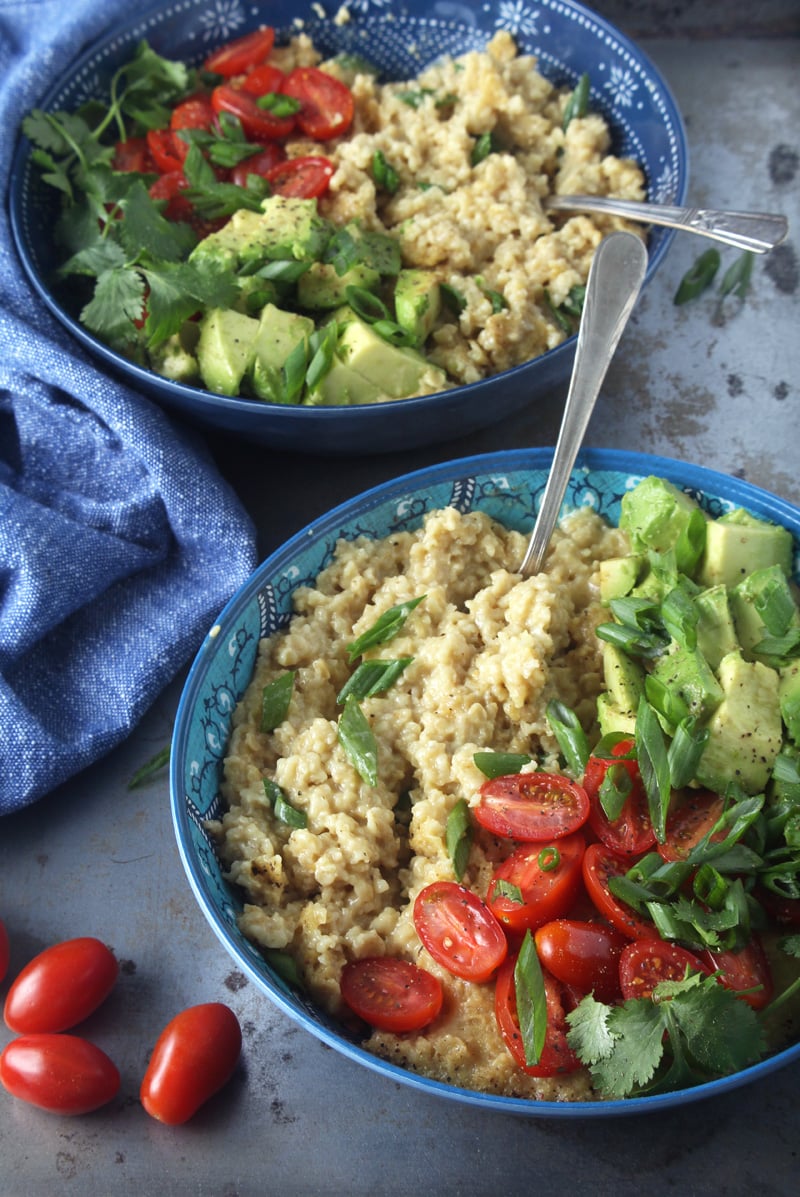 Point is, by treating your oatmeal as a savory base instead of sweet, you can literally open the door to hundreds of options.
Personally, I love topping these cheese oats with sliced grape tomatoes, diced avocado, chopped cilantro, and sliced green onions. It's a combination that is sure to set you up for a good day with good-for-you fuel.
And did I mention it takes less than 10 minutes?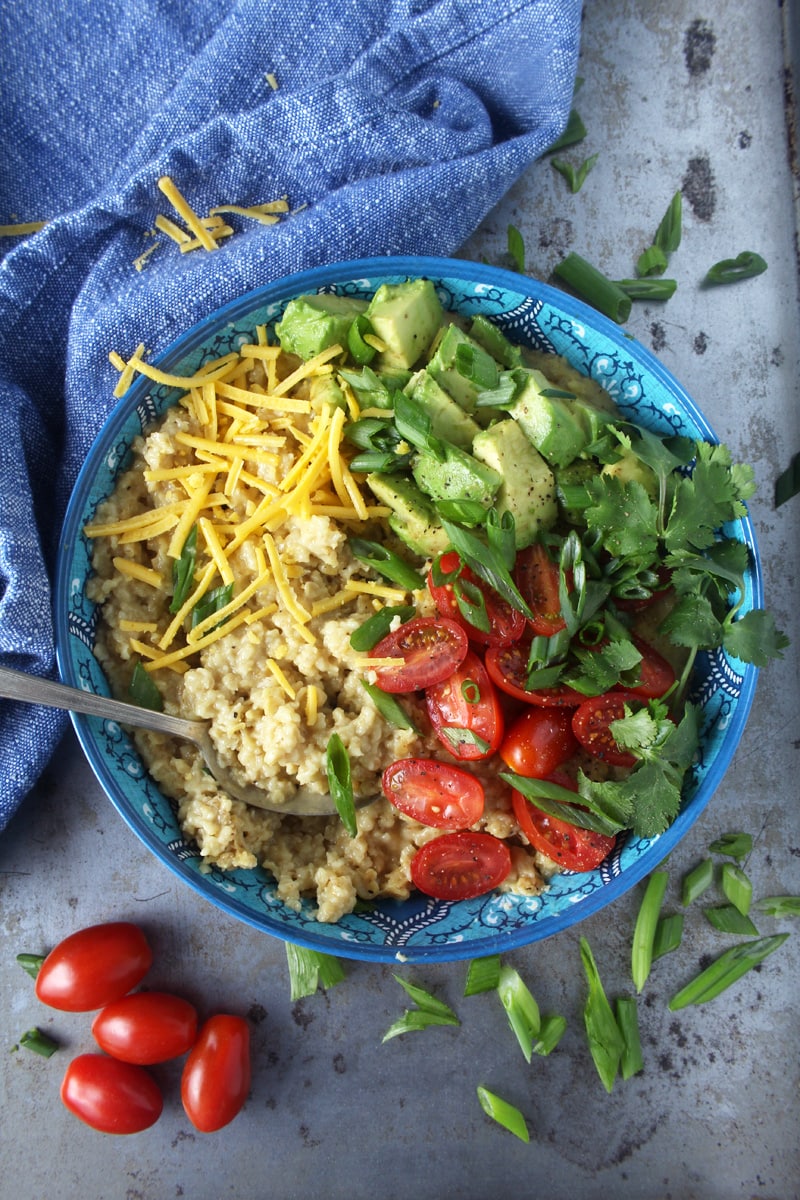 This cheesy vegan oatmeal recipe takes less than 10 minutes
There's no need to get complicated when making savory breakfast in the morning!
In less than 10 minutes, you can have yourself an amazing savory oatmeal bowl that's beyond worthy. It's faster than cooking grits, and healthier than other breakfast options, such as pancakes or muffins. What's more is that you can choose your level of effort based on the toppings you add!
So what are you waiting for?
Go get started on these cheesy oats; "your BIO-LOGICAL CLOCK (stomp stomp) is ticking". #joepesci
Become a VEGAN NINJA in the kitchen.
Want to step up your vegan game? Just pop your email in the space below and I'll send you my complete email series on how to plan and prep vegan meals like a PRO. You'll also receive a FREE meal planning printable as a special thank you download, plus occasional future emails with easy vegan recipes!
Allergy-Info & Substitutions
This savory oatmeal is 100% vegan, meaning it is meat-free, egg-free, and dairy-free. It is also naturally gluten-free, soy-free, and nut-free.
I love using Daiya shredded cheddar cheese, but you can choose whatever dairy-free cheese you'd like.
Don't like vegan cheese? Omit the shreds and up the nutritional yeast, if desired.
Feel free to switch out/add in more toppings! Other yummy additions include steamed broccoli, cauliflower, green beans, carrots, and bell peppers. And if you're feeling naughty, this would also rock with some vegan bacon slices on top!
For another healthy vegan breakfast, check out my popular baked vegan sausage patties by clicking here.
Looking for something different? Try my delicious (and high protein) smoothie bowl croutons by clicking here.
I hope you enjoy this amazing vegan savory oatmeal! Make sure to share your creation with me on Instagram by tagging me @bohemian.vegan.kitchen + using the hashtag #bohemianvegankitchen.
Pin It!
Savory Oatmeal with Cheese
Who says oatmeal has to be sweet? I LOVE making this savory oatmeal with cheese, which takes less than 10 minutes to make! Topped with fresh tomatoes, diced avocado, cilantro, and green onions, this easy breakfast is the perfect way for your family to start the day.
Ingredients
Toppings:
sliced grape tomatoes

diced avocado

chopped cilantro

sliced green onions

extra cheese, if desired

black pepper, to taste
Instructions
*Please note this serves 4! For one serving measurements, see the notes below.* In a medium pot, bring filtered water, bouillon cubes, and salt to a low boil. Meanwhile, prepare toppings. Once water is actively boiling, stir in nutritional yeast to dissolve, followed by the rolled oats. Turn the heat down to medium low, and stir in cheese shreds. Heat for 1-2 minutes, stirring occasionally, until oats are thickened and cooked through, and the cheese is melted.

Remove oatmeal from heat. Divide between 4 bowls and top with desired toppings. Serve!

Notes
This recipe serves 4-5 comfortably. If making a single serving, decrease broth to 1 cup, rolled oats to ½ cup, salt to a pinch, and nutritional yeast/cheese shreds to 2 tablespoons each.
Don't want cheese? Omit the shreds and up the nutritional yeast, if desired.
Feel free to switch out/add in more toppings! Other yummy additions include steamed broccoli, cauliflower, green beans, carrots, and bell peppers. For vegetarians, you can also add a fried egg on top.
Nutrition Information
Calories:
122
kcal
|
Carbohydrates:
15
g
|
Protein:
6
g
|
Fat:
4
g
|
Saturated Fat:
2
g
|
Polyunsaturated Fat:
1
g
|
Monounsaturated Fat:
1
g
|
Cholesterol:
7
mg
|
Sodium:
353
mg
|
Potassium:
142
mg
|
Fiber:
3
g
|
Sugar:
1
g
|
Vitamin A:
71
IU
|
Calcium:
68
mg
|
Iron:
1
mg
Tried this recipe? Tell me about it + share!
Comment and let me know how it was! Then follow BVK on Pinterest @bohemianvegankitchen
Share this recipe with a friend by Email
Thank you for taking the time to invest in your health and happiness!