You've heard of croutons on salad, but have you ever tried them on smoothies?
If you just imagined yourself sprinkling garlic-flavored croutons over your banana smoothie, and involuntarily shuddered, let me explain.
You see, adding croutons that are naturally sweet + protein packed can actually take your breakfast to a whole new level, and it doesn't have to involve Italian spices.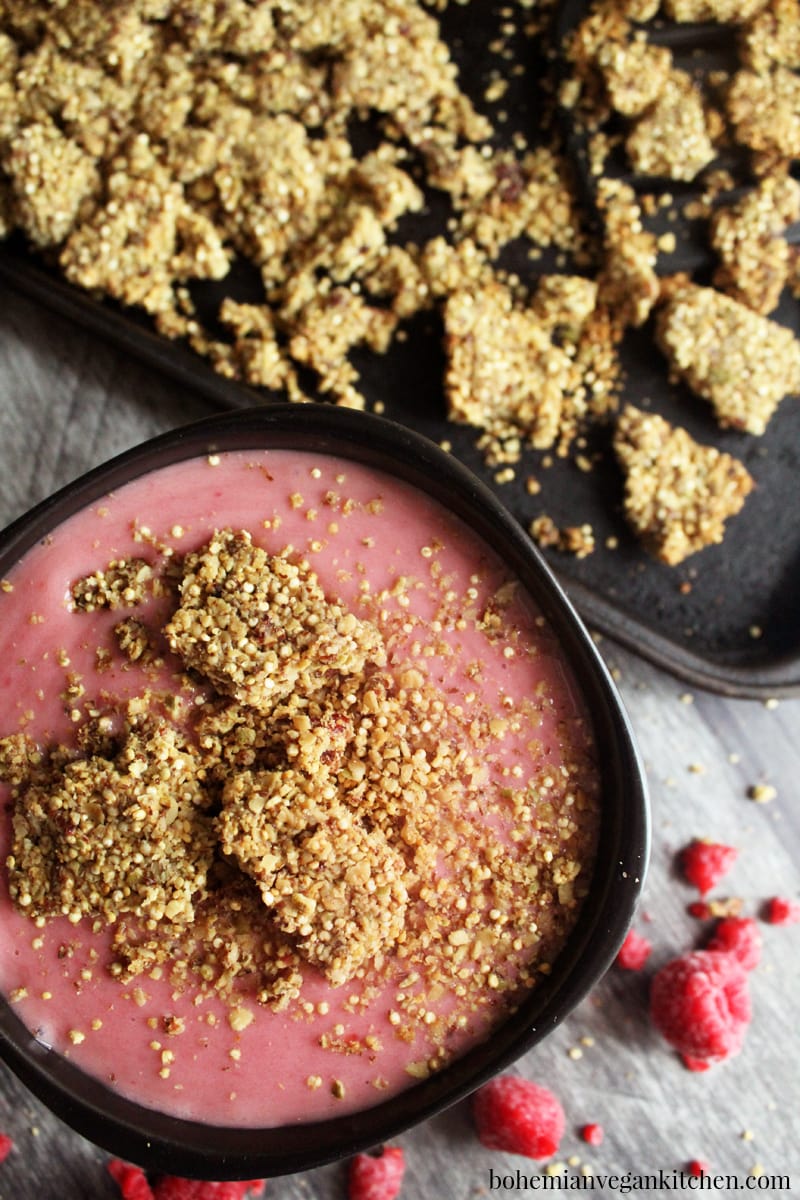 I remember when I first started making smoothies; I couldn't stomach anything green or remotely bitter. Forcing myself to choke down a green smoothie made me feel like I was a kid again, sitting at the table with mom scolding me to finish my room-temperature milk. It's the ultimate gag reflex test.
My only savior back then was familiar combos, like strawberry and banana, or peanut butter and chocolate. These toed the line between healthy and just plain dessert, but hey, you gotta start somewhere.
The downside to these newbie smoothies though, was that they lacked essential fuel that would carry me through the next two hours of the morning. Bananas and strawberries burn up as fast as leaves on a campfire, and before I knew it, my stomach was demanding in loud grumbles that I feed it anything other than liquid breakfast.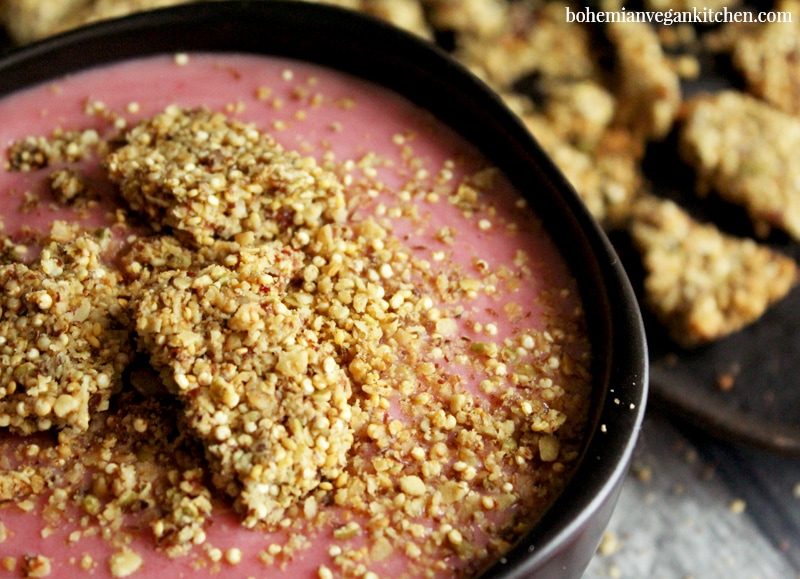 Luckily though, over the years I got wise to my smoothie game and started adding in things like oatmeal, buckwheat, nuts, and protein powder, before turning on the blender.
By mixing in more than just fruit, I doubled up the smoothie powers and gave my body slow burning fuel, so I could focus on my Instagram feed without passing out.
Which brings me to smoothie bowls.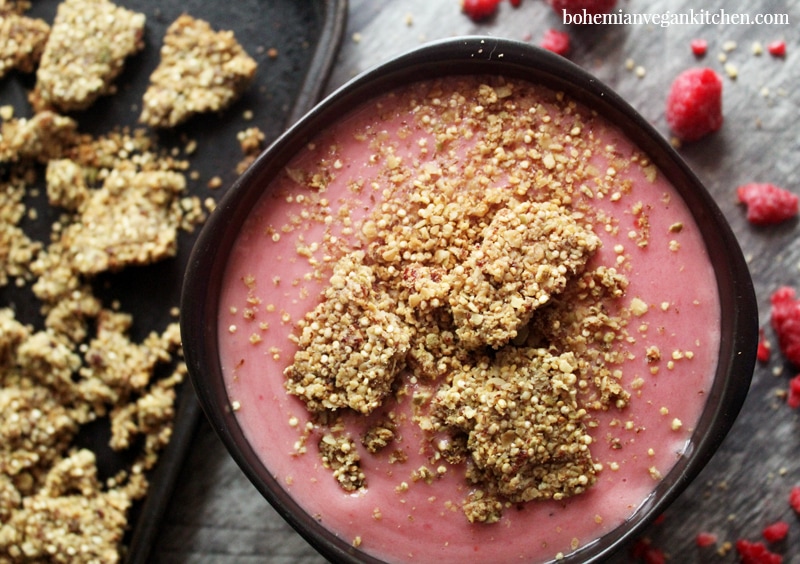 Power up your vegan smoothie bowl
If you've never heard of smoothie bowls, just know that it's basically a hyped up cereal, with the smoothie being the milk.
Whoever thought about pouring a smoothie into a bowl was either super smart OR just really stoned, but genius none the less. Because let's face it: your average cereal is overrated and outdated.
Smoothie bowls are limitless and undeniably YUMMY. You can add just about anything, from fruit to cereal, oats, raisins, and the kitchen sink.
And now, I bring you the ultimate smoothie bowl topper: these delicious vegan protein-packed croutons. If you're one of those vegans who's worried about your protein intake, you'll feel good about this recipe; with ingredients like quinoa, oatmeal, and pepitas, there's plenty of protein to keep you fueled up and ready to take on the world.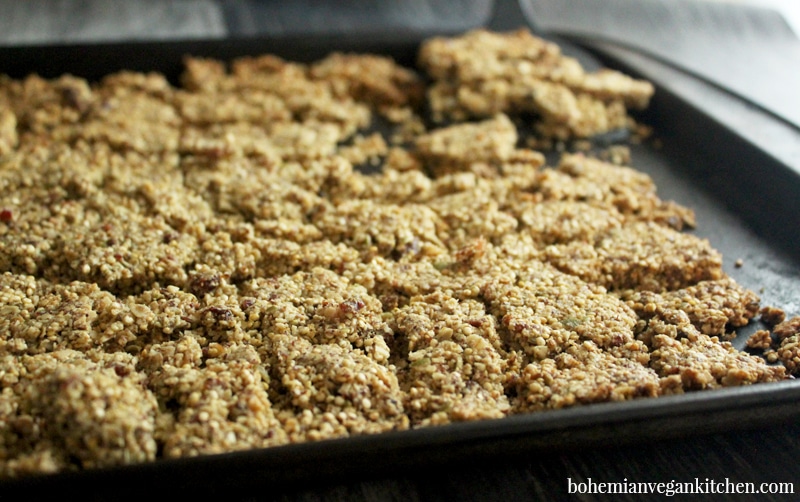 Here's a breakdown of these smoothie bowl croutons…
Quinoa: Probably the BEST vegan protein source, quinoa is a complete protein that contains all 9 essential amino acids + 10 grams of protein in ½ C. It is also rich in magnesium, iron, and contains double the fiber of most grains.*
Oatmeal: A whole grain food, oats are a great source of carbs, fiber, and antioxidants. There are approximately 7 grams of protein in ½ C. Oatmeal can also help lower cholesterol levels, improve blood sugar control, and help relieve constipation.*
Pepitas: As the little green nut inside a pumpkin seed shell, pepitas are an awesome source of antioxidants and nutrients, including zinc, magnesium, and plant-based omega-3's.* As an added bonus, ¼ C of pepitas contains 7 grams of protein.
Flaxseed: You probably already know that flaxseed contains omega-3's. But it's important to note that flaxseed is also rich in fiber, can help lower cholesterol levels, and control blood sugar.* Flaxseed also contains high-quality protein, with 6 grams of protein in ¼ C.
Dried cranberries: Cranberries are the bomb for any smoothie or mid-day snack, but they are also super healthy too, even when dried. Dried cranberries are anti-inflammatory, high in antioxidants and vitamin C, plus are the perfect cancer preventative. They are also high in fiber and can help ease digestion.*
Btw, I have to give props to my inspiration for these sweet croutons, Bobby Flay. While thumbing through his Bobby Flay Fit book, I came across the concept of sweet croutons, and thought they would be perfect on a smoothie bowl. Of course, I have altered Bobby's recipe, making it 100% nut-free and adding dried cranberries in the mix.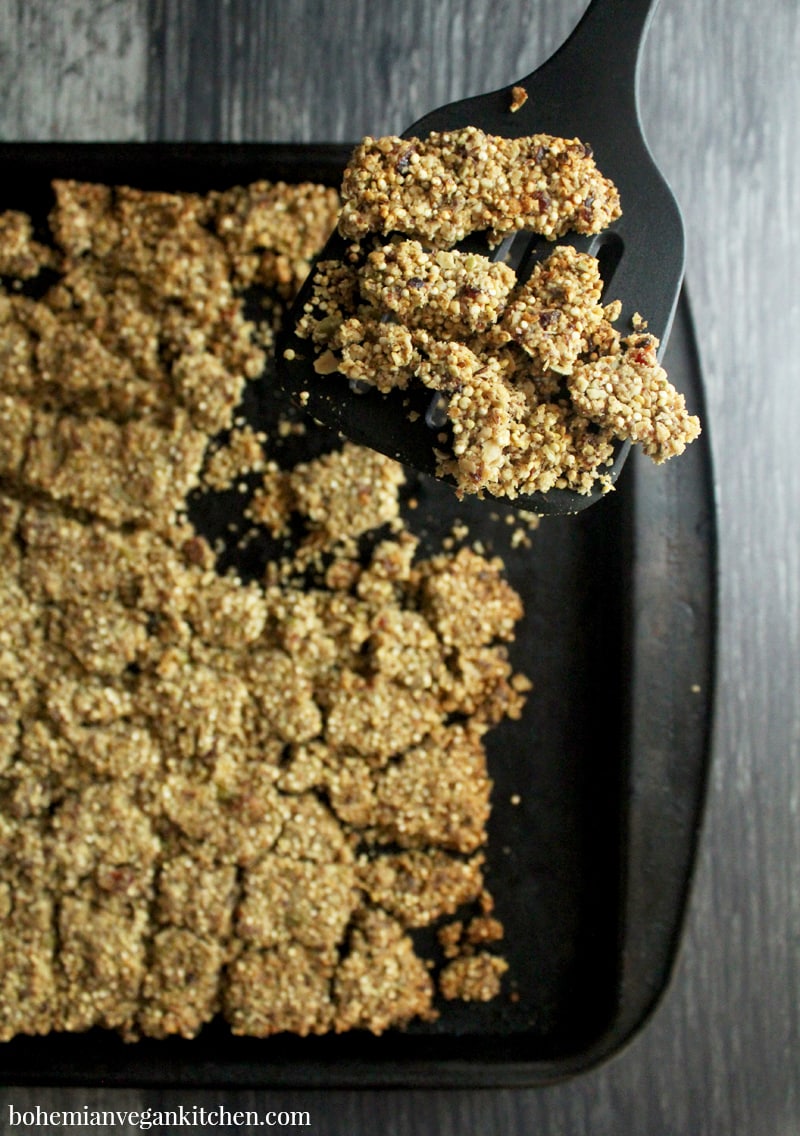 Allergy-Info & Substitutions
These smoothie bowl croutons are 100% vegan, meaning they are dairy-free and egg-free. They are also naturally gluten-free, soy-free, and low-histamine friendly.
Switch up your croutons by using another dried fruit in place of the cranberries, like dried raisins, blueberries, or dates.
Leave out the maple and fruit + increase your pepitas to make this a savory crouton for salad.
For another easy vegan breakfast, check out these home style pancakes with blueberry syrup by clicking here.
Level up your breakfast with these sweet + protein-packed smoothie bowl croutons! Naturally vegan, gluten-free, nut-free, and low-histamine friendly, these vegan croutons take only 10 min prep time and 15 min bake time!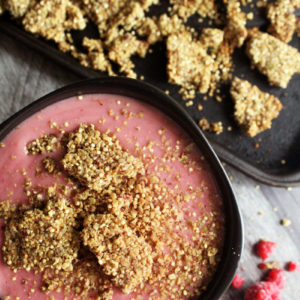 Protein Packed Smoothie Bowl Croutons
Ingredients
½

C

unsalted pepitas

¼

C

dried cranberries, raisins, OR dates.

1

C

rolled oats

½

C

uncooked quinoa

4

tablespoon

ground flaxseed

¼

C

unrefined coconut oil, softened

1

tablespoon

maple syrup, optional

1

teaspoon

pink salt
Instructions
Preheat oven to 300°. Add pepitas and cranberries to a food processor and run for 10-20 seconds; add remaining ingredients and process until clumpy, about 1 minute.


Transfer to a baking sheet covered in parchment paper. Spread evenly and press firmly into pan. Pop in the oven and bake for 15-18 minutes, until the edges turn golden brown. Allow to cool before cutting, about 5 minutes.


Cut into squares or break into clusters using a spatula. This will be crumbly, but it's all delicious! Top smoothie bowls with croutons and munch.

Tried this recipe? Tell me about it + share!
Comment and let me know how it was! Then follow BVK on Pinterest @bohemianvegankitchen
Share this recipe with a friend by Email
Pin It!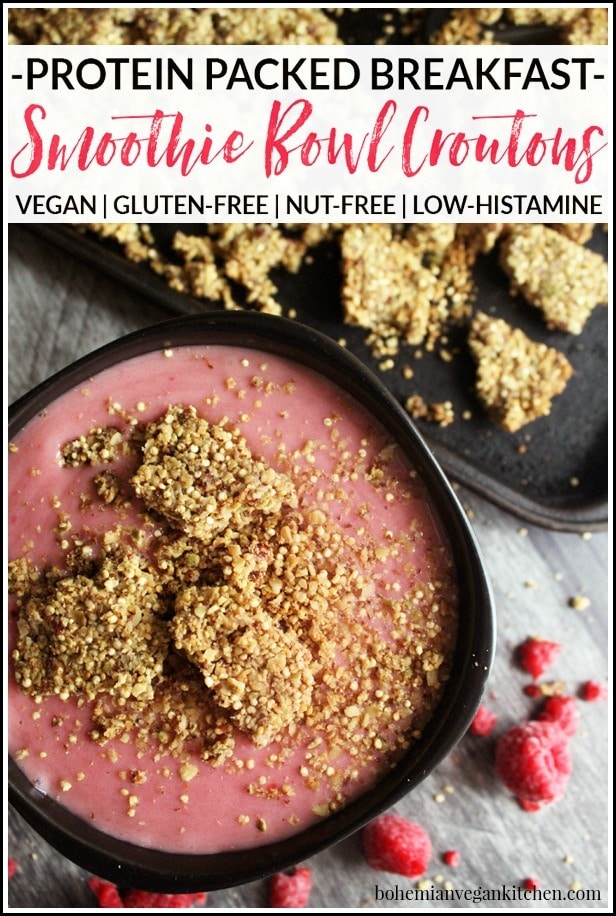 Thank you for taking the time to invest in your health and happiness!