Have you ever questioned WHY we leave cookies for Santa on Christmas Eve?
I never did, until I became a parent and had to continue the tradition of eating the ginormous plate of cookies my kids left out the night before Christmas.
Of course, over the years I started encouraging them to leave less cookies and less milk. While they were safely tucked in bed, I'd be pouring the almond milk back into the carton and sneaking the cookies back onto the tray…leaving some crumbs for effect of course.
Which led me to wonder why I was spending my time doing this anyway?
Did it have a deeper meaning, or is it just the modern way children lay sugar sacrifices in exchange for Amazon packages?
Turns out, no one else really has a solid answer either, but there are some interesting theories.
Probably the most common theory is that it originated in the 1930's during the Great Depression, when parents used the economic hardship as a teaching tool, encouraging their kids to show thanks by leaving a gift of milk and cookies.*
Some speculate however, that this tradition is really linked to Germany and the paradise tree (a precursor to the modern Christmas tree), which was decorated in edible cookies that Santa would munch on during his nighttime travels. Others think that it's linked to the German festivities on December 6th, which honors the third century bishop St Nick; with children leaving treats in exchange for gifts.*
And my personal favorite: could our leaving of cookies be rooted in Norse mythology, in which children would leave hay and treats to Odin's eight-legged horse Sleipner, in hopes that Odin would drop in with gifts during his Yule hunting adventure?*
So many questions, so many wiki answers. But none can confirm the truth.
Regardless of its origins though, and despite my husband and I not being able to handle cookies at midnight, it's still a fun tradition to keep up, even if we don't know why we do it.
Which brings me to cookie recipes.
There are a million zillion bagillion vegan cookie recipes out there, but who has time to look through them all? Yes, this is another question, but in this case, I have an answer: ain't nobody got time for lengthy internet searches.
Except I guess, me, because in honor of this mystical tradition, I have brought you a list of 2o amazing vegan cookies to make for Santa…or Sleipner, whichever.
Just make sure to watch out for Krampus.
20 Delicious Vegan Christmas Cookies
Below you'll find 20 delicious vegan Christmas cookies! These will be presented in order of the photo from first row, left to right, second row, and so on. Enjoy!
Classic Vegan Gingerbread Cookies by Bohemian Vegan Kitchen
Vegan Salted Expresso Brookies by Short Girl Tall Order
Vegan Tagalongs by Pink Fortitude
Vegan Chocolate Crinkle Cookies by Kitchen Treaty
Chocolate Dipped Vegan Ginger Cookies by Veganosity
Vegan Thumbprint Cookies with Raspberry Jam by Vegan Huggs
Fluffy Frosted Vegan Eggnog Sugar Cookies by Vegan Guide to the Galaxy
Vegan Nightmare Before Christmas Cookies by Vegan Dollhouse
Vegan Peanut Butter Cookies by Delicious Everyday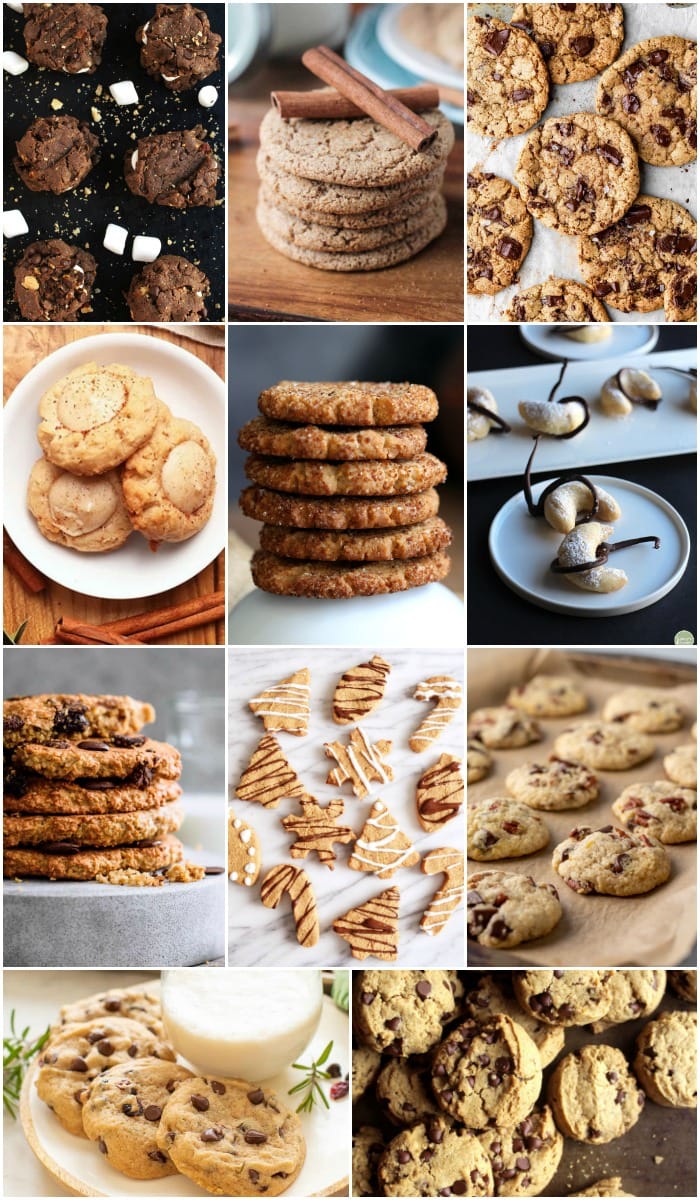 Holiday Chocolate + Marshmallow Vegan Sandwich Cookies by Bohemian Vegan Kitchen
Vegan Cinnamon Sugar Cookies by Veggie Inspired
Spiced Vegan Chocolate Chip Cookies by Cupful of Kale
Vegan Eggnog Cheesecake Thumbprint Cookies by My Darling Vegan
Vegan Cardamom Cookies by Vegan Richa
Lasso the Moon Vegan Cookies by Cadry's Kitchen
Vegan Oatmeal Cookies with Chocolate Chips by Nutriciously
Vegan Christmas Sugar Cookies by Sweet Vegan Sara
Chocolate Chunk Orange Pecan Vegan Cookies by My Quiet Kitchen
Vegan Chocolate Chip Cookies with Cranberries and Rosemary by A Virtual Vegan
Vegan Pumpkin Cookies by Bohemian Vegan Kitchen
Thank you for stopping by! May your baking adventures be merry and delicious.