This time of year is always nostalgic.
Remembering Christmas morning, my parents making big batches of cheesy scrambled eggs and microwaved bacon; the room smelling of butter and coffee. Me leaving just enough room in my belly so I could stuff myself silly with all the chocolate from my stocking before ripping through a pile of presents. Creating a tornado of wrapping paper, bows, and those little plastic zip-ties that are impossible to remove without scissors.

But the magic quickly fades when you finally see the man behind the curtain, and you realize that you've been living in an alternate reality. Santa Claus never could fit down that chimney; no wonder his handwriting looked like your mom's. The presents weren't made by happy elves doing pro bono. And your parents ate the cookies.
Even the eggs and bacon are no longer what you thought they were. Instead, you see them as they are.
But the strangest part is that even with the knowledge, even when you see Oz the great and powerful, that doesn't make all the nostalgia go away overnight. Especially around the holidays, those feelings can sneak up on you, like a cat on the prowl, only to pounce on you for attention.
Which is why, when I start to have a hankerin' for eggs, I like to make egg-less omelettes.
You may be wondering if they actually taste like eggs, and if I'm overreaching. But I assure you that yes, they indeed taste like eggs and bring back all those nostalgic feelings without the cruelty.
You see there's a secret weapon that gives this vegan omelette an eggy punch, setting this vegan omelette apart from your average egg-less recipe.
The secret to getting your vegan eggs to taste like eggs
There is a secret ingredient to making these omelettes taste like real eggs. Seriously, this ingredient is SO EGG like that when I opened the packaging, I was immediately hit with an egg smell. I couldn't believe it.
IT SMELLS LIKE EGGS!
Of course, my son said it smells like farts. But I mention this because A) he's been vegan since birth and never actually had eggs, and B) this is PROOF it really does smell like eggs.
Wanna know what it is?
It's Himalayan Black Sea Salt, also known as
Kala Namak
. This stuff has a sulfur-like smell + taste, replicating the same flavor as hard boiled eggs (or, as my son pointed out, egg farts). It's the perfect addition to any vegan kitchen and definitely helps when any egg cravings pop up.
That being said, if you don't have access to ordering it right now, you can always leave it out. You won't get the same egg flavor but you'll still get the overall feeling of an omelette, and it's still super tasty. Packing it with vegan shredded cheddar cheese + your favorite sautéed vegetables makes an excellent breakfast!
How to make a killer vegan omelette

One question I get asked is, how do you make vegan omelettes? Is it any different than cooking a regular omelette? The answer my friend, is that it reminds me of a cross between cooking an egg omelette and a crepe.
"Crepomelette" we'll call it.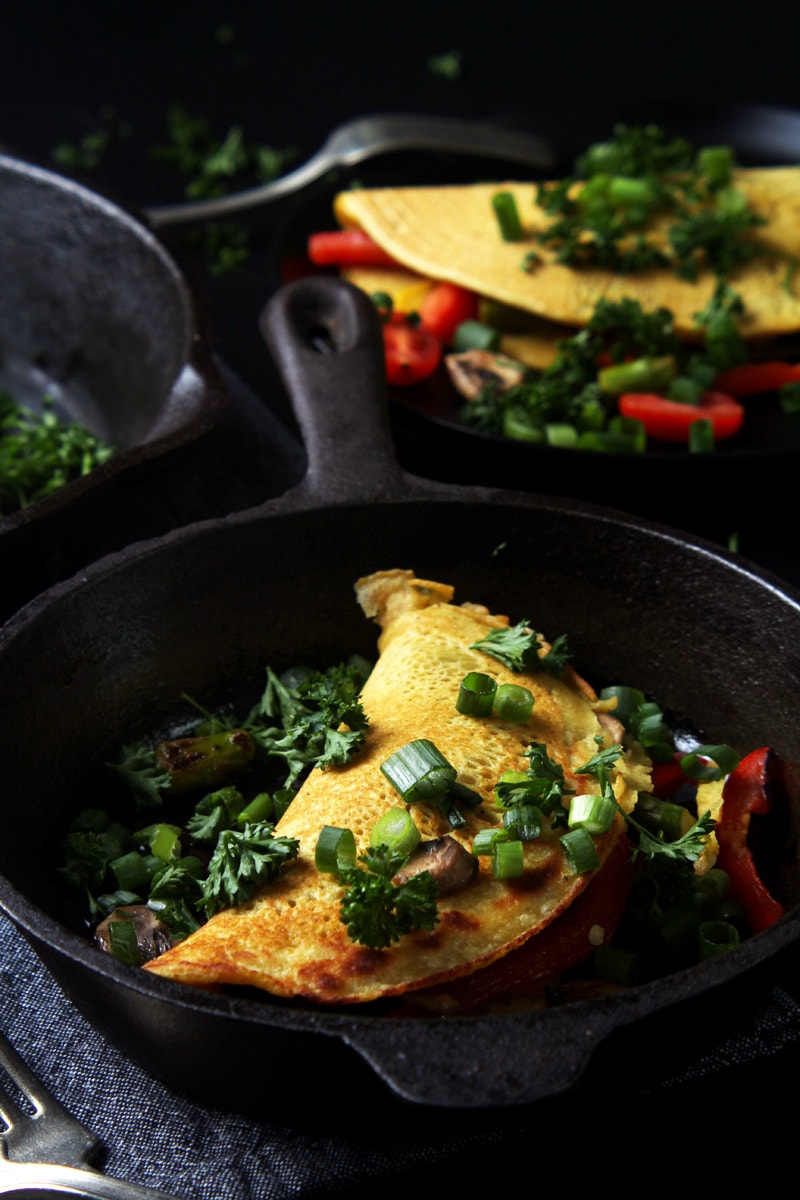 I like using
garbanzo bean flour,
as it's a popular choice among vegans, but you could also experiment with other flours, such as cornmeal flour or white flour. Just keep in mind that switching flours will most likely alter the taste.
After I whisk up my batch of "eggs", using a medium bowl and a fork for whisking, I heat my oven griddle to a medium heat. If you don't have a non-stick griddle to use, a regular ol' frying pan totally works here.
After you get your pan hot, add a couple tablespoons of oil to prevent any sticking. Then, as quick as a bunny, ladle 2 scoops of omelette juice right on top of the oil, spreading it out to be as thin as possible, like a crepe.
Then grab your cheese and any veggies you want to stuff your omelette with. (I like using pre-cooked mushrooms, asparagus, and red bell pepper. Things like tomatoes and green onions don't have to be precooked.) Sprinkle a handful of vegan cheese on top, covering the whole crepomelette. Then add veggies to one side.
Let this cook for 3-5 minutes, until you can see little holes forming on the top, signaling that it is cooking all the way through. Then, you'll want to fold over your crepomelette just like the "real thing". I like to let my vegan omelette cook for an addition 2-3 minutes folded over, to make sure all the vegan cheese has melted and it's completely cooked through.
Then, and
this is my favorite part,
take that sucker out of the pan and place it on a serving plate. Sprinkle some of that
Kala Namak
on top, or tuck it in the middle (I find adding the black salt last gives it a stronger egg flavor), and sprinkle some green onions and fresh parsley for a stunning finish.
Bada-bing-bada-boom, you have yourself a delicious vegan omelette fit for a king. Or Queen, whichever.
And that's how you do it!
Allergy Information & Substitutions
This omelette is 100% vegan, meaning it is egg-free, dairy-free, and meat-free. It is also naturally nut-free and gluten-free.
The base is created using garbanzo bean flour, but if you have a sensitivity, you could always try swapping it out for cornmeal flour or another flour of your choice. Just keep in mind that this will alter the flavor.
I enjoy using Daiya brand vegan shredded cheddar cheese (the cutting board collection), but you can use whichever vegan cheese you prefer.
Some delicious vegetable options include sauteed mushrooms, asparagus, cherry tomatoes, green onions, red or green bell peppers, sweet onions, or potatoes.
Want to get some Himalayan Black Salt, aka Kala Namak for a poppin' egg flavor? Order from Amazon by clicking here (affiliate link). When using this spice, remember that it is SALT and use wisely.
For another killer vegan breakfast recipe, check out my Vegan Breakfast Sausage Patties.
Want another vegan egg recipe? Try my Vegan Egg Sandwich.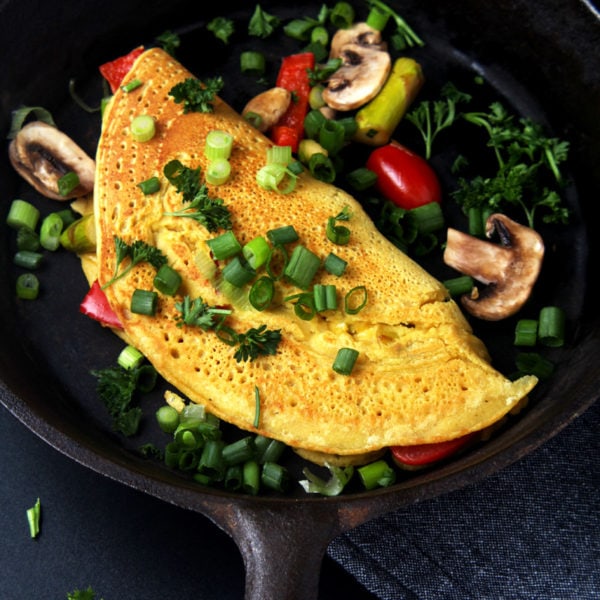 This Vegan Omelette Tastes Like Eggs
This one ingredient will take your vegan omelette to the next level, giving it real egg flavor without the eggs! Easy to make + naturally dairy-free, egg-free, and gluten-free, this omelette is the perfect way to start any morning.
Ingredients
Vegetables + extra ingredients for stuffing your omelette:
Daiya cheddar cheese shreds

red bell peppers, sliced

asparagus, cut into 1-inch pieces

cherry tomatoes, halfed

green onions, sliced

fresh parsley, chopped

white mushrooms, sliced
Instructions
First, pre-cook any vegetables that you want stuffed in your omelette, such as mushrooms, asparagus, and bell peppers. This can be done by pan-frying with a small amount of oil, OR steaming your vegetables for an oil-free option. Vegetables such as green onions, parsley, and tomatoes do not need to be pre-cooked before adding to your omelette.


To make the omelette, preheat a large non-stick skillet or griddle on medium heat. Then mix all omelette ingredients in a medium bowl; whisk until smooth. Once your skillet/griddle is hot, drizzle with 1 tablespoon of canola oil, ladling 2 large scoopfuls of omelette mixture right on top of the oil; spread this out as thinly as possible. You want this to resemble a thin crepe more than a thick pancake. You can read more about this in the detailed instructions for your "crepomelette" in the post above.


While your omelette is cooking, spread a handful of the vegan shredded cheddar cheese on top. Add any veggies to one side. Continue to cook for about 3-5 minutes, until you see little holes coming through the batter; this means your omelette is starting to cook through. Using your spatula, fold your omelette over and press to secure. Cook for an additional 2-3 minutes, carefully flipping if necessary, until omelette is heated through and cheese is melted. Remove from heat and top with Kala Namak (black salt), green onions, and chopped parsley. You can also tuck the black salt inside the omelette if you prefer!

Tried this recipe? Tell me about it + share!
Comment and let me know how it was! Then follow BVK on Pinterest @bohemianvegankitchen
Share this recipe with a friend by Email
Pin It!
Thank you for taking the time to invest in your health and happiness!