Let's be honest: when you read that title, were you as stoked as I am?
I mean, it's VEGAN PARMESAN CHEESE PEOPLE. This calls for party hats and endless rolls of multicolored streamers, and maybe an emoji… or four. 🥳 🎉 🎊 🎇
Yes, that's better.
Seriously, that's how I felt when I stumbled across a similar version in Vegan Health and Fitness Magazine. Because back in 2014 (when this post was first published) finding an all-vegan magazine was like finding a pot of gold in a bookstore. And it had me yanking money out of my pockets faster than a gun slinger in the wild west.
First Published: August 24, 2014… Last Updated: March 10, 2020
Within it's sacred pages I found a recipe for vegan Parmesan- which looked very promising. I made it as soon as I got home.
However, the recipe called for running almonds through a food processor…and while we are being 100% truthful, I don't always have the time for processing almonds. And even if I did have time, I don't always have the energy to process almonds.
Yeah, mama be tired.
But I found a quicker way, and one that will have you shouting from the rooftops because it's so simple: almond meal.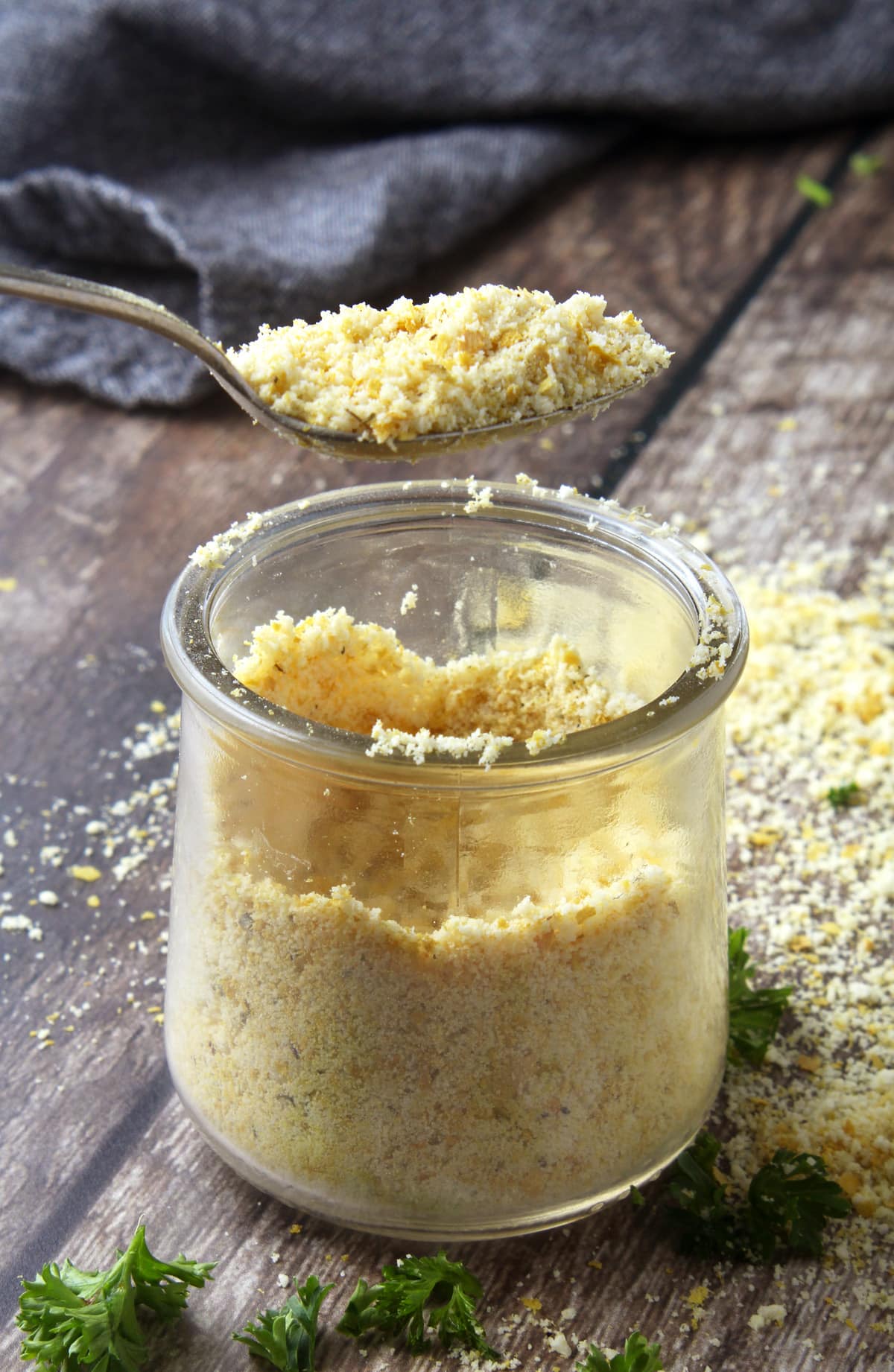 If you've ever bought almond meal, you can see how it already has the texture of sprinkle cheese. Add some nutritional yeast- and viola! You have yourself the perfect compliment to any meal.
It also keeps in the fridge just as good as regular Parmesan cheese, so if you want to get all fancy with it, pop it in a cute container and store in your fridge for up to 2 weeks.
So here's my adaptation for your very own sprinkle cheese. You can tweak it to your tastes, adding more (or less) nutritional yeast. I find that this ratio works for me, but feel free to adjust it if necessary.
Happy sprinkling!
[convertkit form=5036453]
Allergy-Info & Substitutions
This Parmesan sprinkle cheese is 100% vegan, meaning it is meat-free, egg-free, and dairy-free. It is also naturally gluten-free and soy-free.
For a nut-free version, you can always try using ground up seeds of your choice. I realize this will perhaps require a little more work, but hey, sometimes you gotta do what ya gotta do. Another thought: I wonder if this would work well with breadcrumbs? If you try this, please let me know in the comments below!
If you don't like almonds, switch out the almond meal for another nut meal of your choice.
You can also use this cheese on these yummy Beyond Meat vegan meatballs by clicking here.
Pin It!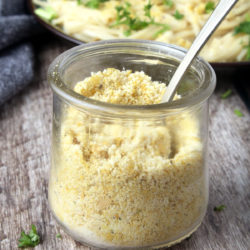 The Easiest Vegan Parmesan Cheese
Now you can feel like a kid again with ENDLESS AMOUNTS of parmesan on your noodles and All The Things! Takes only 5 minutes to make.
Ingredients
2

parts

almond meal

1

part

nutritional yeast

sprinkle of

Italian seasoning

sprinkle of

Himalayan pink salt and black pepper
Instructions
Mix ingredients in a small bowl and serve. If you want to make a batch of this, store in a sealed container for up to 2 weeks.
Tried this recipe? Tell me about it + share!
Comment and let me know how it was! Then follow BVK on Pinterest @bohemianvegankitchen
Share this recipe with a friend by Email
Thank you for taking the time to invest in your health and happiness!