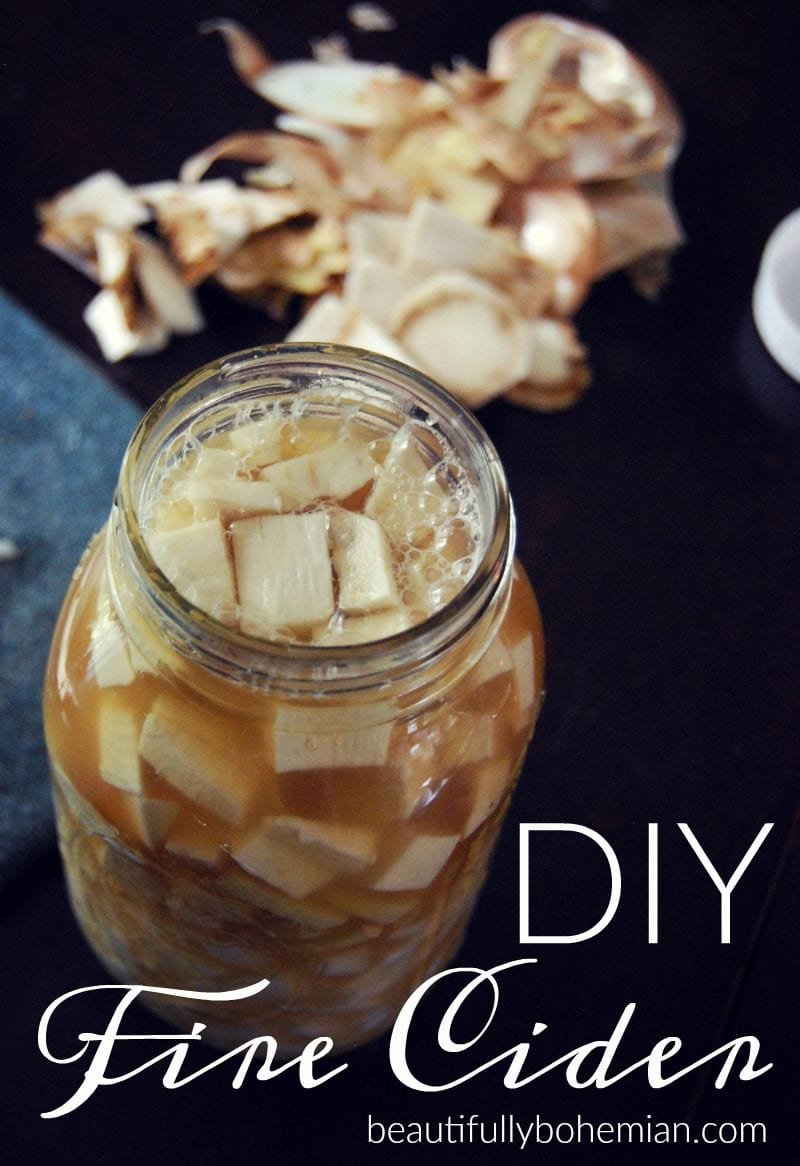 I am so thrilled that I am finally sharing this wonderful recipe! My introduction to Fire Cider was pretty epic, having tasted a sample last year from no other than Rosemary Gladstar, at one of her talks in Black Mountain, NC.
Hurricane Joaquin had swept in with a vengeance last fall, and in the midst of it's almost unpredictable weather, I was driving my way through the storm (with a dear friend) to the 11th annual Southeast Wise Woman Conference (2015), where Rosemary was scheduled to speak.
I had set up expectations beforehand, mainly to camp and have the freedom to walk back and forth between classes and a home base. The reality of the potential flooding and high winds made me and my gal second guess this original plan, and so, at the last minute, we took the safer route and booked a hotel.
Despite having a cushy bed to collapse into at night, the conference itself was covered in a thick blanket of rain and wind. I was able to keep somewhat dry that Friday, but by Saturday mid-morning, my backside was drenched and my feet felt like icicles. To be frank, it sucked out loud.
I spent a good portion of time trying to keep warm, and (as Bear Grills would say), once you let the cold in, you are insulating that cold. Plus, with all the mismatched layers that I tried to pull over myself to warm up, I felt as though I had a tangled hammock under my jacket, which was very uncomfortable for the rest of the day (and difficult to maneuver around in a porta-potty).
Yes, the weather literally put a damper on things. However…
Through the rain, through the three pairs of socks, the constant walking back and forth between classes, the ground completely saturated, wading through a swamp, my boots slurp-slurping through the mud like a pair of suction cups….I learned some important things about myself.
I learned what I could and could not handle, and the importance of a good umbrella.
I learned that I don't do so well in large groups.
I learned (once again) that my friend Melissa is an amazing support system and beautiful soul. ♥
And, I also learned (unfortunately), that even in the herbalist community, you're still going to have a few a-holes that don't understand you or your lifestyle choices. Go figure.
Related: Chillaxin' Herb Balls (For Stress, Anxiety, & Depression)
Yet I tell you all of this not out of the need to complain, but to really lay out how physically miserable I was prior to seeing Rosemary speak, which can be compared to that of a starving kitten being slowly dipped in water.
Previous to her talk, I waited in line to meet her and get my copy of "Medicinal Herbs" signed. After what felt like an hour, I was only two people away from the front of the line, and I got so giddy I felt like I was going to pass out (or throw up on myself, whichever came first).
That's when her assistant started urging Rosemary that she needed to stop the signing line, and my nerves started to form a knot in my stomach. Thankfully, my dear, sweet, angel friend swooped in and used her assertiveness to get me to the front of the line. It was a whirlwind, and, feeling like a soaked kitten, I didn't know much to say except to thank her repeatedly for her work.
She scribbled her name on the inside of the book, closed it, and smiled at me. Then she gave me a hug. It. Was. AWESOME.
It made the muddy, cold morning totally worth the trouble.
Watching Mrs. Gladstar speak was like watching history unfold. Rosemary reminded us that we need to protect our traditions- we must speak for the plants. Just as the Lorax encouraged us to protect the truffula trees, so did Rosemary urge us to stand up for our right to practice herbal remedies.
Related: Top Resources for Teaching Kids About Herbs
As each word spilled out from her lips, the crowd hung on every breath, we became excited and determined to stand up for the future of herbs. She had us repeat this statement by Margaret Mead, over and over, until it was ingrained in our souls:
"Never doubt that a small committee of individuals can change the world, in fact, it is the only thing that ever has."
And then there was the lovely Fire Cider. She explained that a company had trademarked Fire Cider, and the danger of a move such as this. You see, when a company starts trademarking herbal remedies, that means that we could potentially be punished for making them, and selling them would definitely be out.
To read about all the details on this battle, please click here.
This might not seem like a huge deal to some, but when you start claiming that you are the only company that can make something such as this, a remedy that has been passed down from generation to generation, you are walking on serious ground.
It's the first step in taking away our rights to practice plant medicine.
This is one reason why it's important to learn (and use!) these old remedies. If you don't use it, you lose it. And these days, that means that you lose it to giant corporations that only care about profits.
The highlight of this story, of course, is when Rosemary passed around her own homemade Fire Cider, and it was the first time I had ever tasted it. I was hesitant to try a drink that possibly 200 people sipped before me, but she insisted that there was a "community immunity", and I really couldn't pass up a once-in-a-lifetime opportunity like this one.
Related: DIY Herbal Vinegars
And so, I now bring you this awesome Fire Cider recipe, to pass on the tradition and the importance of home remedies.
You can use Fire Cider to ward of colds and flus, so it's a great herbal vinegar to have on hand in the winter. However, incorporating this into raw dishes (or taking a spoonful every day, no matter what the season) is always a good health boost. I use it every time I make coleslaw or homemade salad dressing, because the flavor is AMAZING.
Here is a breakdown of the medicinal benefits of each ingredient:
Garlic: Helps aid colds, flus, sore throats, and poor digestion.
Onions: Can combat heart disease, lower blood pressure and cholesterol.
Horseradish: Great for sinus infections and is a diuretic.
Ginger: Reduces inflammation and helps repair joint damage and cartilage issues.
Apple Cider Vinegar: Soothes sore throats, helps with indigestion, and can clear a stuffy nose.
Cayenne pepper: Great for digestion and a circulatory stimulant.
Honey: Antibacterial and antioxidant.
"Never doubt that a small committee of individuals can change the world, in fact, it is the only thing that ever has."
Herb on people, herb on.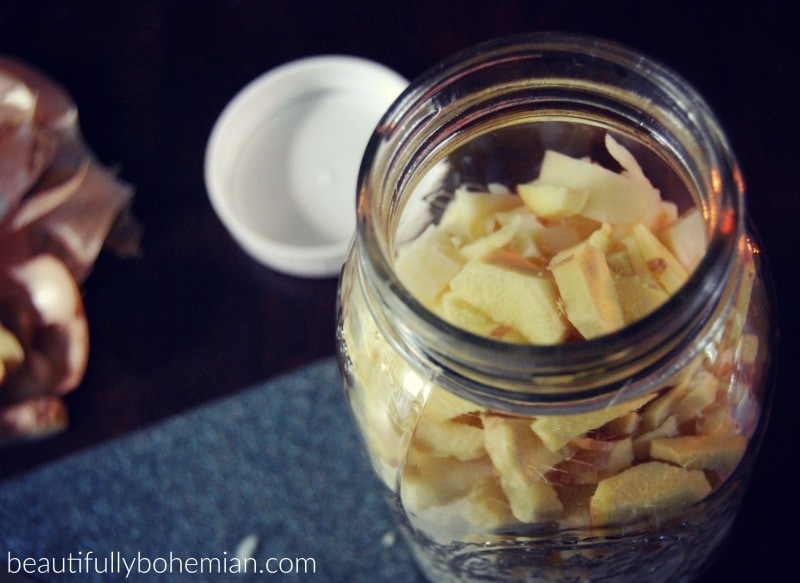 DIY Fire Cider Herbal Remedy

Ingredients/materials:
1 onion, chopped
4 cloves of garlic (I used one large clove of elephant garlic), chopped
4 tablespoon horseradish root, chopped or grated
4 tablespoon fresh ginger, chopped or grated
Apple Cider Vinegar (to fill jar)
Cayenne powder (to taste)
Organic local honey (to taste), optional*
Plastic screw-cap lid OR parchment paper (vinegar rusts metal!)
Directions:
Warm apple cider vinegar in a small saucepan on stove. Warm vinegar helps draw the healing properties out of the herbs.
In a large quart jar, add onions, garlic, horseradish, and ginger.
Pour apple cider vinegar over the herbs (make sure they are completely covered).
Place plastic screw-cap lid on top OR place a piece of parchment paper on the mouth of jar before screwing on metal lid. Vinegar rusts metal and you don't want to ruin your vinegar!
Store your vinegar in a warm spot and let sit for 3-4 weeks. Remember to shake at least every other day.
Strain out spent herbs.
Add cayenne and honey to taste. Yum!
*Some vegans may not be comfortable with honey. In that case, you can either leave it out completely or try to use another sweetener of choice, such as maple syrup or brown rice syrup.
[yumprint-recipe id='70']
What is your favorite herbal remedy? Share in the comments below!