In our house, we cherish Sundays.
I absolutely refuse to make plans before noon, because (like most sane people), I want to be as lazy as humanly possible at least once a week. If I wake up anytime before 9 am, you bet your boots I'm going to pull the covers up over my head, roll myself into a blanket burrito, and go back to sleep…even if I have to shut my eyes and WILL IT to happen for 15 minutes.
But when I finally do rise like the undead, nothing kick-starts a good weekend morning like a stack of vegan pancakes and a tall glass of orange juice.
Pancakes are truly the American staple of breakfast, which isn't surprising since it's basically an edible plate. Whoever invented pancakes was probably just trying to find a way around eating fruit. "Look Mom, I'm eating fruit on an edible plate! It totally counts!" Look it up, I bet it's true. #notreally
Because with a meal that has CAKE right in the title, what's not to love?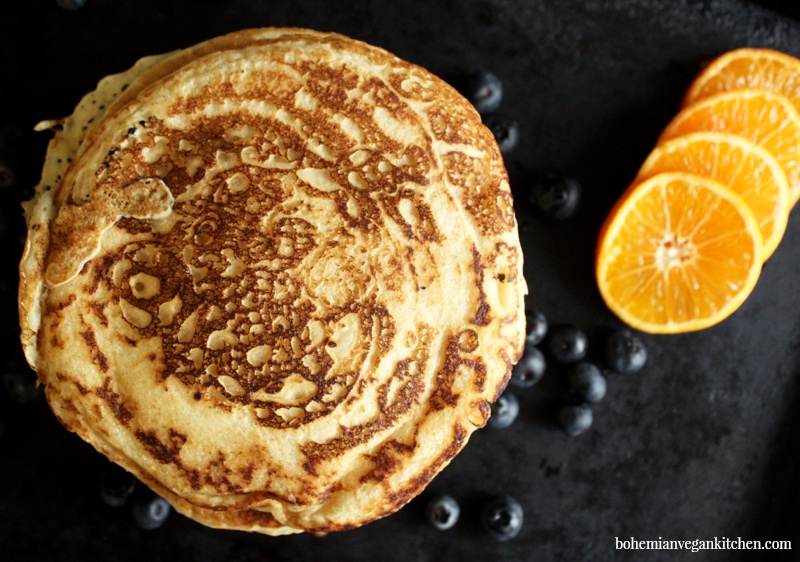 The secret to making moan-worthy vegan pancakes
Back in the early 2000's, I worked at a breakfast diner, which required me to be awake before the crack of dawn and taking orders by 5 am via drive-thru window.
To this day, there's something strangely comforting about diners; the beautiful symphony of people talking and laughing, food sizzling, and plates clattering. It's oddly soothing.
Anyway, it was here that I learned the secret to making good pancakes. Lean in close, because I'm only going to tell you this once. Ready?
But first, know this: after you pour your batter onto the hotplate, you have to wait until you see bubbles form on the top, before you flip your pancake to the other side. As for the SECRET…the secret to a good pancake is to never pat a pancake.
Yup, seriously.
I know, I know- you're standing there with your spatula, feeling high and mighty like a pancake queen, but RESIST THE URGE TO PAT THAT PANCAKE! When you pat your pancakes, you will take the fluff right out of them, it's as simple as that.
And once you've mastered resisting the temptation of patting pancakes, your cakes will be phenomenally better.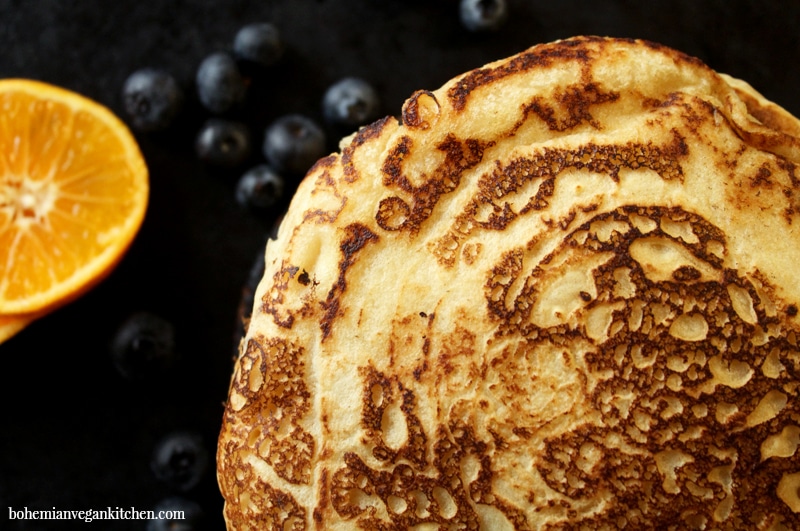 Classic pancakes with homemade blueberry syrup
So what better way to celebrate weekend laziness than with these EASY vegan pancakes with homemade blueberry syrup?
Because now that you know the secret to good cakes, you'll be able to whip up your own batch like a master chef. The blueberry syrup is also a snap, and requires only 2 ingredients: blueberries and maple syrup, resulting in a moan-worthy drizzle fest of hot stickiness that creates a hallelujah chorus effect every time you eat pancakes.
The only thing missing is a breakfast machine equivalent to the one Pee Wee Herman uses in Big Adventure.
Now THAT's what I call easy like Sunday morning.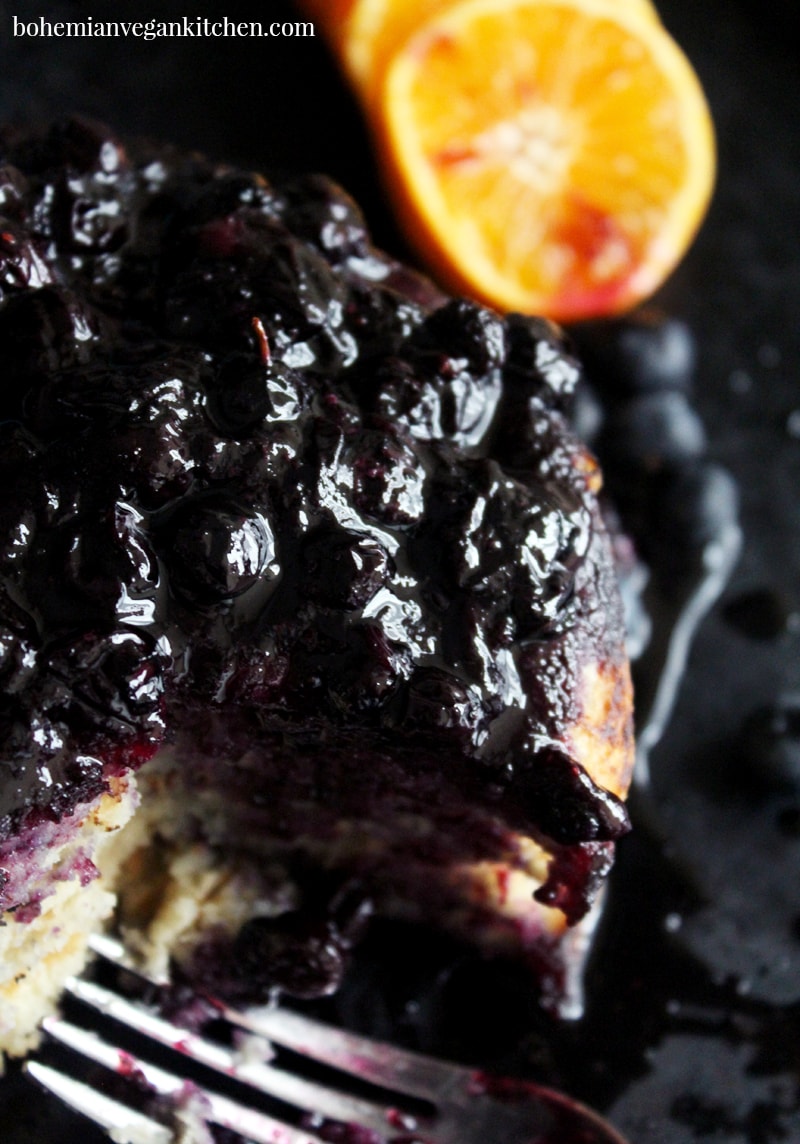 Allergy-Info & Substitutions
These pancakes are 100% vegan, meaning they are dairy-free and egg-free. They are also naturally soy-free and nightshade-free.
Make them gluten-free by using all-purpose gluten-free flour, such as Bob's Red Mill 1 to 1.
For nut-free pancakes, switch the almond milk out for another plant-based milk of your choice, such as coconut.
Nutritional bonus: blueberries are high in antioxidants, helping protect you against free radicals. Blueberries can also help boost brain health and is anti-inflammatory, making it the hero of any breakfast.*
For another pancake recipe, check out these oil-free vegan pumpkin pancakes by clicking here.
Learn the secret to making moan-worthy vegan pancakes + enjoy this simple recipe with homemade blueberry syrup! Easy to pull together, and includes instructions for gluten-free pancakes.
Homestyle Vegan Pancakes with Blueberry Syrup
Instructions
To get the blueberry syrup started, place blueberries and syrup in a small saucepan. Heat on medium low, stirring occasionally and breaking up the berries. Keep heated while you cook the pancakes.

For the pancakes, in a medium mixing bowl, combine the first four (dry) ingredients. Add the coconut oil and stir until combined well (see note below about coconut oil). Mix in almond milk and vanilla extract, and stir until a nice batter has formed.

To cook, heat a frying pan or hotplate on medium temperature.

Ladle pancake batter into pan, and allow to cook for 2-3 minutes on each side. Remember, you know when the side facing down is ready because you will see bubbles forming on the top of your cake. And DO NOT PAT your pancake!!

Remove pancakes from heat. Serve with a pat of dairy-free butter, drizzle the blueberry syrup on top, and grab a glass of orange juice for the side. Yum!
Notes
*About your coconut oil: Depending on when you make these, your coconut oil will be hard in the winter and liquid in the summer. I've found that you may need to add ¼ C of extra flour if the batter is too runny.
Tried this recipe? Tell me about it + share!
Comment and let me know how it was! Then follow BVK on Pinterest @bohemianvegankitchen
Share this recipe with a friend by Email
Pin It!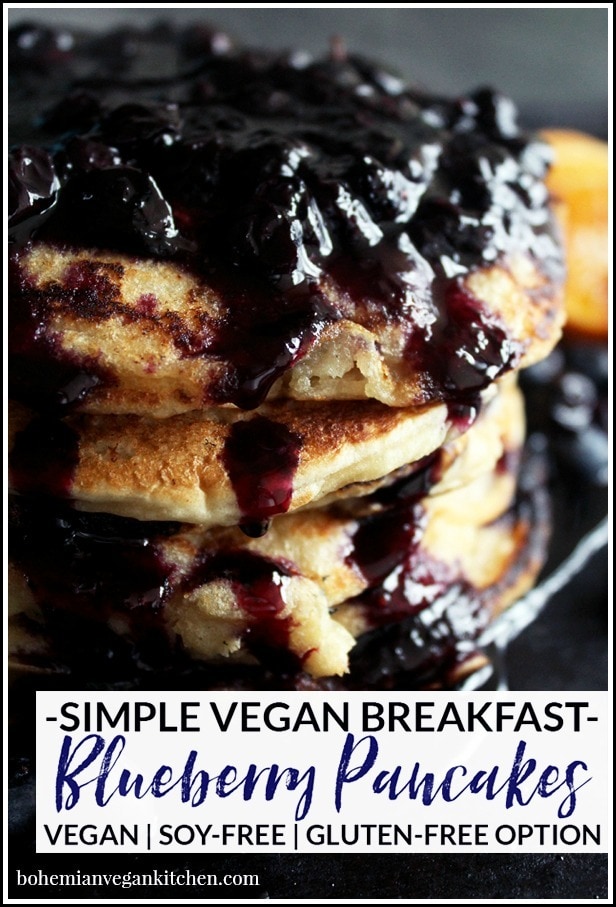 Thank you for taking the time to invest in your health and happiness!