When you have children, it's hard to avoid seasonal colds. Every parent knows all too well the value of hand washing. If you have a toddler, you understand the CONSTANT VIGILANCE that must happen if you don't want them sticking their dirty hands in their mouths.
And *sigh*, you know toddlers are sneaky bastards.
Especially if you have a son, you may have seen that twinkle in his eye, after he did something you told him not to do.
"You mean I can't jump off the couch?"
"Don't you want me to pull the cats tail?"
"I was only testing out our toilets capabilities of flushing random objects."
And so on.
So it's no surprise that households can become contaminated quickly– and we mamas have to swoop in and nurture the casualties (yup, we don't get no sick days). However, that doesn't mean you have to pull out the drugs to do the job.
In fact, using over-the-counter drugs for minor issues (no pun intended) can actually weaken your child's immune system. There's also a risk of overdose or allergic reaction, which is a scary thought for any parent. Personally, I only use the strong stuff as a last resort, when my child has a high fever that I can't break naturally.
For everything else, I rely on plants as helpers. It's a safe and effective way to ease the discomfort your child may be experiencing while battling a cold. Which brings me to one of the EASIEST natural remedies for sore throats.
All you need is a box of tea and a liquid sweetener of your choice, and you can have your own homemade cough syrup that is both FAST and COST EFFECTIVE.
Seriously!
When I first posted this recipe back in 2015, I used a plantain and lavender concoction to get the job done. While these are still excellent herbs to soothe sore throats, I decided to update this post with a more practical method for folks who may not have access to those ingredients.
Enter a box of "Throat Coat" by "Traditional Medicinals".
"Throat Coat" tea contains a number of herbs for throat health, including licorice root, slippery elm bark, marshmallow root, wild cherry bark, fennel, cinnamon, and sweet orange peel. You can use any box of tea you would like, although I highly recommend this blend if you can find it. "Traditional Medicinals" is a common herbal tea company found in most chain grocery stores. At less than $4 a box, it's a great resource to have on hand for last minute remedies.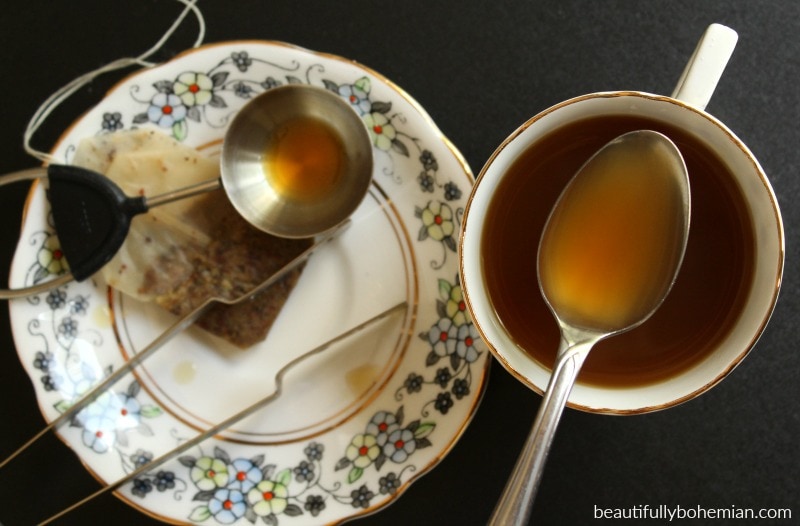 Because let's be honest here, those over-the-counter meds aren't cheap. And they certainly don't taste as good as a cup of tea.
All that being said, make sure you are only taking 1-2 tablespoon once an hour, or as needed. This isn't meant to be served as a regular cup of tea, as it is extra strength! While this is heavenly served warm, you can keep it refrigerated for up to five days for extended use.
Can't find "Throat Coat" tea? No problem! You can get it on Amazon here, OR try one of these herbs instead: garlic, mullein, horehound, eucalyptus, and peppermint.
Check out my notes below for my thoughts on liquid sweetener choices, and if you enjoy this recipe, make sure to try my easy DIY Chocolate Vegan Cough Syrup by clicking here.
Feel better soon!
Homemade Vegan Cough Syrup
Ingredients:
Method:
Steep tea bags in hot water for 5-10 minutes.
Remove, squeezing bags of excess liquid. Discard bags.
Add coconut nectar (or other liquid sweetener) and stir.
Take 1-2 tablespoon once an hour, or as needed.
*Most homemade cough syrups call for honey- this makes sense because true honey has many healing properties. It's up to you if you want to use local honey or not. However, for this recipe, I opted for coconut nectar instead, which has 16 essential amino acids for a little health benefit. I'm not sure if the coconut retains its anti-septic healing properties after being transformed into nectar, but it's probably the healthiest option I can find at this point (other than leaving out a sweetener all-together).
If you want your syrup to be thicker, you may want to adjust your ratio to equal parts tea and coconut nectar. The only other way to thicken this to a syrup without using honey is to create a syrup with sugar on the stove, but I don't think that's helping your cold LOL. For me, I'm okay with it being less syrup-y and more healthy.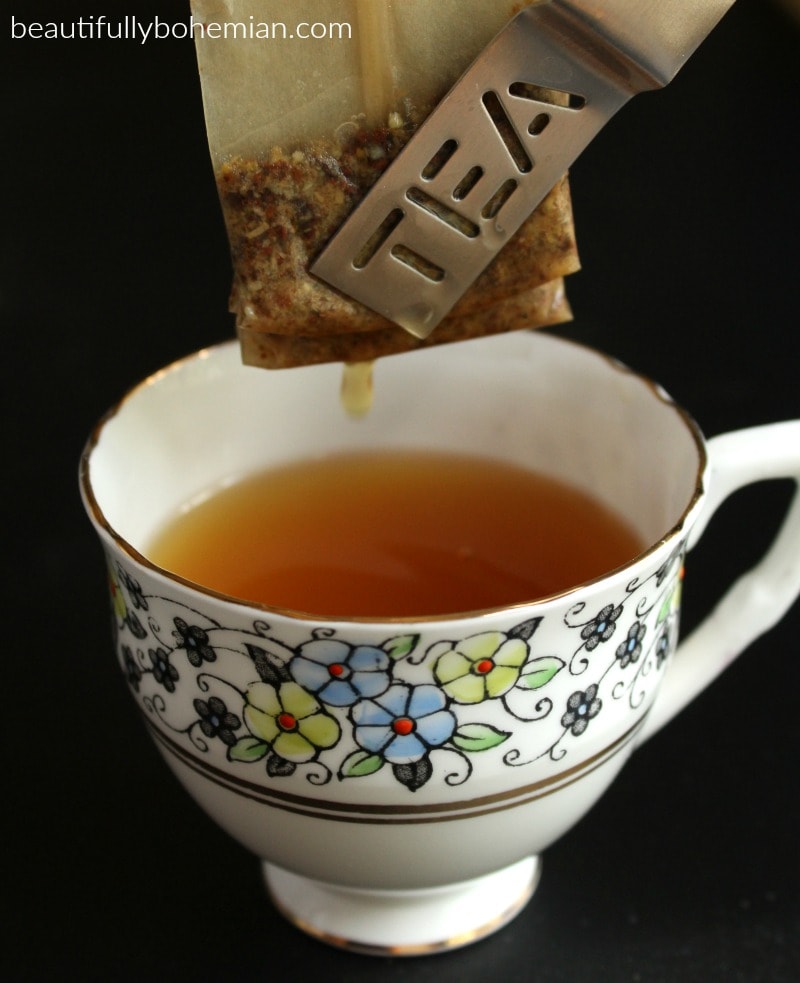 [yumprint-recipe id='48']
Thank you for taking the time for your health and happiness today!