OMG, aren't you totally stoked right now? It's chocolate freaking FONDUE for crying out loud!
Can we just skip the dipping and pour it directly into our mouths? (Hey, if you do, I promise I won't tell anyone. *wink*)
That's how I felt when I found out I was making this at a recent herbal class- I was literally as giddy as a kid in a candy store. It was so fun to spend the afternoon learning about chocolate as a healing medicine, and how we can make sure we are getting the vitamins we need with a little help from the dark stuff.
It also made me think that Willy Wonka's chocolate river had real potential before that kid fell into it (way to blow it for everyone Augustus!).
All joking aside, pairing chocolate with your favorite herbs is a great way to get the benefits of plant medicine, especially for children.
Vegan chocolate fondue that's infused with healing lavender
Using chocolate in your recipes can actually provide you with a good source of magnesium, antioxidants, polyphenols, calcium, and potassium. It also can act as a carrier for other not-so-yummy herbs, such as bitters.
I highly recommend trying out different herbs for your chocolate and seeing what you enjoy the most. I have also tried this recipe with chamomile, and that was SO LOVELY.
But for this recipe, I decided to use some wonderful lavender for my chocolate fondue, because it's a great starter herb for those new to herbalism.
Lavender is so beneficial to your body, helping bring you to a relaxed and calm state. Using it in chocolate is a wonderful way to stabilize your mood at the end of a long day! There are no limits to making this deliciously simple chocolate fondue!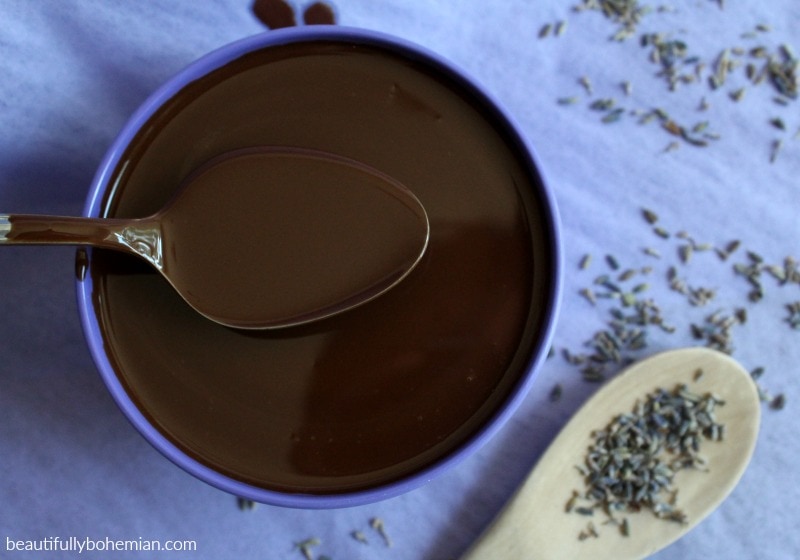 How to use this healthy chocolate fondue
Here are a few ideas for foods to dip in your fondue:
Apples
Bananas
Strawberries
Raspberries
Cherries
Oranges
Potatoes
Celery
Red Bell Pepper
Cauliflower
Rice Cakes
Whole Wheat Bread
Vanilla Cake
A Spoon!
If you don't want to mix up a batch of fondue at the end of your work day, consider making this ahead of time and freezing them into chocolate bites instead, for an after work stress-reliever.
Below I'm pouring my fondue into a candy frogs mold, as seen on my Harry Potter Vegan Chocolate Frogs (with Chamomile!) recipe post.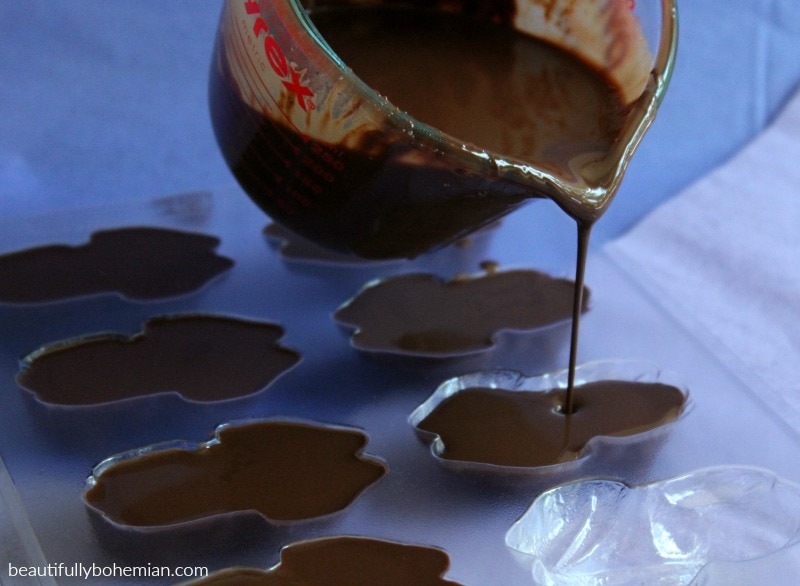 Or you can choose a beautiful flower mold, like this:
To make these into your own lavender flower bites, simply use this flower chocolate mold. To fill an entire tray, double this recipe, carefully pour into molds, and pop them into the freezer. They should harden up pretty quick, in about 20-30 minutes. I like to keep mine in the freezer, but you can certainly keep them in the refrigerator if you don't want them to be as hard.
Now what are you waiting for? Get in the kitchen and make some fondue!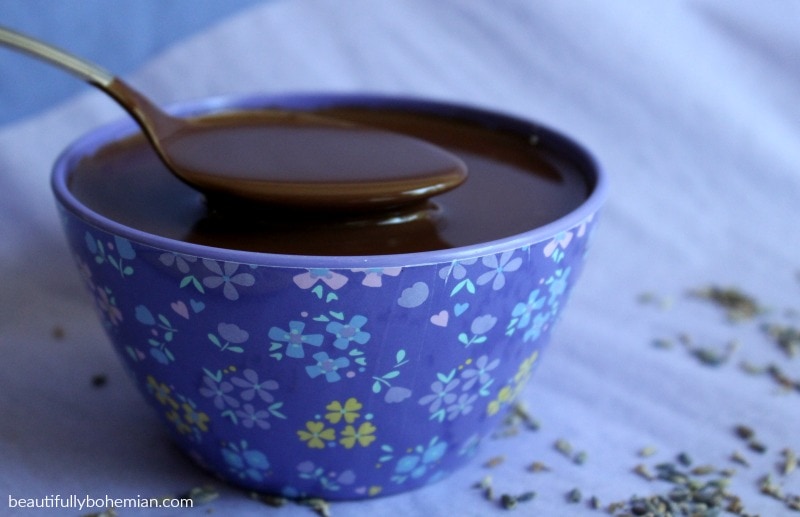 Allergy-Info & Substitutions
This chocolate fondue is 100% vegan, meaning it is dairy-free and egg-free. It is also naturally nut-free, gluten-free, and soy-free (when using Enjoy Life! chocolate chips).
The amount of lavender that you use is entirely up to you! If you want a subtle taste, use less than a tablespoon, and if you want a strong lavender flavor, use more. When I made this, I used about 2 tablespoons, and it was strong, but YUMMY. The dominance of the herb flavor also depends on if you are freezing or using immediately- I noticed when I froze my chocolate, the lavender taste was less than when heated.
And if you can't get loose dried lavender? Use teabags instead, as demonstrated in this recipe: Harry Potter Vegan Chocolate Frogs with Chamomile.
For another delicious herbal chocolate recipe, check out my post for Sleepy-time Men by clicking here.
Be your own Willy Wonka and make this HEAVENLY vegan chocolate fondue, which is infused with healing lavender. Great for stress relief, anxiety, or just for kicks. This fondue is 100% vegan, and naturally gluten-free, nut-free, and soy-free.
Lavender Infused Vegan Chocolate Fondue
Instructions
Using the double boiler method, melt coconut oil over medium heat. Add lavender, and allow to infuse for 30 minutes-1 hour. You will start to smell a strong lavender aroma during the end of your infusion time. Remove from heat.

Line a bowl with your cheesecloth, and pour in your melted coconut/lavender mixture. Strain, carefully pushing down on the cheesecloth with your hands (remember, this is HOT, so you may have to let it cool for a moment!). Remove cheesecloth and discard herbs.

Add the chocolate chips, and stir until melted. If your coconut oil is too cool, you may have to return it to the stove to melt. Serve as fondue OR pour into chocolate mold and freeze.
Tried this recipe? Tell me about it + share!
Comment and let me know how it was! Then follow BVK on Pinterest @bohemianvegankitchen
Share this recipe with a friend by Email
Pin It!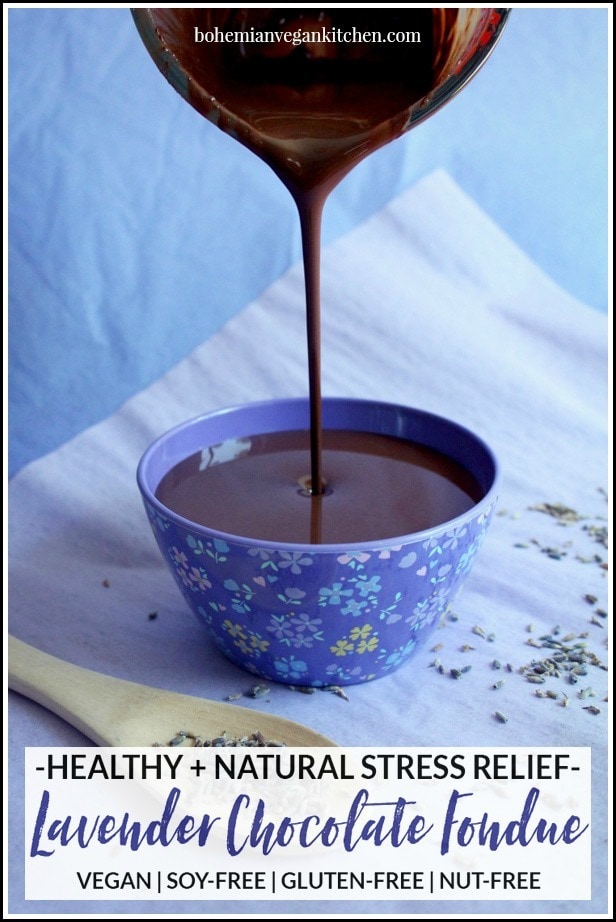 Thank you for taking the time to invest in your health and happiness!