One complaint that echoes from the low-histamine community is that there are not enough recipes available online.
Out of the select few, rarely are any vegan (which restrains from using animal products, including meat, cheese, milk, and eggs), making it extra challenging for those wishing to follow a plant-based lifestyle.
And then of course there is the CONSTANT conflict of lists, which seems to only complicate things (when will it end!?) and create those horrible images in your head of eating raw broccoli for the rest of your life. Bring on the tissues and Oscar nomination.
But you know what?
Cooking low-histamine vegan meals does not have to be rocket science and worthy of the likes of chef Gordon Ramsey on "Master Chef"(eh big boy?). It doesn't need exotic ingredients or take you forever to make. And as for broccoli? That's voluntary. 🙂
Honestly, it can be as simple as roasting seasonal vegetables with fresh herbs and spices. Forget trying to make a meal that's overly complex; simplicity is all you need when it comes to eating with your health in mind.
Because the end result is supposed to make you feel good, not make you feel stressed darlin'!
Personally, I believe that the answer to our health woes need not be black or white, right or wrong, perfect or flawed. It's all about finding what feels good to you, and listening to your body.
Thankfully, I can share with you one of my favorite cruelty-free autumn traditions: roasting root vegetables with herbs on chilly nights. What's more, it's naturally low-histamine vegan friendly, and only requires about 10 minutes prep time. #hallelujah
Served with a side of brown rice, you have yourself a complete meal that celebrates the season while also hitting your food marks (and being gentle on your system to boot).
I love using a variety of colorful root veg, including golden beets, yams, brussels sprouts, rainbow carrots, and more. Orange vegetables are known for their high levels of beta-carotene, a high antioxidant, as well as vitamins A and C. Brussels sprouts, despite their bad rep, are actually super delicious and contain high levels of protein when compared to other greens*. As for your golden beets, these have a milder flavor than their red counterparts, and are heart healthy as well as a cancer preventative.
The best part about this recipe is that it's completely versatile too! You can follow my directions below, OR use your own combination of root vegetables and fresh herbs.
Happy Fall Y'all!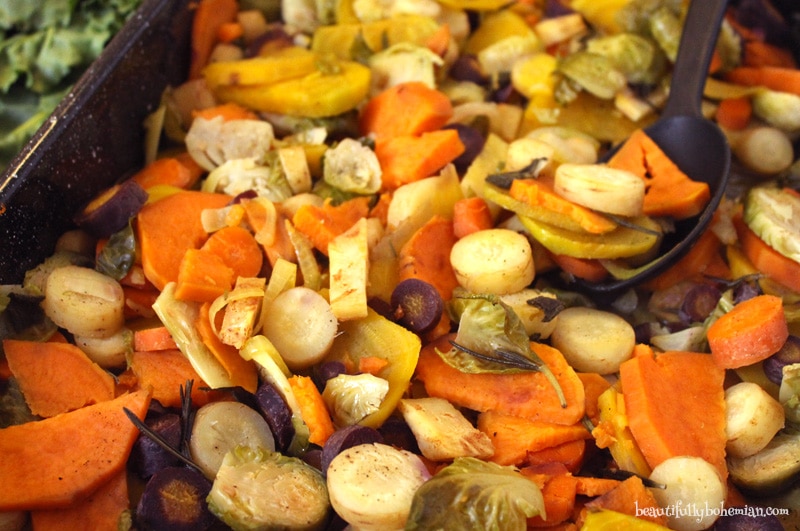 Allergy-Info & Substitutions
This recipe is 100% vegan, meaning it is meat-free, egg-free, and dairy-free. It is also naturally gluten-free, nut-free, soy-free, and low-histamine.
If you are NOT following a low-histamine diet, feel free to season it with nutritional yeast and your other favorite spices.
For an awesome broth to use for this recipe, check out my DIY vegetable bouillon by clicking here.
Need more info about a low-histamine diet? Check out everything you need to know here.
[convertkit form=5023721]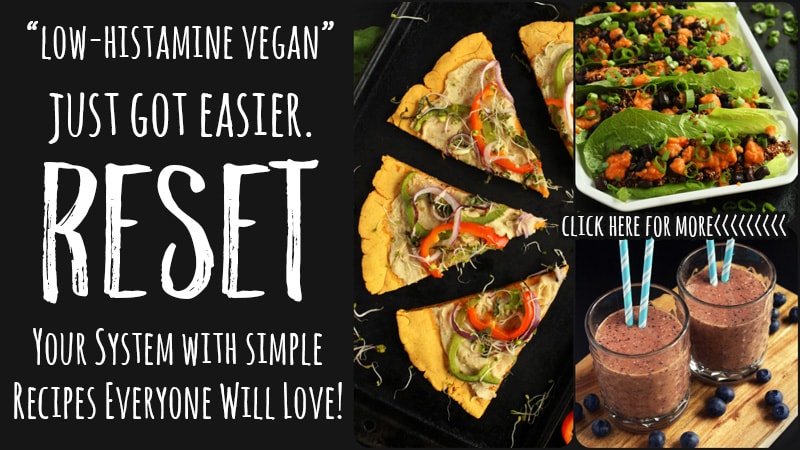 Healthy low-histamine vegan meals should be all about simplicity, not complexity! This delicious selection of seasonal veggies will have you celebrating fall while also keeping your body feeling nourished.
Low-Histamine Vegan Roasted Root Vegetables
Ingredients
1

onion

cut lengthwise and then sliced into half moons

3-4

cloves

garlic

minced

1

medium bulb celery root

outer layer removed and cut into bite-sized pieces

1

large yam

peeled, cut lengthwise and then sliced into half moons

2

large golden beets

peeled, cut lengthwise and then sliced into half moons

½

lb

brussels sprouts

ends removed and sliced thin

6

assorted rainbow carrots

sliced

1

large sprig of rosemary

3

sage leaves

sliced into ribbons

1

C

vegetable broth of your choice

heated (Either Rapunzel Vegetable Bouillon Cubes OR my Low-Histamine Homemade Veggie Bouillon!)

Himalayan sea salt and black pepper

Brown rice for serving

optional
Instructions
Preheat oven to 400°. Line a large roasting pan with parchment paper (optional, prevents sticking to pan).

Layer vegetables in roasting pan, and scatter herbs on top (you can remove the leaves from rosemary and sprinkle over veg, OR bury sprig in center). Pour hot broth over veggies, and seal with aluminum foil.

Bake for 25-30 minutes, or until fork tender. Serve with brown rice.
Tried this recipe? Tell me about it + share!
Comment and let me know how it was! Then follow BVK on Pinterest @bohemianvegankitchen
Share this recipe with a friend by Email
Pin It!
Thank you for taking the time to invest in your health and happiness!