Finding something as simple as a low histamine salad dressing can feel like a struggle at first, especially when you're vegan.
"WHAT CAN I EAT" is a phrase that I'm sure anyone who has started LH has said screamed violently at one point, specifically at the very beginning. Honestly, it can feel very limiting when you glance at a list of foods that are both low-histamine AND vegan friendly. Throw gluten-free in the mix and you got yourself quite a conundrum.
In other words, your pillow is streaked with mascara from tears (men included).
Or maybe you've eaten your pillow by now out of desperation. Hey it could happen!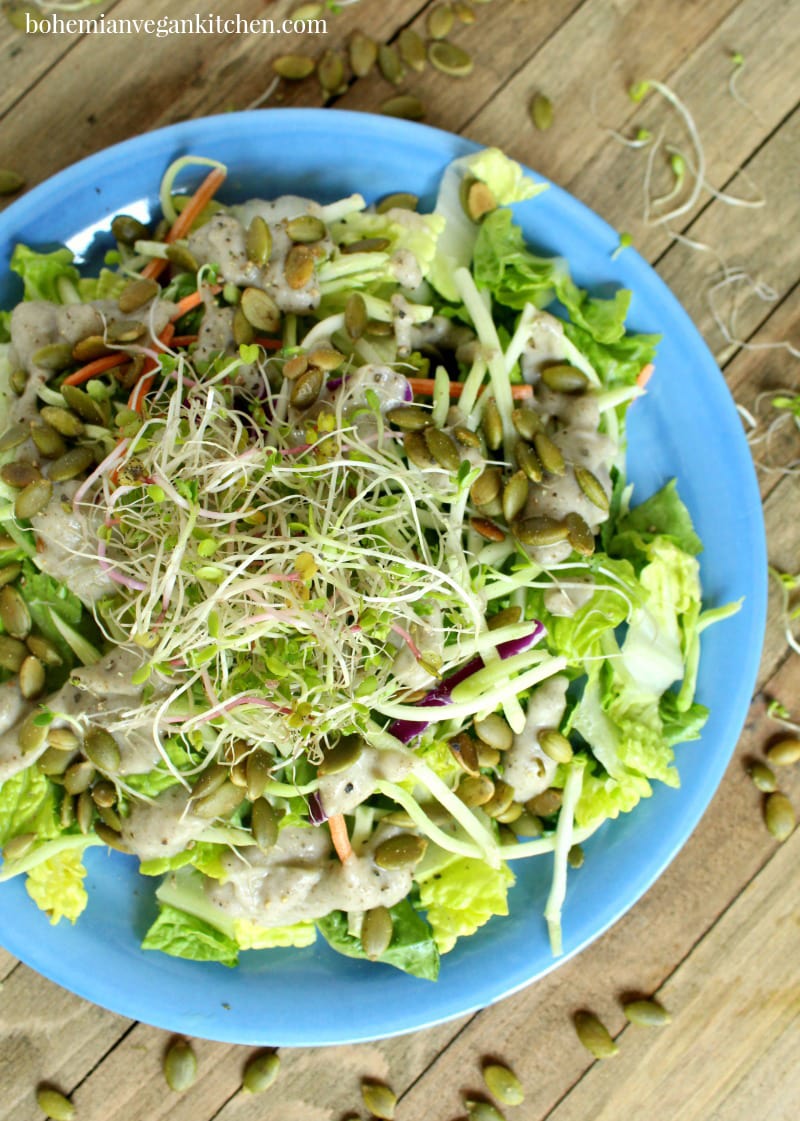 Regardless, I originally posted this salad recipe shortly after I opened up about my experience switching to low-histamine (on top of vegan), in the spring of 2016. After receiving a lot of feedback though, I realized that this recipe needed a reboot: many people were still struggling with my original recipe, because while it was OVERALL low-histamine friendly, there were still some ingredients that made readers uneasy.
And I sympathize with that, because I know what it feels like to dive into something delicious, only to find out shortly thereafter that it did NOT agree with your system. #gameover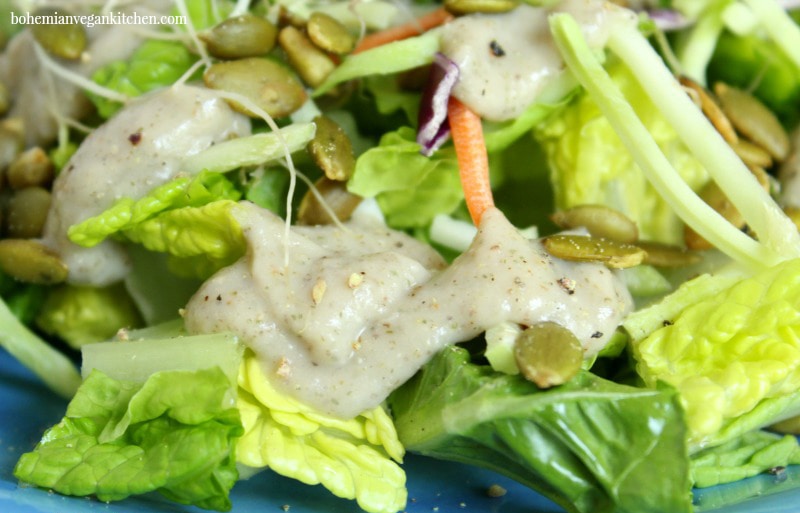 A low histamine salad dressing that's creamy and delicious
Hearing concerns made me go back to the drawing board to really brainstorm ideas for a salad that met all the low-histamine vegan criteria, while still being creamy and "ranch" flavored. After experimenting a bit, I found that using white beans made a really good base to deliver a creamy dressing that was also deliciously filling (originally I used a soy-free vegan mayo).
Through my own LHV journey, I was able to find that my system does not tolerate canned beans very well, so I usually make them from scratch OR open up a BOX of beans (when laziness strikes). Perhaps it's the BPA lining in the can that irritates my stomach, because the box never fails me.
Either way, choose a bean option that you know works well for you and your system.
And so, I bring to you now the ULTIMATE UPDATE, which is 100% low-histamine, vegan, gluten-free, oil-free, and perfect to bring with you for lunch or a light snack at the office.
In truth, I love me a good salad. There's nothing like a gigantic plate piled high with an assortment of raw veg and drizzled with special sauce. I'm drooling already just thinking about it. Other than being creamy and delicious, one of my favorite additions to this salad is the use of chia seeds- they add plenty of fiber, manganese, omega-3's, protein, and phosphorous, plus help combat diabetes and improves your heart health.
I hope that this reboot salad gives you exactly what you need to enjoy a simple low-histamine vegan salad. Feel free to tweak this recipe any way you'd like, by adding in watercress, arugula, cucumbers, apples, cauliflower, or whatever else your little low-histamine heart desires.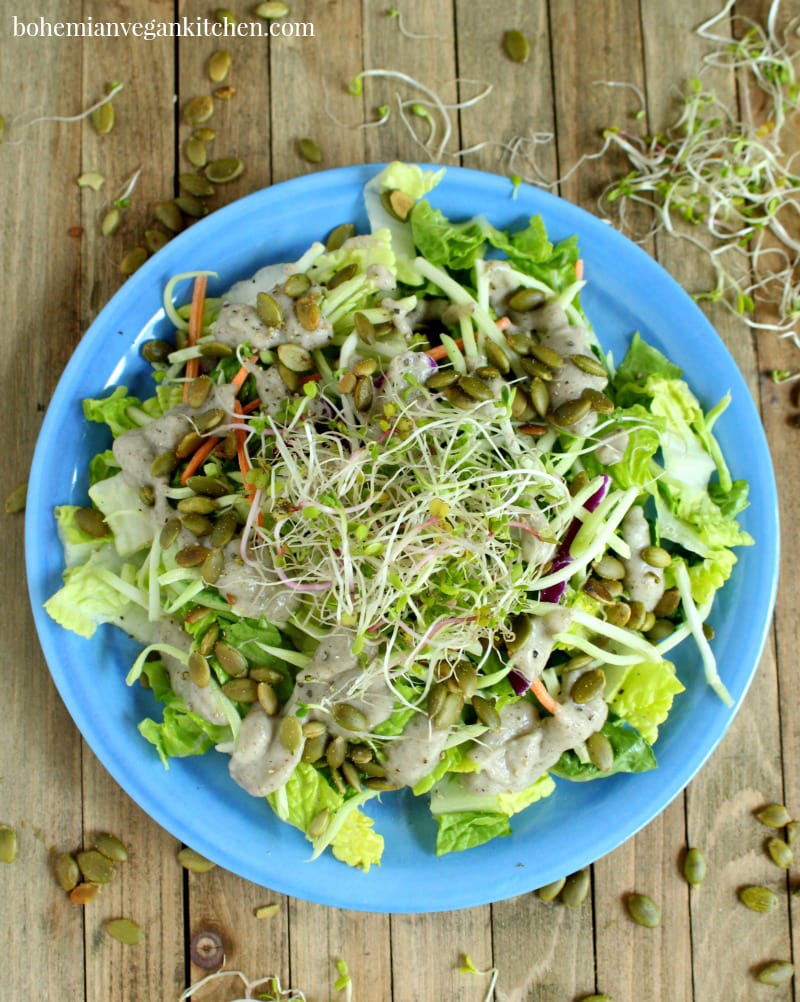 Allergy-Info & Substitutions:
This recipe is 100% vegan, meaning it is meat-free, dairy-free, and egg-free. It is also naturally gluten-free and low-histamine friendly, following as close as possible to a general low-histamine diet.
Jazz it up by adding other low-histamine friendly vegetables, such as watercress, bok choy, arugula, sliced apples, broccoli, cauliflower, peas, cabbage, or anything else that suits your system.
Make it nut-free by using another plant-based milk of your choice.
If your system can handle it, add 2 Tbs of nutritional yeast to your dressing for extra flavor (plus some nutritional yeast brands are fortified with B12).
Nettle is a wonderful anti-histamine and very nutritious, so if you can add it, please do! Don't know where to get it? Just buy a box of nettle tea and cut open a tea bag. Click here to check out my favorite brand of nettle tea by Traditional Medicinals.
Want another salad? Check out my 5 Minute Kale Salad by clicking here.
And if you want more LHV love, make sure to become a Low-Histamine VIP to get updates, recipes, and info from yours truly: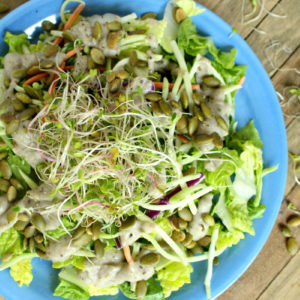 Low-Histamine Vegan Salad with Chia "Ranch" Dressing
Ingredients
For the salad:
Romaine lettuce

Broccoli "slaw" or shredded carrots/cabbage

Sprouts

Pumpkin seeds
For the dressing:
1

C

white beans

(this can be boxed, like cannelini or northern beans, OR cooked from scratch- whatever works better for your system!)

6

tablespoon

almond milk

1

teaspoon

maple syrup

1

teaspoon

chia seeds

1

teaspoon

dill weed

1

teaspoon

oregano

1

teaspoon

dried nettle*

½

teaspoon

onion powder

½

teaspoon

black pepper

¼

teaspoon

garlic powder

¼

teaspoon

Himalayan pink salt
Instructions
Layer desired amounts of salad ingredients on plate.

Puree dressing ingredients in a high-powdered blender or mini food processor.

Drizzle on top of salad. Munch.
Tried this recipe? Tell me about it + share!
Comment and let me know how it was! Then follow BVK on Pinterest @bohemianvegankitchen
Share this recipe with a friend by Email
Thank you for taking the time for your health and happiness!