When the chocolate cravings strike, sometimes we need to act fast.
And sometimes, we don't feel like spending 30 + minutes in the kitchen baking, messing with flour and remembering when to take "said treat" out of the oven on time (what smells like burning!?).
Then of course, there's the issue of trying to eat healthier while satisfying that sweet tooth of yours.
In my humble opinion, eating healthy does not equal perfection, nor does it mean that we can throw all conscious effort to the wind and say "eff-it" every Friday night. Eating healthy and transitioning to wise plant-based food choices is all about finding delicious alternatives you can enjoy while playing it smart.
Which brings me to the ultimate fix for any chocolate addict…these amazing vegan brownies!!! ♥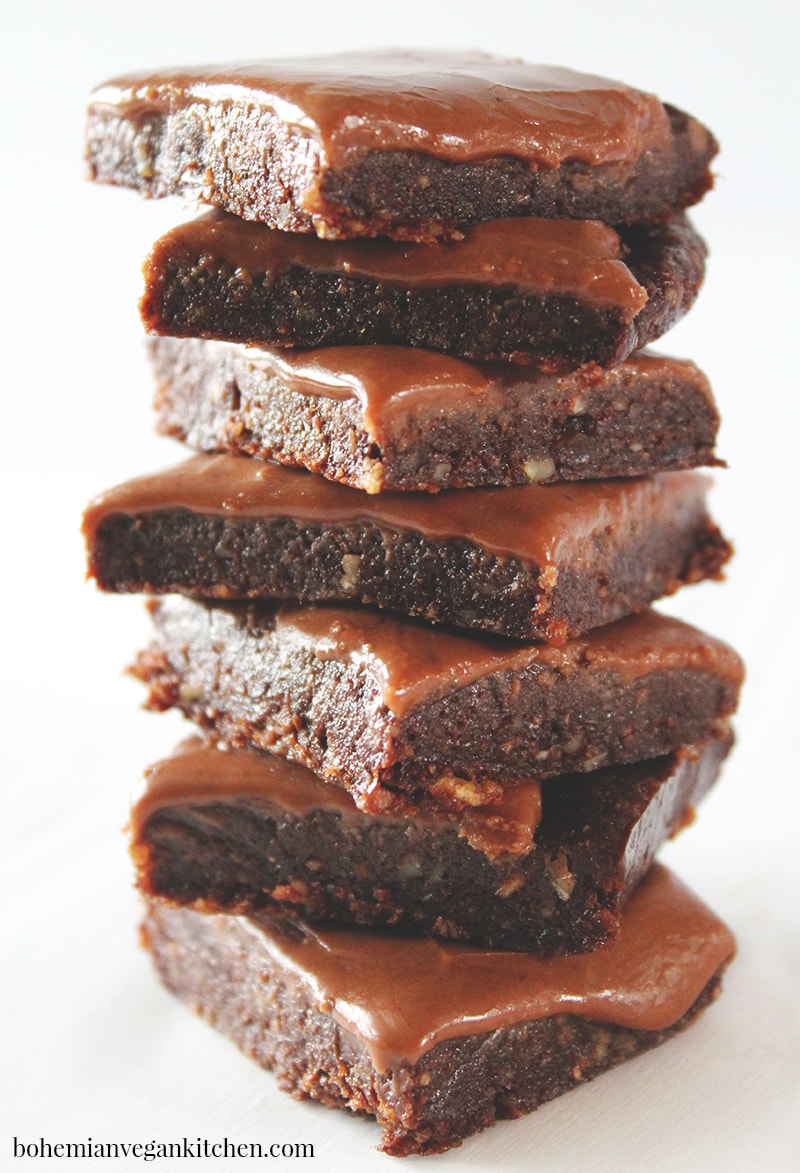 These no-bake vegan brownies are guilt-free
Forget the flour.
Forget baking and WAITING and cooling times.

Forget any and all animal products, like dairy and eggs (you don't need them!).
And forget feeling guilty because you indulged in something you love. There's no need to feel bad about brownies like these!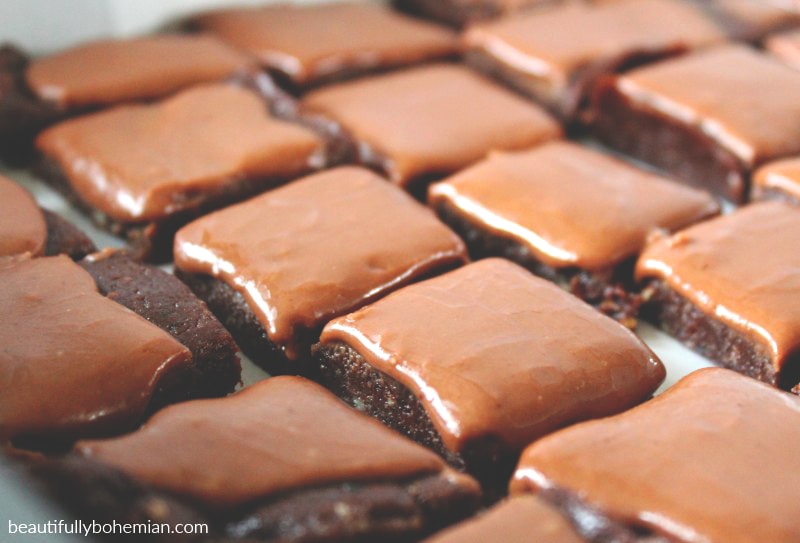 And why even feel guilty with good-for-you ingredients?
Walnuts, pecans, and raw chocolate all help bind this baby together, giving you that "fudge-y" texture and flavor, but without the fuss of flour. Cacao, which was also considered the drink of the Gods by the Incas, is one of the highest forms of magnesium, plus contains FOUR TIMES the antioxidants of regular dark chocolate.
All you need is 15 minutes (from start to finish!).
So what are you waiting for!? 🙂
Allergy-Info & Substitutions
These brownies are 100% vegan, meaning they are egg-free and dairy-free. They are also naturally gluten-free and soy-free.
Worried about sugar? Skip the icing and eat the brownie "batter" all on it's own- I promise you it will still taste amazing!
For another gluten-free + raw treat, check out my Harry Potter Treacle Fudge by clicking here.
I hope you enjoy these amazing vegan brownies! Make sure to share your creation with me on Instagram by tagging me @bohemian.vegan.kitchen + using the hashtag #bohemianvegankitchen.
Become a VEGAN NINJA in the kitchen.
Want to step up your vegan game? Just pop your email in the space below and I'll send you my complete email series on how to plan and prep vegan meals like a PRO. You'll also receive a FREE meal planning printable as a special thank you download, plus occasional future emails with easy vegan recipes!
♥ ♥ ♥
These flourless vegan brownies are just like chocolate heaven! Completely gluten-free, you don't have to worry about baking either- whip these brownies up in only 15 minutes and get your chocolate fix. You can thank me later.
No-Bake Flourless Vegan Brownies (Gluten-Free!)
Ingredients
Icing-
1

C

organic powdered sugar*

1

tablespoon

raw cacao powder

or cocoa, but you will lose the health benefits!

2

tablespoon

almond milk

1

teaspoon

vanilla extract
Instructions
Add all brownie base ingredients to a food processor, and run until mixture pulls away from the sides (a "dough" will start to form).

Empty contents into an 8 x 8 baking dish lined with parchment paper. Press/pull brownie mixture to the edges of the pan- this can be done easily by placing a sheet of parchment paper on top of the mixture, and then pressing on top with your hands (this prevents you from getting your hands covered in chocolate too!).

For the topping, mix all ingredients in your food processor (no need to rinse- just makes sure there aren't pieces leftover from the brownie base) until smooth and thick. *TIP: If icing seems too runny, add a touch more powdered sugar- if it seems too dry, add a splash of almond milk. Pour on top of brownies and spread evenly across the pan.

Eat immediately OR refrigerate 15 minutes to harden up. Cut into bite-sized squares. Enjoy!
Notes
*If making gluten-free, please make sure to check that your powdered sugar is gluten-free verified.
Tried this recipe? Tell me about it + share!
Comment and let me know how it was! Then follow BVK on Pinterest @bohemianvegankitchen
Share this recipe with a friend by Email
Pin It!
Thank you for taking the time to invest in your health and happiness!