While the world is beginning to *slowly* embrace veganism, many people are still under the false assumption that it's expensive and too complicated.
In all actuality, eating plant-based foods can be cheap (and easy!) if you shop smart and plan ahead. Yet when I speak to others about making alternative food choices, there's one struggle that echoes out over all the rest:
Time. Management.
Because juggling the challenges of life can be difficult all on their own, before the task of eating healthy. Add homemade meals into the rotation, and well, your juggling days may come crashing to the floor (it happens).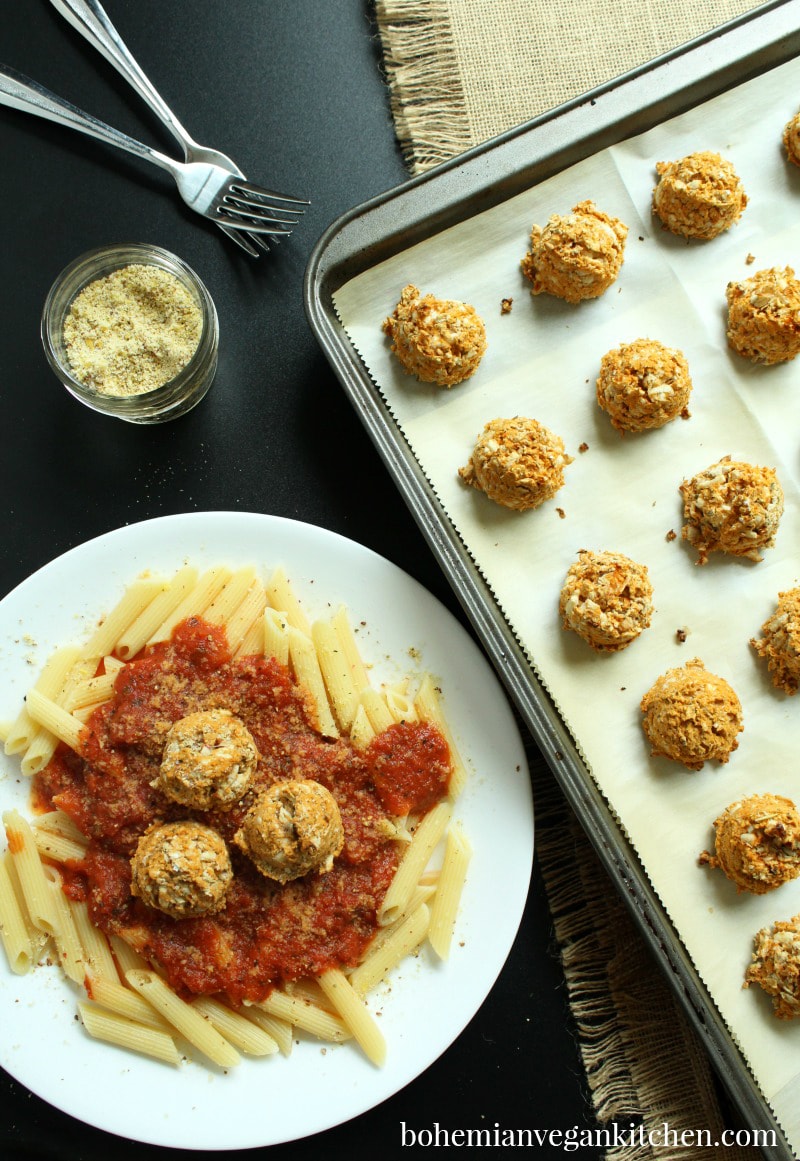 That's why I decided to make a vegan bean ball that requires just 5 ingredients and 10 minutes to prep, since we all deserve a go-to weeknight dinner that's not complicated and takes only 30 minutes start to finish.

And did I mention it's cheap too?
Beans are often viewed as the "bread-and-butter" of vegan living, but at around $1.30 a box, it's actually a smart choice for those that are trying to conserve money!
Furthermore, white beans are the perfect basis for creating a "meatball" that is 100% soy-free & cruelty-free, while still maintaining nutritional value.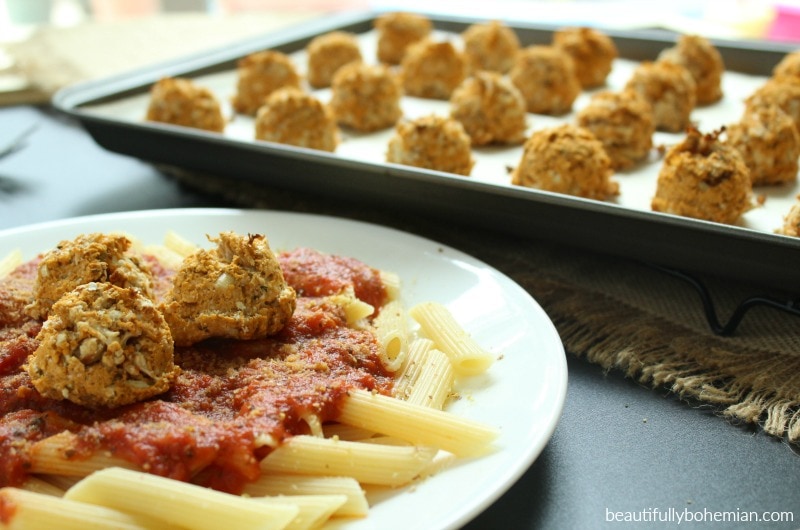 My favorite step in this recipe though, has to be busting out my bad-ass mini ice cream scoop.
Because the "difficult" part about making your own bean balls is the time it takes to roll your balls by hand, making it messy and time consuming (go ahead, insert ball joke here lol). Yet having a mini ice scream scoop means you aren't elbow deep in your balls *lol*, making this recipe MESS FREE as well.
All you have to do is blend, transfer, and bake.
To finish, just boil some pasta and bust open a jar of marinara and you're good to go.
Alternatively, you can serve these bean balls in hot dog buns with a little marinara and a sprinkle of this Easy Vegan Parmesan Cheese.
Of course I feel I should mention, it's IMPOSSIBLE for me to eat these bean balls without busting out some "Wedding Singer" reference: "THAT'S A GOOD MEATBALL."
I'm sure you'll feel the same way. ♥
[convertkit form=5036453]

Allergy Info & Substitutions
These bean balls are 100% vegan, meaning they are meat-free, dairy-free, and egg-free. They are also naturally nut-free and gluten-free.
Don't like Daiya cheese? Swap it out for another plant-based cheese of your choice, such as Follow Your Heart brand, OR use 2-3 tablespoon of nutritional yeast flakes instead.
For another EPIC bean ball recipe, check out the recipe for my BBQ & Cranberry Bean Balls by clicking here.
Want a meatball alternative that is also soy-free? Try these EASY mozzarella dairy-free bean balls! They take only 5 INGREDIENTS + are naturally soy-free, nut-free, and gluten-free!
5 Ingredient Dairy-Free Mozzarella Bean Balls
Ingredients
26.8

oz

cannellini beans

that's 2 boxes OR cans, drained and rinsed well

1

tablespoon

tomato paste

1

C

oatmeal

1

tablespoon

Italian seasoning

1

C

Daiya mozzarella cheese shreds*
Instructions
Preheat oven to 375º. Add all ingredients to a food processor (I use an 11-cup, but this recipe fills only half). PULSE until mixed, but NOT paste- you want half of it to be chunky, which will give you "pockets" of melted cheese once cooked. Mmmmmm.

Using a mini ice cream scoop (or your hands, but that can get messy), transfer bean ball mixture one scoop at a time to a baking sheet covered in parchment paper.

Bake for 20 minutes, or until golden brown.
Notes
*If you don't want to use Daiya vegan cheese, you can trade it out for 2-3 tablespoon of nutritional yeast. Nutritional yeast is an inactive form of yeast that gives dishes a "cheddar" cheese flavor- perfect for these bean balls!
Tried this recipe? Tell me about it + share!
Comment and let me know how it was! Then follow BVK on Pinterest @bohemianvegankitchen
Share this recipe with a friend by Email
Pin It!

Thank you for taking the time to invest in your health and happiness!