Pulling hot vegan pumpkin brownies out of the oven is one of life's simple pleasures.
Hearing the oven door creak open, like a secret doorway to an edible treasure, pulling the pan out and seeing that sheet of glistening brown, the aroma of rich chocolate and pumpkin spice wafting in your face, enticing you to forget the cool down time, to damn the costs of cutting yourself a square RIGHT NOW, even if that means you will burn the roof of your mouth and the next few meals you'll be complaining at the dinner table about how you should have just let them cool but you didn't.
Because brownies.
When I make brownies at my house, I always call for an assistant chef, which usually comes in the form of a child who is nearly 3 ft tall and permanently dressed in only his underwear. He pulls out all the ingredients and I measure them carefully, explaining fractions so I can justify making brownies as an educational activity.
Jump to:
And then he attempts to toss them one by one into the stand mixer. It's a process that's only successful about half the time.
The other half of the time, chocolate powder and bits of flour end up dusting my countertop, and I'm pretty sure the salt measurement is off…but that's ok.
It's moments like these that I remember are teachable moments; for me of course, not my son. It teaches me that we can have all the steps lined up, know what we need to do and when we need to do it. First you do this and then you do this and then you get this…but sometimes, we unexpectedly spill the flour.
That doesn't mean we won't get to the brownies, it just means steps can be messy and prolong the outcome.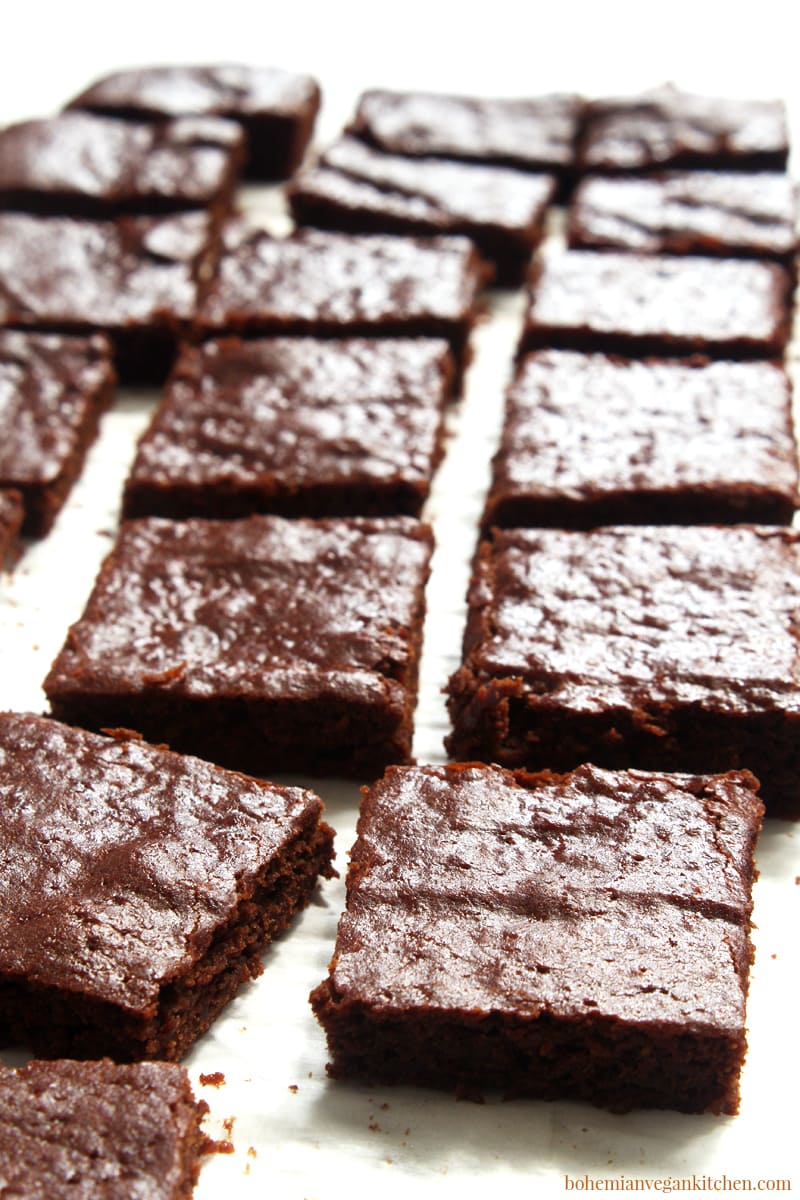 But if we stick it out long enough, we will get those brownies. We will get that reward. Even if it means we're cleaning up after ourselves along the way.
And these vegan pumpkin brownies are worth all the effort to get there, which honestly is not that much. These pumpkin brownies can be prepared in about 10 minutes, and baked in only 15.
Basically it's instant gratification.
And what's better than pulling open that creaky oven door to lay your eyes on that enticing tray of heavenly brown squares? It's an addicts dream.
The secret to baking perfect vegan pumpkin brownies
There's a secret to making vegan pumpkin brownies, and if you'll lean in I'll whisper it gently into your ear.
The first part of the secret is in the type of chocolate you use. Because while using conventional cocoa is fine and dandy for your moms brownies, these are not your moms brownies.
These brownies are the messiah of the conventional brownie, because they bring in the heavenly taste of pumpkin spice and rich cacao that is like an answer to all your brownie prayers.
Personally, I've found that using raw cacao brings a richness to brownies that you just don't get with regular cocoa. Maybe it's the way that they process the chocolate, leaving the good parts in tact and not heating the crap out of it. Either way, I love using raw cacao (specifically, Healthworks brand) as a substitute for regular cocoa, and I suggest you try it for these brownies.
The second part of the secret to good vegan brownies is using pumpkin as part of the oil replacement.
Pumpkin makes the brownies moist and cuts down on the oil, a common complaint for many coming to vegan world. Pumpkin also adds a health kick to your brownies, and what better way to justify brownies than with vegetables?
Gotta have my brownies mom so I can get my beta-carotene.
So if you want to limit your oil, get secret vitamins, plus add a texture that almost melts in your mouth it's so good, try using pumpkin for your brownie batch.
I hope you get a chance to make these pumpkin brownies, preferably with a child assistant for kicks and a lesson in patience.
Just remember to keep the broom nearby.
Allergy Information + Substitutions
These pumpkin brownies are 100% vegan, meaning they are egg-free and dairy-free. They are also naturally nut-free and soy-free.
Make them gluten-free by swapping out the flour for gluten-free 1 to 1 flour. I like the Bob's Red Mill brand.
These brownies call for cayenne pepper, which adds just a little kick, but if you are super sensitive to anything even slightly spicy, you can nix that.
 I love using this cacao powder (affiliate) because I think it adds a rich chocolate flavor. Of course, in a pinch, you can always substitute with regular cocoa powder.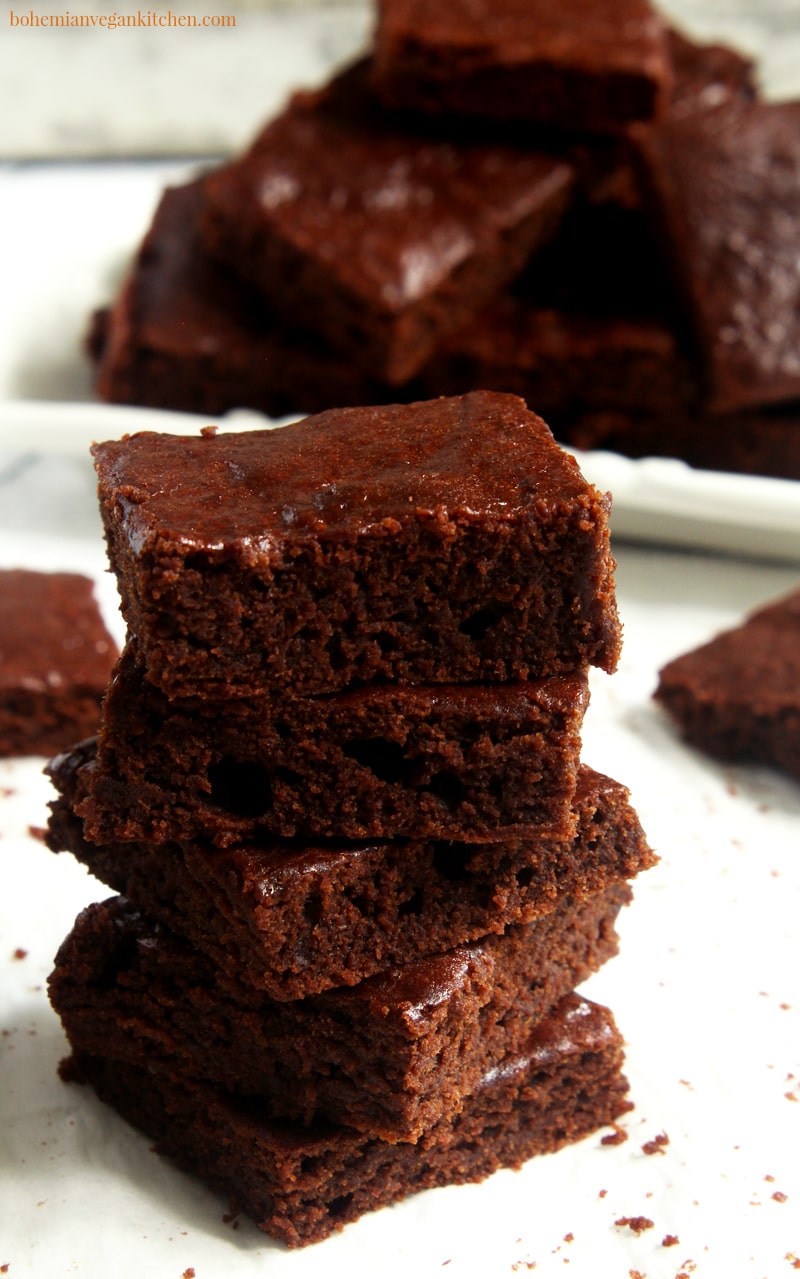 Quick Vegan Pumpkin Brownies
Reward yourself today with these fudgy, moist, and QUICK vegan pumpkin brownies! Taking only 10 min prep and 15 min to bake, these brownies are the MESSIAH of the conventional brownie, because they bring in the heavenly taste of pumpkin spice and rich cacao that is like an answer to all your brownie prayers.
Instructions
Preheat oven to 350° F (176° C). Line a 9 x 9 baking pan with parchment paper and set aside. Using parchment allows for easy removal of the brownies, but if you don't have any parchment you can grease the pan lightly with oil.

In a large bowl using electric beaters (or a stand mixer), combine all dry ingredients and stir. Add in the pumpkin puree and oil, and begin mixing on medium speed (low for stand mixer); slowly add in water and continue to beat until the batter is combined well. The consistency should resemble a thick cake batter. Transfer to brownie pan and spread evenly to the edges.


Bake for 15 minutes, then remove from oven. For a "crunchier" brownie, you can leave in for an extra 2-5 minutes. Allow to cool before cutting into squares.

Notes
These pumpkin brownies are absolutely delicious, but if you don't want a kick of spice, omit the cayenne.
If you enjoy heat, you can increase the cayenne to ¼ teaspoon, if desired.
Nutrition Information
Calories:
95
kcal
|
Carbohydrates:
13
g
|
Protein:
1
g
|
Fat:
5
g
|
Saturated Fat:
1
g
|
Polyunsaturated Fat:
1
g
|
Monounsaturated Fat:
3
g
|
Trans Fat:
1
g
|
Sodium:
56
mg
|
Potassium:
43
mg
|
Fiber:
1
g
|
Sugar:
8
g
|
Vitamin A:
771
IU
|
Vitamin C:
1
mg
|
Calcium:
10
mg
|
Iron:
1
mg
Tried this recipe? Tell me about it + share!
Comment and let me know how it was! Then follow BVK on Pinterest @bohemianvegankitchen
Share this recipe with a friend by Email