How often did you eat Chef Boyardee as a kid?
Like, how often did your whining and complaining to your parents actually work, rewarding you with a delicious can of processed meat and cheese that only a child would consider worthy? #gimme
For me, it didn't work often, because my family was a knock-off brand family. Nope, instead of getting Chef Boyardee, we got the can on the shelf below. Instead of cartoon character shapes, we got generic shapes. Instead of Beefaroni, we got "Beef Macaroni".
Even the names lacked finesse.
But that's okay, because as an adult, I'm not a stickler for "name brands". I just want stuff that tastes good and is good for you.
Which is why I couldn't help myself on the recreation of this classic kid cuisine. I wanted my own children to relish in the feeling of Chef Boyardee, without all the overly processed crap and animal cruelty.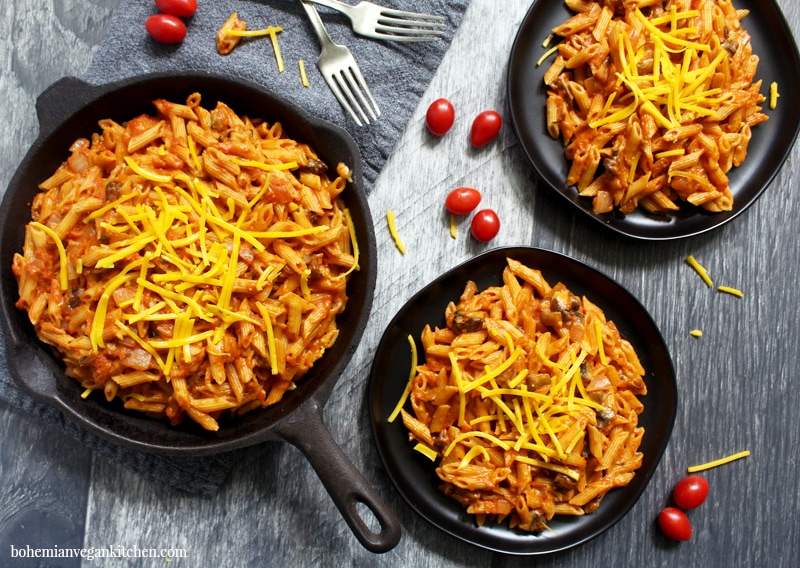 Updating the classic Chef Boyardee Beefaroni to vegan
The thing I remember being the most enticing about Chef Boyardee, other than the name and fabulous marketing skills on Saturday morning cartoon commercials, was the fact that you got to eat an Italian meal for lunch.
No sandwiches or leftovers, just good ol' fashioned pasta in a can. #merica
So, when recreating this, I thought about my 8 year old self. Hence the heavy-hand on the vegan cheese.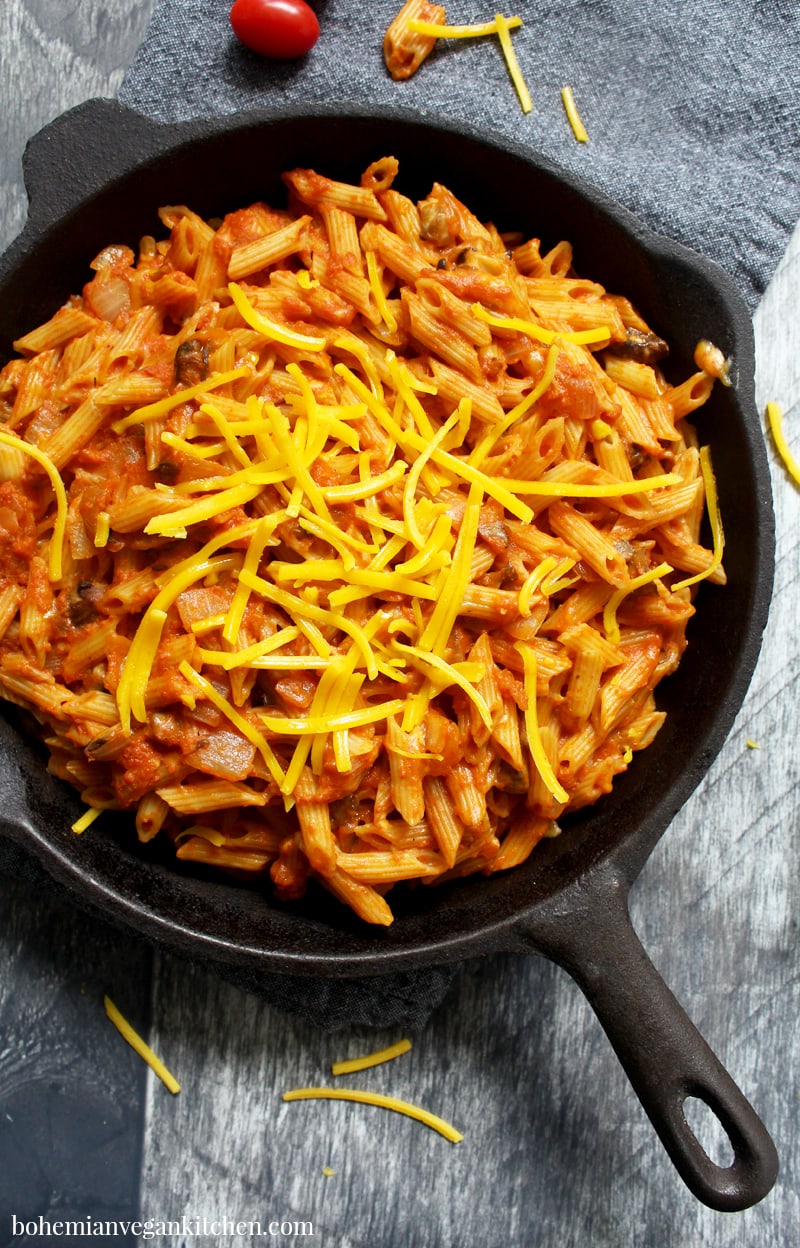 I also decided that it would make fantastic to-go lunches for vegan kids, since you could make a huge batch of it on Sunday night and divide it up into containers for the remainder of the week. It's also a great way to sneak in carrots if you have picky eaters.
When I was in elementary school, I think there was an entire school year where my mom would cook me a can of generic spaghetti-os' and place it in my Lady Lovely Locks Thermos. It was usually luke-warm by the time lunch came around, but that seriously made my entire day.
It also gave me giant red stains in the corners of my mouth for the remainder of the afternoon, but hey, that's the price you pay for good lunch.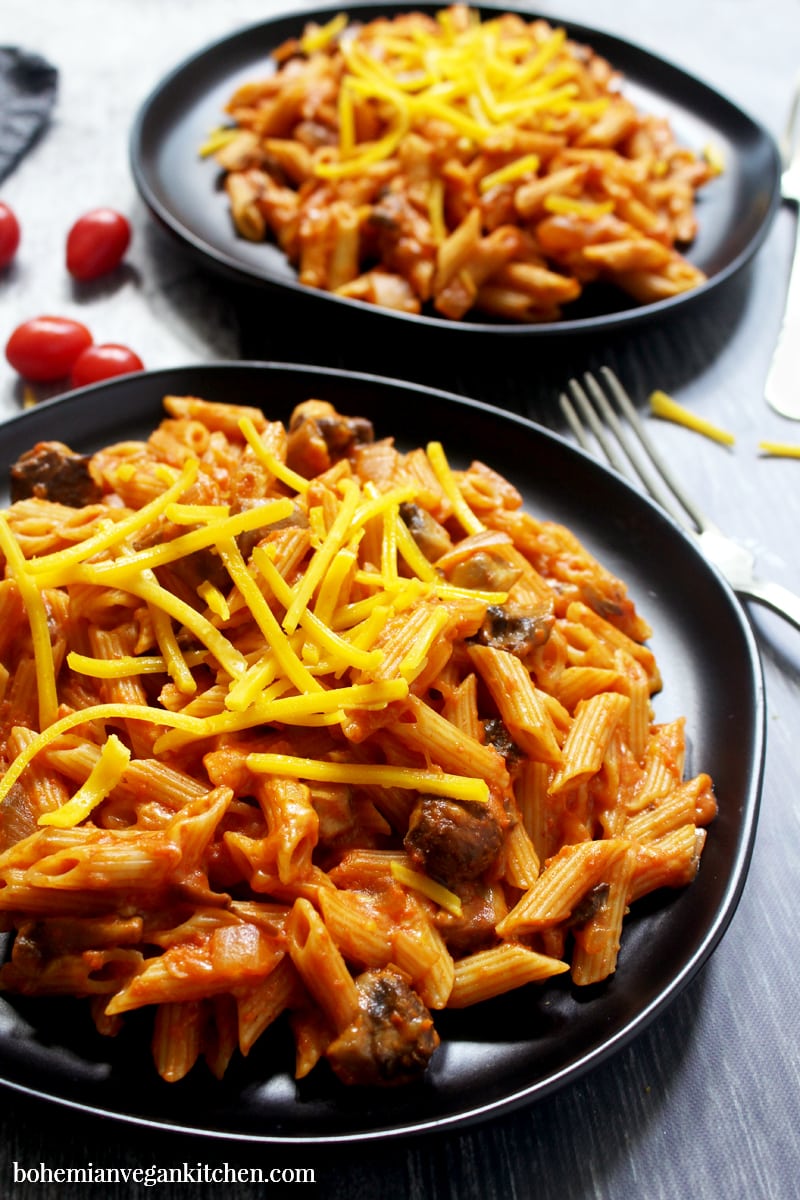 Dairy Free Chef Boyardee for kids
So if you feel like being the hero of your kids day, make this for dinner or pack it in their not-1980's lunchbox. It's legit the best kid-friendly meal ever. My kids love it when I make this meal for them, and always go back for seconds.
And if they don't like mushrooms, you can use one of the simple swaps that I've included in the substitutions section below.
Just make sure to pack a napkin so they don't have giant stains on their cute little faces, k?
Frequently Asked Questions
Why is Chef Boyardee so bad?
While we all have amazing childhood memories of eating store-bought Chef Boyardee, the reality isn't so amazing: high fructose syrup, high saturated fats, trans fats, and animal byproducts are just a few things you'll find on the label. That's why you should just make this healthy vegan Chef Boyardee instead!
Why is this vegan Chef Boyardee healthy?
First off, you won't be getting the preservatives that are found in a traditional can of Chef Boyardee. I've also swapped the beef for mushrooms, and added in secret carrots for added flavor + a healthy kick.
How do you make Chef Boyardee from scratch?
This vegan Chef Boyardee recipe is so easy to make! All you have to do is boil pasta, prepare the sauce, toss, and serve. Check out the details in the recipe box below.
Do you have to use mushrooms/dairy free cheese in this recipe?
Nope! If you're not a mushroom fan, just swap them out for cooked lentils or vegan beef crumbles. For the cheese, you can always up the amount of nutritional yeast if you do not want to use dairy free cheese.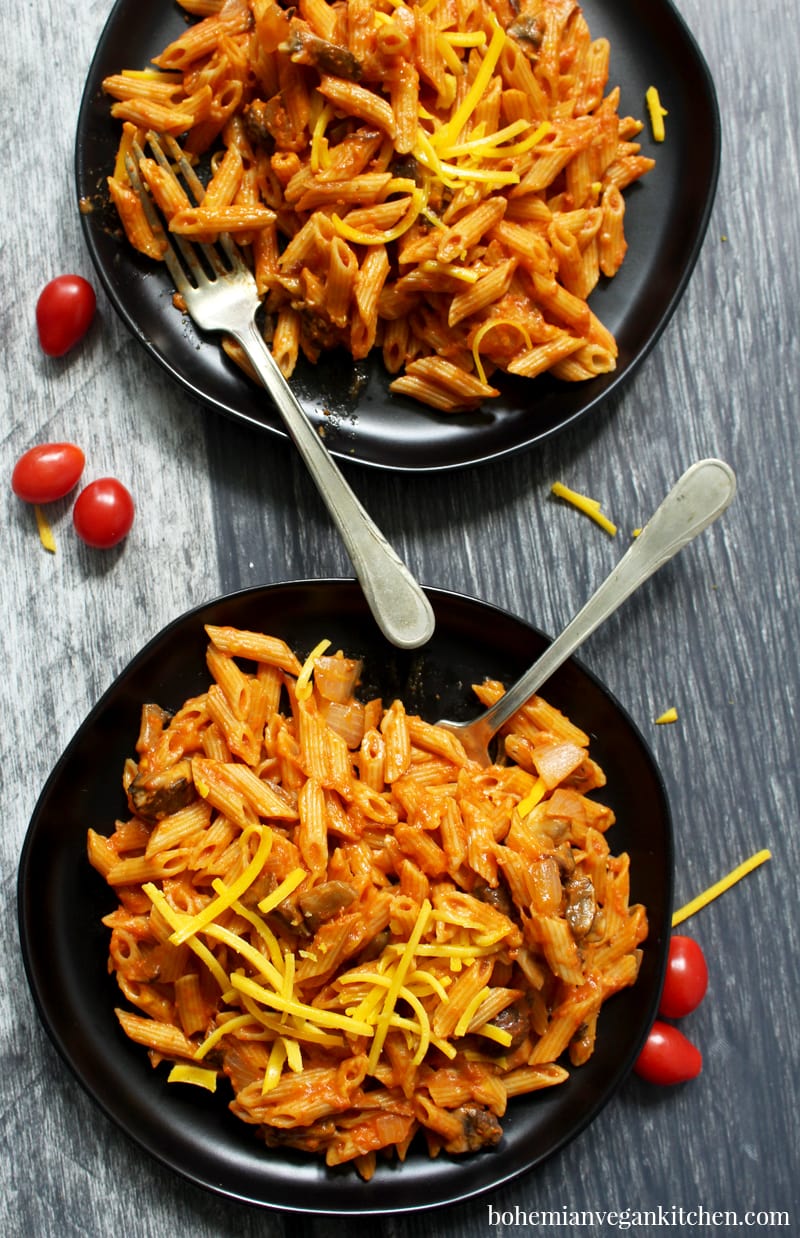 Allergy Information & Substitutions
I hope you enjoy this amazing vegan Chef Boyardee! Make sure to share your creation with me on Instagram by tagging me @bohemian.vegan.kitchen + using the hashtag #bohemianvegankitchen.
Vegan Chef Boyardee Beefaroni
Be the hero of your kid's week by making them this simple yet DELICIOUS Vegan Chef Boyardee! This dish features healthy ingredients + hidden veggies to keep your kids eating right while also indulging in classic kid cuisine. 
Ingredients
1

lb

mini penne pasta

1

large

carrot

cut into chunks

1

cup

filtered water

8

oz

baby portobello mushrooms

chopped small (or use vegan beef crumbles if that's your jam)

1

medium

yellow onion

diced

1

tablespoon

oil of choice

such as olive or coconut oil

15

oz

tomato sauce

2

tablespoon

nutritional yeast

1

bouillon cube

vegetable or vegan beef, optional

1 ½

cup

dairy free cheese

such as Daiya brand

salt and pepper, for seasoning
Instructions
Cook pasta according to package.

Meanwhile, place chunked carrot and 1 cup water in a small sauce pot and bring to a boil. Cook until fork tender, about 5-7 minutes. While this is cooking, you can add your mushrooms, onions, and oil to a large frying pan–keep on low heat, stirring occasionally.

When carrot is tender, remove from stove and add carrots plus ¼ cup of the cooking water to a food processor, along with tomato sauce, nutritional yeast, and bouillon. Turn on high until carrot is completely blended; transfer sauce to frying pan with mushrooms and onions and turn up to medium heat. I like to cover my pan with a lid too, so the sauce doesn't start to splatter all over the stove.

When the pasta is finished cooking (takes about 9 minutes boiling), drain and add to sauce. Stir until mixed well, then add in the vegan cheese and stir until it's all melted. Season with salt and pepper, if desired.

Nutrition Information
Calories:
439
kcal
|
Carbohydrates:
73
g
|
Protein:
14
g
|
Fat:
10
g
|
Saturated Fat:
2
g
|
Polyunsaturated Fat:
1
g
|
Monounsaturated Fat:
2
g
|
Trans Fat:
1
g
|
Cholesterol:
1
mg
|
Sodium:
795
mg
|
Potassium:
635
mg
|
Fiber:
6
g
|
Sugar:
7
g
|
Vitamin A:
2312
IU
|
Vitamin C:
7
mg
|
Calcium:
57
mg
|
Iron:
2
mg
Tried this recipe? Tell me about it + share!
Comment and let me know how it was! Then follow BVK on Pinterest @bohemianvegankitchen
Share this recipe with a friend by Email
Pin It!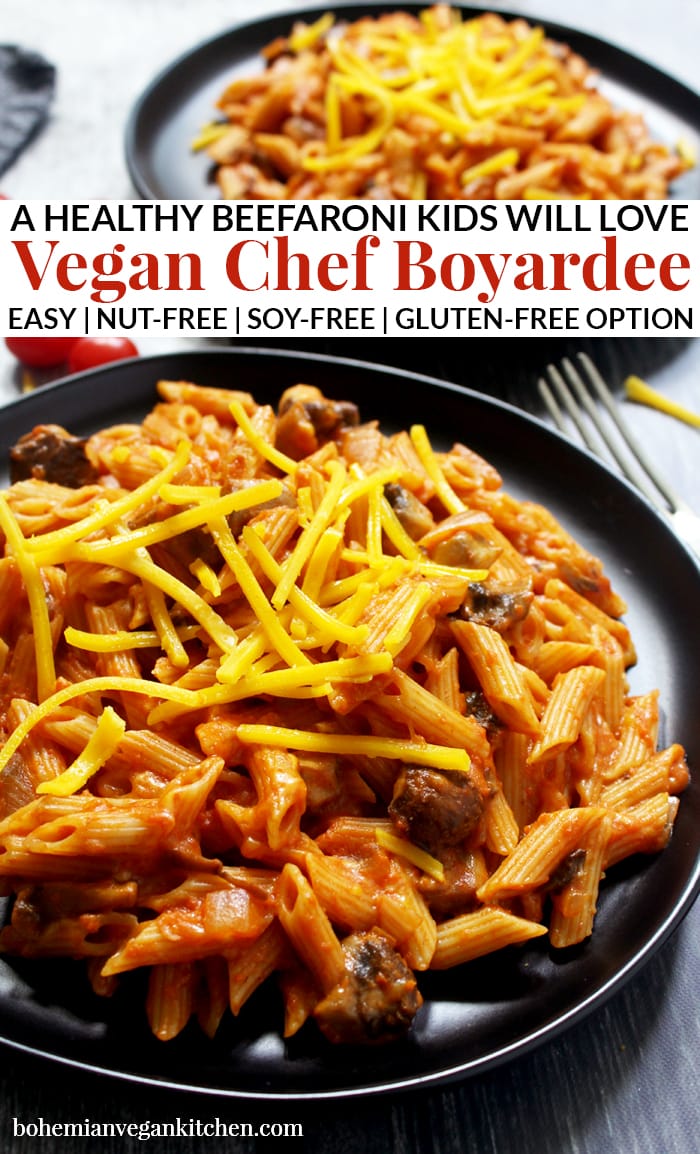 Thank you for taking the time to invest in your health and happiness!