I can't imagine making Sloppy Joes for my family without singing like Adam Sandler:
"SLOPPY JOE, SLOP, SLOPPY JOE YEEAAAH".
Because to do so would not only be sacrilegious, but bad parenting on my part. And my kids know that it is physically impossible to serve them Sloppy Joes and not sing at least a line or two in that classic Adam Sandler tone.
"Now me and Sloppy Joe got married…we got six kids and we're doin' just fine."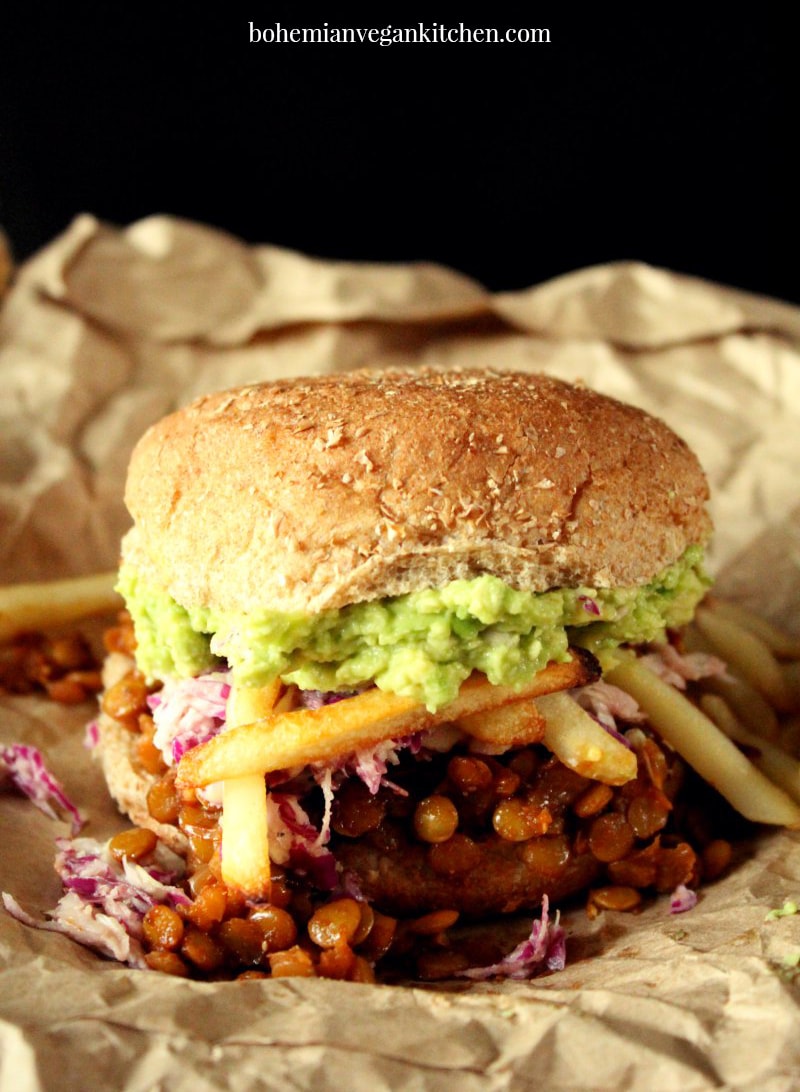 Did I mention how awesome it is when your kids are old enough to enjoy a good joke AND participate in a family SNL sing-along? #proudmama
Unlike the song though, yesterday's meatloaf is NOT today's Sloppy Joes. You won't find any ♫ navy beans, navy beans, navy beans ♫ here, just good old fashioned lentils, which is ALWAYS a better option than cafeteria mystery meat.
In fact, today's Sloppy Joes is the ULTIMATE vegan comfort sandwich!
So are you ready to take a trip down to ♫ "Lunch Lady Laaaaaaand" ♫ for an updated version of the classic Sloppy Joe?
Loaded down with BBQ lentils, red cabbage slaw, oven-baked fries, and topped with a generous portion of smashed avocado on a toasted bun, this sandwich is totally moan-worthy and not limited to children (just the young at heart!).
Pretty soon, I'm sure you'll be dancing around the kitchen just like Chris Farley in a hair net, only (I hope) much sexier *wink*.
Enjoy this one on me, and don't forget to sing…LOUDLY.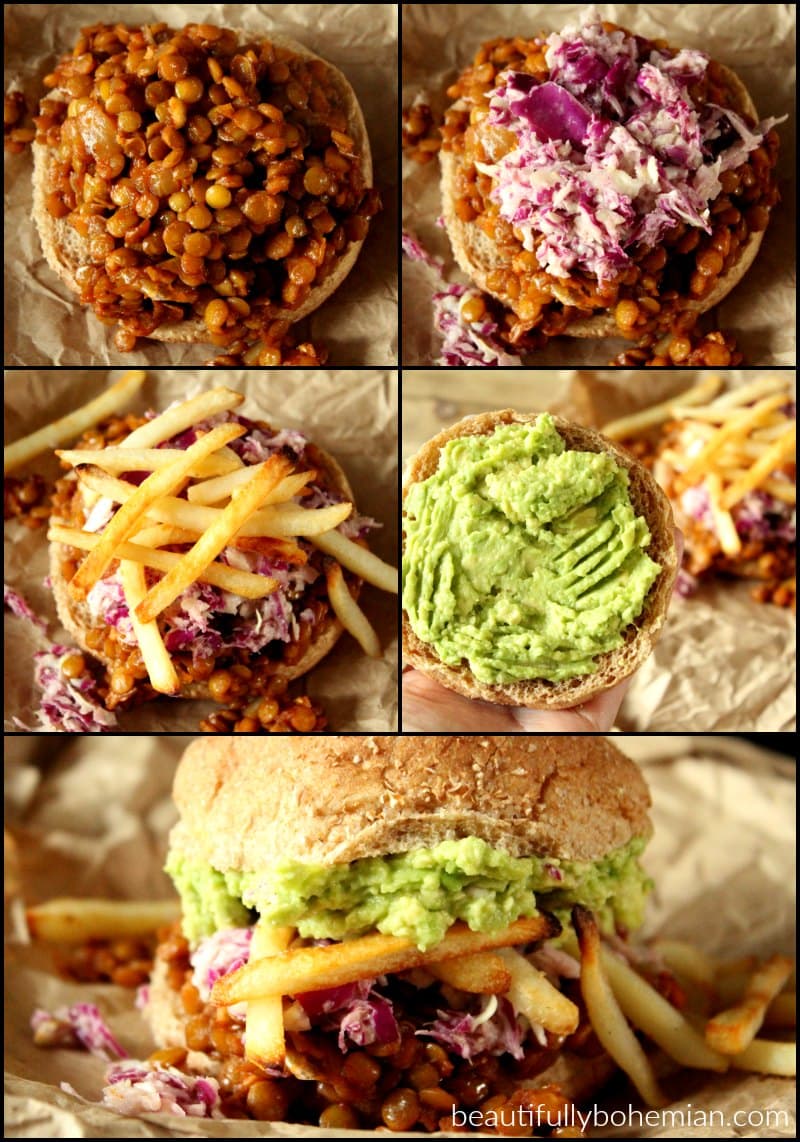 Allergy-Info & Substitutions
This sloppy joe is 100% vegan, meaning it is meat-free, dairy-free, and egg-free. It is also naturally nut-free and soy-free (when using Just Mayo brand).
Make it gluten-free by using gluten-free hamburger buns instead of wheat.
Bring on the toppings! Layer on as many toppings as you wish, including sliced tomatoes, cucumbers, pickles, hot sauce, or anything else your vegan heart desires.
For another AMAZING vegan weeknight dinner, check out my easy vegan carrot hot dogs by clicking here.
The Ultimate Vegan Sloppy Joe
Making the Ultimate Vegan Sloppy Joe makes me want to sing like Adam Sandler! Loaded down with homemade slaw, avocado, and oven baked fries, this is one delicious ritual you don't want to miss!
Ingredients
For the BBQ Lentils-
1

medium onion

chopped

3-4

garlic cloves

minced

2

tablespoons

coconut oil

1 ½

cup

dried lentils

washed and picked over

2 ¼

cup

"Not-Beef" broth OR veggie broth

½

cup

BBQ sauce of choice

plus and additional ¼ C reserved
For the Slaw-
½

cup

red cabbage

shredded

½

cup

green cabbage

shredded

2

tablespoon

dairy free mayo

such as "Just Mayo"

1-2

teaspoon

apple cider vinegar

1

tablespoon

almond milk

Sprinkle of nutritional yeast

Himalayan pink salt and pepper

to taste
To Assemble-
Hamburger buns

1

avocado

mashed and lightly seasoned with Himalayan pink salt and pepper

1

package of frozen fries
Instructions
Bake fries according to package.

Meanwhile, in a medium saucepan, saute onions and garlic in coconut oil for 2 minutes, until softened. Add dried lentils, broth, and the ½ C of BBQ sauce. Bring to a boil, and then reduce heat to medium low. Cover, and simmer for approximately 20 minutes, or until lentils are tender and cooked through. Stir in the ¼ C of reserved BBQ sauce and turn off heat.

While the lentils are cooking, combine all slaw ingredients and toss to coat.

To assemble, top toasted buns (if desired) with a generous serving of BBQ lentils, slaw, and a handful of baked fries. Smear mashed avocado on inside of bun to top it off.
Tried this recipe? Tell me about it + share!
Comment and let me know how it was! Then follow BVK on Pinterest @bohemianvegankitchen
Share this recipe with a friend by Email
Pin It!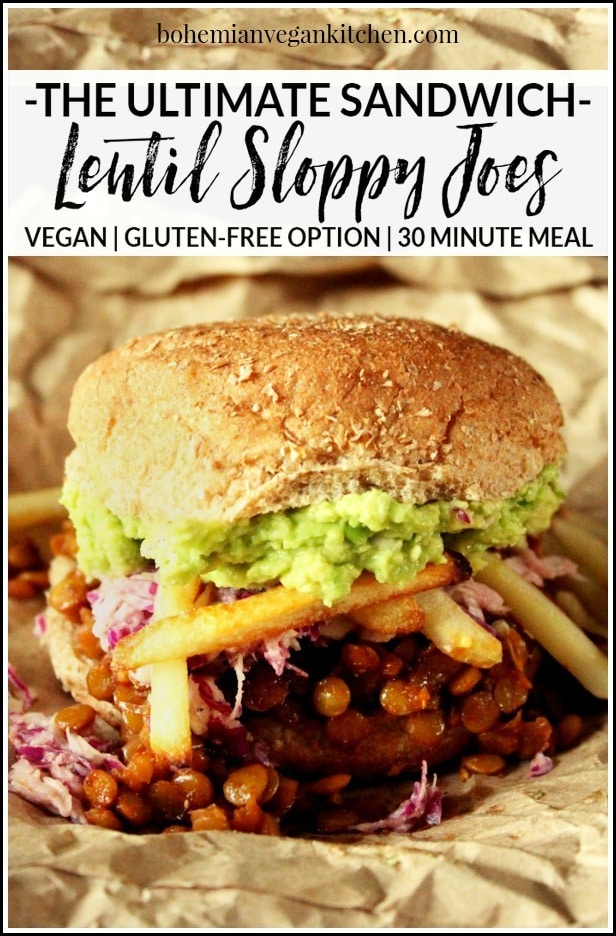 Thank you for taking the time to invest in your health and happiness!