Keeping your kitchen stocked with vegan pantry staples is the best way to practice following a healthy plant-based diet, since you'll already have all your vegan essentials on hand at all times.
It's also the best way to keep your family prepared when times get tough, such as during a natural disaster, snow storm, unemployment stretch, or other emergency situation. Because you don't want to be rationing out beans and rice like you're living through the Great Depression or an episode of Survivor. #playingforreward
Fortunately, we don't always have to rely on nearby stores to get our shopping done– there are many online grocery providers to do the job for us!
To make this easier, I've compiled a list of essential vegan pantry staples, so you can get help prioritizing what to purchase. Please keep in mind that these are affiliate links, but rest assured they are products that I actually keep in my pantry.
And if you're looking for recipes to use your pantry staples, make sure to check out this post for a roundup of easy vegan recipes for emergency situations.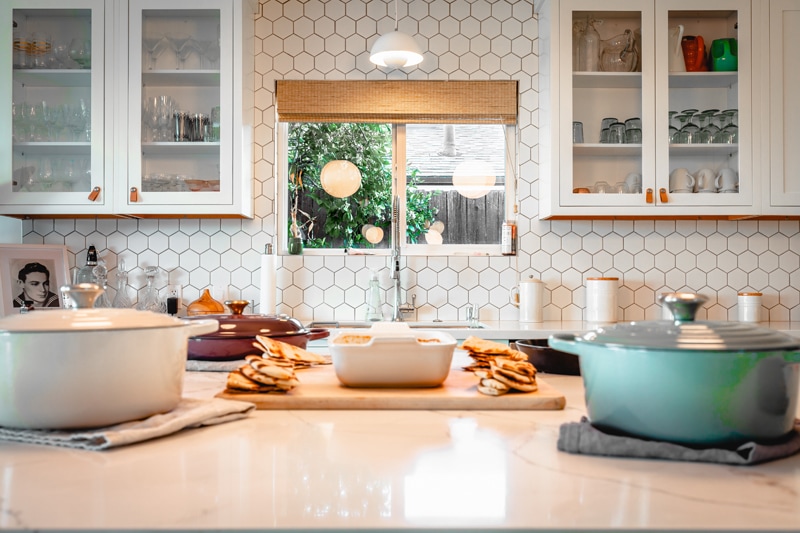 Amazon Prime Online Grocery List for Vegan Pantry Staples
Below is a breakdown of some common vegan pantry items to have on hand. I've included variations, to include gluten-free items as well as alternatives based on price/availability.
Baking + Cooking Essentials:
Here are a few of my favorite flours + essentials to use for vegan baking, as well as nutritional yeast (a MUST HAVE for any vegan kitchen!).
Bob's Red Mill Unbleached White All-Purpose Flour
Bob's Red Mill Bob's Red Mill Gluten Free 1-to-1 Baking Flour
365 Everyday Value, Baking Soda
Sherpa Pink Gourmet Himalayan Salt
Anthony's Premium Nutritional Yeast Flakes
Beans:
Currently Amazon is not carrying bulk beans, however here are a few canned beans that are good to stock for any quick vegan meal.
Westbrae Natural, Organic Black Beans
Westbrae Natural Organic Kidney Beans
365 Everyday Value, Organic Garbanzo Beans
365 Everyday Value, Black-Eyed Peas
Beverages:
Some essential beverages, including plant-based milks, juice, tea, and COFFEE.
Almond Breeze Almondmilk Fresh
Almond Breeze Almondmilk Boxed
Knudsen, Organic Cranberry Pomegranate Juice
Traditional Medicinals Organic Chamomile with Lavender Herbal Tea
Starbucks Breakfast Blend Medium Roast Ground Coffee
Bread:
These are basically the only vegan breads I could find available on Amazon. If you want a killer homemade vegan bread recipe, click here.
Arnold Whole Grains 100% Whole Wheat Bread
Dave's Killer Bread Plain Awesome Bagels
Dave's Killer Bread Organic 21 Whole Grains and Seeds Bread
Sara Lee Original Artesano Bakery Bread
Ener-G Light Tapioca Gluten-Free Loaf
Boxed Foods:
A few of my favorite boxed meals for fast lunches (or dinner!). I don't rely heavily upon these, but they are great for emergency situations or lazy days.
Annie's Organic Vegan Mac Cheddar Flavor Pasta and Sauce
Daiya Deluxe Diary Free Mac & Cheese
Imagine Organic Soup, Creamy Potato Leek
365 Everyday Value, Organic Low Sodium Vegetable Broth
Rapunzel, Pure Organics Vegetable Bouillon with Sea Salt/Herbs
Canned + Jarred Foods:
I always like to make sure I have the majority of these on hand at all times (I'm talking tamari sauce, coconut milk, maple syrup, etc.).
Amy's Organic Black Bean Chili
Amy's Organic Fire Roasted Southwestern Vegetable Soup
Muir Glen, Tomatoes Diced Organic
365 Everyday Value, Organic Coconut Milk
San-J Tamari Premium Soy Sauce
Organic Pure 100% Grade A Maple Syrup
Cereal + Granola:
Cereal and granola is the perfect food to keep on hand at all times- here are a few of my top choices.
Nature's Path Sunrise Crunchy Vanilla Cereal
Nature's Path Organic Pumpkin Seed & Flax Granola
Nature's Path, HempPlus Granola Cereal
Nature's Path Flax Plus Raisin Bran Cereal
Nature's Path EnviroKidz Peanut Butter & Chocolate Leapin' Lemurs Cereal
Nature's Path EnviroKidz Koala Crisp Chocolate Cereal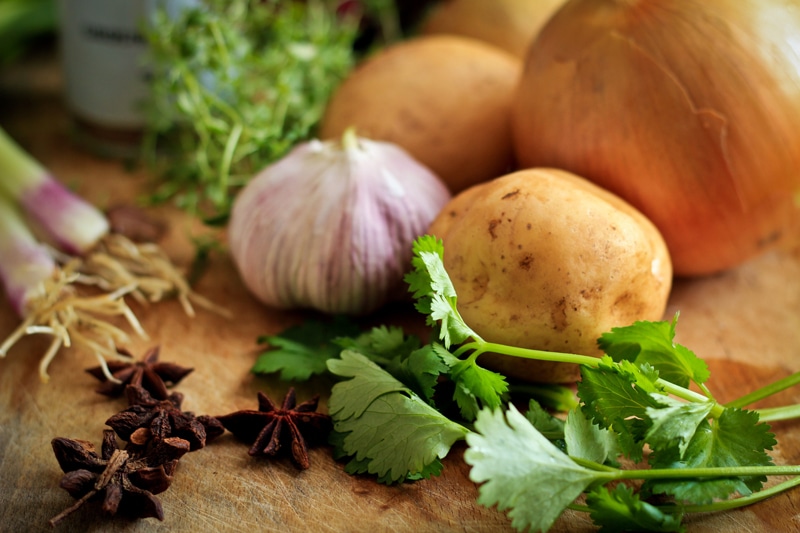 Fresh Vegetables:
These are the main veggies and fruits I buy regularly!
Frozen Foods:
For frozen foods, I typically keep frozen veggies in stock, but here are a few choice vegan meat alternatives as well.
MorningStar Farms Original Chik Patties
Morningstar Farms, Veggie Meal Starters, Chik'n Strips
Boca Original Chik'n Non GMO Frozen Vegan Veggie Nuggets
Amy's Entrées, Gluten and Dairy Free Rice Macaroni & Cheeze
365 Everyday Value, Organic Cauliflower Florets
Birds Eye Steamfresh Premium Selects Frozen Broccoli Cuts
Alexia Organic Hashed Browns Seasoned Yukon Select Potatoes
Van's Simply Delicious Whole Grain Organic Waffles
Nut Butters + Spreads:
Here's a variety of nut butters and vegan fruit/butter spreads.
Everyday Value Organic Creamy Peanut Butter
Everyday Value Organic Creamy Cashew Butter
Everyday Value Organic Creamy Almond Butter
Crofters Organic Berry Harvest Premium Spread
Earth Balance Soy Free Buttery Spread
Pasta:
Pasta is essential for any vegan pantry. Here are some regular + gluten-free vegan pastas.
Barilla Chickpea Pasta, Gluten Free Pasta, Rotini
365 Everyday Value, Organic Fettuccine
Barilla Red Lentil Pasta, Gluten Free Pasta
Protein Powder
Protein powder is fantastic to have on hand at all times. Here are the best options available on Amazon for vegans. For a plain protein powder, try the pea protein!
Orgain Organic Plant Based Protein Powder, Creamy Chocolate Fudge
Vega Sport Premium Protein, Vanilla
Garden of Life Raw Organic Protein Vanilla Powder
Rice + Quinoa:
Rice and quinoa are staples to a healthy vegan diet. Here's a few I enjoy on a regular basis.
truRoots Organic Sprouted Quinoa & Ancient Grain Medley
Lundberg White Rice, Long Grain
ecoLife Organic White Basmati Rice
Lundberg Family Farms Organic Short Grain Rice, Brown
I hope this helps when shopping for your vegan pantry staples online! Did I miss something? Let me know in the comments below.
Thank you for taking the time to invest in your health and happiness!