Have you ever heard of carrot dogs? And before you scoff, "there's NO WAY a carrot can taste like a hot dog," HEAR ME OUT.
Carrots, YES carrots, can be used as a hot dog substitute. You can top them with anything and everything veggie that you place on a "regular" hot dog, and it tastes fabulous while simultaneously serving a variety of dietary "restrictions".
You can make these soy-free, gluten-free, nightshade-free, low-histamine, low-carb, and probably anything else you can think of, so it's naturally a #winwin.
Because dealing with food sensitivities (or a new change in diet) while also honoring your family's palette can be tricky– particularly when you have picky eaters and/or are trying to please a wide range of eating styles. That's why it's beneficial for you to take common "crowd-pleasers" and place your own little spin on it.
And that's where these carrot dogs really come into play.
Now, I know what you're thinking if you've never had one. Really? Like, how can a CARROT taste like a hot dog? Classic skeptic.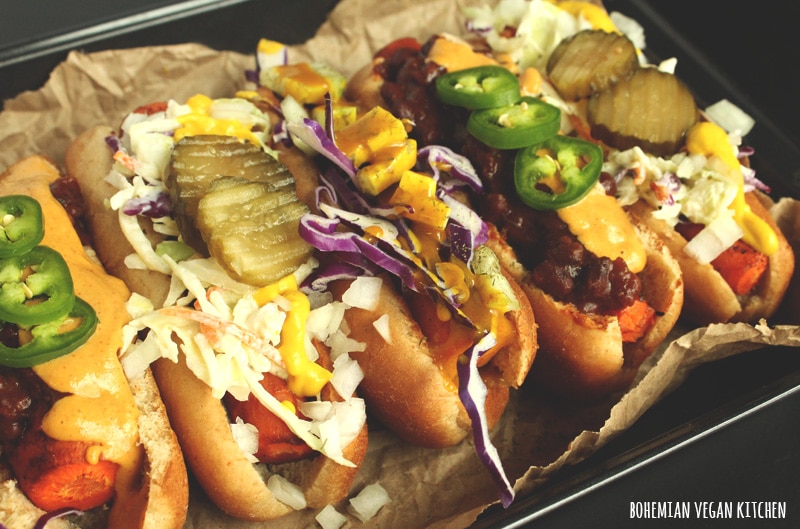 You see, today I'm going to share with you the super secret reason that this TOTALLY works, and you can use it as your guide when coming up with your own carrot dog creations…
…are you ready?
Why carrot dogs taste like hot dogs
It's all in the toppings. Seriously.
It's not that a hot dog and a carrot taste the same, but when you season the carrot dog (by "marinating" it), stuff it in a bun (gluten-free even!), and top it with your absolute favorite toppings (I'm talking chopped onions, pickles, mustard, ketchup, hot peppers, you name it), it surprisingly tastes like a hot dog!
You get all those delicious hot dog flavors, without any cruelty or processed soy, and STILL honor your personal food requirements.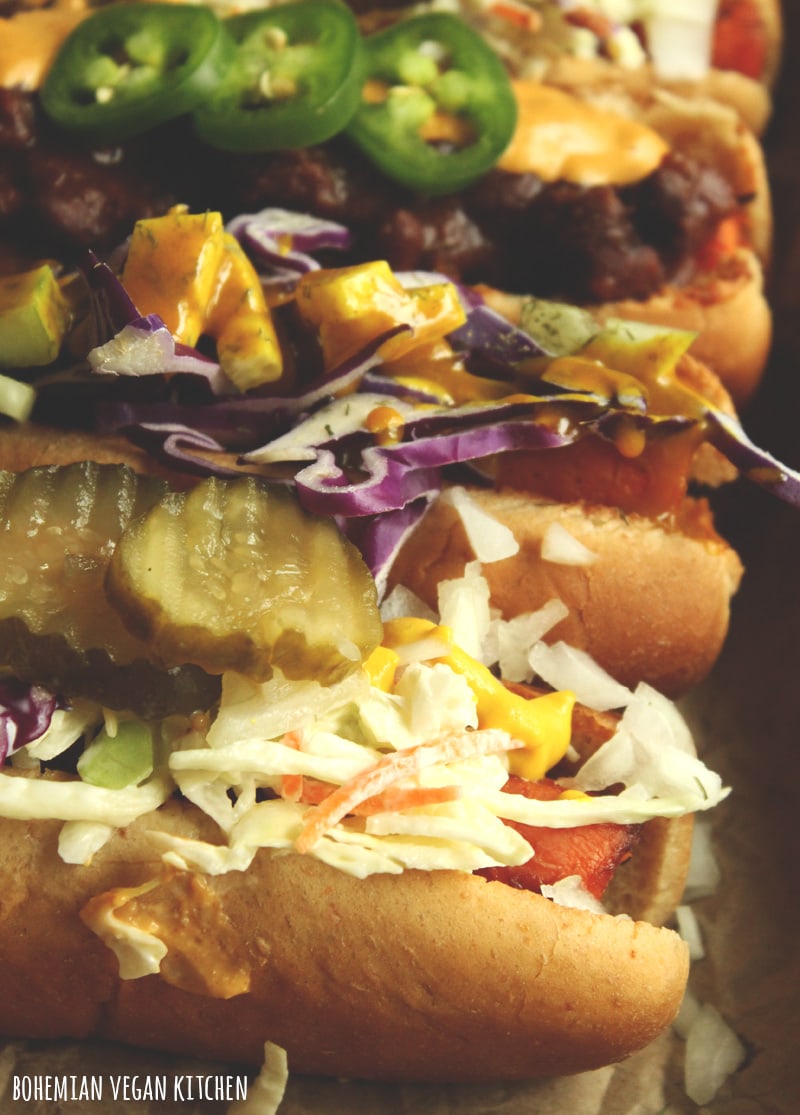 I LOVE this idea because:
It's EASY. I skip the drawn out method and share my easy carrot dog recipe that can be completed in 30 min.
Versatile. Toppings for hot dogs are endless! Which is why I'm providing you with 3 ways to enjoy these yummy non-franks, but feel free to go off the tracks to recreate your own favorites.
Allergy friendly. With just a few tweaks, this recipe is perfect for those following gluten-free, low-histamine, dairy-free, nut-free, soy-free, and more! The choice is yours.
Now, onto the 3 ways you can enjoy YOUR carrot dog!
Carrot Dogs 3 Ways: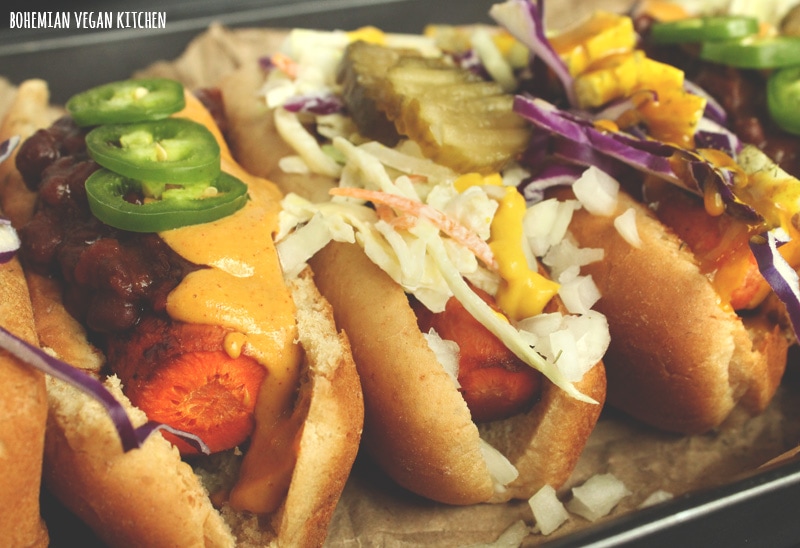 Chili Cheese Dogs:
veggie chili + smokey cashew cheese* + sliced jalapenos
*Smokey cashew cheese: ½ C cashews soaked in ½ C almond milk for 10 minutes, and then blended with ¼ C nutritional yeast, ½ teaspoon smoked paprika, and ¼ teaspoon pink salt.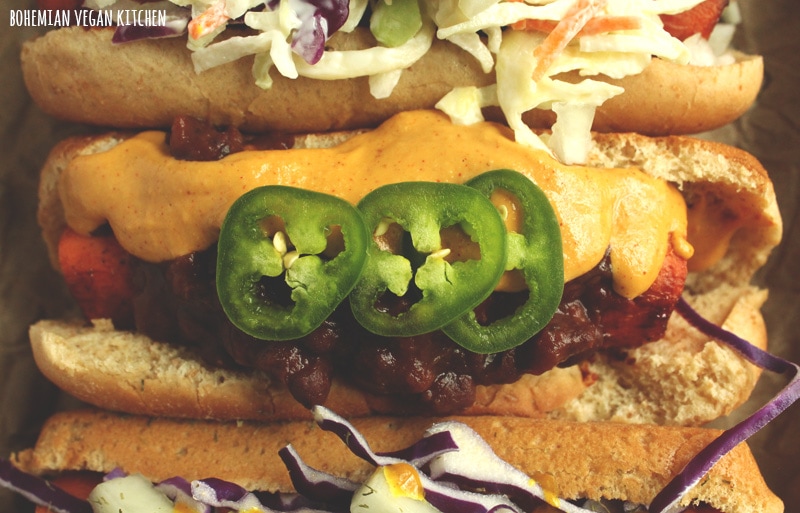 Ballpark Dogs:
dairy-free coleslaw + mustard + chopped onions + sliced pickles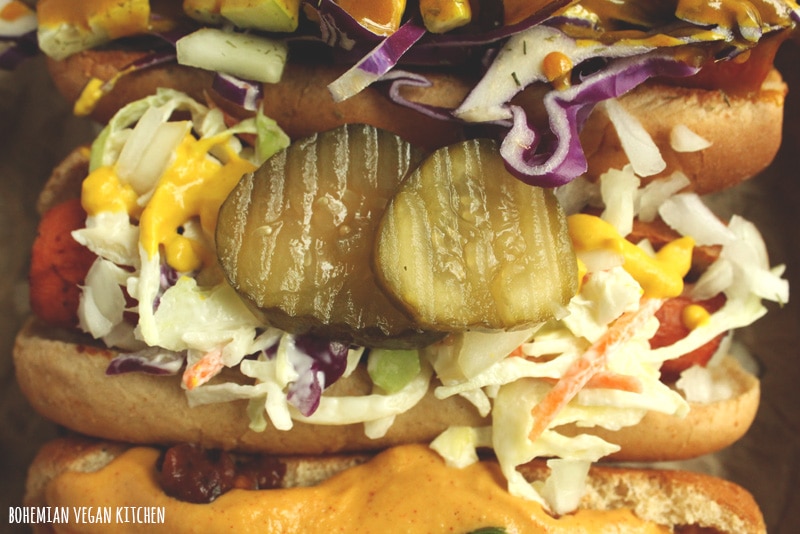 Low-Histamine Dogs:
shredded red cabbage + chopped cucumbers + sprinkle of dill weed + maple mustard drizzle*
*Maple mustard drizzle: 1 tablespoon tahini + 1 tablespoon maple syrup + 1 teaspoon ground mustard + 1 teaspoon turmeric + ⅛ teaspoon pink salt + splash of water, blended.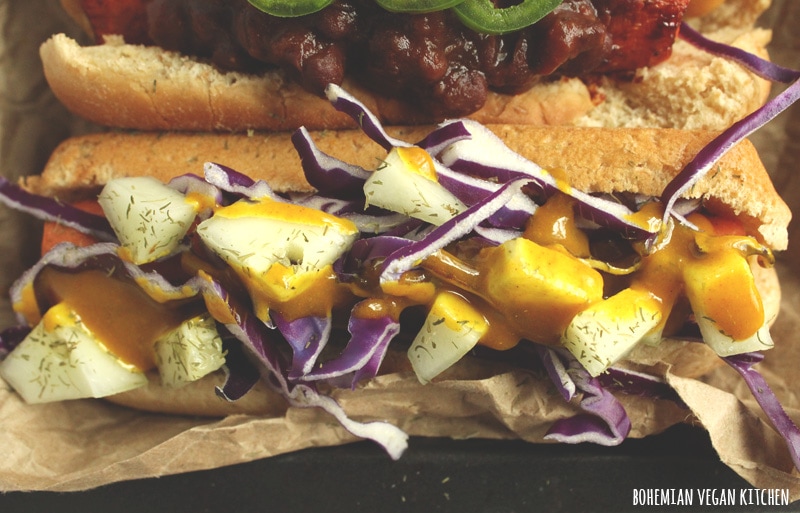 I hope you get a chance to try this AMAZING alternative, and please let me know what you think in the comments below!
Frequently Asked Questions
I don't want to use an oven. Can you bake these in an air-fryer?
Absolutely! Just set your air-fryer on the bake setting at 350°. In step 2, transfer the carrot dogs with BBQ sauce to your air-fryer without the parchment paper and continue with recipe.
Can you grill these carrot dogs?
YES! Instead of placing them in the oven, transfer your dogs to a heated grill and baste the carrot dogs with BBQ sauce as you continue to cook them. This would really add to the flavor! If you're worried about your carrot dogs falling through, use a grilling tray.
Are there any other toppings I can use?
Totally! Top your carrot dogs however your heart desires. Other toppings include relish, ketchup, mayo, olives, bell peppers, artichokes, lettuce, tomatoes, mushrooms, etc.
Allergy Information & Notes
These carrot dogs are 100% vegan, meaning they are meat-free, dairy-free, and egg-free.
Make these gluten-free by using gluten-free hot dog buns.
For allergies, see the 3 varieties above to pick and choose what you need to build your own.
Don't want to use liquid smoke? Trade it out for smoked paprika.
Need a nacho cheese for the chili cheese carrot dogs? Try my vegan nacho cheese.
Allergy-Friendly Easy Vegan Carrot Dogs
Tired of trying to satisfy a range of dietary requirements (and picky eaters) under one roof? Try these EASY  carrot dogs, which can be customized to fit a variety of diets while also hitting a home run in taste! See the notes in post for varieties.
Ingredients
1

lb

carrots

ends removed and cut into hot dog length pieces

½

cup

vegetable broth + more if carrots are extra large

(you can also use vegan not-beef broth)

1

teaspoon

liquid smoke

BBQ sauce

for basting

Black pepper

Buns + toppings of choice

(see in post for notes)
Instructions
Place carrots in a large skillet with the vegetable broth and liquid smoke. Cover and steam until all liquid is absorbed and carrots are fork tender, about 20 minutes (may add more vegetable broth if liquid is absorbed and carrots are not cooked through- this is possible with extra large carrots).

Once tender, stop if doing low-histamine and serve. Otherwise, continue by transferring carrots to a baking sheet lined with parchment paper. Brush with BBQ sauce and sprinkle with black pepper. Bake at 350° for 5-10 minutes, until carrots start to lightly brown.

Remove from oven, pop in buns of choice (white, whole wheat, or gluten-free), and garnish with desired toppings. Please see post notes for three types of toppings!
Tried this recipe? Tell me about it + share!
Comment and let me know how it was! Then follow BVK on Pinterest @bohemianvegankitchen
Share this recipe with a friend by Email
Pin It!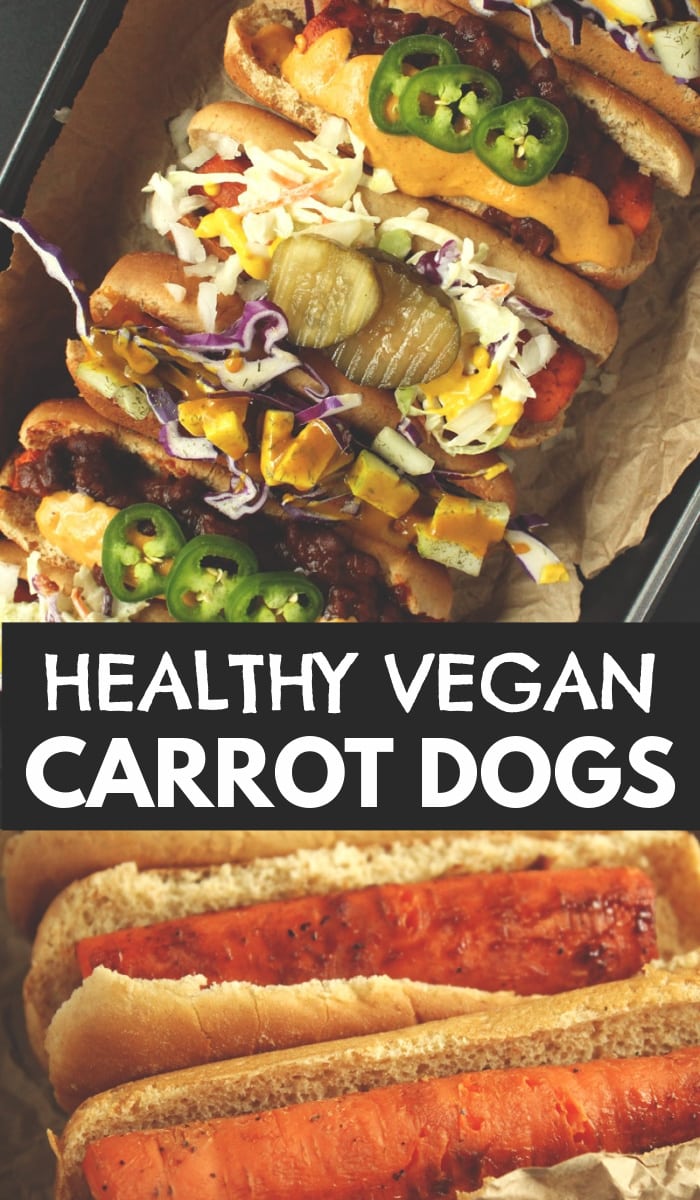 Thank you for taking the time to invest in your health and happiness!