Real talk: cheese is a deal killer for most people when it comes to switching to a vegan diet.
"But what about cheese?" they say with pleading eyes. "I just CAN'T give up cheese!"
Listen, I feel you. And I used to be one of you.
I grew up eating endless amounts of mac and cheese, cheese pizza, and mozzarella sticks. My family was far from rich, so cheese always made our meals feel like "more". Layer cheese on top of some cheap garbage, and you have yourself a dinner fit for a suburban queen.
Cheese was not just a comfort food for me, it was LIFE.
However, as I grew older, I became more aware of how this magical topping came to be in my fridge. And it made me second guess my cheese addiction. Because once you learn about the dairy industry, it zaps the sparkle right out of your cheesy nachos.
Luckily, I've found that you DON'T have to give up cheese; you just have to shift your perspective on what cheese is. Cheese (especially nacho cheese) should be creamy, cheddar-y, and make you say "¡Ay, caramba!".
But above all, good cheese should be moan-worthy and satisfy even the pickiest cheese heads.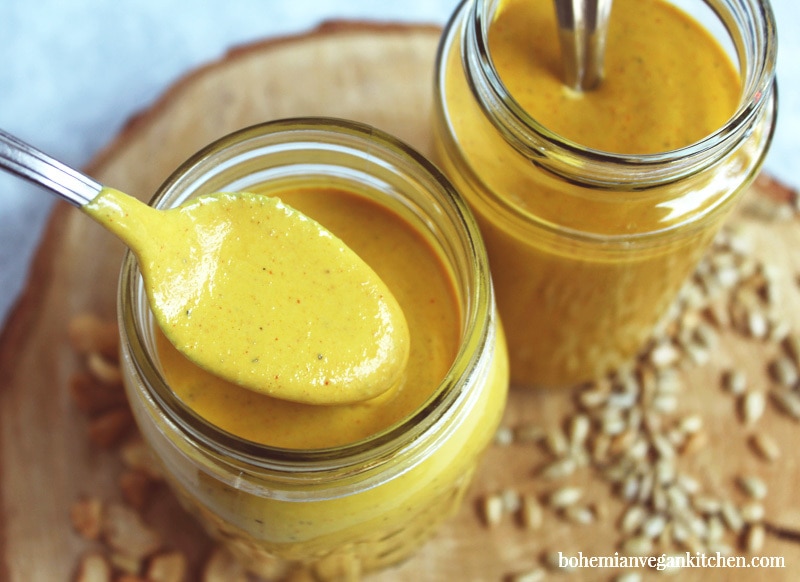 A vegan cheese sauce that actually tastes good
Vegan cheese has come a long way in just a few short years.
When I first started seeing vegan cheese at the market, I had already been vegan for over a year. I was so excited that I bought a block and immediately came home to make mac and cheese for my kids. It was so terrible though, that I threw it in the trash.
Now, while there are many delicious vegan cheeses to choose from, I still enjoy making my own, especially this easy vegan nacho cheese.
This cheese is SO GOOD, even my (dairy) cheese-eating friends enjoy it, especially drizzled over a plate of tortilla chips that's piled high with beans, lettuce, tomatoes, guacamole, and jalapenos. There are never any leftovers.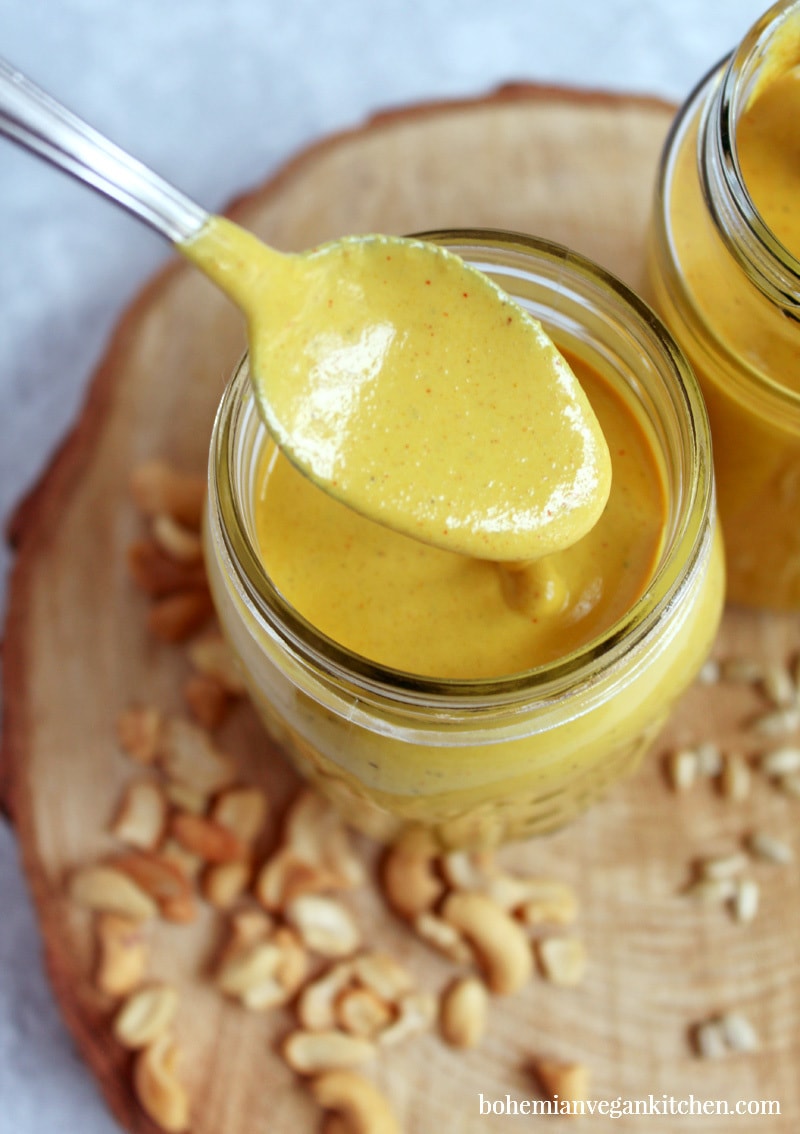 The best part about this vegan cheese sauce is that it's easy to make, and basically effortless. You just add the ingredients to a blender (or single serving blender cup), let it soak for a few minutes, mix on high for 30 seconds, and then pour it over your favorite Mexican dish.
I like to make this with my Ninja, which you can check out here.
What's more is that I've included instructions to make this cheese two ways: one with cashews and one with sunflower seeds, for a nut-free version. I've tested these at large parties, and the results were positive all around. I suggest trying both to see which one you like best!
How to use this vegan cheese sauce
This cheese sauce goes good on just about EVERYTHING, but here are a few ideas to get you started:
on nachos
on tacos
on enchiladas
on pizza
on salads
as a dip
drizzled over avocado toast
poured directly into your mouth when no one is looking
I hope you enjoy this easy vegan nacho cheese sauce!! If you do, please make sure to leave your comment below, or let me know on Instagram.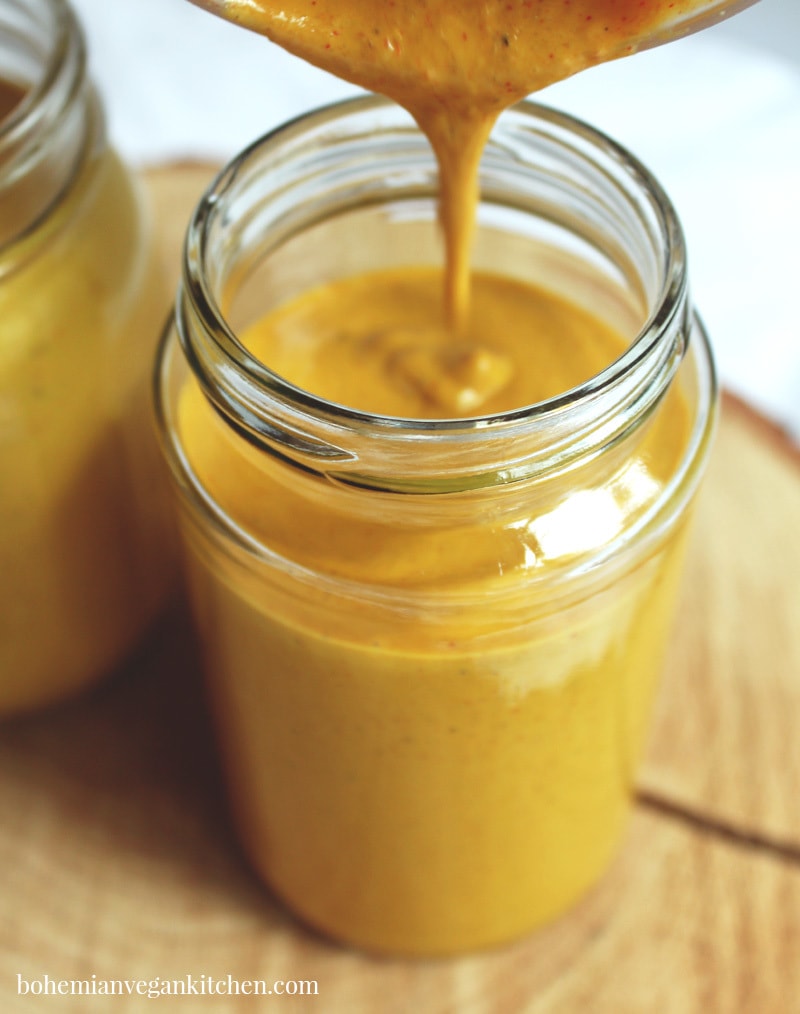 Allergy-Info & Substitutions
This cheese sauce is 100% vegan, meaning it is dairy-free, egg-free, and (of course) meat-free. It is also naturally gluten-free.
For a nut-free version, use sunflower seeds (measurements included in recipe box below).
To make it coconut free, you can use another plant-based milk of your choice; I've found that almond milk works well here. Just keep in mind that it will not be as creamy as coconut.
A note on the full fat coconut milk: you want your coconut cream to be separated from the liquid in the can, in order to scrape out the cream. When purchasing, give your coconut can a little shake; if it feels top heavy (and you don't hear liquid sloshing around inside), it has probably already separated. Just pop it in the fridge when you get home to make sure it stays separated, or store in a cool place.
To spice this up, add some chopped jalapenos before blending.
Make it a fiesta dip by mixing in salsa after you blend. This is perfect party food.
For another easy dip, check out my avocado hummus by clicking here.
[convertkit form=5036453]
This easy vegan nacho cheese sauce is THE BOMB! With only 5 minutes prep time and absolutely NO cooking necessary, you can have this sauce ready in under 30 minutes! Goes great on nachos, enchiladas, tacos, and drizzled directly into your mouth. Completely vegan and gluten-free, with a nut-free option included.
Easy Vegan Nacho Cheese
Ingredients
¾

C

unsalted cashews (OR ⅓ C sunflower seeds)

2

tablespoon

full fat coconut cream (from can)

¾

C

remaining coconut liquid (from can)

1

tsp

smoked paprika

½

teaspoon

turmeric powder

½

teaspoon

cumin powder

½

teaspoon

onion powder

½

teaspoon

pink salt

¼

teaspoon

black pepper
Instructions
In a single serving blender cup (or high powdered blender), add cashews (or sunflower seeds, if using). Open a can of full fat coconut milk and scrape out 2 tablespoon of the coconut cream and add to blender; see "Allergy-Info & Substitutions" section above for details on this. Pour in ¾ C of the remaining canned liquid into blender, and let cashews sit for 20 min to soak.


Add remaining ingredients to blender and mix on high for 2-3 minutes, until cashews (or sunflower seeds) are smooth. Drizzle over tortilla chips or your favorite Mexican dish!

Tried this recipe? Tell me about it + share!
Comment and let me know how it was! Then follow BVK on Pinterest @bohemianvegankitchen
Share this recipe with a friend by Email
Pin It!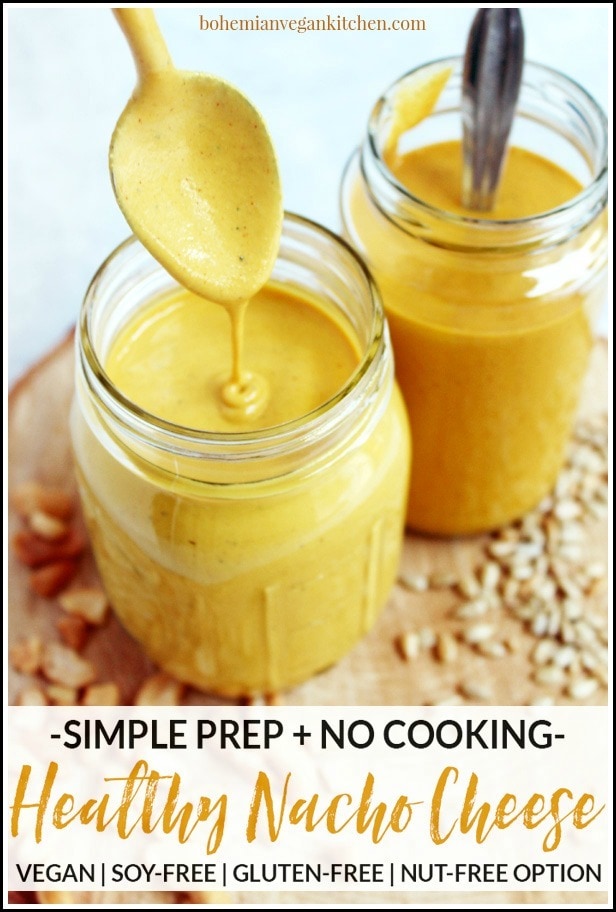 Thank you for taking the time to invest in your health and happiness!