Using herbs as part of your natural health care doesn't have to involve complicated recipes, hours in the kitchen, or even an extensive knowledge of herbal remedies.
Truly, it can be as simple as a popsicle. I'm serious!
One of my "A-ha!" moments as an aspiring home herbalist was when I finally realized that using herbs can be as easy as utilizing your spice cabinet. There are so many medicinal properties in common "spices" that so many of us overlook- we place the title of "herbalist" on a pedestal, instead of looking through our own cupboards (and in our own backyard) for answers.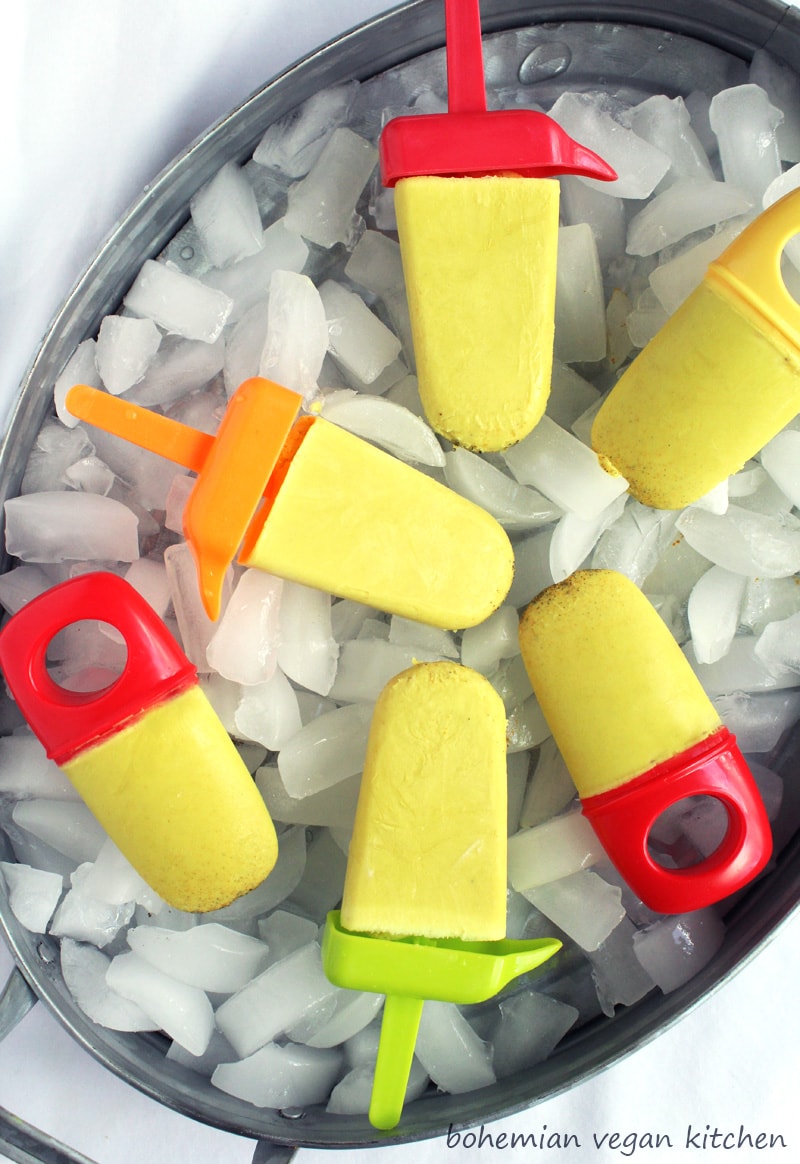 Listen, if there's one thing I can't stress enough to new herbalists (or those interested in home medicine), it's that you DON'T have to know everything to get started.
I hear from folks all the time about how they "wish they could use more herbs at home", only they're lacking the knowledge to get started (a.k.a "BIG BUT" syndrome). Chances are though, that those same people ALREADY have herbal solutions sitting on their spice rack or in their refrigerator drawer, just waiting to be used!
And seriously, know this: it is much more beneficial for you to know 50 ways to use 1-2 herbs than 1 way to use 50 herbs…does that make sense? In other words, use what you already have at home to get started, and then grow from there.
I remember when I first started exploring natural medicine- I thought that reading as many books as possible, or taking as many classes/courses as I could, would somehow "make me" qualified to practice medicine in my own home. But here's the fun part, so lean in:
You already have what you need, right now.
Did you read that last part? Yeah yeah, "you've had it all along" is such a cliche. But there's a reason it's in so many movies and story lines.
Because the truth is (and I know I'm repeating myself, but for good reason) that this doesn't have to be complicated. You know that saying, "food as medicine"? That's the goal here.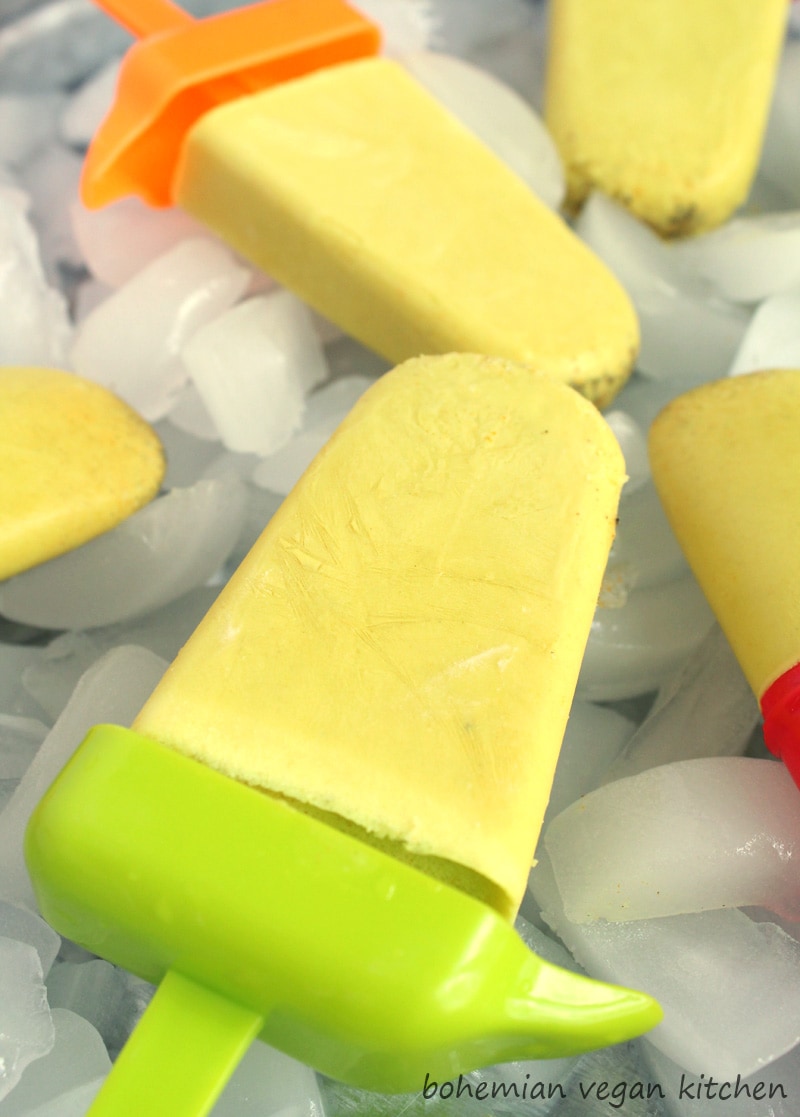 And so, I bring you this EASY home remedy that can be used to not only boost your health, but hopefully your confidence too.
Chances are, you've heard about the medicinal benefits of "golden milk", but if you haven't, here's the run-down of this healing beverage:
Golden milk is essentially a hot drink blended with anti-inflammatory herbs, such as turmeric and ginger. Sometimes folks add other healing spices, such as freshly ground black pepper (for proper digestion) and/or cinnamon (also anti-inflammatory + high in antioxidants). Personally, I like adding cardamom, which helps with digestion and is actually believed to help with depression, according to Ayurvedic medicine.
Since summer is fast approaching though, I wanted to take this "wintertime" treat and turn it into something you can enjoy as the days grow longer and the weather gets hotter.
Using blended coconut cream + a delicious selection of herbs makes the PERFECT base for delicious vegan popsicles! (Pst! This creamy treat is not only dairy-free, but is also gluten-free and low-histamine friendly!)
And I ask you, after you make this, to please start looking in your pantry for other herbs to learn more about. You may be amazed at what something as simple as onions and garlic can do. As a guide, make sure to check out my freebie for common herbs and their uses, by signing up for my special mailing list below.
Forget your "BIG BUT", and just start doing.
Become a VEGAN NINJA in the kitchen.
Want to step up your vegan game? Just pop your email in the space below and I'll send you my complete email series on how to plan and prep vegan meals like a PRO. You'll also receive a FREE meal planning printable as a special thank you download, plus occasional future emails with easy vegan recipes!
Allergy-Info & Substitutions
These popsicles are 100% vegan, meaning they are dairy-free and egg-free. They are also naturally nut-free, gluten-free, and low-histamine friendly.
If you do not want to use coconut milk, you can always swap it out for another plant-based milk of your choice, just keep in mind that it will change the taste (and won't be as creamy).
Feel free to switch up your spices, and experiment with other healing herbs, such as cinnamon, nutmeg, or cayenne pepper.
For another natural remedy, check out my all-natural vegan cough syrup by clicking here.
For a delicious treat with a medicinal boost, try these EASY creamy vegan "golden milk" popsicles, which are naturally anti-inflammatory! Takes only 5 minutes to prepare.
Anti-Inflammatory Golden Milk Creamy Vegan Popsicles
EASY + MEDICINAL Creamy Vegan "Golden Milk" Popsicles! Makes 6-8 popsicles, depending on the size of your freezer molds.

Ingredients
13.5

oz

full-fat coconut cream

or another dairy-free milk of choice

3

tablespoon

maple syrup

or other liquid sweetener of choice

½

teaspoon

turmeric powder

½

teaspoon

cardamom powder

1

small knob of fresh ginger

approximately 1 tsp

Dash of freshly ground black pepper
Instructions
Mix all ingredients in a small blender or food processor until combined well (coconut cream may separate at first- just continue to blend until smooth).

Pour into popsicle molds and freeze for 4-5 hours OR overnight.
Tried this recipe? Tell me about it + share!
Comment and let me know how it was! Then follow BVK on Pinterest @bohemianvegankitchen
Share this recipe with a friend by Email
Pin It!
Thank you for taking the time to invest in your health and happiness!