Coming up with vegan side dishes in the summer, while also trying to avoid common food sensitivities, can be tricky. When you're catering to those who eat dairy-free, egg-free, gluten-free, and in some cases low-histamine or even nightshade-free, the choices can seem extremely limited.
This is why I like to dress up your average vegetables, adding delicious culinary (and sometimes medicinal) herbs to elevate the dish.
Case in point? Corn on the cob!
Corn on the cob is a classic American staple and summertime favorite. It's easy to make and doesn't take much time.
Plus, it hits most of the marks for an allergy-friendly cuisine, unless unfortunately you are sensitive to corn itself (in that case, I would urge you to take this process and try it out on other vegetables, such as cauliflower, green beans, or even zucchini and squash). #winning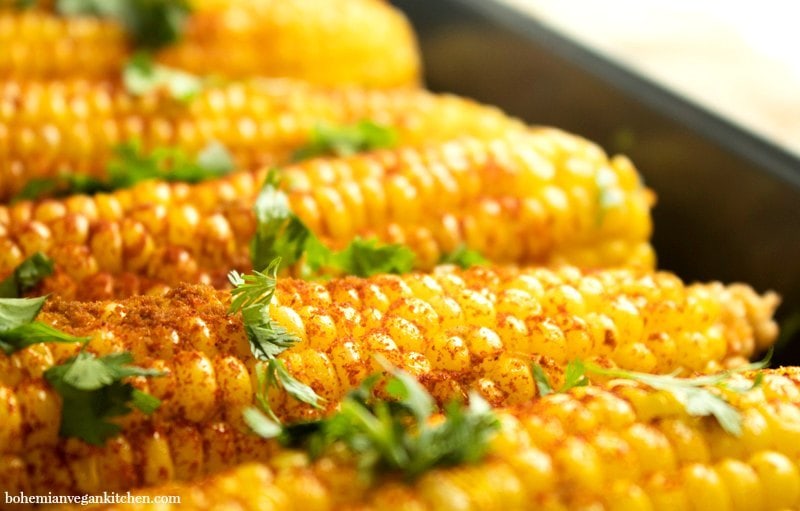 The thing I love most about this corn is that it's a healthier version of street corn, which is typically smothered in mayo and cheese (something that can be done vegan, but relies on fake alternatives that may irritate sensitive tummies). Instead, I like using two of my favorite spices, smoked paprika + cumin; you get all the delicious flavor with a hint of smokiness (and no fake dairy!). Add a little cilantro and a squeeze of lime, and this dish is a perfect accompaniment to any summer BBQ or Mexican fiesta.
Oh, and did I mention this is oven baked? So you don't have to worry about it raining on your parade (or grill).
This summer, hit a home run with your vegan side dish that even the great bambino would be proud of.
Allergy Info & Substitutions
This recipe is 100% vegan, meaning it is meat-free, dairy-free, and egg-free. It is also naturally gluten-free, soy-free, and nut-free.
You can make this corn low-histamine and nightshade-free by omitting the smoked paprika and not using lime.
Make it oil-free by leaving off the coconut oil.
For corn allergies, use this method on other vegetables, like cauliflower, green beans, or even zucchini and squash. Keep in mind though, to only use water if you plan on steaming your veg. If you want your veg a little crispy, you may want to omit the water and cook on a baking sheet with the spices used in this recipe.
Need a summertime side dish that's vegan, allergy-friendly, and doesn't use imitation animal products? Try this healthy version of street corn, which takes only 5 minutes prep time and can be ready to eat in 30 minutes!
Healthy Vegan Street Corn
Ingredients
Fresh corn on the cob (get GMO-free!)

Coconut oil

(optional)

Ground cumin

Himilayan pink salt + black pepper

Filtered water

Fresh cilantro,

chopped for garnish

Fresh lime for squeezing

(optional)
Instructions
Place cobs in a large baking pan (6 fit comfortably in a 9 x 13). Spread coconut oil lightly on top of each corn cob, if using. Sprinkle on smoked paprika, cumin, pink salt, and black pepper; add water to bottom of baking pan to prevent sticking and help steam the corn (approx ½ inch water).


Cover with foil and bake at 400° for 15 minutes. Uncover, turn the cobs, and repeat sprinkle of herbs only. Cover again and bake an additional 15 minutes, until corn is tender.


Uncover pan and sprinkle corn with fresh cilantro. May also add a squeeze of lime if desired. Enjoy!

Tried this recipe? Tell me about it + share!
Comment and let me know how it was! Then follow BVK on Pinterest @bohemianvegankitchen
Share this recipe with a friend by Email
Pin It!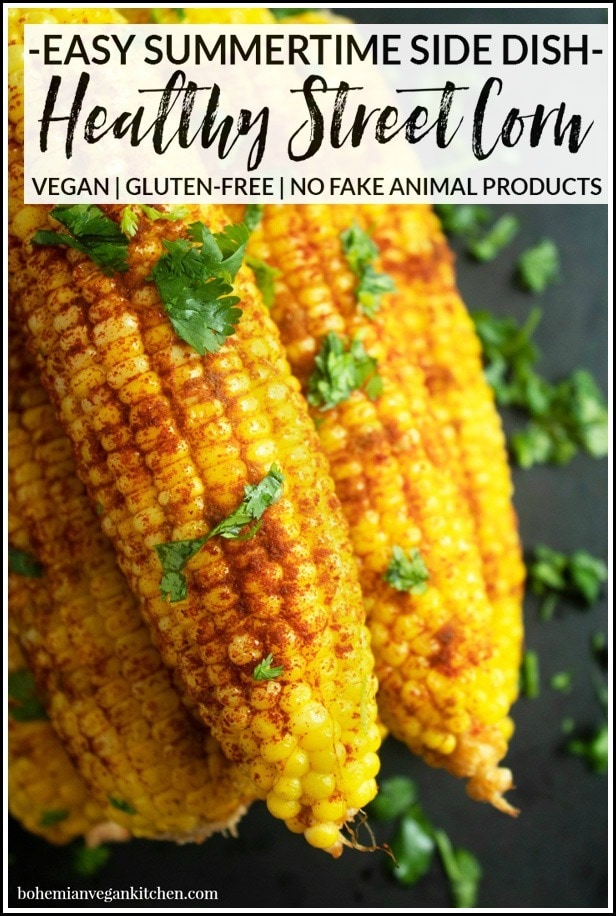 Thank you for taking the time to invest in your health and happiness!