Most people want to be healthy. I'm sure you do too.
And yet after a long day, it can be hard to find the energy to rub two brain cells together and cook something that's good for us. Add food sensitivities to the list, and your healthy meal can suddenly feel like a daunting task you procrastinate doing. Side note: I have a funny joke about procrastination, but I'll wait until tomorrow to tell you… 🙂
Anyhoo, I'm here to assure you that weeknight dinners don't have to be a chore you hate, even when dealing with food allergies or an intolerance. All you need is a quick meal that's flavorful, filling, and FLEXIBLE to fit your dietary needs. I'm talking about these deliciously simple sesame noodles topped with oven-roasted cauliflower, and garnished with greens onions and fresh herbs. *drools*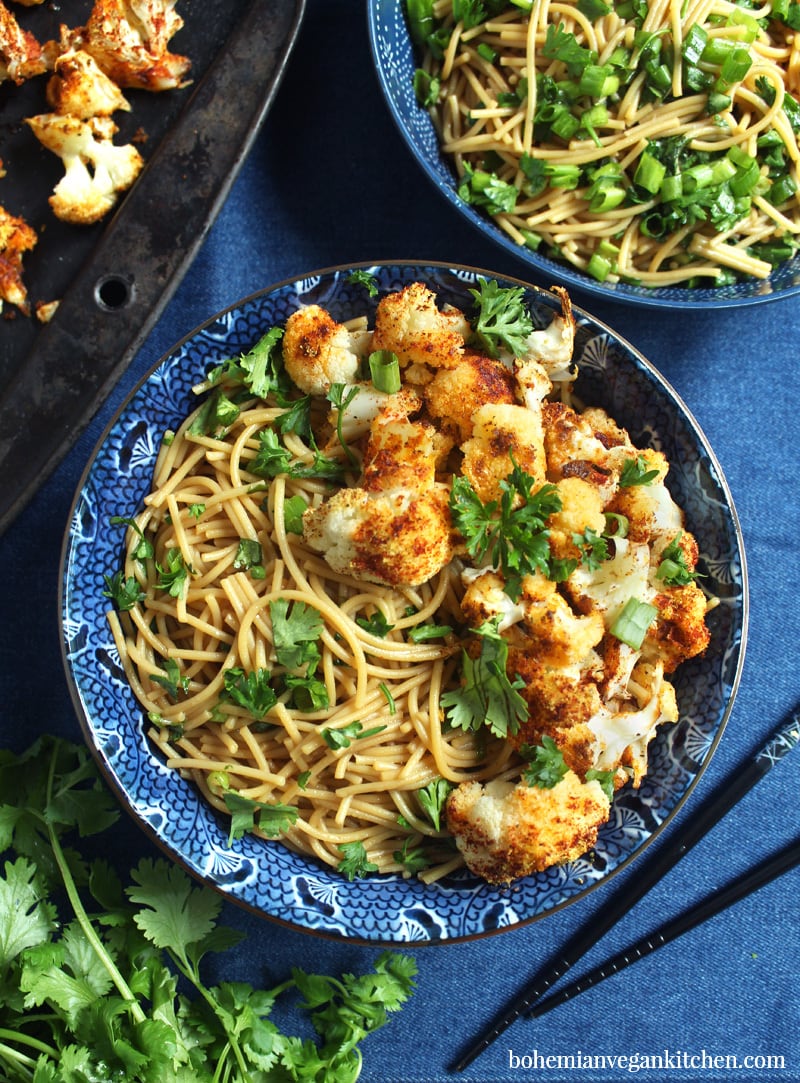 These gluten-free sesame noodles are so scrumptious, they make you want to forget all table manners and loudly sluuuuurrrppp them right out of the bowl. And they are certainly gracious on time: by using Ronzoni brand gluten-free noodles, it takes only 9 minutes to boil + 60 seconds to drain and toss in a savory sauce that is totes moan-worthy.
For the topping, I took advantage of this easy oven-roasted cauliflower, which you can find by clicking here. The cauliflower only takes 20 minutes to bake, so this weeknight meal can be made in 30 minutes from start to finish.
Still wondering whether or not this meal will work with your intolerance? Please check out the info section below to read more about variations and substitutions.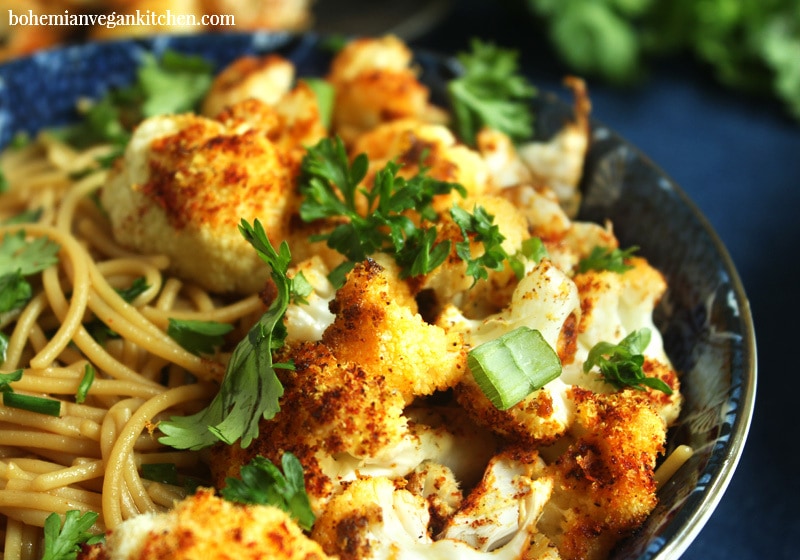 Lastly, for those worried about protein intake, this is the perfect go-to dinner with plenty of benefits.
One serving of sesame noodles contains over 4 grams of protein, while cauliflower has over 2 grams of protein in each cup; helping you calm that "am I getting enough?" monster and chow down in peace.
Because bottom line: there's no need to procrastinate when the result is this damn good + healthy too. So do yourself a favor, and make a large bowl of noodle-y goodness this week. I promise you won't be sorry!
[convertkit form=5036453]
Allergy Info & Substitutions
This quick dinner is 100% vegan, meaning it is meat-free, dairy-free, and egg-free. It is also naturally nut-free and gluten-free.
Make it soy-free, low-histamine, and nightshade-free by swapping out tamari sauce for coconut aminos + omitting the sriracha. When using coconut aminos, please start with 1 Tbsp, and add more until you reach desired flavor. This will taste a little different from tamari sauce, so it's best to start with a small amount first.
For low-histamine and nightshade-free diets, you'll also want to spice your cauliflower with some basic herbs, such as turmeric, onion powder, garlic, pink salt, and black pepper. Nutritional yeast and smoked paprika are not recommended for these diets.
Can't handle cauliflower? Swap it out for baked (or steamed) broccoli, OR your veggie of choice.
For another quick Asian-inspired dinner, check out my Broccoli in Garlic Sauce by clicking here.
Enjoy an easy vegan weeknight dinner with some homemade takeout, like these sesame noodles topped with oven-roasted cauliflower! Naturally gluten-free, this dinner is a healthy alternative for those who want to avoid wheat + processed tofu. Takes only 30 minutes from start to finish!
Easy Vegan Weeknight Dinner: Roasted Cauliflower + GF Sesame Noodles
Ingredients
1

bunch

green onions, sliced

Handful

fresh parsley, chopped

Handful

fresh cilantro, chopped
Instructions
Prepare cauliflower according to recipe directions (link to recipe located above and in post). Make sure to set a timer, so you can drop your noodles at the right moment. Meanwhile, prepare sauce: mix all sauce ingredients together in a small bowl or cup, and set aside.


Bring 6 quarts of water to a boil. When there's 10 minutes left on the clock for your cauliflower, drop gluten-free noodles in, and stir. Set a timer for 9 minutes. You'll want to keep an eye on your noodles, stirring occasionally, to make sure they do not clump together.


After the noodles are finished cooking, drain and return noodles to pot. Stir in sauce, green onions, parsley, and cilantro. Remove cauliflower from oven.


To assemble, portion noodles into large bowls and top with baked cauliflower.

Tried this recipe? Tell me about it + share!
Comment and let me know how it was! Then follow BVK on Pinterest @bohemianvegankitchen
Share this recipe with a friend by Email
Pin It!
Thank you for taking the time to invest in your health and happiness!