When surfing the web for vegan food, it can be easy to slip into the undertow that is tofu-based recipes, as soy continues to be the number one fallback for meat substitutes.
But if you're like me, and you're hyper sensitive to processed soy + SICK TO DEATH of the continuous noise that is soy errrrrything across the internet, then you need other options. Options that are easy to pull together, don't take much time, and (most importantly) actually make you feel good. Because while soy may taste delicious, it's not worth feeling like you just got hit by a Mack truck moments later.
Which is why I want to turn a spotlight onto one of my favorite meat replacements and healthy SOY-FREE alternatives…the beloved cauliflower.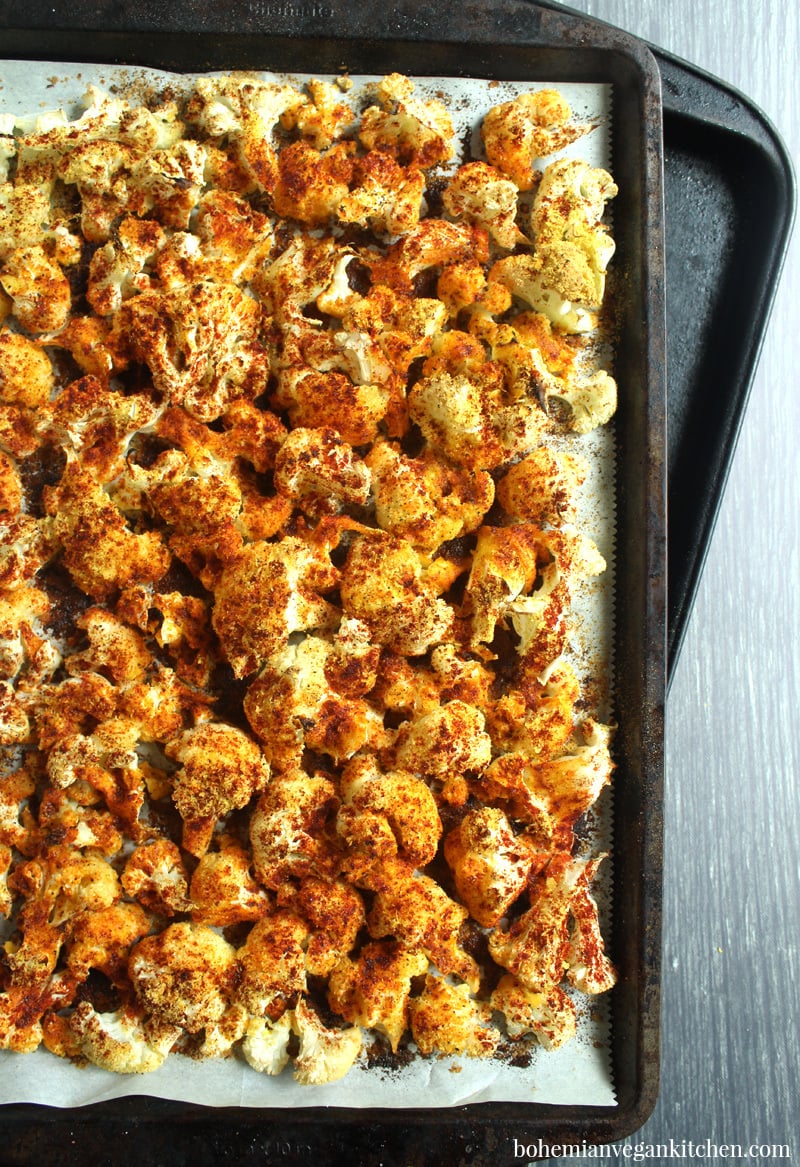 Cauliflower has certainly become popular over the past couple years. If you don't believe me, check out the healthy freezer section at the grocery store or ask that trendy white woman clutching a reusable bag in the parking lot…she'll tell you.
Personally, I love the versatility of cauliflower, and think that it possesses similar powers as tofu, since you can use it in just about anything.
The bonus though, is that cauliflower is 100% real food: it's not processed, is anti-inflammatory, and rich in a butt-load of other vitamins, like vitamin K, vitamin C, fiber, protein, thiamin, riboflavin, niacin, magnesium, phosphorus, vitamin B6, folate, pantothenic acid, potassium, and manganese. Cauliflower also contains sulforaphane, a sulfur compound which can help fight cancer cells + protect the lining in your stomach like a sophisticated ninja.*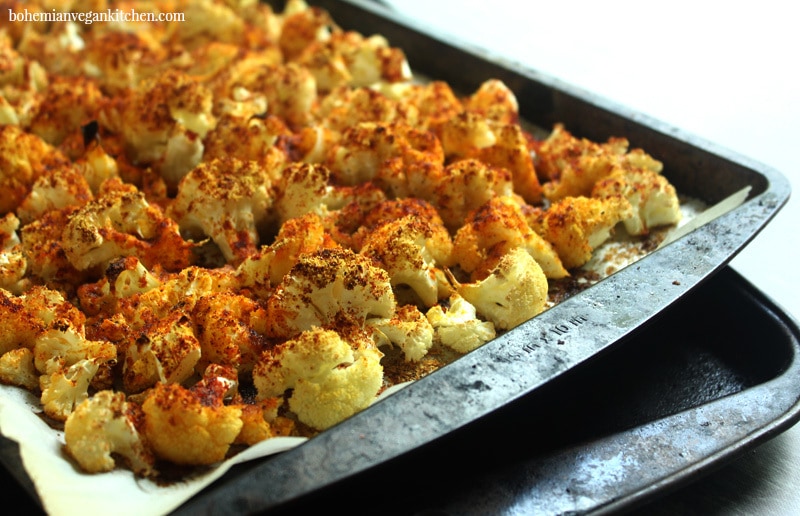 Bake your vegan cauliflower like a pro
Luckily, baking cauliflower doesn't require any fancy equipment or even knife skills. All you need is a baking tray, some parchment paper, good quality spices, and your hands.
"Grrrr baby, very grrrr."
I like to start by cutting off the stem (the only part you'll need a knife for), then using my hands to snap off little florets and crumble them up with my fingers. It may sound crazy, but this makes less mess and can be done in about five minutes. As I go through this process, I transfer my pieces from cutting board to a baking sheet lined with parchment paper. Using parchment is one of my secrets to good cauli, because it prevents sticking and makes easy cleanup.
You can drizzle your veg LIGHTLY with the oil of your choice OR make it oil free (see the substitutions section below for more on this), and then add your spices.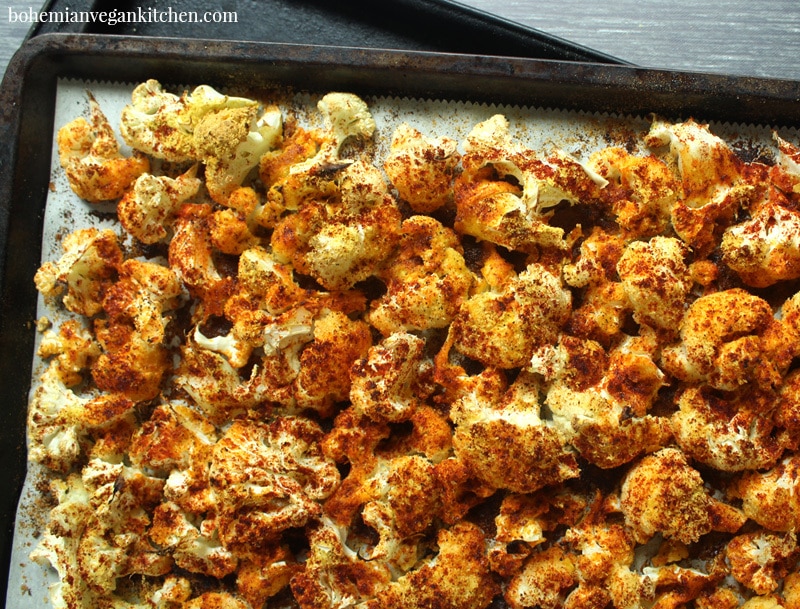 For this round, I kept the spices simple by using nutritional yeast, smoked paprika, pink salt, and black pepper, but you can use any combination of spices that you like, such as onion powder, cumin, coriander, garlic, etc. Research has shown that using turmeric (curcumin) in combination with cauliflower can help prevent prostate cancer, and it tastes absolutely delicious baked.
The main point is that you want to use a heavy hand when it comes to spicing your cauliflower. Especially if you want to soak up all those medicinal benefits, sprinkling a hefty dose of whatever you're using (depending on the spice) is a great way to get your vitamins + add flavor.
And no, you won't have to season the other side- simply stirring your cauliflower halfway through bake time will suffice.
Lastly, pop your cauliflower in the oven. I like to bake mine at 400º. Cook for 20 minutes for a perfect "al dente" cauliflower, and 30 minutes for a softer version.
Allergy-Info & Substitutions
This baked cauliflower is 100% vegan, meaning it is meat-free, dairy-free, and egg-free. It is also naturally nut-free, soy-free, and gluten-free.
Depending on the spices used, you can also make this low-histamine and nightshade free. I suggest using spices such as cumin, turmeric, onion powder, garlic powder, and simple pink salt and black pepper for diets like these.
To bake this oil-free, line a casserole dish with parchment paper before adding florets. Drizzle a small amount of water (3-4 Tbps) on top and cover with foil. Keep in mind that this will create more of a "steamed' cauliflower and it won't have that "crisp" texture that comes with using oil.
Use this cauliflower to top these Gluten-Free Sesame Noodles. For another cauliflower recipe, check out the most popular recipe on the blog, these delicious Vegan Jamaican Jerk Cauliflower Tacos.
Want to know how to bake vegan cauliflower like a profesh? You've come to the right place! With less than 10 minutes prep time (and practically zero cutting involved), you can have deliciously roasted cauliflower in under 30 minutes! Use this for a number of vegan recipes, including as a meat OR tofu substitute.
Bake Vegan Cauliflower Like a PRO
Be a profesh and cook your cauliflower in under 30 minutes! Use this for a number of vegan recipes, including as a meat OR tofu substitute
Ingredients
1

head

cauliflower

crumbled into florets

2

tablespoon

olive oil

(or oil of choice)

black pepper
Instructions
Preheat oven to 400°. Remove stem from cauliflower, quarter head, and begin breaking/crumbling cauliflower into florets with your hands (see in post for details). Spread onto a baking sheet lined with parchment paper.


Drizzle lightly with olive oil, if using. See in post for details on an oil-free version. Coat cauliflower heavily with spices, pink salt, and black pepper. Pop in the oven and bake for 20 minutes, or until desired texture. For more even baking, stir your cauliflower halfway through bake time.


Serve as a side dish, OR as a meat/tofu substitute.

Tried this recipe? Tell me about it + share!
Comment and let me know how it was! Then follow BVK on Pinterest @bohemianvegankitchen
Share this recipe with a friend by Email
Pin It!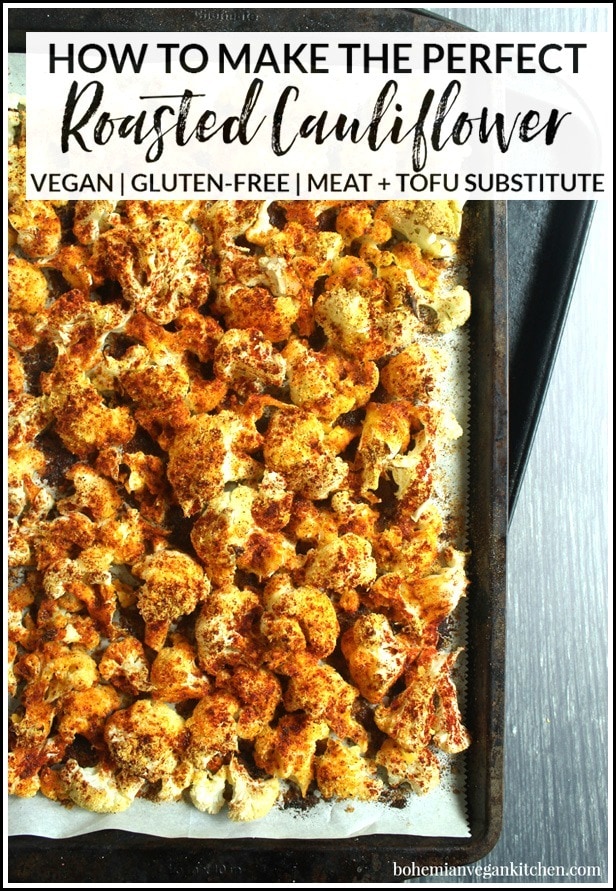 Thank you for taking the time to invest in your health and happiness!