It doesn't take much to have a good birthday when you're in your 30's. All you really need is (number one) to have a full day that requires absolutely no responsibilities/adulting whatsoever, and (number two), to stuff your face with chocolate cake and buttercream frosting, guilt-free.
No doubt that these elements would make ANY day of the week fabulous though. #lifegoals
That being said, if you're vegan + dealing with food allergies, worthy birthday cake can be tricky…unless you take matters into your own hands and DIY. Which is exactly WHY I want to share this easy and dreamy vegan buttercream frosting that can be made in less than 10 minutes with only 4 basic ingredients.
Of course, if you enjoy this frosting, please check out my 2-ingredient chocolate ganache frosting and my dairy-free coconut frosting.
The secret to perfect vegan buttercream frosting
This frosting is a snap to whip up, and is 100% customizable to fit your dietary + culinary needs. Basically, you need this in your life!
To make the perfect vegan buttercream frosting, I highly recommend using dairy-free butter, because you get the same creamy texture and flavor as traditional buttercream frosting. Yes, this certainly pushes frosting out of the "healthy" category, but personally I believe that it's OK to indulge every once in a while, health police be damned.
Of course, if your system does not handle butter alternatives well, you can swap it out for coconut oil to make a creamy coconut buttercream OR melt cocoa butter for a delicious white chocolate version. You will find the details on these substitutions below.
Make it blue without all the junk
And here's the skinny on this beautiful dreamy blue: I used McCormick's plant-based natural food dyes, which comes in a convenient powder packet in three colors: sky blue, berry pink, and sunflower yellow.
This is perfect for children who are hyper sensitive to artificial food dyes, as it gives you those vibrant, fun colors without all the junk. I've tried most of the plant-based dyes out there, and for the record, this is the ONLY one I've tried that has actually worked. It also does not affect the taste at all, a bonus when creating natural sweets. #mmmmsugarmustard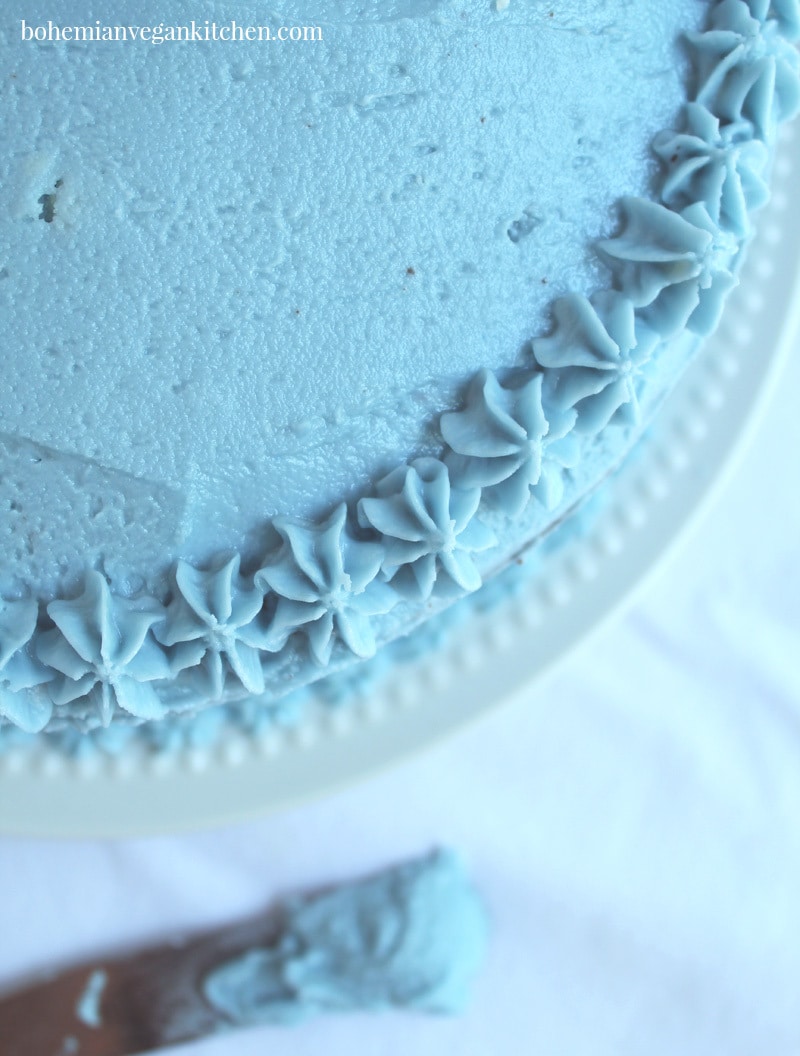 Pipe it like it's hot
Lastly, if you want to up your piping skills, get yourself a sweet cake piping kit.
Totally a GAME CHANGER for me! I love experimenting with the various attachments, which add that special touch to any homemade cake (and no, you don't have to be at Cake Boss level to make beautiful frosting!).
If that ain't your thang though, no worries– simply use a butter knife to do your main cover, and keep it old school by using a thick ziplock bag (with the tip cut off) for piping basics like writing or pearls.
Allergy Information & Substitutions
This easy vanilla frosting is 100% vegan, meaning it is dairy-free and egg-free. It is also naturally soy-free and gluten-free, as well as free of artificial colors.
Make it nut-free by using an alternative plant-based milk, such as coconut or soy.
Craving chocolate? Turn this frosting into a deep chocolate by adding 2-4 tablespoon on cocoa powder while mixing. The more cocoa powder you add, the richer/darker the chocolate.
If you can't use vegan butter, make this coconut buttercream instead.
Don't want to use coconut oil? Try using cacao BUTTER. Melt approximately ¼ cup on low in a small pot on the stove, and remove from heat. "Cream" together the ¼ cup (that's 4 tablespoons) of melted cacao butter with vanilla, and continue recipe as follows. If you want more white chocolate flavor, you can stir in up to 4 tablespoons of additional melted cacao butter, but keep in mind you'll still probably have to use some plant-based milk (or water) to get the right consistency. This frosting is best used on sheet cakes as a base layer (round cakes are not recommended). I've tried using it for piping and it doesn't hold up as well as buttercream. Similar to coconut frosting, please keep refrigerated until use.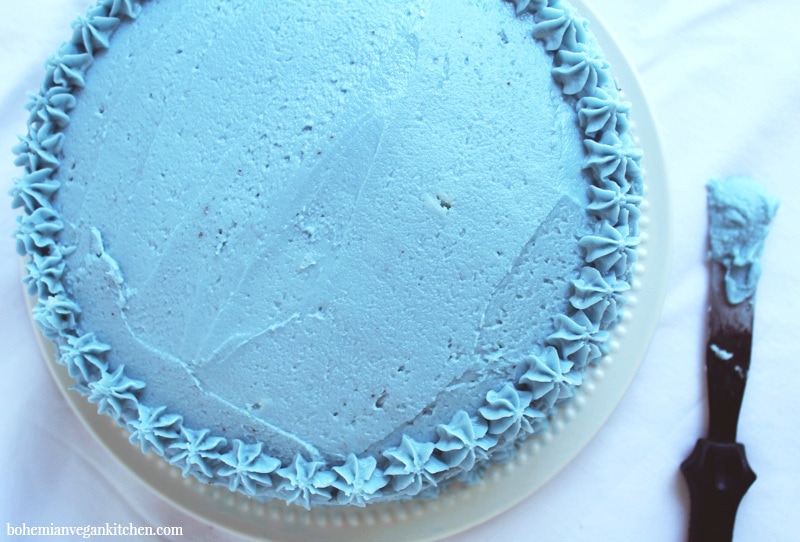 Cake recipes for your vegan buttercream frosting
Wanna know what to frost it on? Try these allergy friendly cakes and cupcakes: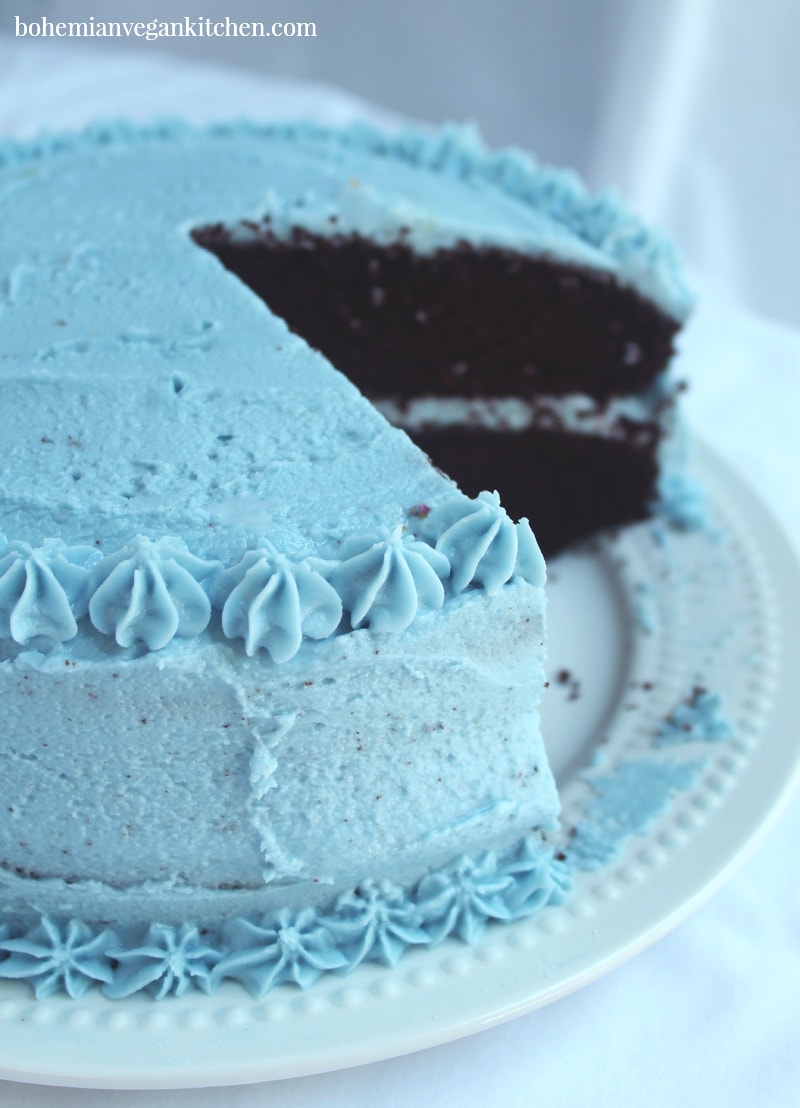 Dreamy Vegan Buttercream Frosting
For those with food allergies and/or children who are hyper sensitive to artificial dyes, you can whip up the perfect vegan buttercream frosting in less than 10 minutes, with only 4 basic ingredients! Pictured using natural blue plant-based food dye.
Instructions
In a medium mixing bowl with electric beaters (or using a stand mixer), cream together softened vegan butter and vanilla for 1 minute. Butter should be smooth, not clumpy or runny.

Keeping the mixer going on low speed, slowly (and carefully!) add in powdered sugar, as well as sky blue powder if using. Add in plant-based milk one tablespoon at a time. Keep mixer going on medium speed, until you get that nice, fluffy texture of buttercream frosting (taste testing mandatory!).

Use immediately on completely cooled cakes and cupcakes for best results. This will cover an 8-inch round cake (or 24 cupcakes), but if for some reason you have any leftovers, you can store it in an air-tight container for up to one week. Stored frosting may need to sit on countertop to "defrost" for a few minutes before using.
Notes
Check out the options in-post for recommendations on cakes to frost with this vegan buttercream!
Tried this recipe? Tell me about it + share!
Comment and let me know how it was! Then follow BVK on Pinterest @bohemianvegankitchen
Share this recipe with a friend by Email
Pin It!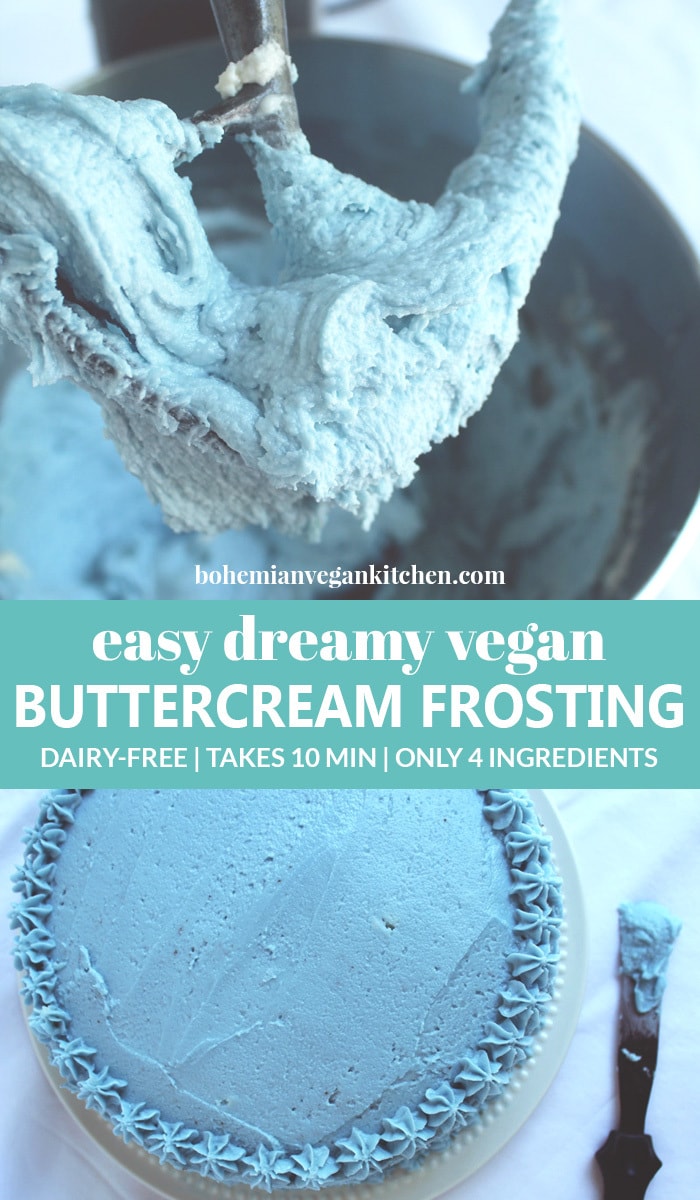 Thank you for taking the time to invest in your health and happiness!