You don't need a bunch of stir-fry sauces or exotic ingredients to get a mouth-watering dinner. All you need is 30 minutes to spare, which is one of the main reasons I LOVE this gluten free broccoli in garlic sauce— it's simple and quick to execute, making it a win-win on any weeknight!
Some of us "reward" ourselves with takeout on the weekends, when the paycheck is fresh and we've got money to spare, but you know what? I've always been a rule breaker.
Making your own "takeout" at home tastes superior to any MSG-laced concoction you could get down the street, is overall better for your health, and can be served any day of the week!
Oh, and if you enjoy this recipe, be sure to try my easy vegan fried rice and this roasted cauliflower and sesame noodles dish.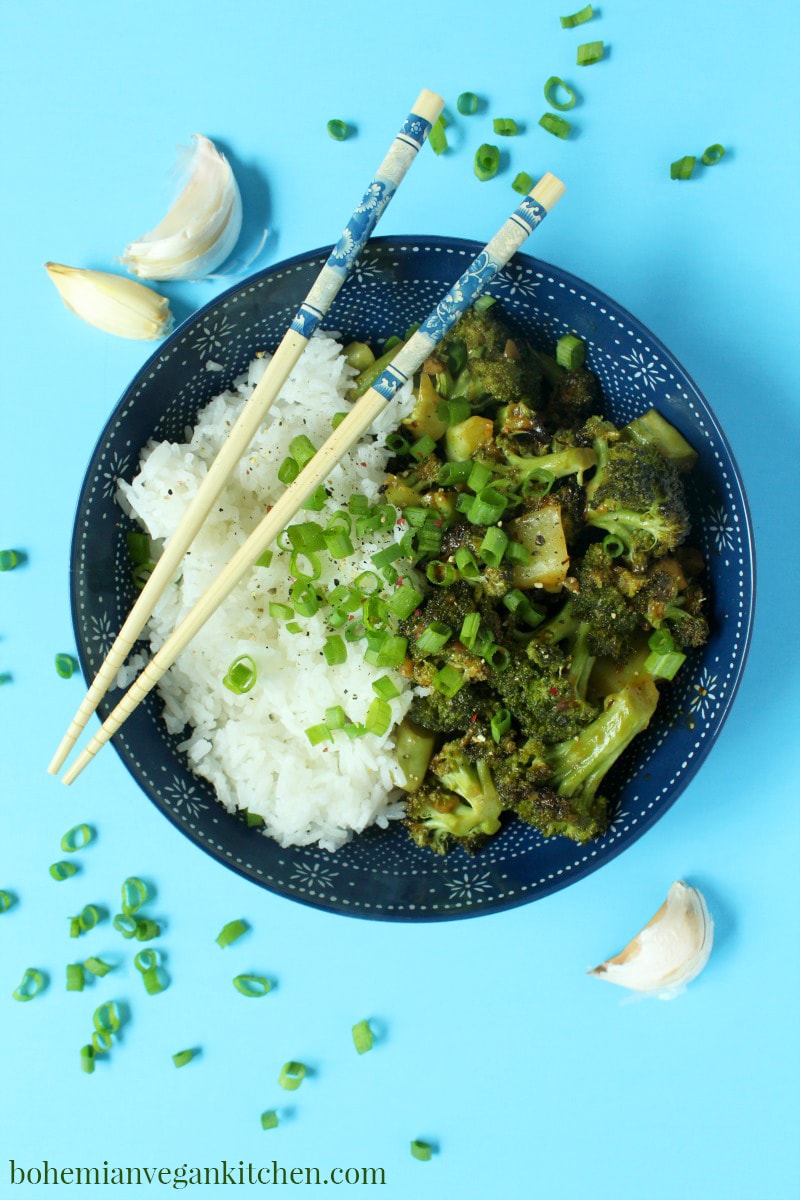 Especially on rainy days, this is the perfect remedy to get you feeling nice and cozy. When serving my own homemade takeout, I love pulling out the chopsticks and fancy dishes to make it fun and extra special for the kids.
But you want to know the BEST part of all?
"Broccoli in Garlic Sauce" is a traditional favorite on any Chinese takeout menu, so you don't have to use substitutions, or convince your family to "try this vegan meal (pretty please)". There's no tofu or unfamiliar ingredients to taste test, and it's 100% gluten-free when using Tamari sauce.
And don't forget the health benefits you receive from stuffing your face with a generous amount of broccoli and garlic.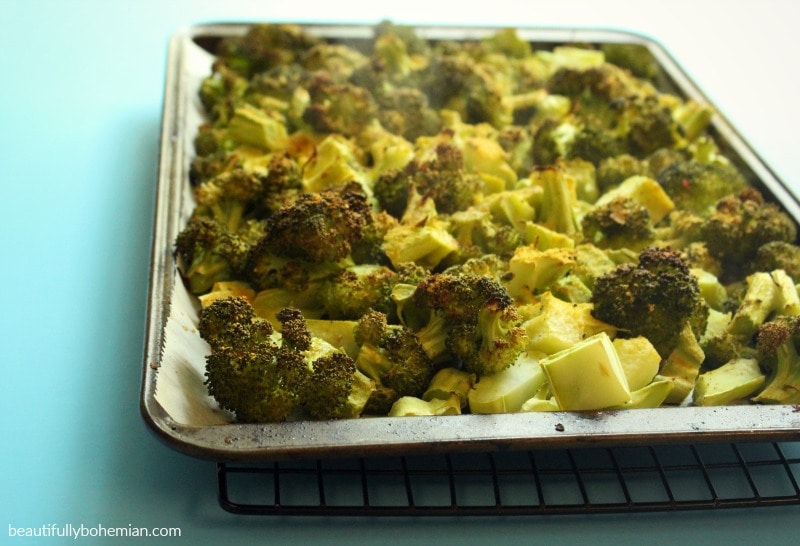 Garlic is one of my favorite medicinal herbs, as it can help combat colds, reduce blood pressure, and improve cholesterol. Broccoli, on the other hand, is rich in fiber, and can help strengthen bones, control diabetes, improve your immune function, and even reduce the risk of cancer.
On those nights when you're just too tired to go the extra mile, try this EASY homemade takeout instead. No frying here: roasted broccoli is all you need to make this dish really pop (and check the FAQs for notes on using the air fryer!).
Truly, this is simplicity at its best.
This week, grab just 30 minutes and make some easy vegan takeout…and don't forget the chopsticks!
Frequently Asked Questions
What makes Broccoli in Garlic Sauce gluten free?
Traditionally, this dish is made using soy sauce, which is not certified gluten free since it's made with wheat. By swapping that out for Tamari sauce, you keep this dish gluten free and still popping with flavor.
Can you use an air fryer instead of an oven?
Absolutely! Set your air fryer to bake at 400º for 12-15 minutes. You may have to work in 2 batches since you are using approximately 10 cups of broccoli. Cook until tender and then proceed with the recipe in step 5.
Can I add anything else to this dish?
Yup! Bulk it up by adding bell peppers, water chestnuts, bamboo shoots, or even chickpeas.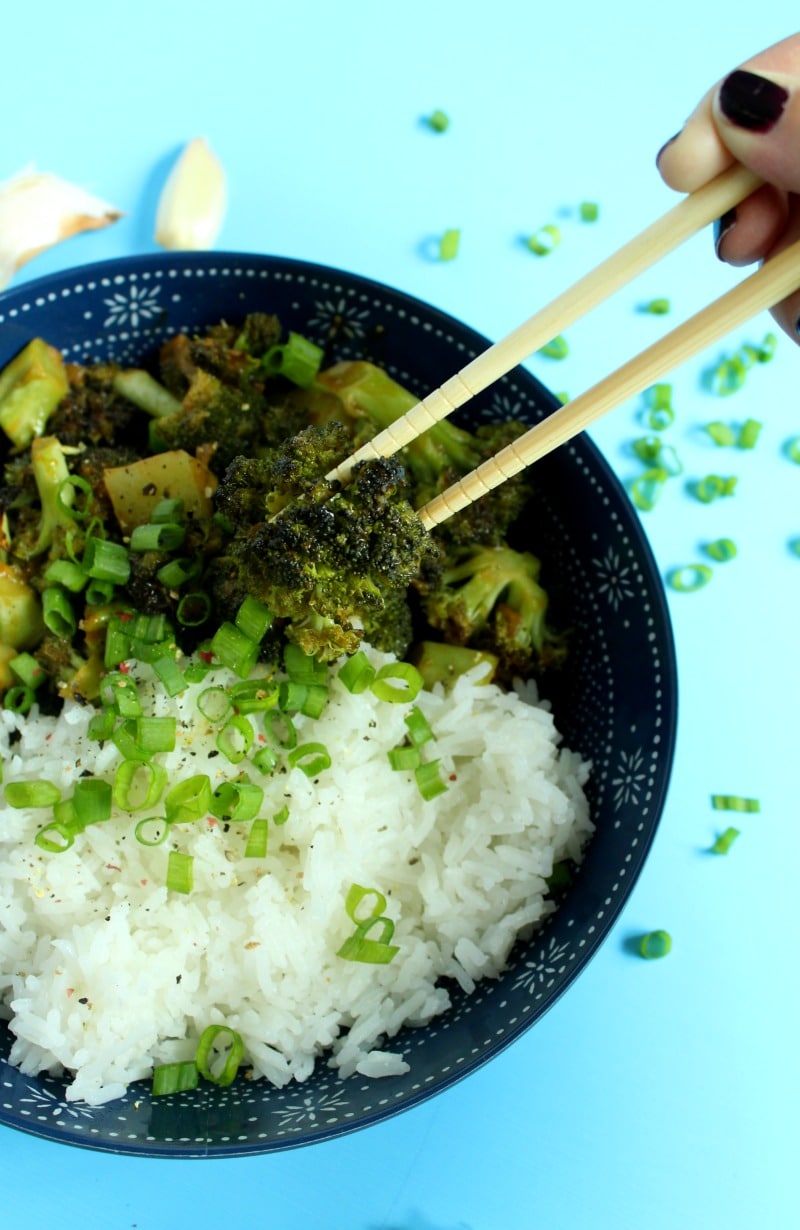 Allergy Information & Substitutions
This recipe is 100% vegan, meaning it is meat-free, egg-free, and dairy-free. It is also naturally nut-free and gluten-free.
Make it soy-free by using coconut aminos instead of tamari sauce. Just keep in mind this will change the taste.
Mix it up by adding in bell peppers, water chestnuts, or bamboo shoots.
Don't like broccoli? Use baked cauliflower instead.
More easy gluten free vegan weeknight dinners:
30 Minute Gluten Free Broccoli in Garlic Sauce
On those nights when you're just too tired to go the extra mile, try this EASY homemade takeout instead: Broccoli in Garlic Sauce! Takes only 30 minutes from start to finish, plus is 100% vegan, nut-free, and gluten-free.
Ingredients
For the Broccoli-
2

large heads of broccoli

cut into bite-sized florets (about 10 cups total)

2

tablespoons

olive oil

1

teaspoon

nutritional yeast

optional, but adds a lovely flavor

salt and pepper

(I use Himalyan pink salt)
For the Sauce-
¾

cup

filtered water

3

tablespoons

tamari sauce

a gluten-free alternative to soy sauce, feel free to use either one

1

tablespoon

sriracha

omit or use less if sensitive to spicy foods

1

tablespoon

maple syrup

1

tablespoon

cornstarch

3 ½

tablespoons

minced garlic

1

tablespoon

olive oil
Extras-
3

cups

cooked jasmine rice

Sliced green onions for garnish
Instructions
Preheat oven to 400º. Cook rice according to package.

Spread broccoli florets onto a baking sheet lined with parchment paper. Drizzle with olive oil and sprinkle with nutritional yeast. Season generously with pink salt and pepper. Bake for 20-25 minutes, until fork tender and slightly browned on top.

Meanwhile, prepare the sauce. Whisk together the first five ingredients in a small bowl and set aside.

In a large skillet, cook garlic in olive oil on medium heat, until soft and lightly browned. Add sauce mixture, and stir until thickened. Turn down to low until the broccoli is finished.

Once the broccoli is ready, transfer to the skillet. Stir until all the broccoli is coated evenly with the sauce. Turn off heat.

Serve with cooked rice and sliced green onions, if using.
Tried this recipe? Tell me about it + share!
Comment and let me know how it was! Then follow BVK on Pinterest @bohemianvegankitchen
Share this recipe with a friend by Email
Pin It!
Thank you for taking the time to invest in your health and happiness!