This past weekend, my son turned 7.
And he asked me pretty please mom if he could have a Harry Potter themed birthday. My answer? ABSOLUTELY.
Like, you mean I get to decorate my dining room Hogwarts style, wear #allthethings Harry Potter, and make delicious wizard food, all while getting "best mom ever" brownie points? (or should I say house points?)
I was on board faster than you can say Expecto Patronum.
Because if there's one thing this muggle knows, it's how to throw a HP party with style. And it starts with making the most deliciously moan-worthy Harry Potter vegan cupcakes.
These cupcakes are straight outta The Three Broomsticks, honoring probably the most popular Harry Potter drink ever: butterbeer.
Butterbeer is mentioned periodically throughout the series, and can be described as a tasting similar to butterscotch or cream soda (but a little sweeter). And apparently, it has a slight alcohol content*, which can get house-elfs drunk and *possibly* humans.
YES REALLY.
Never mind that 3 children are going to a pub to throw back a few after trying to outsmart a handful of adult wizards. #underagedrinking?
Regardless, butterbeer sounds amazing and I'm willing to overlook the alcohol connection in a fictional world where owls are the only hope of long-distance communication. Also, these cupcakes are simply inspired by the wizard drink, and are 100% non-alcoholic, so there.
"Why don't we go and have a butterbeer in the Three Broomsticks, it's a bit cold, isn't it?"
Vegan butterbeer cupcakes using natural ingredients
This party consisted of honoring the four houses, but the show stopper of this magical afternoon was these absolutely delicious vegan butterbeer cupcakes.
Sure, there are plenty of recipes out there for butterbeer cupcakes, and most of them also look amazing (I mean how could they not?). But unfortunately, the vast majority of them are not vegan.
Some of them also rely on artificial extracts, and that doesn't go over well in our house.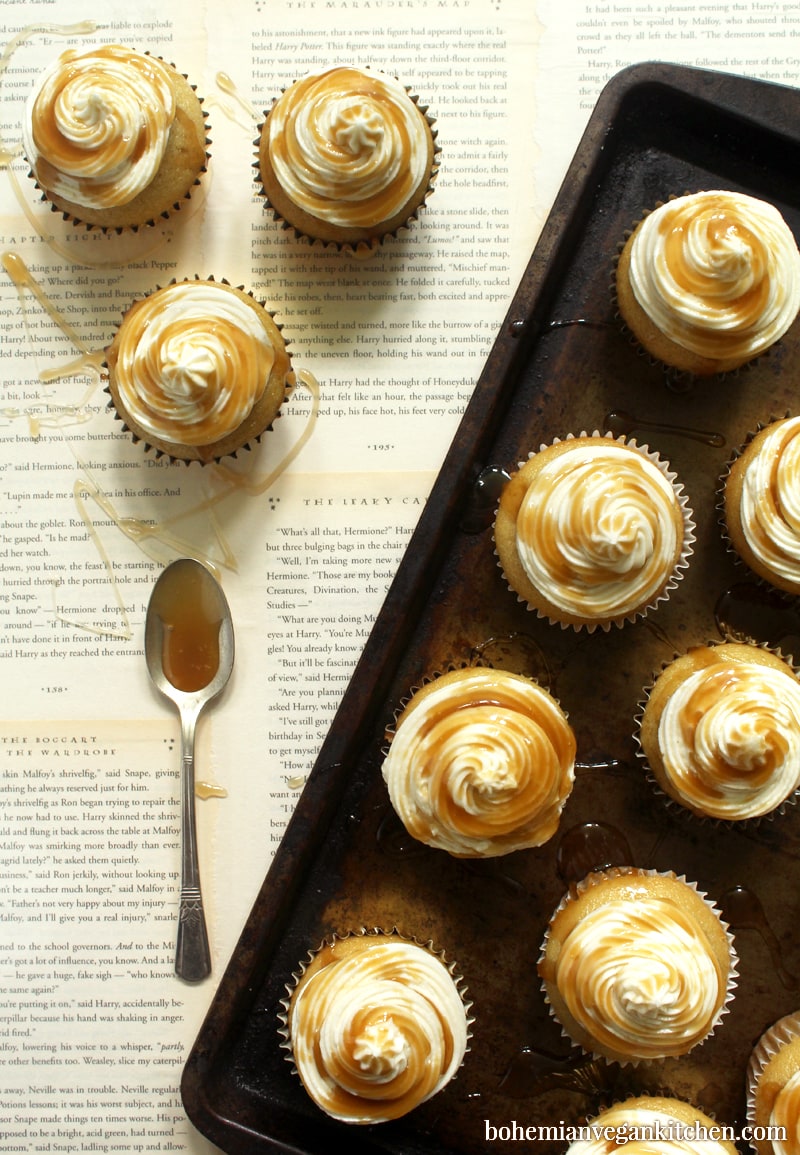 Which made me have to put on the old thinking cap and brainstorm ideas that could deliver the flavor and feeling of butterbeer, without using artificial potions. I decided on making a homemade butterscotch sauce that I could then stir into my icing and drizzle on top. And you know what?
It was magical and worthy of all the emojis.
I can't take full credit for the butterscotch sauce though, because I veganized a non-vegan recipe. You can find the original recipe for the sauce here.
Also, for the cake portion, I relied on my classic vegan birthday cake recipe, changing the sponge from chocolate to vanilla. Instructions and links to this are included below.
Harry Potter vegan cupcakes will impress any muggle
These vegan cupcakes are so good, I'm willing to bet that even the Dursleys' would enjoy them. To impress any muggle, you just have to MAKE THEM. The cupcakes will do the rest.
I served these to a large party of non-vegans after all, and the cupcakes preformed a disappearing act and were gone in five minutes. It just goes to show that you can't go wrong with a little (vegan) butter and sugar.
As for my son, he was absolutely stoked about his party and couldn't wait to get his hands on these butterbeer cupcakes. Also presents.
I hope you get a chance to make these, and don't forget to say "Accio Cupcakes!".
Allergy-Info & Substitutions
These butterbeer cupcakes are 100% vegan, meaning they are dairy-free and egg-free. They are also naturally nut-free and soy-free.
For the cake, I used my classic vegan birthday cake recipe and made them vanilla cupcakes instead of chocolate. You can see the instructions for this by checking out the "allergy-info & substitutions" section included in the post by clicking here.
Make them gluten-free by using Bob's Red Mill 1 to 1 Gluten-Free Flour (instructions for this are also included in the linked recipe).
Don't want to use coconut? You can try using a dairy-free creamer of your choice for the butterscotch sauce, but it has to be a thick cream, which is why I opted for coconut cream. Keep in mind this may change the texture, as I have not tried this option yet.
For another magical Harry Potter treat that would compliment these cupcakes, you can try my Chamomile Chocolate Frogs by clicking here.
Want a healthy Harry Potter dessert? Check out my no-bake Healthy Treacle Fudge by clicking here.
I hope you enjoy these amazing Harry Potter vegan cupcakes! Make sure to share your creation with me on Instagram by tagging me @bohemian.vegan.kitchen + using the hashtag #bohemianvegankitchen.
Enjoy any special occasion and impress muggles with these moan-worthy Harry Potter vegan cupcakes! In honor of the famous wizarding drink, these butterbeer cupcakes are simple to make and do not require any artificial ingredients.
Harry Potter Vegan Butterbeer Cupcakes
Enjoy any special occasion and impress muggles with these moan-worthy Harry Potter vegan cupcakes! In honor of the famous wizarding drink, these butterbeer cupcakes are simple to make and do not require any artificial ingredients.
Ingredients
For butterbeer "butterscotch" sauce
4

tablespoon

vegan butter, such as Earth Balance

½

C

brown sugar

½

C

coconut cream (see notes)

1

teaspoon

vanilla extract
For butterbeer "butterscotch" frosting
1

C

vegan butter, such as Earth Balance, softened

3

tablespoon

butterscotch sauce (recipe included)

2

tablespoon

coconut milk (see notes)
Instructions
First begin by making the vegan cupcakes (click here for recipe; instructions for vanilla cupcakes are included in the "allergy-info & substitutions" section of the post). Make sure the cupcakes are COMPLETELY COOLED before frosting. I like to make the cupcakes the night before and refrigerate them, to break up the time + make sure they are cooled, but you can just pop them in the refrigerator for an hour if need be.


To make the frosting, start with making butterscotch sauce. Melt the butter in a saucepan on medium heat; add brown sugar and coconut cream. Bring to a boil, stirring occasionally and scraping down sides, for 4-5 minutes. You don't want to overboil because you'll end up with butterscotch CANDY instead of butterscotch sauce. After 5 minutes, remove from heat and stir in vanilla extract. Set aside.


Next, make buttercream frosting. I like to use my stand mixer for this, but you can always use a large bowl with electric beaters. Cream (beat) together softened vegan butter and 3 tablespoon of the butterscotch sauce. SLOWLY stir in powdered sugar, and continue to beat on medium-low. You can stir in the coconut milk to loosen this up a bit. Continue to beat until the frosting is light and fluffy.


To assemble, using a piping bag, pipe frosting onto cooled vanilla cupcakes. Next, using a spoon, drizzle butterscotch sauce onto cupcakes by the spoonful. I worked in a circular motion and used most of the sauce on my cupcakes.

Notes
For the coconut in this recipe, I like to use a can of full-fat coconut milk that has been separated. You can tell if your coconut can has the cream separated by giving it a shake- if you don't hear it sloshing around inside the can (and it feels top-heavy), you know your can is good to go. Also, keep your can stored in a cold place before using, otherwise high temperatures may melt the coconut cream inside the can.
Especially for the butterscotch sauce, you want to use a thick CREAM, not regular plant-milk.
To use, open the can and scoop out the cream on top for the butterscotch sauce. Then, for the frosting, use some of the liquid coconut milk at the bottom of the can.
After you make the butterscotch sauce, try to work somewhat quickly with the frosting- if you let the butterscotch sit too long, it may be harder to drizzle onto cupcakes.
Tried this recipe? Tell me about it + share!
Comment and let me know how it was! Then follow BVK on Pinterest @bohemianvegankitchen
Share this recipe with a friend by Email
Pin It!
Thank you for taking the time to invest in your health and happiness!