Birthdays Cake is important. Period. And friends, this allergen free vegan birthday cake is not only amazing, it's a NECESSITY.
Because while most people can pick up ready-made cakes at their local grocery store, this isn't always an option for those avoiding things like dairy, eggs, or even gluten and artificial dyes (can you say child meltdown?).
Which makes this birthday cake an absolute favorite of mine and readers of BVK. This allergy friendly birthday cake recipe is not only dairy-free and egg-free, but it's also nut-free and soy free. And did I mention you can turn it into gluten-free cupcakes too? You're welcome.
After you check out this cake, be sure to try these allergen free cupcakes. Need allergen free frosting? Try this 2-ingredient chocolate ganache frosting or this coconut frosting. The cake in this post was made using this dreamy blue vegan buttercream.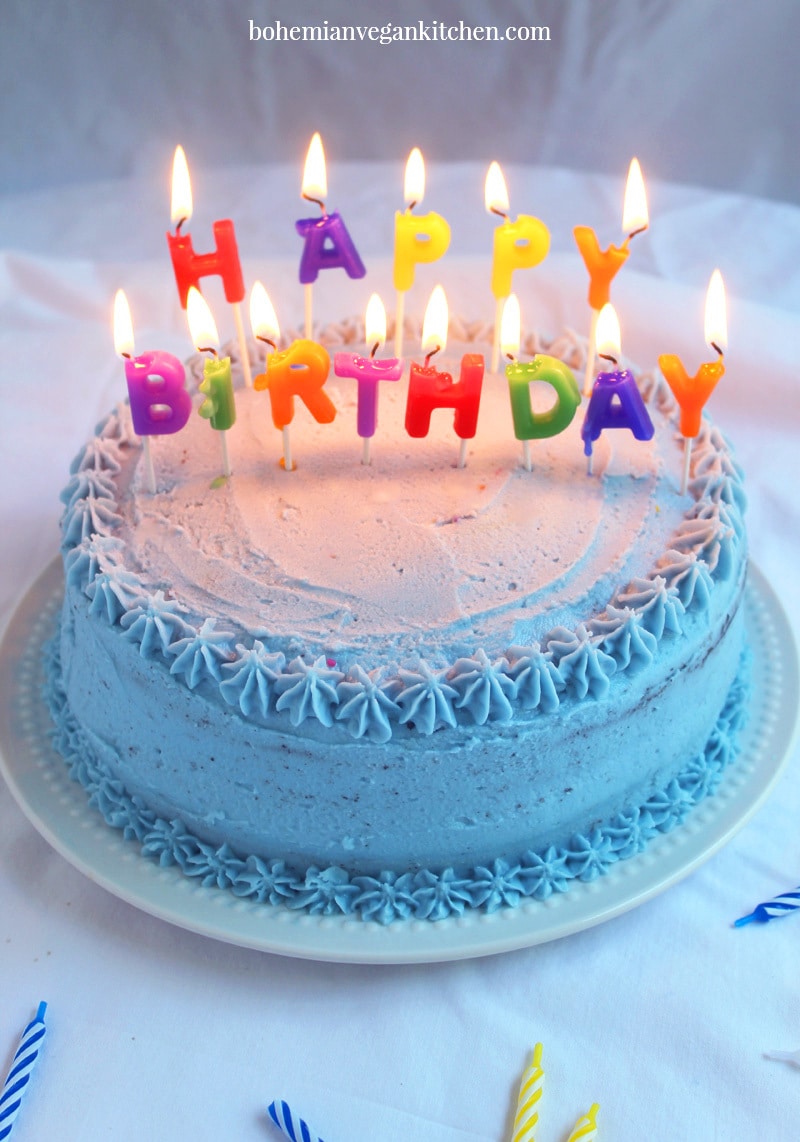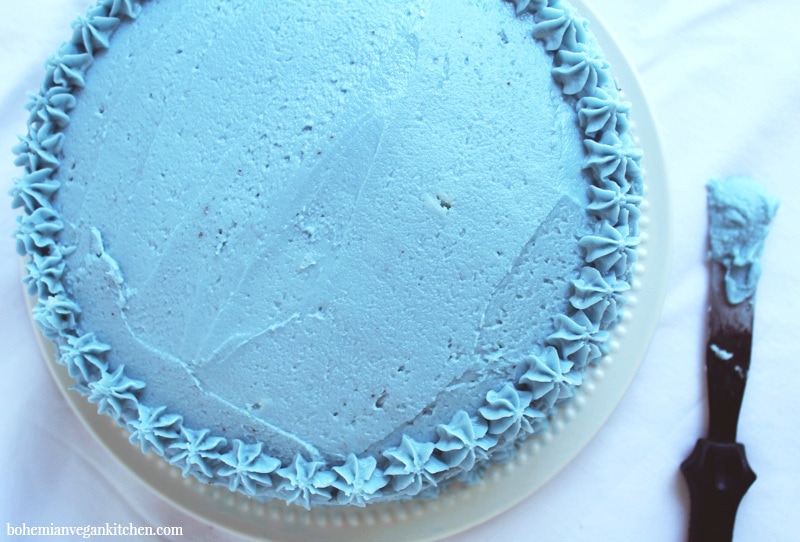 A vegan nut-free cake that will knock your socks off
For me, the end of the summer is what I like to refer to as "cake season" at my house, since we have a string of birthdays starting in July and ending mid-September. With a decade of practice under my apron, I'm ready to share my secret weapon for virtually any special occasion: this simple + classic vegan chocolate cake that will knock your socks off.
Go ahead and say it with me… "She will be mine, oh yes, she will be mine."
The perfect kids vegan birthday cake for allergies
Do you need an allergen free birthday cake for you child? Well look no further!
Believe me, this MASTER RECIPE is truly the mother of all birthday desserts. I've used this recipe countless times over the past decade (morphing it to what you see below), and used it as a base to create multiple spin-offs, such as vanilla, chocolate mocha, chocolate chip, and even gluten-free.
This sponge is the just the right amount of sweet, fluffy, and chocolate-y heaven. It's perfect for kids that feel like they're "missing out," especially when topped with blue buttercream frosting. Because there's nothing better than making your kids birthday special with cake they can actually eat!
To make it extra colorful for kids, be sure to try these fun vegan sprinkles from Color Kitchen.
And if you don't like chocolate? Make it classic vanilla with just a couple simple tweaks. The sky is the limit when it comes to creating your own version of birthday bliss. Instructions for vanilla are included in the Substitutions section below, or you can check out these allergen free vanilla cupcakes.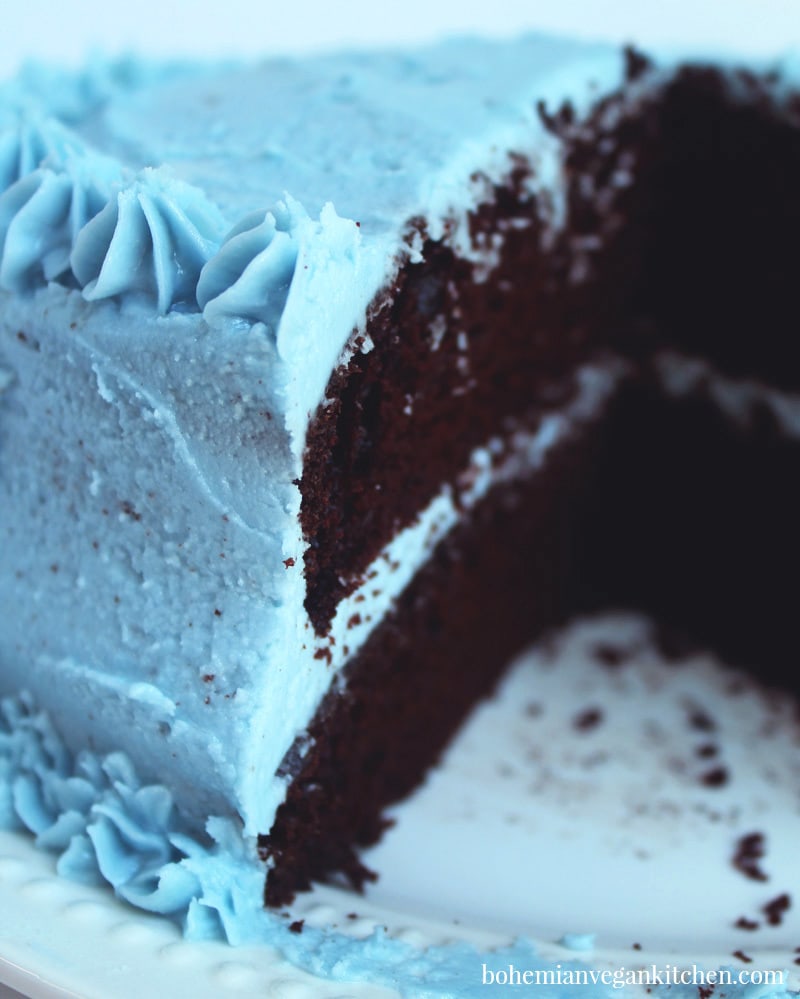 Topped with stunning blue vegan buttercream
For topping, I like to whip up a beautiful vegan buttercream frosting. Don't want vegan butter? Try this vegan coconut frosting instead.
And if you're wondering how I got this cake to be the most beautiful dreamy color of blue, I relied on McCormick's Nature's Inspiration Food Colors. This is seriously the ONLY brand I've ever used that actually works, plus is perfect for kids who are hyper sensitive to artificial dyes.
Truly this is a cake worth celebrating over….so what are you waiting for?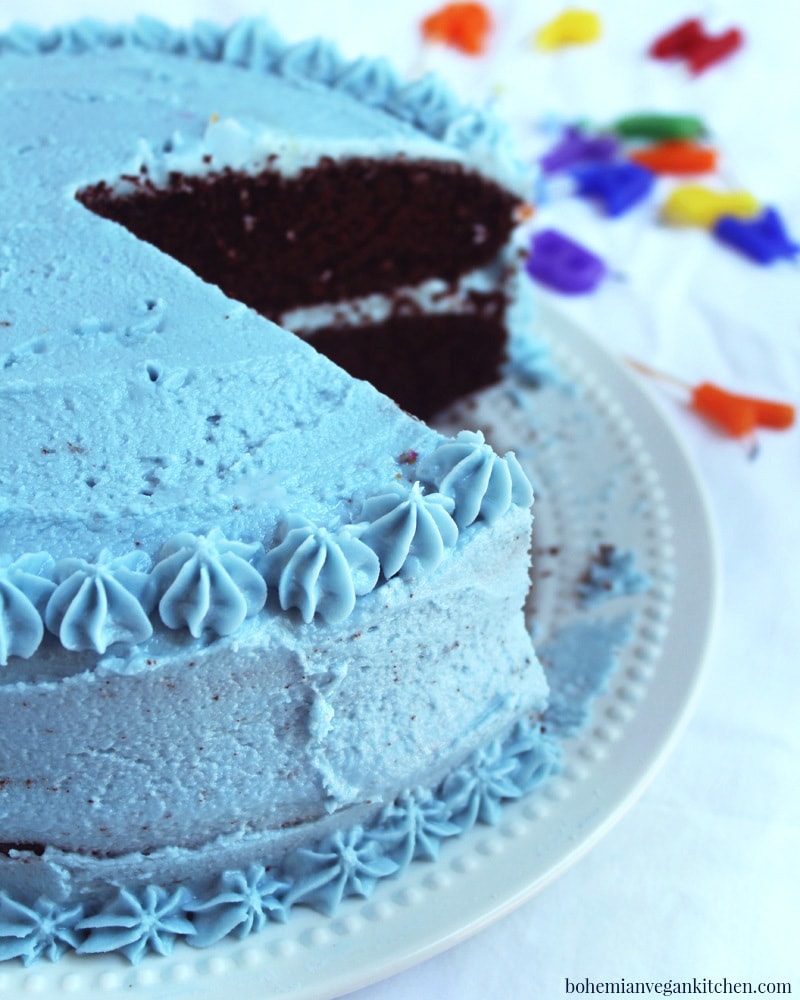 Allergy Information & Substitutions
This easy chocolate cake is 100% vegan, meaning it is dairy-free and egg-free. It is also naturally soy-free and nightshade-free, as well as free of artificial colors.
Make it gluten-free by using "Bob's Red Mill 1 to 1 Gluten-Free Flour." A quick note, I HIGHLY recommend making cupcakes (not 8 inch rounds) with gluten-free flour. I've made multiple attempts at gluten-free cake, but have yet to find a flour that really WORKS in the same way as standard all-purpose. With cupcakes, the amount is so small that you really get the best of both worlds- it's fluffy, chocolate-y, and delicious all around. If making cupcakes, please remember to decrease the bake time to just 15 minutes.
Don't want chocolate? Create a vanilla cake by nixing the chocolate altogether, and increasing the flour by ½ cup. When making vanilla cake, I also like to increase the vanilla from 1 tablespoon to 1 ½ tablespoons. You can also try these allergen free vanilla cupcakes.
Get extra fancy by creating a dark chocolate mocha cake– simply switch out the water for cooled decaf coffee.
For a stunning finish, make this vegan buttercream frosting or this dairy-free coconut frosting.
Check out more vegan birthday cake recipes: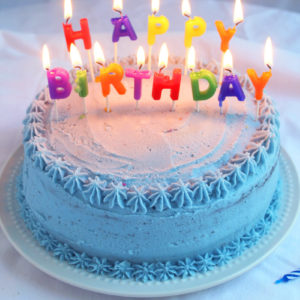 Chocolate Vegan Birthday Cake (Soy-Free, Nut-Free, Gluten-Free Option)
Make your birthday party spectacular with this easy allergy-friendly birthday cake, in chocolate OR vanilla! Completely vegan and void of nuts, this cake can also be made into gluten-free cupcakes (see the substitution section for details). Top with beautiful vegan buttercream for a stunning finish and party like it's 1999.
Instructions
Preheat oven to 350°. Grease two, 8-inch round cake pans (OR one large 9 x 13); set aside. PRO TIP: line the bottom of your cake rounds with parchment or wax paper for easy removal.


In a stand mixer (or large mixing bowl), combine dry ingredients: flour, sugar, cocoa powder, baking soda, and pink salt. While the mixer is running (or with electric hand beaters), slowly stir in oil, vinegar, and vanilla extract. Beat for 30 seconds.


Next, slowly stir in water while mixing. Batter should thin out a bit, however it should have a medium thickness (not too thin and not too thick). Mix for 60 seconds on high to get plenty of air working through the batter; this will help make the cake fluffy and light.


Divide batter between cake pans and pop in the oven. Cake should cook for 30 minutes, but I usually like to check mine at about 25 minutes to be on the safe side. To check cake, insert a toothpick into the center, checking that it comes out clean. If your toothpick has batter on it, pop it back int the oven for 3-5 minutes more. Cool COMPLETELY before frosting (approximately 2 hours).

Tried this recipe? Tell me about it + share!
Comment and let me know how it was! Then follow BVK on Pinterest @bohemianvegankitchen
Share this recipe with a friend by Email
Pin It!
Thank you for taking the time to invest in your health and happiness!