It's time to bust out your cauldron because the HALLOWEEN COUNTDOWN has officially begun.
Because if you're like me, you love trying out new vegan Halloween recipes every year. Until the Christmas tree comes out of the attic, it's all about apples, pumpkins, and all things spooky!
And this list will not disappoint– there are plenty of appetizers, mains, and desserts to keep the party going all month long. Want to know more ways to celebrate Halloween as a vegan? Check out this complete guide for my tips and party suggestions.
Lift your spirits with these vegan Halloween recipes
Lift your Halloween spirits with these cute and spooky vegan recipes!
This roundup includes delicious desserts, appetizers, and mains, which are perfect for Halloween parties or a haunted weekday afternoon. If you have small children stuck at home, preparing something fun like this can certainly brighten their day (or give them a fun activity to do!).
To jump to each recipe, just click on the link below each picture.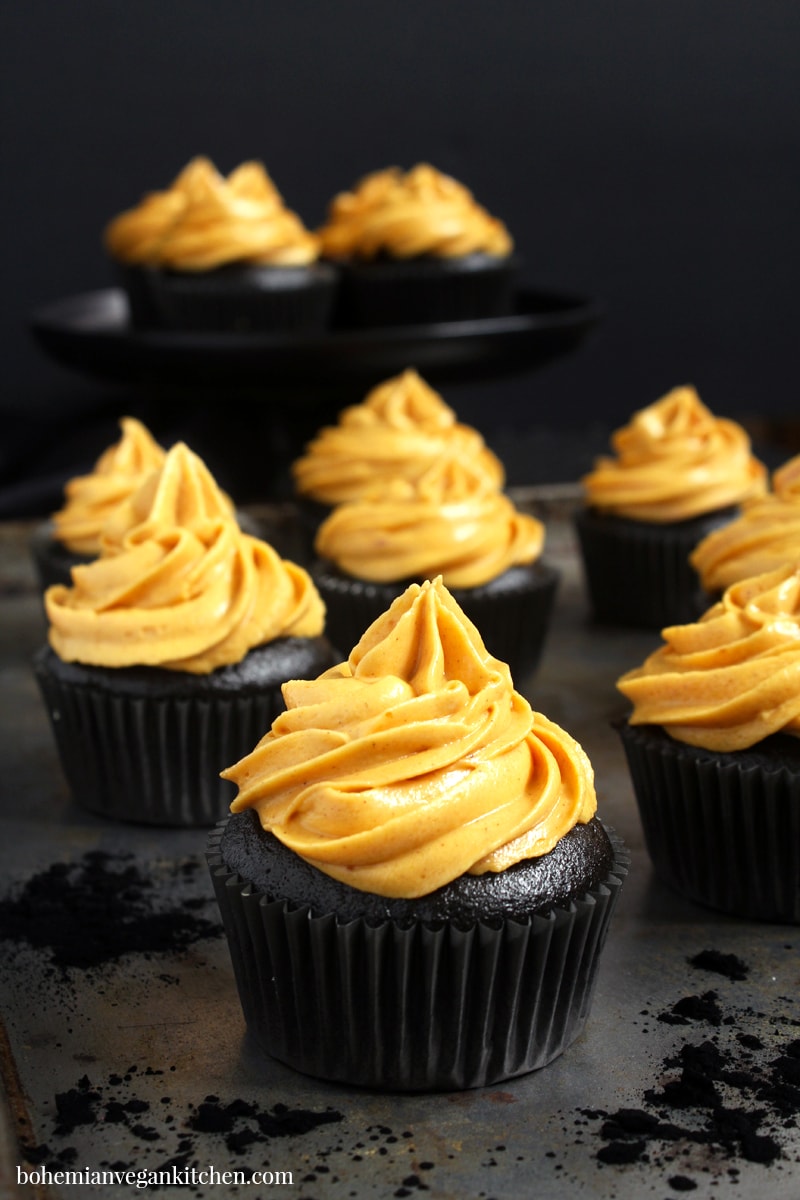 Coffee & Pumpkin Vegan Halloween Cupcakes by Bohemian Vegan Kitchen
Make Halloween wicked delicious with these black chocolate coffee flavored cupcakes, topped with vibrant pumpkin pie frosting. These vegan Halloween cupcakes are easy to make, but result in a stunning finish that will put a spell on anyone who tastes them!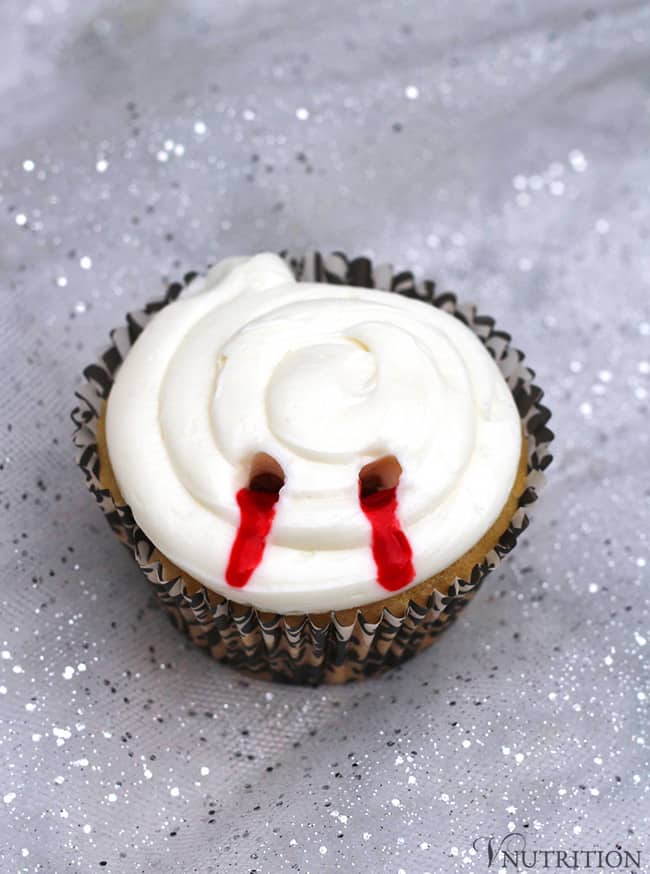 Vampire Bite Vegan Cupcakes by VNutrition
Vampire bite cupcakes are perfect for Halloween! They're filled with strawberry jam to scare everyone that takes a bite!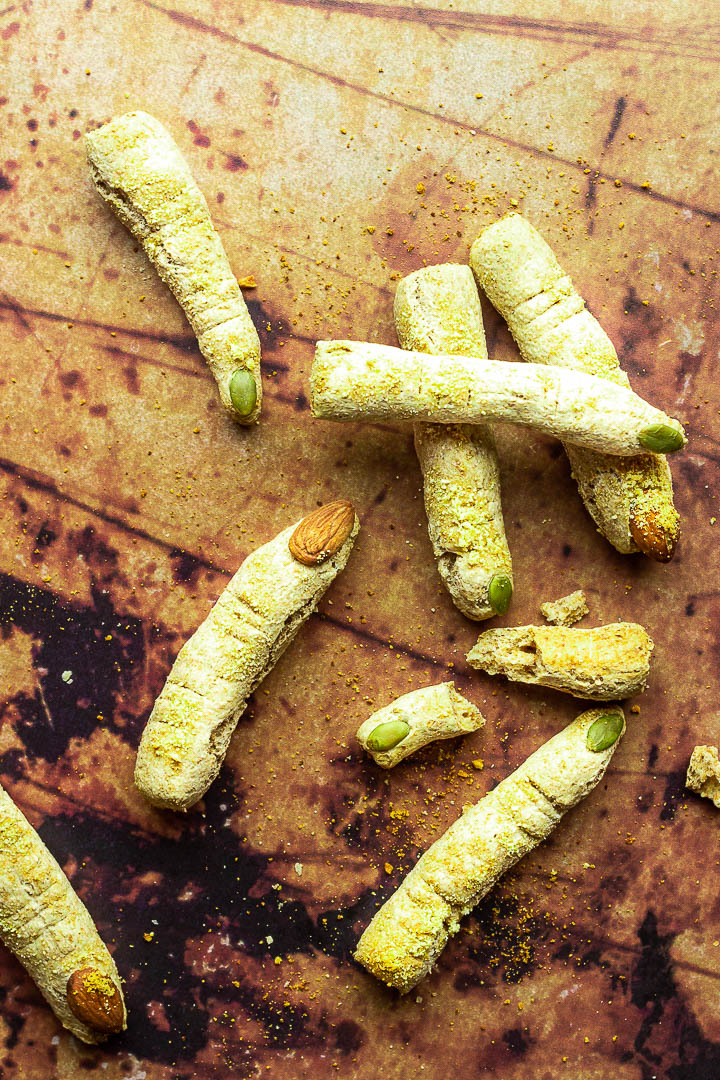 Vegan Witch Finger Cheese Breadsticks by VeEatCookBake
Spooky cheesy bread sticks shaped like fingers make the perfect Halloween snack.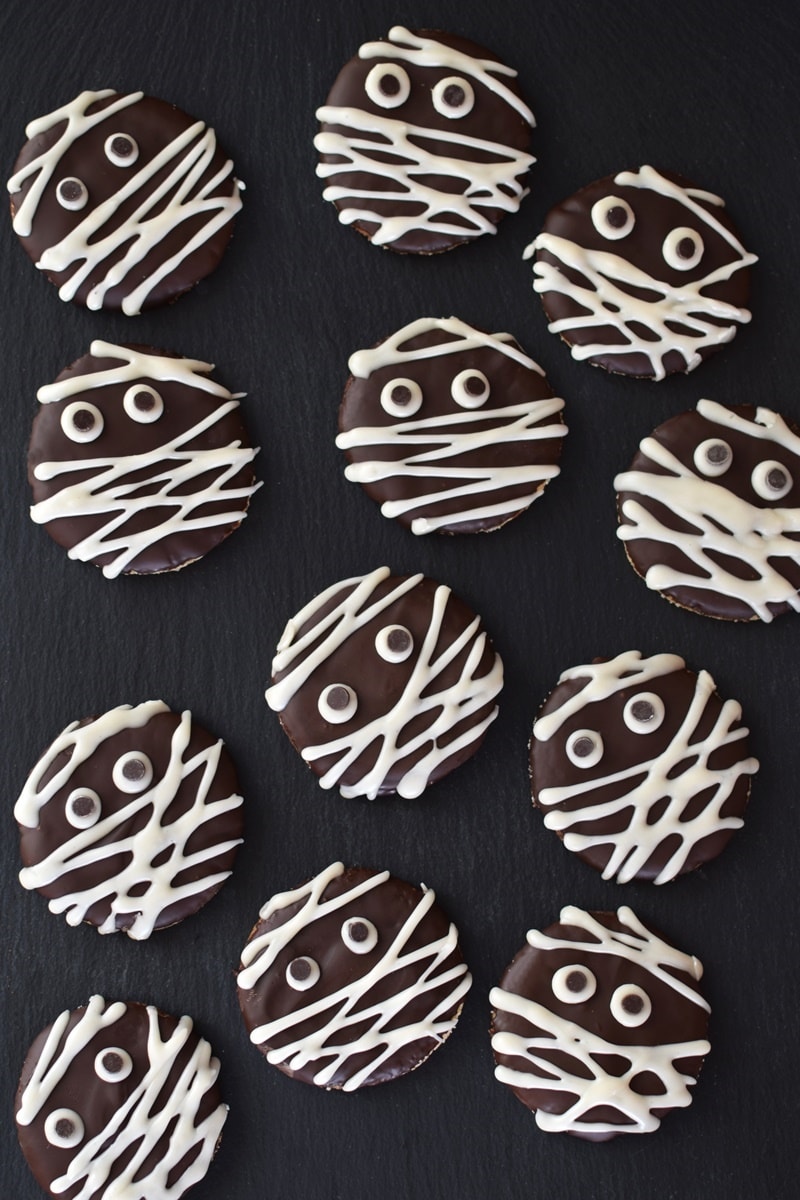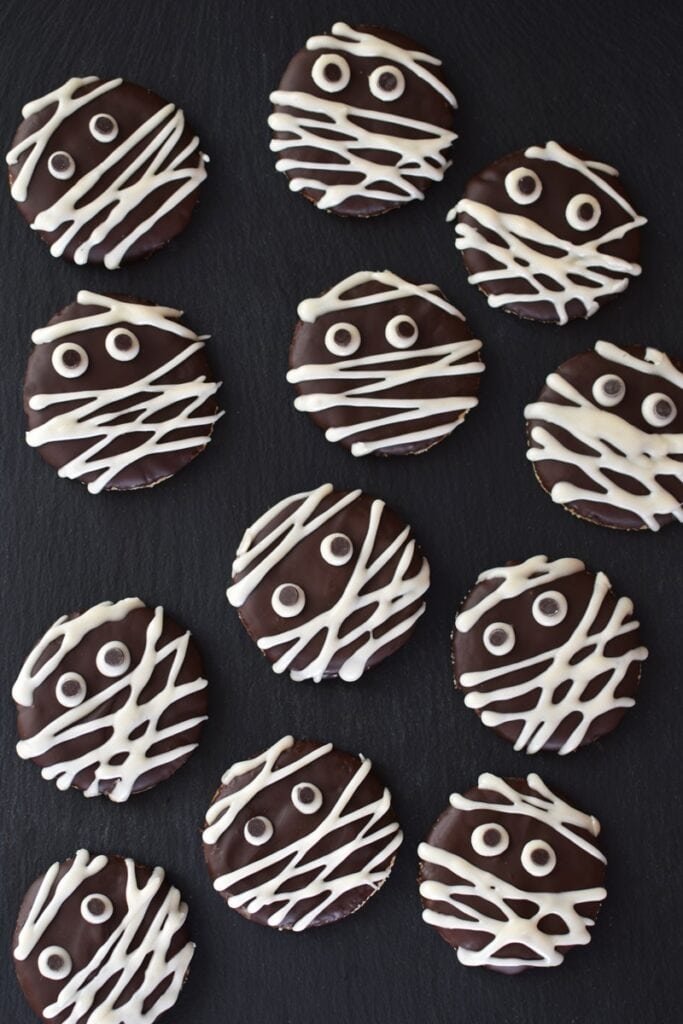 Vegan Mummy Cookies by Go Dairy Free
These Mummy Cookies are so easy to make – even kids can decorate them. It's a shortcut recipe that uses vegan and gluten-free ingredients.
Harry Potter Butterbeer Cupcakes by Bohemian Vegan Kitchen
Enjoy any special occasion and impress muggles with these moan-worthy Harry Potter vegan cupcakes! In honor of the famous wizarding drink, these butterbeer cupcakes are simple to make and do not require any artificial ingredients.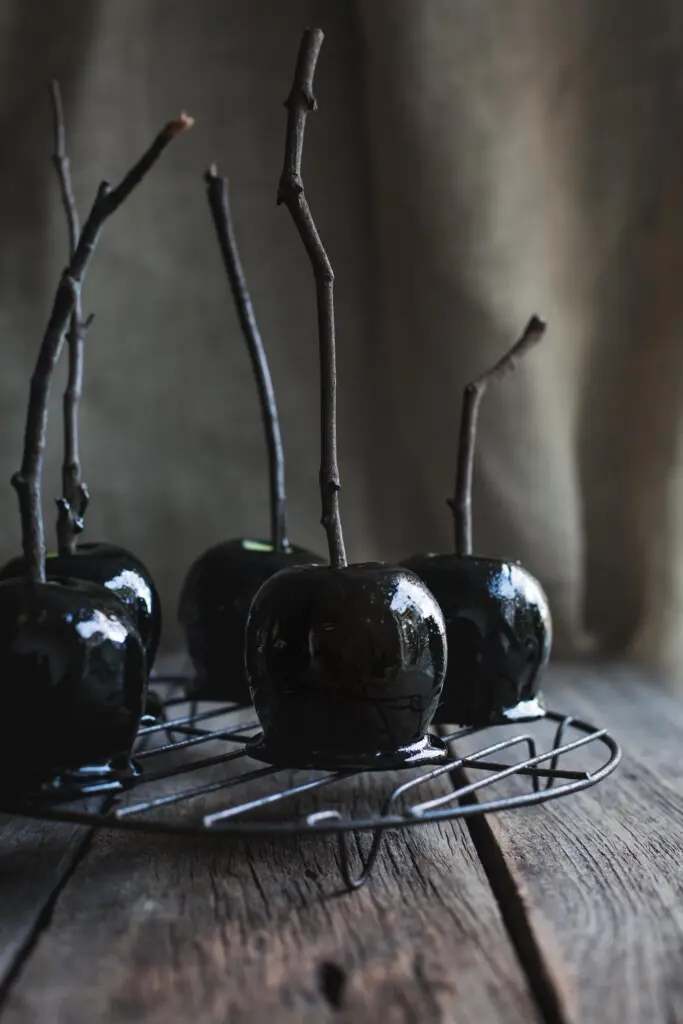 Deliciously Dark Vegan Halloween Toffee Apples by My Goodness Kitchen
Made with charcoal, these Deliciously Dark Halloween Apples are a simple to make and ready to cast a sweet spell on All Hallow's Eve.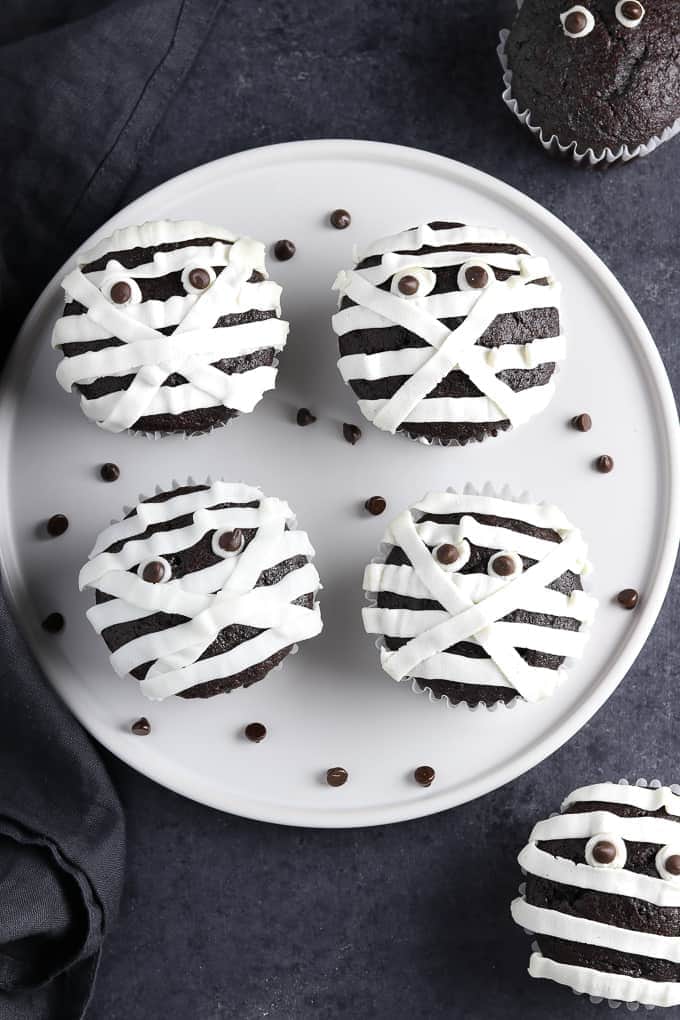 Vegan Mummy Cupcakes by Vegan Huggs
These Vegan Mummy Cupcakes will be a hit at your spooky Halloween bash. They are fun to make, kid-friendly and completely adorable! The mummy wrapping is piped on with vegan buttercream and the eyes are dotted with chocolate chips. It's so easy!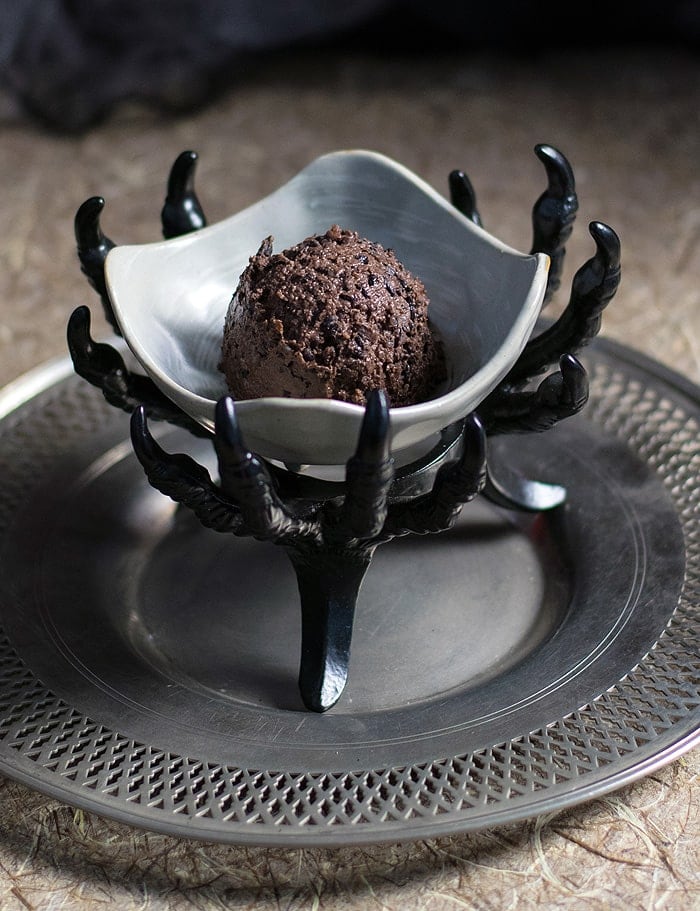 Gruesome Forbidden Rice Vegan Mousse by Healthy Slow Cooking
This is a wholesome chocolate dessert that's simply made with chocolate chips, coconut milk, sweetener, vanilla and black forbidden rice. Nothing to be frightened of here, unless it eats you first.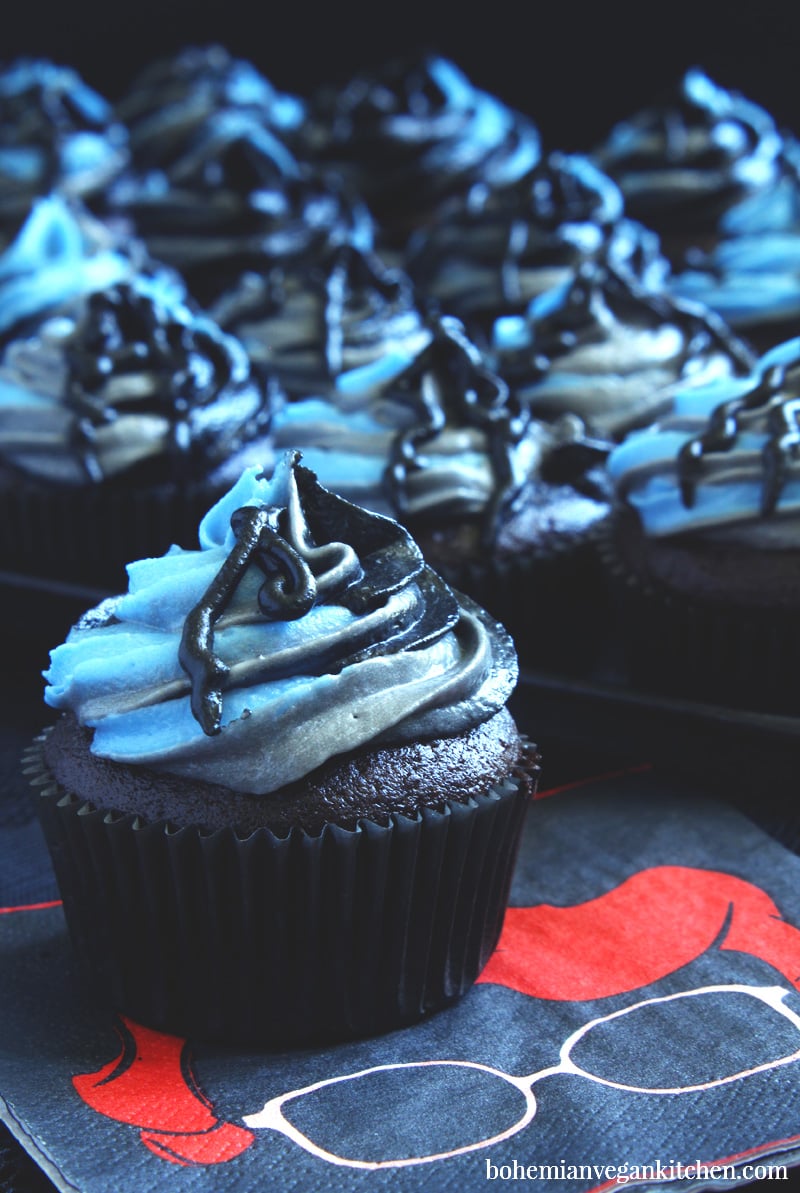 Stranger Things Vegan Cupcakes by Bohemian Vegan Kitchen
Geek out at any birthday party or Halloween gathering with these easy Stranger Things cupcakes! Naturally vegan, these cupcakes come in classic vanilla Joyce Christmas lights and dark chocolate Upside Down (R.I.P. Barb). Sure to satisfy both vanilla and chocolate lovers!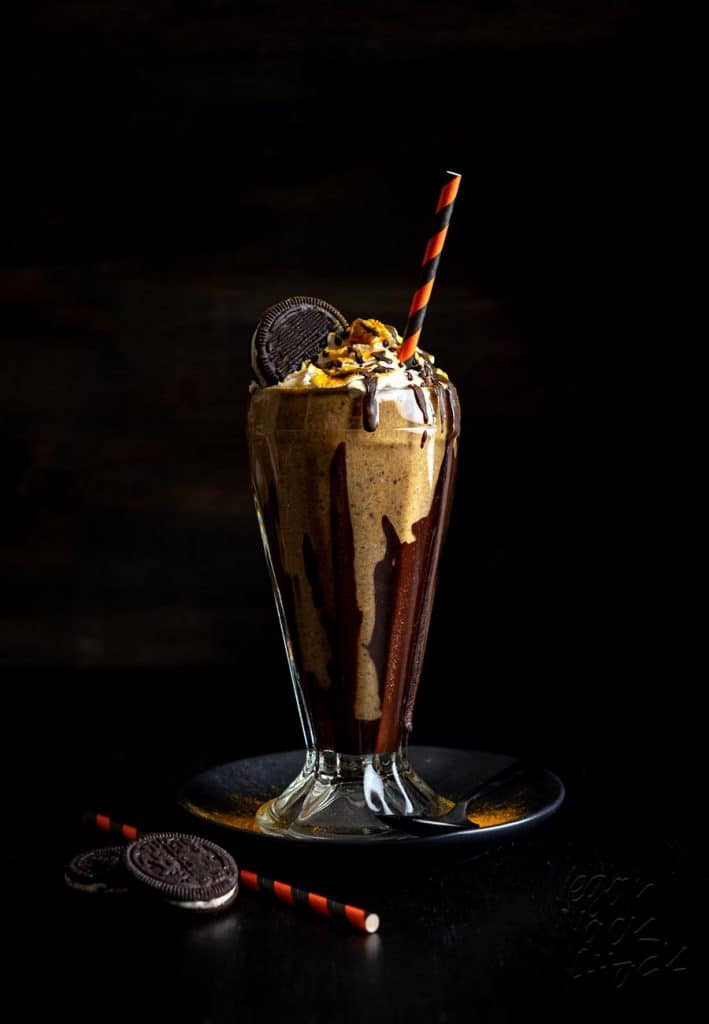 Vegan Halloween Cookie Shake by Vegan Yack Attack
This Halloween Cookie Shake is more like an indulgent smoothie, than an over-the-top shake. It has some sneaky fruits and spices mixed in with the sweets!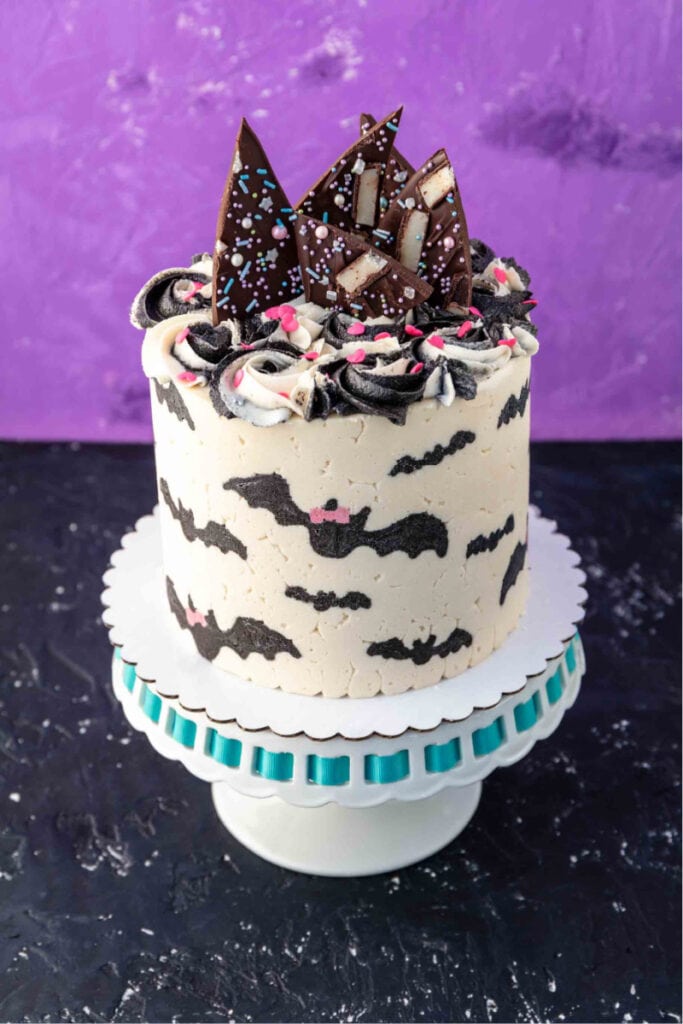 "Batty" Vegan Chocolate Mint Cake by Vegan Dollhouse
This moist vegan chocolate cake with vanilla mint and chocolate frosting is decorated with bats, sprinkles, and peppermint bark. It would make a fun Halloween cake (or just a birthday cake for a goth).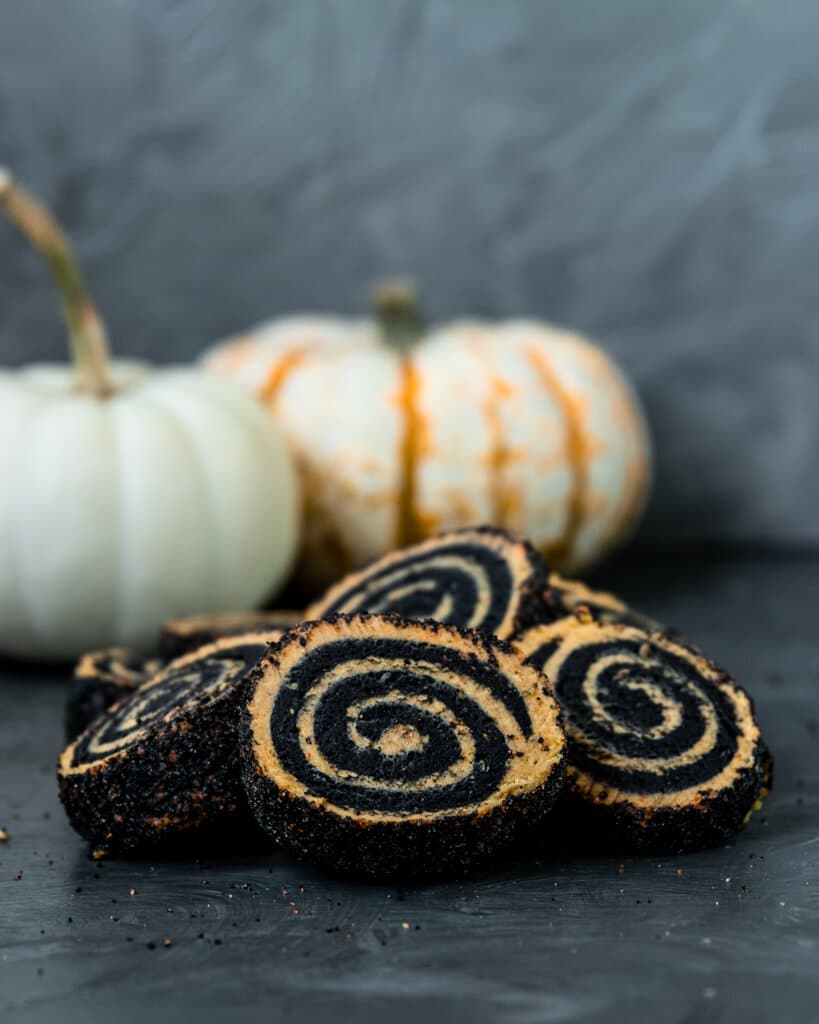 Vegan Halloween Pinwheel Cookies by Short Girl Tall Order
These Vegan Halloween Pinwheel Cookies have all the black and orange colors of Halloween with all the flavor of a buttery shortbread cookie. Get ready to make these for all your parties requiring a festive and creative Halloween Dessert!
Spooky Skull Vegan Pot Pies by Healthy Slow Cooking
Halloween dinner will be the spookiest ever with these little skull vegan pot pies. If you can't find the molds, don't worry. Just make it as a double crust pie and make the top crust with a skull cookie cutter!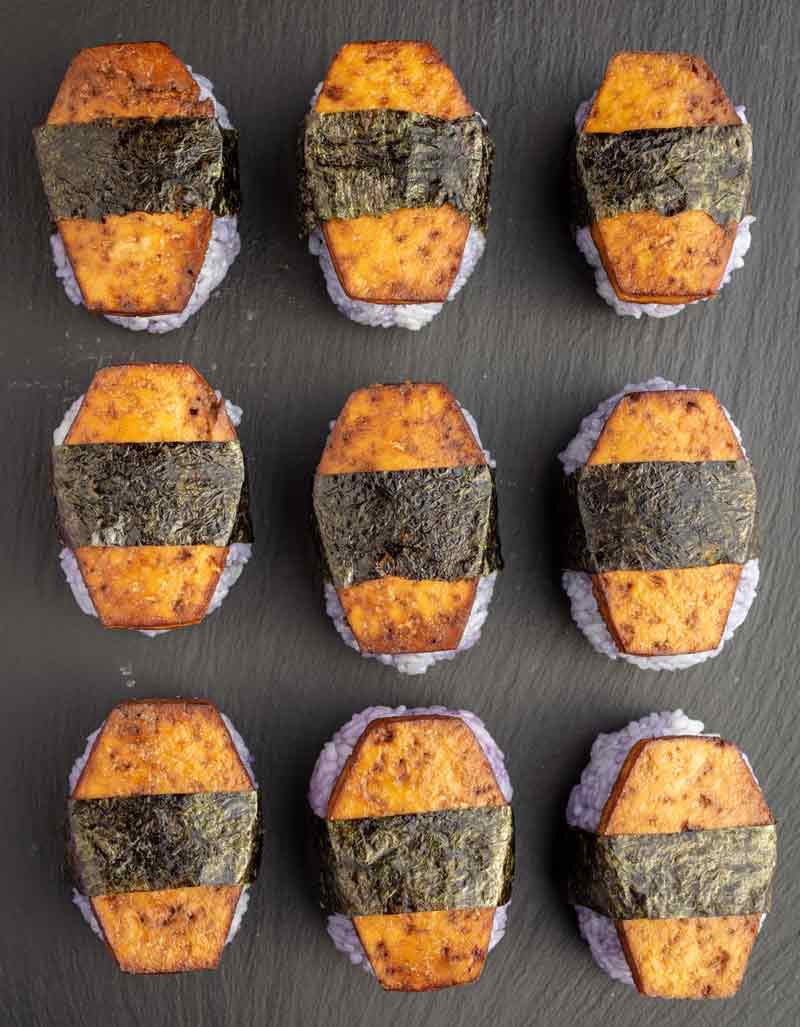 Halloween Vegan Spam Masubi by Vegan Dollhouse
Vegan spam musubi that's shaped like a coffin is a healthy and fun Halloween snack. The vegan spam is made from tofu, and the rice is naturally colored a pastel goth lilac color using superfoods.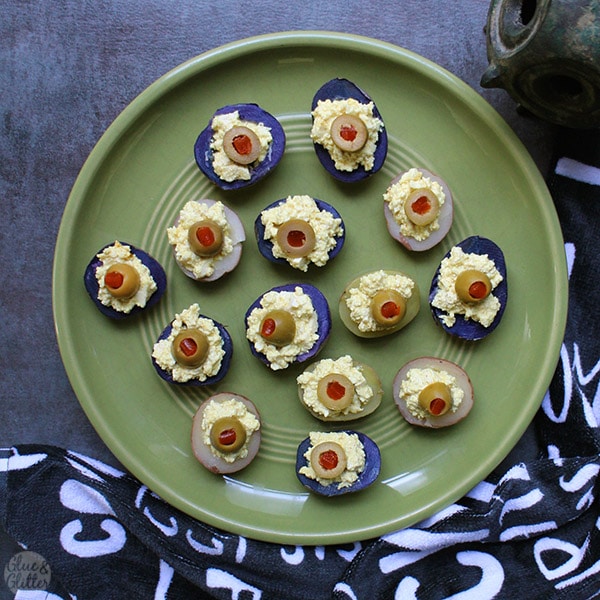 Halloween Vegan Deviled Potatoes by Glue and Glitter
Vegan Deviled Potatoes are a cruelty-free answer to deviled eggs. Stuffed with creamy tofu salad and topped with green olives, they're a real vegan party food treat!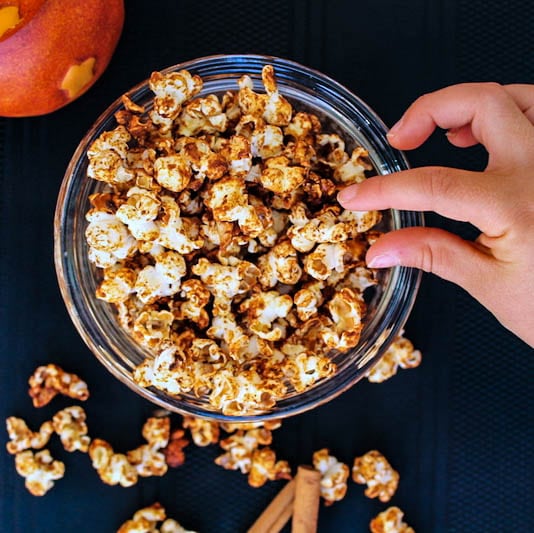 Vegan Pumpkin Spiced Popcorn by Bad to the Bowl
Vegan pumpkin spice popcorn is a great dessert or snack option for Halloween. Pumpkin spiced candied popcorn bakes in the oven for a crispy treat!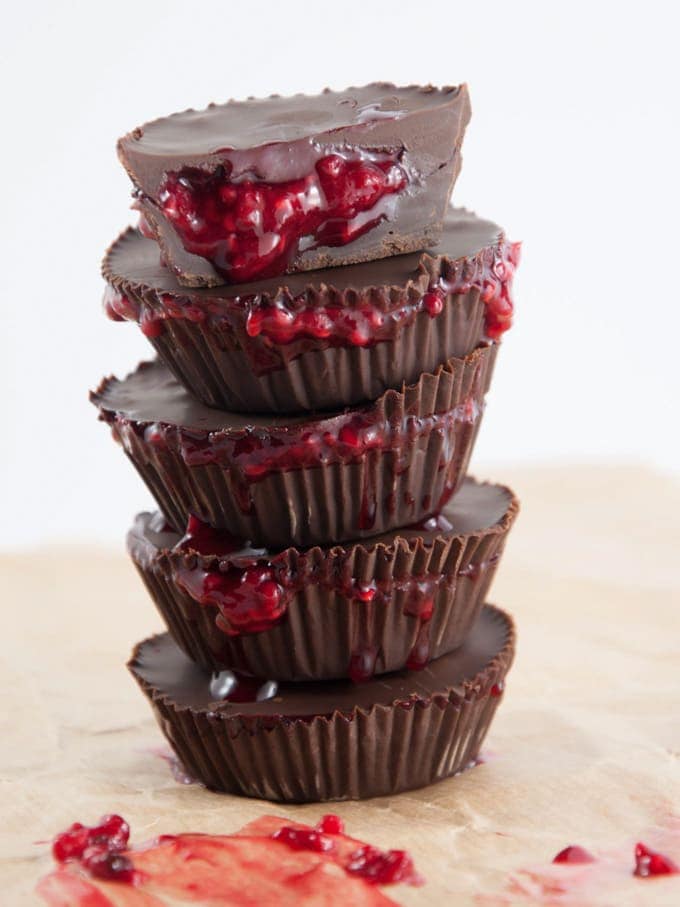 Vegan Bloody Chocolate Cups by Elephantastic Vegan
These Bloody Cups are filled with a raspberry sauce – making it the perfect treat for Halloween! They are vegan, gluten-free and only need 3 ingredients!
Pin It!
Thank you for taking the time to invest in your health and happiness!