BANANA PUDDING YOU GUYS…need I say more?
If you're a sensitive vegan like me, you may be hyper aware of your sugar and treats intake. However, I personally believe that indulging occasionally in simple pleasures such as this can be a huge boost to your day, especially if you keep it on the healthy side.
That's why I decided to experiment with a vegan banana pudding that banks on natural sweetness, instead of using processed sugars. In addition, I've added turmeric to give it a healthy kick + beautiful yellow hue that mimics your classic boxed pudding.
The result? A creamy, moan-worthy dessert that's not only easy to make, but tastes even better than the original.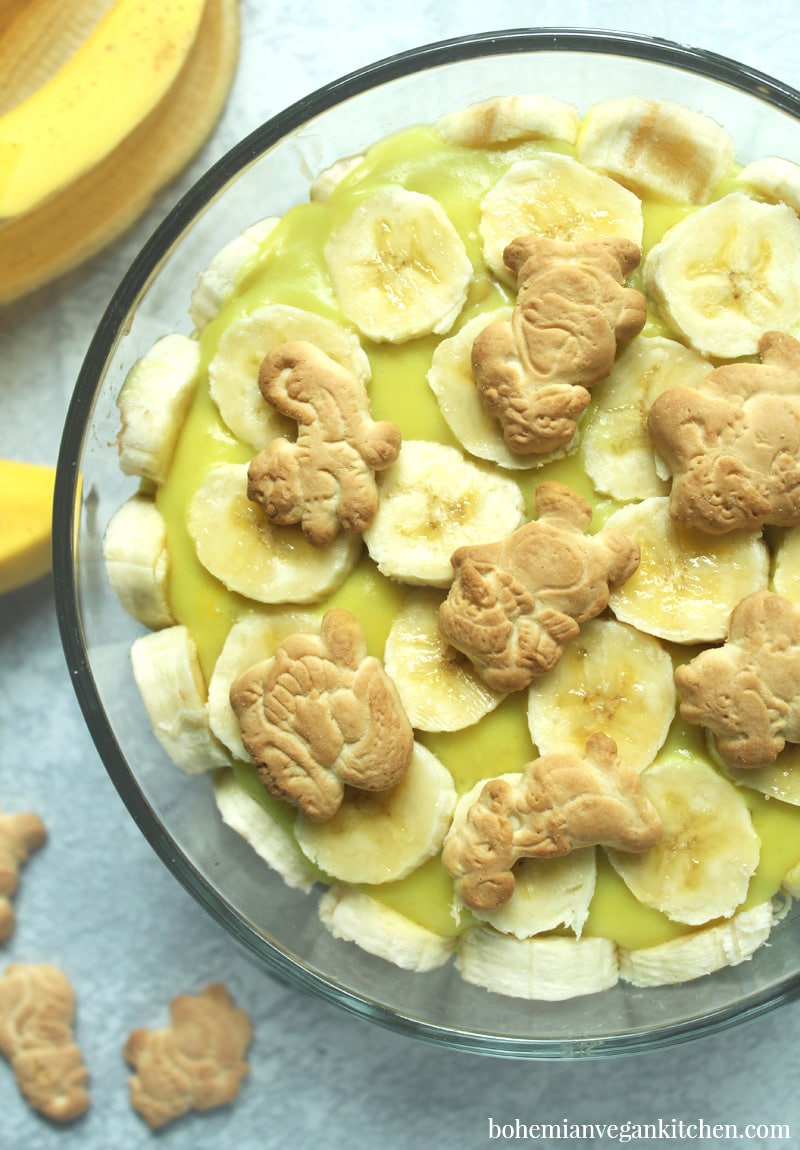 Vegan banana pudding that's actually healthy!
What's more is that this vegan banana pudding is a great alternative for those who have sensitive kids too, because it doesn't contain artificial colors and preservatives like your average JELL-O box does.
My son is especially sensitive to chemical dyes and excess sugar, so I'm always trying to brainstorm ways he can indulge naturally. Making this pudding means he gets to relish in a the joys of summertime treats, as well as get the healthy benefits of using real bananas (which includes plenty of potassium, fiber, B6, vitamin C, PROTEIN, magnesium, and more*).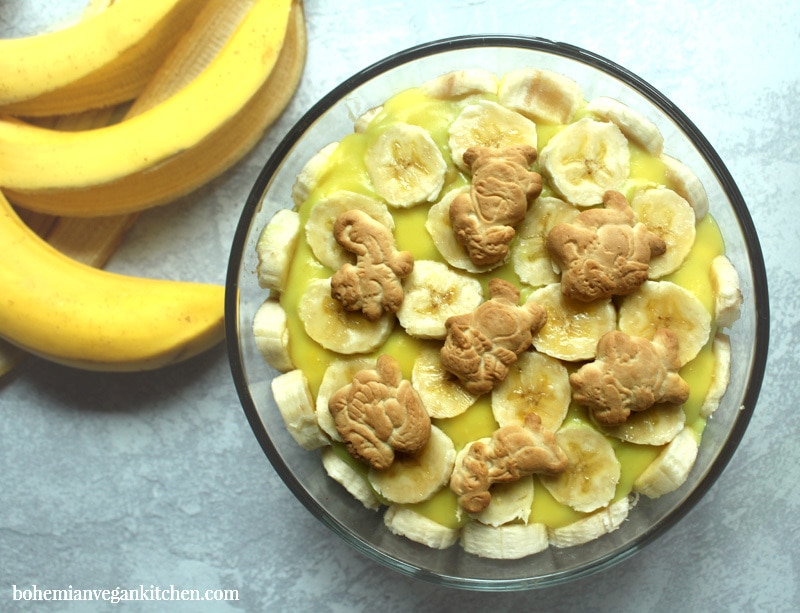 Perhaps the best part is that this dairy-free banana pudding takes only 10 minutes to make from start to finish, giving you one more reason to NEVER USE THE BOX AGAIN.
Layer it in a serving bowl with sliced bananas and animal crackers (see more on this in the allergy info section below) or eat it naked.
I mean the pudding silly, but I'm not here to ask questions.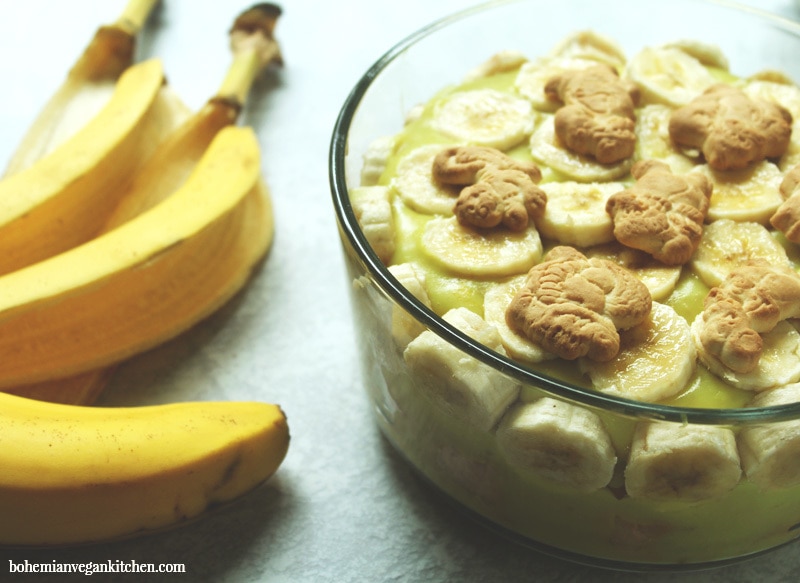 Allergy-Info & Substitutions
This banana pudding is 100% vegan, meaning it is meat-free, dairy-free, and egg-free. It is also naturally nut-free, soy-free, and nightshade-free.
Make it gluten-free banana pudding by switching out your cookies for animal crackers that are gluten-free (and hopefully vegan) friendly. Or just leave them out altogether and relish in the heaven that is naked pudding. Ohhh yeahhh.
Make it coconut-free by using almond milk instead of coconut milk, although keep in mind this may change the texture.
Want another healthy pudding recipe? Check out my delicious "Raw Chocolate Avocado Pudding" by clicking here.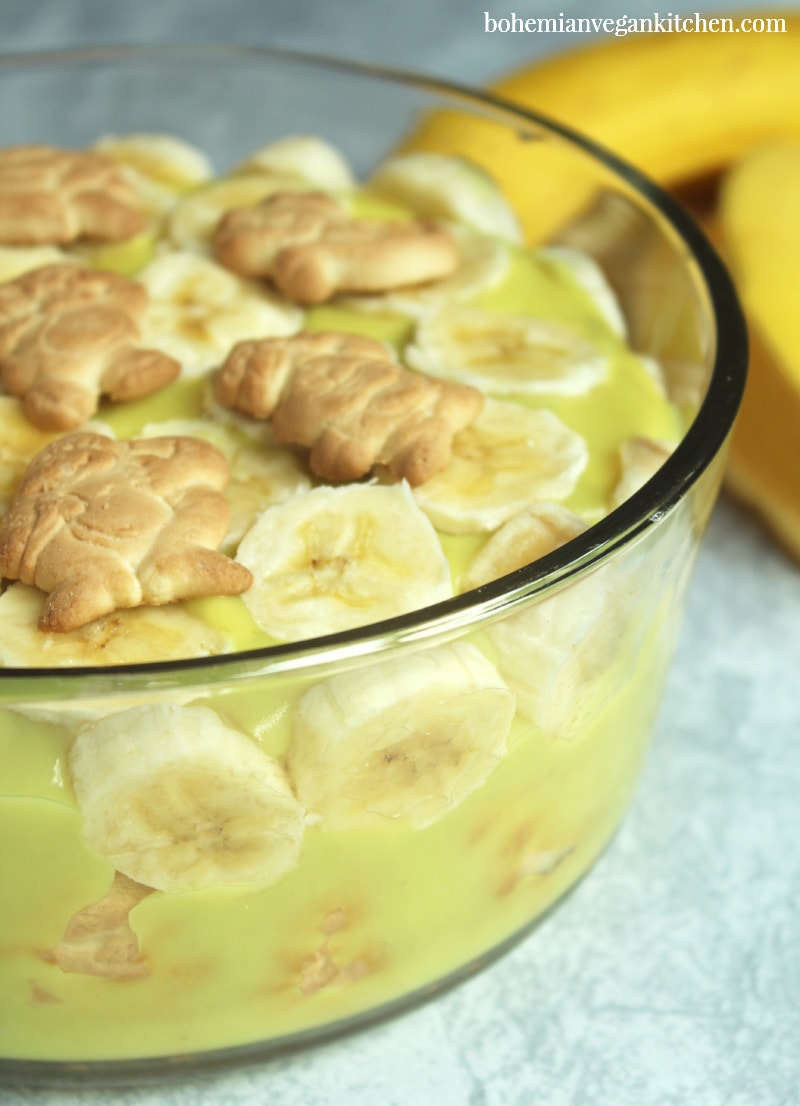 Dairy-free banana pudding is simple to pull together, but this version utilizes the natural sweetness of bananas and maple syrup as a healthy alternative to processed sugars, plus contains NO artificial coloring like traditional boxed banana pudding. Make it gluten-free (and 100% cruelty-free!) by using gluten-free + vegan animal crackers instead of traditional vanilla wafers.
Healthy Dairy-Free Banana Pudding (Refined Sugar-Free!)
Instructions
Whisk all the ingredients in a medium saucepan. Heat on medium high, and whisk continuously until pudding begins to thicken, about 5 minutes. Remove from heat.

Line animal cookies in a medium glass serving bowl; pour in half of your pudding mixture. Layer banana slices and more cookies on top (may also line edge of bowl with banana slices if desired). Pour in remainder of pudding. Top with more banana slices and cookies.

Refrigerate at least one hour before serving, so the cookies become soft and chewy.
Tried this recipe? Tell me about it + share!
Comment and let me know how it was! Then follow BVK on Pinterest @bohemianvegankitchen
Share this recipe with a friend by Email
Pin It!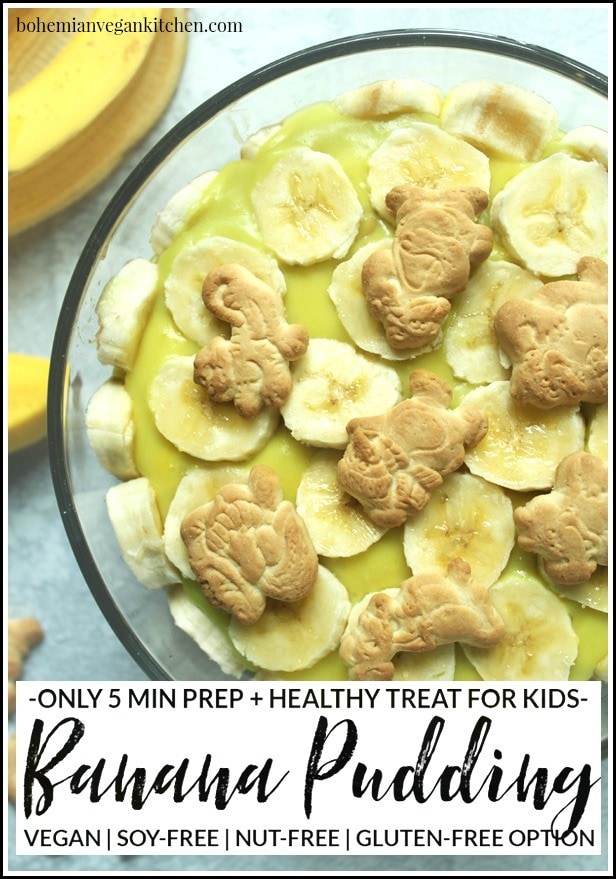 I hope you get a chance to whip up this delicious treat, and sing a little Gwen Stefani while you're at it too: "This s*** is bananas, b-a-n-a-n-a-s…"
Thank you for taking the time to invest in your health and happiness!