I am addicted to cooking shows.
Watching people brainstorm creative dishes and confections on the fly, the sweat beading up on their foreheads as they try to assemble a profiterole tower in less than 60 minutes, the judges adding critical commentary from the sidelines, the sound of screeching violins when someone drops a cookie on the floor.
Not to mention the interviews with contestants that usually go something like: "I was going to do (insert idea here), but now I'm going to have to (new plan) and hope the judges don't notice."
The judges always notice.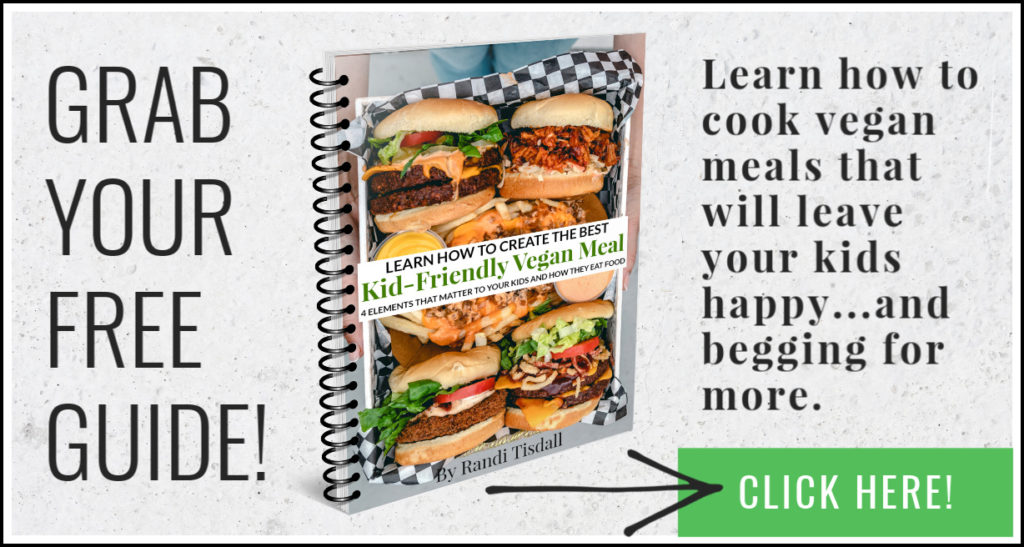 Recently, I was watching Masterchef season 10, and they were down to just 4 contestants, which they flew to London to cook at Buckingham Palace. And amidst the already anxiety ridden main heat, in which chefs were cooking venison frantically over hot stoves, the guest judge says, in the most pompous stereotypical London accent btw, "you know what would be great with this? A trifle."
Whereupon Gordon Ramsey himself announces to his victims that they must now create a traditional trifle on top of their already complicated dish.
Let's just say, things got crazy.
"I'm just so worried about the trifle!", exclaimed the guest judge, who was looking genuinely worried by this point, as if it wasn't her idea to begin with.
Oh cooking shows, how I love thee.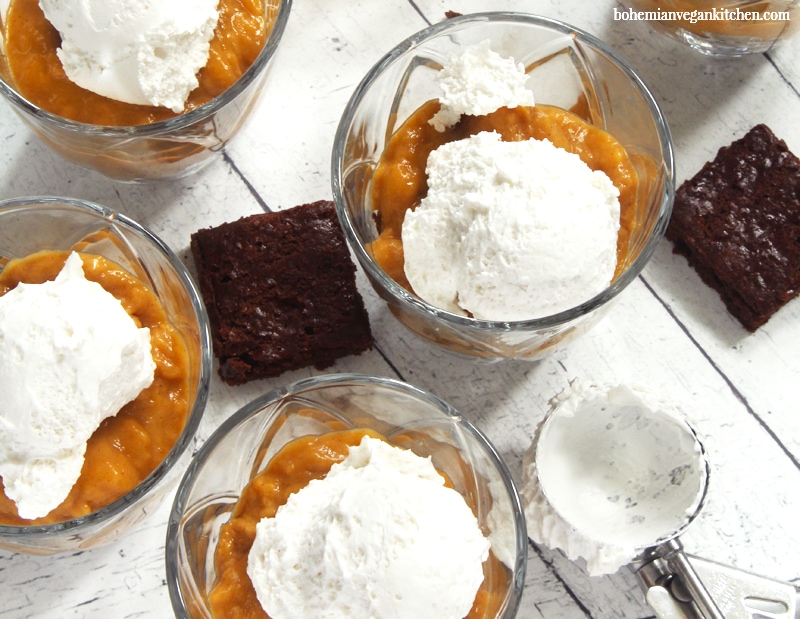 But laughter aside, I also genuinely love trifle. But not necessarily the traditional English trifle, but more of the I'm-American-so-I'm-going-to-make-it-any-way-I-darn-please trifle.
Which means chocolate.
And pumpkin.
And by God, coconut whipped topping with a sprinkle of pumpkin pie spice for good measure.
It's glorious.
It's also the best way to spend your holiday afternoon or Thanksgiving day. Seriously, forget the pumpkin pie this year and just have this easy vegan pumpkin trifle, which uses my delicious vegan pumpkin brownies and this simple pumpkin pudding.
The whole thing can be prepared in less than 20 minutes, and then you just have to let the pumpkin pudding chill in the fridge to work it's pudding magic.
I guarantee that "I'm just so worried about the trifle!" will never cross your lips.
Spice up your Thanksgiving with this delicious vegan trifle
Served in glassware or a baking tray for Thanksgiving, this vegan trifle is sure to wow your guests and become tradition in the years to come.
The first time I ever heard of a trifle was while watching the Thanksgiving episode of Friends, in which Rachel accidentally combines a recipe for traditional English trifle with a Shepard's pie. The entire episode was spent with everyone trying to ditch the trifle without letting Rachel know it was terrible, only to find out Joey was secretly going around eating all of the hidden trifles. Classic.
But you won't have to worry about guests ditching your trifle on Thanksgiving day when it's this damn good.
For this vegan trifle I made pumpkin pudding using coconut milk powder from Healthworks, which is a fabulous thing to have if you don't keep coconut milk stocked in your pantry. It's like powdered milk but better. You can whisk up a cup of coconut milk on the fly, or use a tablespoon or two in your baking.
Kids go crazy for this vegan trifle with whipped topping
My kids seriously love this trifle and they could eat it all day long, without question. The thick layer of pumpkin brownies, the smooth pumpkin pudding, and the dollop of whipped topping make them go crazy.
Of course, my kids would eat whipped topping off the floor if given the chance.
No seriously, I remember 2 Thanksgivings ago when (as per tradition), my husband and I were gearing up to have whipped topping in our coffee that morning. Well, one slip of the hand and kerplunk- over tips the coconut topping straight onto the kitchen floor.
Immediately following a NOOOOOOOOO sound escaping from my daughter, who was really looking forward to convincing us to just let her dip her whole hand into the tub because "it's a holiday".
Instead, she grabbed a spoon and started eating off the floor, which is the kid equivalent to "eff it". Also the behavior of a serious addict, but we'll ignore that.
Pretty soon my son jumped in because sister was "hogging the floor topping" and then my dog came in and took care of it. She's cool like that.
Point is, of course my kids love whipped topping, even off the floor, but they ESPECIALLY love it when I put it in an actual bowl.
I hope you get a chance to make this moan-worthy vegan trifle, but please, don't spill the coconut topping.

Allergy-Info & Substitutions
Special thanks to Healthworks brand coconut milk powder for partnering with me to bring you this recipe!
I hope you enjoy this amazing vegan trifle! Make sure to share your creation with me on Instagram by tagging me @bohemian.vegan.kitchen + using the hashtag #bohemianvegankitchen.
Forget the pumpkin pie this year and have this simple vegan trifle instead! Loaded down with thick layers of fudgy pumpkin brownies, creamy pumpkin spiced pudding, and smooth coconut whipped topping, this trifle is sure to wow your guests this Thanksgiving!
Festive Pumpkin + Chocolate Vegan Trifle
Instructions
Begin by making the vegan pumpkin brownies, recipe found by clicking here. These only take 10 minutes to prep and 15 minutes to bake. While brownies are baking, begin making the pumpkin pudding: in a medium saucepan on the stove, whisk together dry ingredients. Add wet ingredients, whisking as you go until combined well. Heat on medium high, continuously stirring until pudding begins to thicken and bubble. Remove from heat.


Transfer pumpkin pudding to a medium glass bowl and cover with plastic wrap (if you want to prevent a "skin" on top, make sure the wrap is touching the top of the pudding). Refrigerate for 4 hours, or overnight.


Once pudding has set, you can assemble the trifle, my favorite part! For individual servings (as pictured), divide even amounts of cut pumpkin brownies between glasses. Top with pumpkin pudding, and a scoop of coconut whipped topping. Sprinkle lightly with pumpkin pie spice for a stunning finish. See notes for a presentation when preparing this for parties.

Notes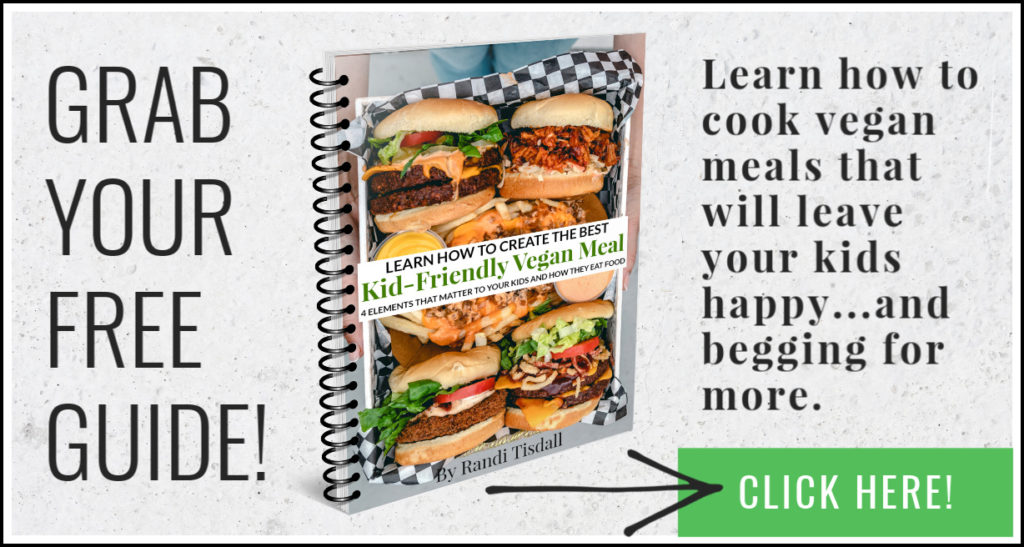 *This vegan trifle uses coconut milk powder in the pumpkin pudding, which adds a delicious flavor and is great to keep on hand for baking. However, you can also leave out the coconut powder and just use almond milk (or another plant-based milk of your choice) if you do not have access to coconut powder. That means that you'll nix the coconut powder + water, and just use a plant-based milk for the liquid measurement.
**Want to make this for a large gathering? Transfer brownies to a baking dish (or remove parchment paper if you used that to bake the brownies) and top with pumpkin pudding, spreading evenly across the brownies. Top with coconut whipped topping and spread evenly across the pudding. Sprinkle lightly with pumpkin pie spice, if desired. When doing this, I highly recommend doing this a few hours before your party, to ensure your brownies don't end up soggy. Traditional English trifle soaks the sponge in alcohol, so doing this a few hours ahead of time may bring a delicious texture that resembles the classic dessert.
***Need trifle cups? Get yours by clicking here.
Tried this recipe? Tell me about it + share!
Comment and let me know how it was! Then follow BVK on Pinterest @bohemianvegankitchen
Share this recipe with a friend by Email
Pin It!
Thank you for taking the time to invest in your health and happiness!