Three words: Stranger. Things. Cupcakes.
Any fan of Stranger Things can tell you why this series rocks, but when you have 15 year old daughters who are super fans? Well, you get an earful and then some.
You also get specific instructions when it comes to what type of cupcakes they want for their birthday, hence these Stranger Things cupcakes in both classic vanilla Joyce Christmas lights and chocolate Upside Down (complete with Mind Flayer black ooze…R.I.P. Barb).
Because if you're going to celebrate a birthday and pay homage to this cult Netflix show, you have to do it right.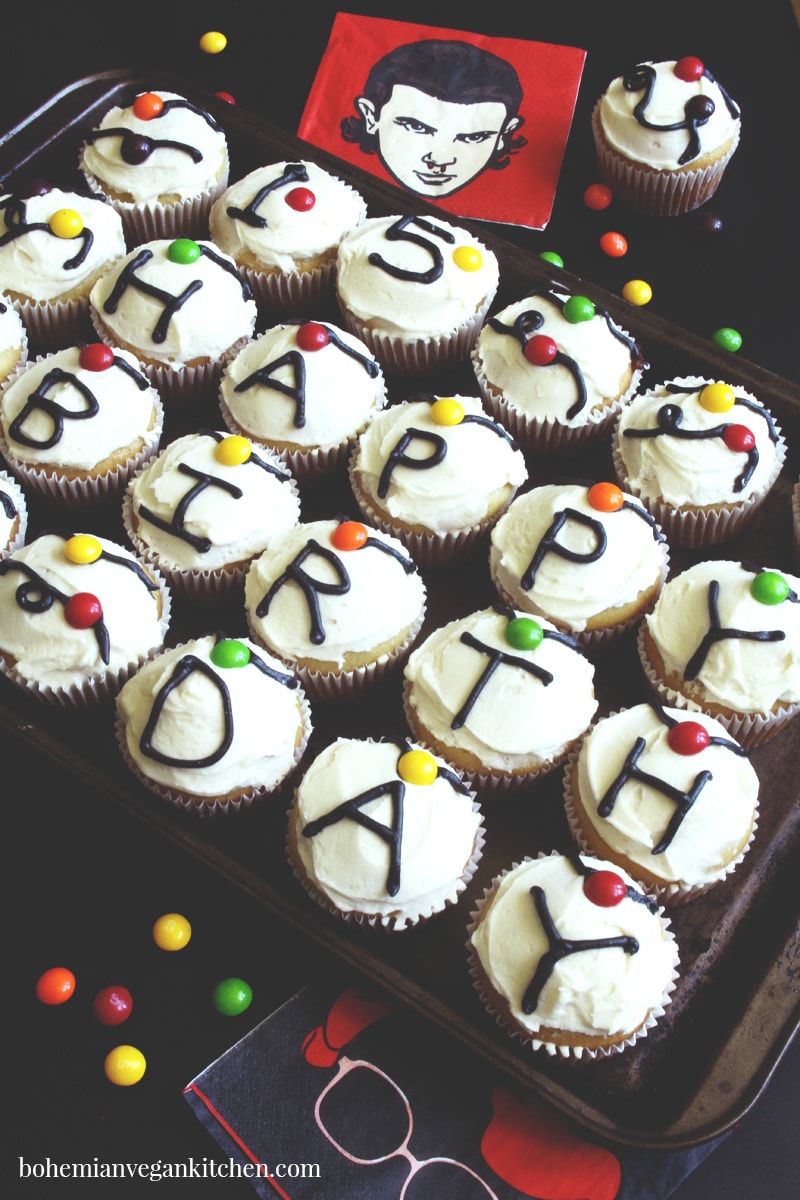 Stranger Things: from beloved show to vegan cupcake
There is so much appealing imagery from this show that it is destined to be made into cake.
I fell in love with Stranger Things back in season one, but of course, who didn't? Eleven with her mind powers, buzz cut, and Eggo cravings was enough to charm the pants off anyone. But add in the 1980's retro theme + a killer missing child mystery and millions of people became immediately hooked.
Also, Winona Ryder trying to communicate to her son through Christmas lights? Genius.
Flash forward to season 3, and fans went crazy over the July 4th holidays.
Particularly myself, because the entire season was basically at the Starcourt mall, the shooting location being at the same mall I grew up visiting, from trick or treating at age 4 to my first 2 jobs and many, many teenage visits. Yup, the secret Russian base was apparently right below me the entire time. Who knew?
So, when it came time for my twin daughters 15th birthday, I was thrilled that they wanted to take one of my favorite shows and turn it into CAKE. The only thing was, which imagery would we use?
1980's themed? Starcourt Mall themed? Waffles? Russians? Neverending Story? Half smoked cigarettes? (just kidding on that last one y'all.)
After many, MANY conversations and conceptualization discussions, we decided on two contrasting images: the real world and the upside down. We just couldn't resist the Christmas lights!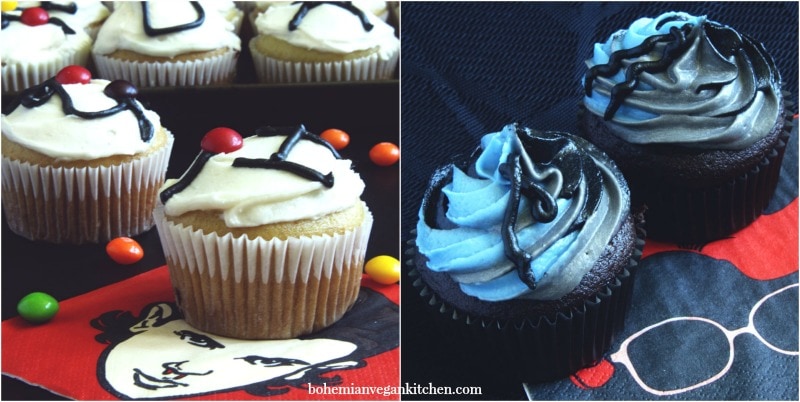 Below you can read about how I actually put these together, without the use of cake toppers or fondant circles. This ain't Cake Boss after all.
How to make vegan Stranger Things cupcakes
These cupcakes are super simple to make vegan, even though that term didn't really exist in the 1980's.
It starts with a classic vegan cake recipe, in both chocolate and vanilla, which you can find by clicking here. I decided to do two batches of 24 cupcakes because of two reasons: 1, the contrast between vanilla and chocolate work well with the theme within the show, the vanilla being the "real world" and the chocolate being the "upside down", where everything is dark and apparently filled with black ooze and ash.
But since I didn't want straight ashes on my cupcakes, I left that part out.
Reason 2 for such a large amount is because we had enough mouths that 48 covered it nicely. But if you DON'T want that many cupcakes, feel free to half each batter.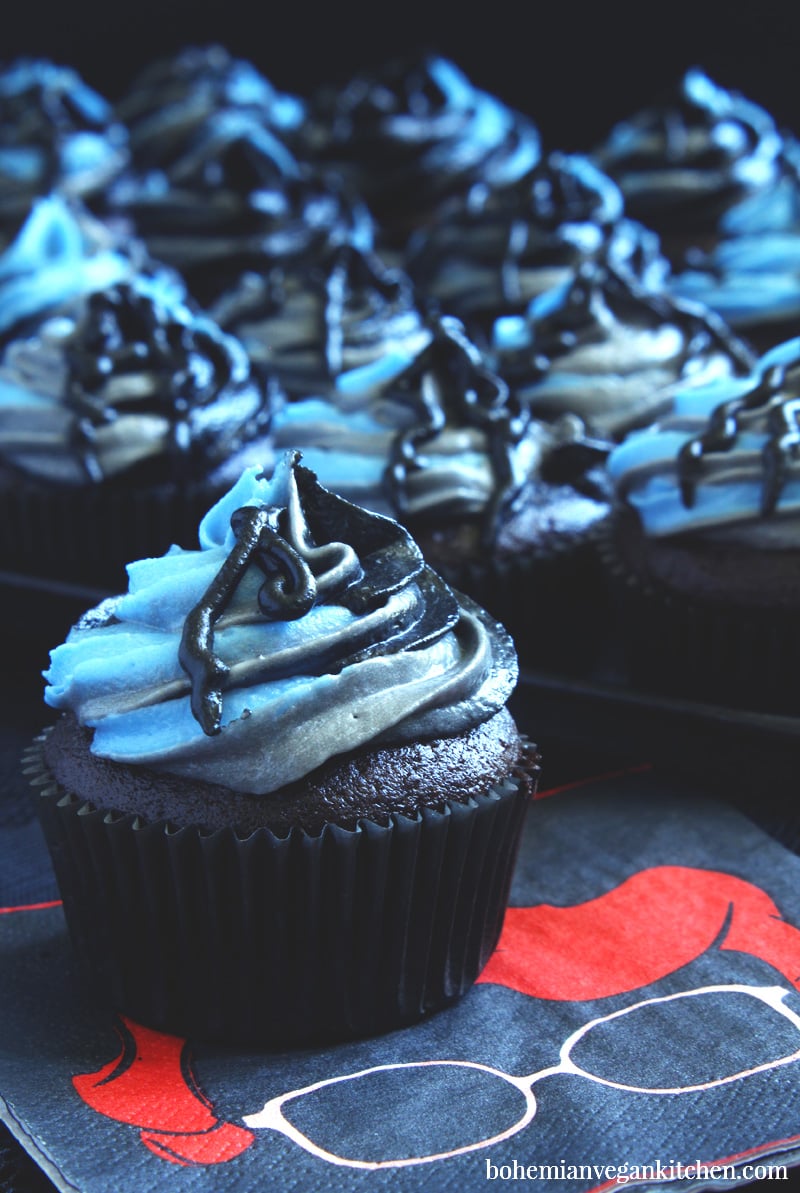 The next piece to this Stranger Things confection has to do with frosting and decorating. For the frosting, I used my recipe for vegan buttercream, which you can find by clicking here. I then colored it with natural food dyes: charcoal and McCormick's all-natural blue powder.
To color, make sure you start with enough icing. I made 2 batches of my buttercream, to make sure it would cover both sets of cupcakes. It's better to have too much than not enough, and you can store any leftover frosting in the fridge for up to a week to use for something else.
For decorating, I relied partly on my artistic skills as an amateur piper, and partly on Skittles candy. Skittles, while not colored with natural dyes, are made vegan and a good cheat for the Christmas lights.
I also used a number of tools for this, including a standard piping bag and a 3-color piping bag with an extra large tip (links below). This helped me achieve the swirl effect with black, gray, and blue frosting. I HIGHLY recommend though that you watch this quick video below before you try to ice with a 3-color piping bag, especially if you haven't done it before.
The first time I tried to use a 3-color piping bag I didn't do it correctly, and let's just say that it is the most enraging thing ever when you have 3 bags of icing oozing out of the end because you can't screw the cap on properly. #lessonlearned
Lastly, I suggest breaking this task up to make it easier to execute without becoming totally exhausted. You can either bake the 2 rounds of cupcakes one day, frosting the next, OR bake the cupcakes early in the morning and frost late afternoon/early evening.
You can keep these stored container-free in your fridge for up to a day, but I wouldn't make these too far in advance. Set out on the counter to allow frosting to soften for about 15 minutes before serving.
I hope you make these Stranger Things cupcakes, either for a birthday party or Halloween!
Allergy-Info & Substitutions
The Stranger Things cupcakes are 100% vegan, meaning they are egg-free and dairy-free. They are also naturally soy-free when using soy-free Earth Balance butter.
Make them gluten-free by using a 1 to 1 GF flour, such as Bob's Red Mill. Instructions for this are also included in the cake recipe linked below.
Can't do nuts? NO problem! For the buttercream frosting, switch out the almond milk for another plant-based milk of your choice (such as soy or coconut), OR simply use filtered water. Using water will not dramatically affect the taste.
Make sure to grab your piping bag set here, plus the 3-color piping set here.
Want another cupcake recipe for Halloween or a birthday party? Try these chocolate coffee cupcakes with pumpkin pie frosting by clicking here.
I hope you enjoy these amazing cupcakes! Make sure to share your creation with me on Instagram by tagging me @bohemian.vegan.kitchen + using the hashtag #bohemianvegankitchen.
Geek out at any birthday party or Halloween gathering with these easy Stranger Things cupcakes! Naturally vegan, these cupcakes come in classic vanilla Joyce Christmas lights and dark chocolate Upside Down (R.I.P. Barb). Sure to satisfy both vanilla and chocolate lovers!
Vegan Stranger Things Cupcakes
Ingredients
For the cupcakes:
Instructions
First you need to make both batches of cupcakes. I used my classic vegan birthday cake recipe for these, which you can get by clicking here. For the chocolate cupcakes, follow the directions for the cake recipe, and divide the batter into 24 black baking cups. Bake at 350° for 15 minutes. For the vanilla cupcakes, follow the same recipe, but omit the cocoa powder and increase the flour by ½ C. Divide into 24 white baking cups and bake at 350° for 15 minutes. Allow both batches of cupcakes to cool before frosting.


To make the frosting for the vanilla cupcakes (Christmas lights): Follow instructions for this vegan vanilla buttercream by clicking here, but omit the blue dye. Once you have your vanilla buttercream frosting made, ice all 24 vanilla cupcakes, reserving at least 1 C of frosting for the black icing. To make black icing, in a small bowl, mix frosting with charcoal powder until you receive the desired tone (approximate ratio is 1 C frosting to 1 tablespoon charcoal powder). Load standard piping bag with black frosting and pipe letters and Christmas lights string onto cupcakes. Use skittles as Christmas light bulbs.


To make frosting for the chocolate cupcakes (the upside down): Follow instructions for this vegan vanilla buttercream by clicking here, but do not add the blue dye in the whole batch. Divide buttercream frosting between 3 bowls. Make the first bowl black frosting by adding charcoal powder until you reach desired tone. Make the second bowl gray frosting by adding a little less charcoal powder until you reach desired tone. Make the third bowl blue icing by using McCormick plant-based blue powder, until you reach desired tone. Load up your 3 color piping bag and make sure you watch the video in post to do this correctly. Ice all 24 chocolate cupcakes. If you have some black frosting left over, you can add little black squiggle lines for "mind flayer" touches.

Tried this recipe? Tell me about it + share!
Comment and let me know how it was! Then follow BVK on Pinterest @bohemianvegankitchen
Share this recipe with a friend by Email
Pin It!
Thank you for taking the time to invest in your health and happiness!