Pre-vegan, I was always that person who ordered potato soup at restaurants.
Yup, while everyone else was ordering steak or hamburgers or chicken fingers, I was the one in the corner slurping down on some soup without shame. And if we went somewhere that had a soup BAR, you bet your britches I was up there, trying every soup they had.
Sure I got a lot of eye rolls from those who dined with me, but it was worth it, damnit.

Because going out to eat is usually about pleasure. And for me, the ultimate pleasure food was a good soup, preferably loaded down with a hefty amount of starch, bacon bits, and cheddar cheese. Mmmmmmmm.
Bookstore cafes, table service restaurants, fast food establishments; any place that had soup, I was all in.
Problem was, after I went vegan I realized that basically ALL of these places used chicken broth as their potato soup base. If they did have vegetable soup, beef broth was lurking in the ingredients. And on the extreme rare occasion that I found veggie based soup on the menu, I would become super disappointed by the blandness + salt overload that was trying to make up for the lack of flavor.
Not to mention that it was probably sitting out for hours before I ordered it…ew.
That meant it was goodbye soup when it comes to dining out.
But that's okay with me, because making it at home is WAAAAYYYY better anyway.
Nowadays, when I get a craving, I like to satisfy my need with delicious homemade soup, like this simple vegan baked potato soup. It's so good you guys, I'm OBSESSED with this stuff!
Kids love vegan baked potato soup!
The best part about me being a soup fanatic is that 2 out of 3 of my kids are also soup fanatics (the 3rd child is just weird). And this baked potato stew is the perfect way to satisfy anyone with a soup addiction, (normal) children included.
Yup, there's plenty of starchy potatoes, but this time I've chosen to use a delicious melty vegan cheddar cheese and my healthy homemade vegan bacon bits as toppings. You get the best of both worlds and an impressive soup that is perfect for families or any house guest on a chilly winter evening.
And if you like feeling super fancy, you'll love the use of ramekins here. By baking the soup in these mini oven cups, you elevate this dish by giving each guest their own bowl to chow down on.
My kids love this because they feel like they're in their own little restaurant. Only this time I don't mind how loud they get.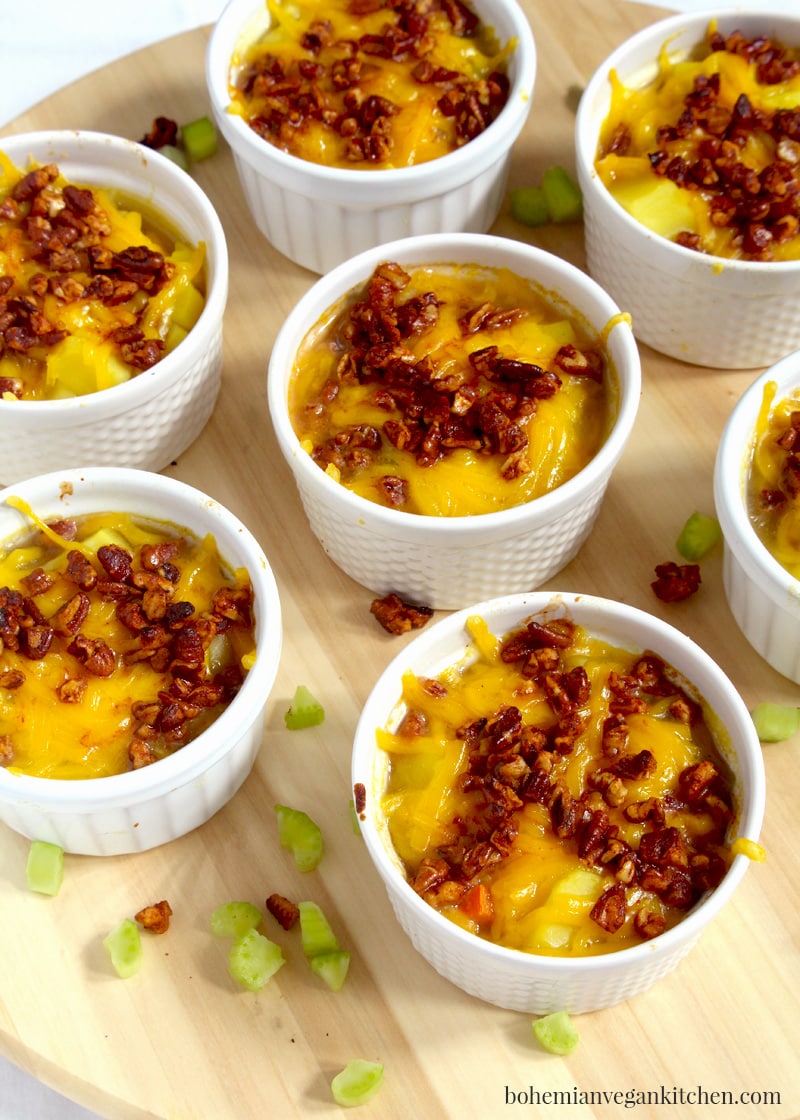 What's more is that this potato soup is naturally gluten-free, and can be adjusted to fit anyone's allergy needs. See the "allergy-info & substitutions" section below for more.
I love this soup as is, but you can also take it to the next level by adding things like sliced green onions, chives, or vegan sour cream post oven. Treat it like a baked potato and let your stomach do the talking.
I hope you give it a go, and let me know what you think in the comments below!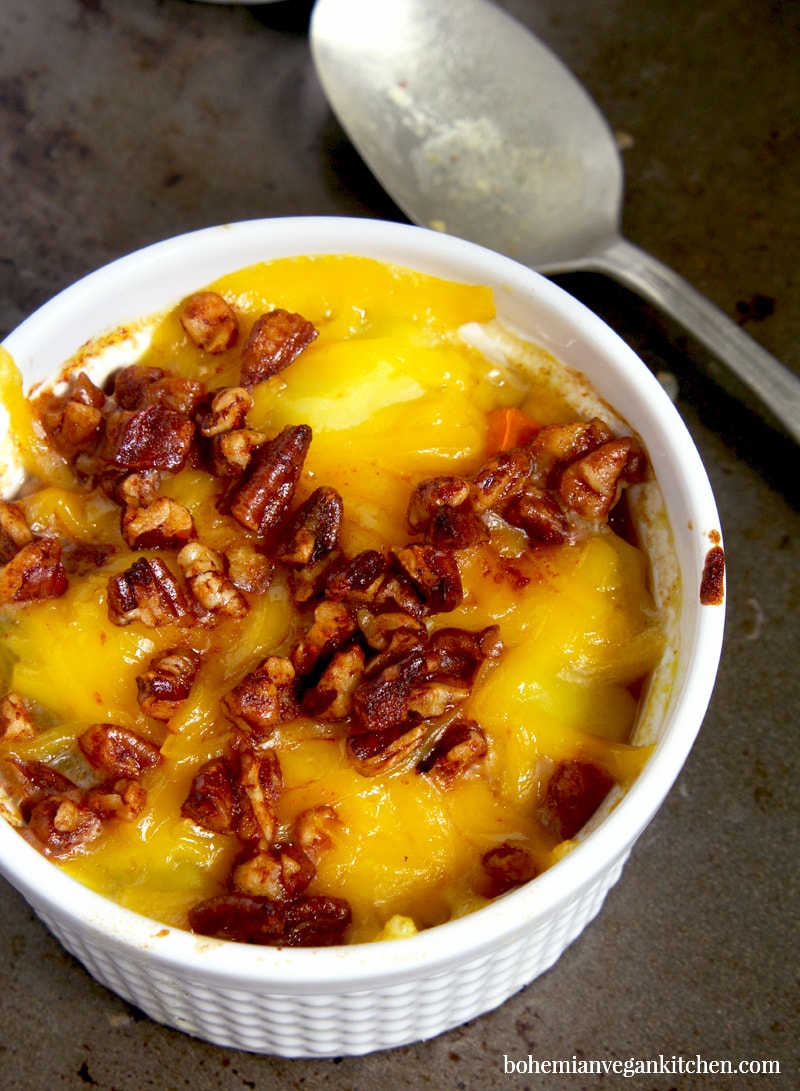 Allergy-Info & Substitutions
This baked potato soup is 100% vegan, meaning it is meat-free, egg-free, and dairy-free. It is also naturally gluten-free.
Can't do white potatoes? Use sweet potatoes for a nightshade-free option.
I love using my homemade vegan bacon bits, which you can find by clicking here. Although if cannot tolerate nuts and want to use another vegan bacon of your choice, that's okay too!
I used Daiya cheddar cheese shreds in this recipe, but you can use whatever cheese you desire.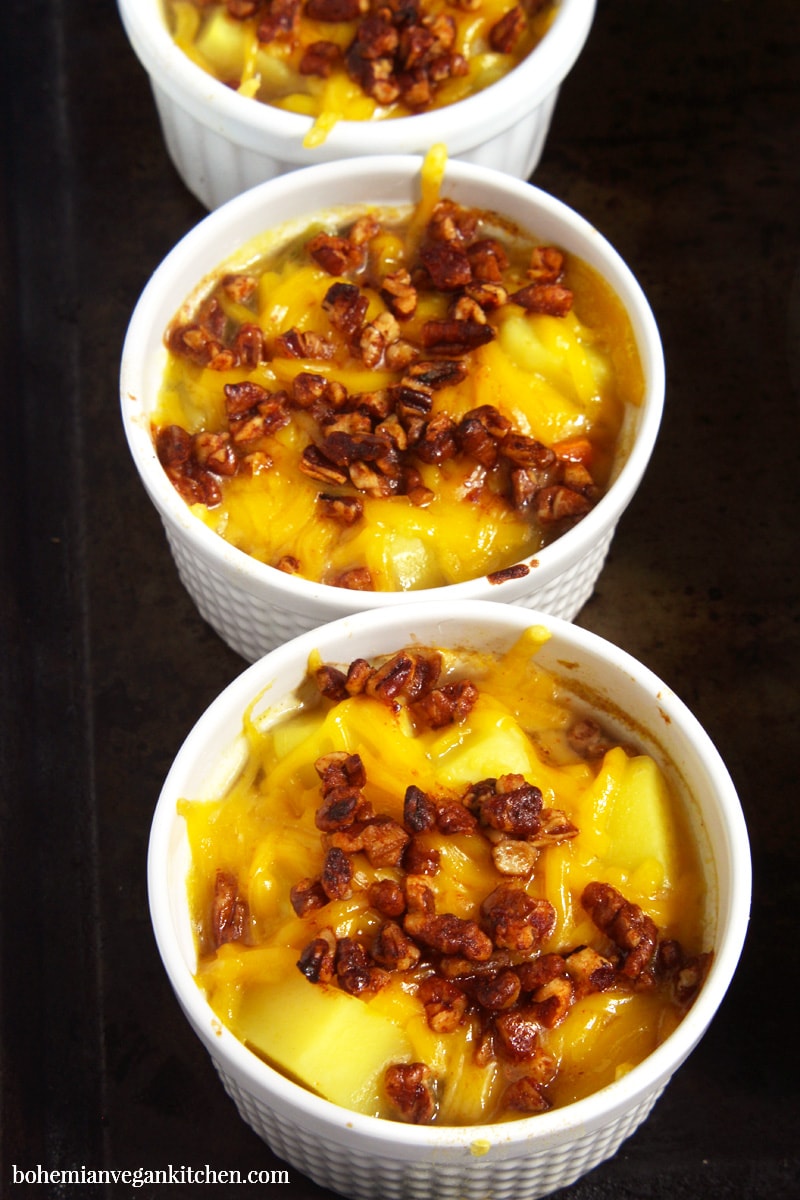 Vegan Baked Potato Soup
It's easy to become obsessed with this vegan baked potato soup, which is loaded down with melty dairy-free cheese and healthy homemade bacon bits! A snap to make, this soup is perfect for families and soup addicts, as each person gets their very own ramekin. Naturally vegan, this soup is meat-free, dairy-free, egg-free, and gluten-free.
Ingredients
1

onion

diced

3

carrots

peeled and diced

3

celery stalks

diced

3

lbs

gold potatoes

peeled and diced

2.5

vegetable bouillon cubes

5

cups

filtered water

cheddar cheese

I used dairy free

vegan bacon bits

salt and black pepper

if desired

12

ramekin cups

optional
Instructions
Add vegetables, bouillon cubes, and water to a large soup pot. Bring to a boil, and simmer on medium high for 30 minutes, or until vegetables are fork tender and the potatoes have broken down a touch. Meanwhile, mix together ingredients for your vegan bacon bits (click here for recipe), but do not pre-bake them. I like to use small chopped pecan pieces for this recipe.


Preheat oven to 400° F. Once soup is cooked through, divide soup between ramekin cups (this recipe should work for 10-12 cups, depending on the size of your ramekins). Line a baking sheet with the cups for easy oven removal.

Top each cup of soup with a handful of Daiya vegan cheddar cheese and a sprinkle of the vegan bacon bits mixture. Bake for 10 minutes, or until cheese is melted and the bacon bits are slightly browned. Let cool for 1-2 minutes before serving.

Notes
This potato soup also tastes amazing with sweet potatoes instead of gold potatoes.
Dairy free cheese is optional, use the cheese of your choice.
If you don't want to use ramekins, you could always mix the cheese into the soup pot and then top with baked vegan bacon bits.
Nutrition Information
Calories:
100
kcal
|
Carbohydrates:
22
g
|
Protein:
3
g
|
Fat:
1
g
|
Saturated Fat:
1
g
|
Polyunsaturated Fat:
1
g
|
Monounsaturated Fat:
1
g
|
Sodium:
165
mg
|
Potassium:
542
mg
|
Fiber:
3
g
|
Sugar:
2
g
|
Vitamin A:
2555
IU
|
Vitamin C:
24
mg
|
Calcium:
24
mg
|
Iron:
1
mg
Tried this recipe? Tell me about it + share!
Comment and let me know how it was! Then follow BVK on Pinterest @bohemianvegankitchen
Share this recipe with a friend by Email