Getting kids to eat a healthy breakfast can be difficult.
I mean, one trip down the cereal aisle with children is enough to make me go insane. No, we are not getting "frosted" anything. Those puffs are LITERALLY nothing but sugar. Look, put down the chocolate crispies or else. And when you're outnumbered 3 to 1, getting everyone to agree on plain bran cereal is close to impossible.
Enter this vegan breakfast sausage, which is something everyone can agree on without throwing a temper tantrum.
Because when you get to enjoy a classic breakfast with a vegan spin, everybody wins. These meat-free sausages are made using lentils, rolled oats, and ground flaxseed as the base, then mixed with a collection of sausage-worthy spices to bring the flavor on point. It's seriously the best vegan breakfast sausage recipe EVERRRRRRR.
(And if you like this healthy vegan breakfast, you can also check out my amazing savory oatmeal recipe and the ultimate vegan omelette.)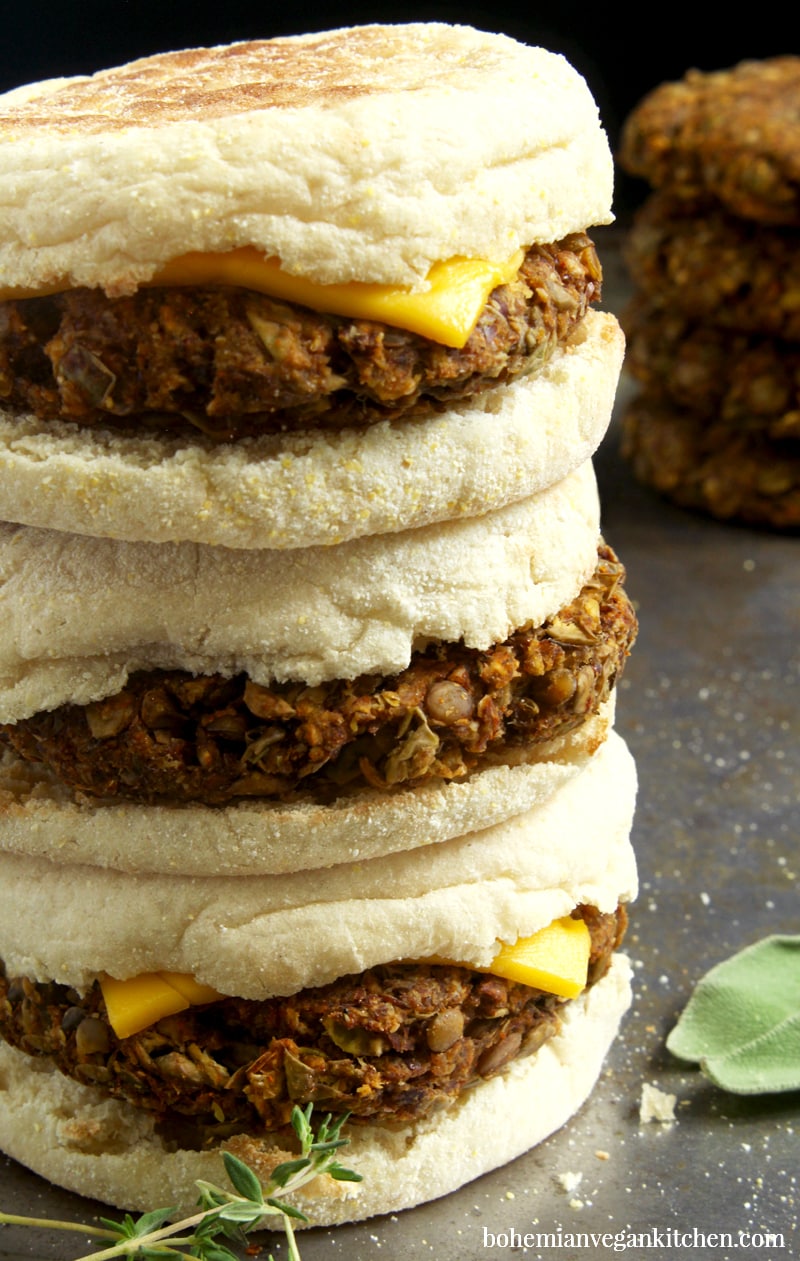 "Wonderful recipe! We love the fennel, maple syrup, cayenne– well, EVERYTHING! I made a double batch for quick breakfasts for the week! Thanks for sharing this recipe!" -Sherry
"I am sold on these breakfast sausages…" -Stefani
[convertkit form=1787489]
A vegan sausage muffin that's actually healthy
Perhaps my favorite thing about these vegan breakfast sausages is that they're actually healthy.
When I was a kid, I would beg my parents to pretty please take me through the breakfast drive-thru so I could get a sausage and cheese muffin, which was loaded with sugar and God knows what else. Even though eating one would send my stomach into convulsions and sometimes I would crash from a sugar coma before 10 am, I still wanted them.
Food can be one crazy drug.
But now, I can actually enjoy my sausage muffin, because I control what goes into them. No crazy amounts of sugar or chemicals that make my stomach do back flips.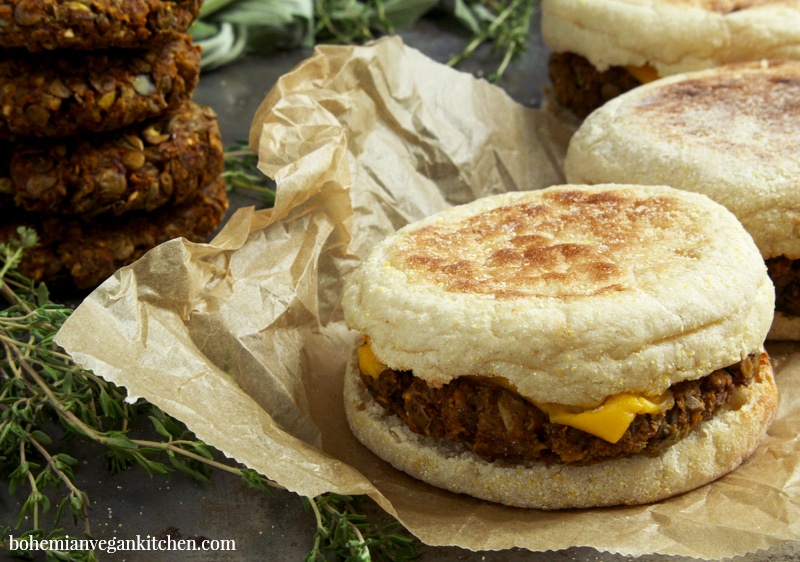 I love using lentils as the main base for these sausages, since they are easy to work with + easy to manipulate the flavor. Plus, lentils are a good source of vegan protein, making this sausage muffin a healthy breakfast choice.
What's more is that my kids LOVE sausage muffins, so a batch of these will keep their tummies satisfied.
"This recipe is the truth! It's sooo good, smells amazing & not time consuming! Loved it sooo much!" – C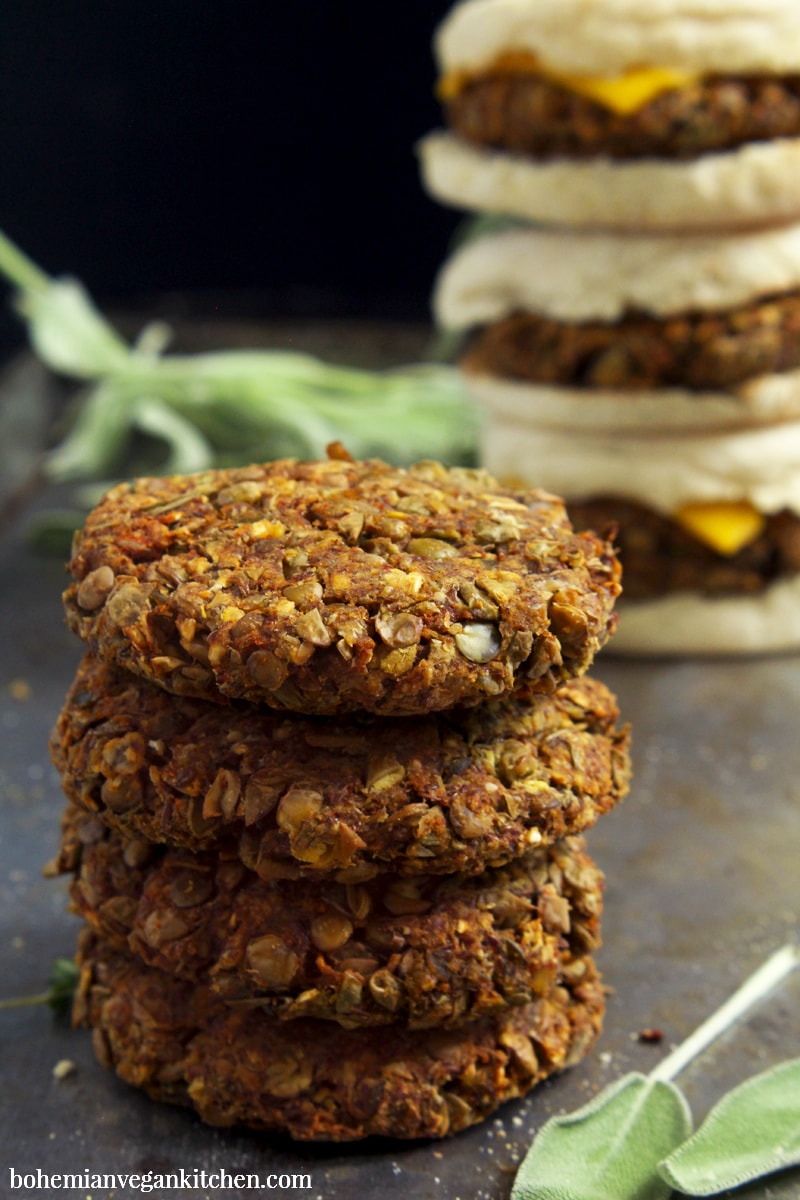 This vegan lentil sausage recipe is easy to make and use all week long
So the next time you're battling your children in the cereal aisle, forget the boxed junk and make some of these instead.
They're a snap to pull together, taking only 20 minutes to boil lentils + 15 minutes to bake. Store in an air-tight container in the fridge so your kids can access them all week long.
And if you really want to take it to the next level, you can make a double batch of these and freeze individually-wrapped patties. Defrost with a quick reheat in a non-stick skillet. You're welcome.
"I froze my batch. They were perfect when reheated on a skillet for a few minutes. I just recommend covering the pan so the inside of the patty warms up. Really delicious with avocado on an English muffin! And seriously these are so much more wholesome and cheap than the frozen pre-made veggie patties from the store. Really loved this recipe." -Kayla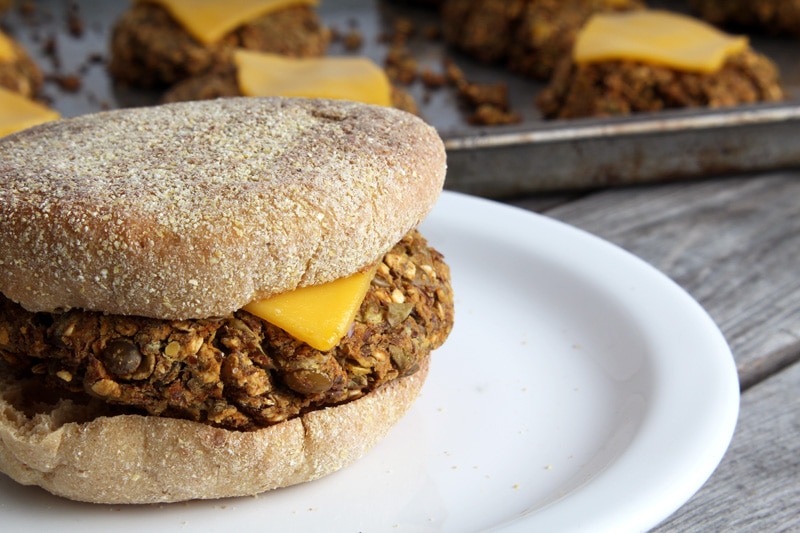 Frequently Asked Questions
Do you really need 1 cup of ground flaxseed for this recipe?
YES. I know, it seems like a lot, right? But the flaxseed is part of the magic of this recipe. It not only works with the lentils to help bind the patties together, but keeps these patties healthy + gluten-free.
Let's talk lentils. Can I use canned lentils or green lentils? And do I need to drain the lentils before adding to the bowl?
The lentils in this recipe are important because they provide the moisture that helps keep these patties wet enough to shape into patties. You can use any variety (even canned), but just keep in mind that this could change the texture, taste, and consistency of the mixture. I've made this recipe countless times, and this is why I always boil brown lentils from scratch– the lentils are the perfect texture and contain enough moisture to shape into firm patties.
My sausage patties keep falling apart and my mix seems dry– how can I hold them together?
If your mixture seems too dry, it's probably because the lentils do not have enough mositure (maybe they were cooked too long?). To solve this, simply add a couple tablespoons of water, and a touch more if necessary. You'll know you have a good patty when you can roll it into a ball and it doesn't fall apart. To see this process in action, check out the helpful step-by-step video below.
Can I freeze these patties?
Absolutely! I have done this (as well as readers of BVK) with great success. I suggest wrapping each patty individually, and defrosting by frying lightly with oil in a frying pan. I do not use a microwave, but I imagine that would work fine too:)
Do I have to use smoked paprika?
Nope! If you can't find smoked paprika, regular paprika will do. The smoked paprika adds a bit of flavor, so if you want that smoky sausage feel, you can always add 1-2 teaspoons of your favorite liquid smoke.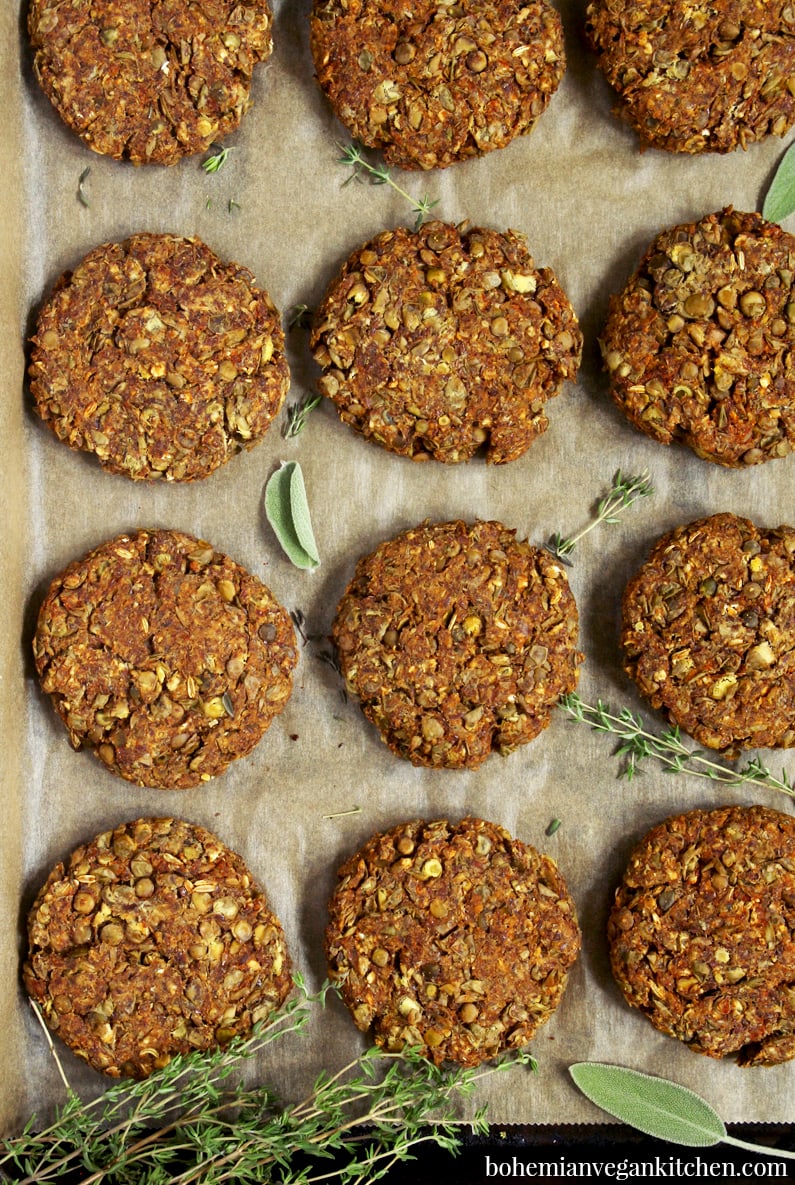 Allergy Information & Substitutions
These breakfast sausages are 100% vegan, meaning they are meat-free, egg-free, and dairy-free. They are also naturally nut-free, oil-free, and gluten-free (if you want your muffins GF, make sure to purchase gluten-free English muffins).
Make them soy-free by omitting the tamari OR using coconut aminos instead. Just remember that this may change the flavor.
I topped my sausages with Daiya American cheese, but you can use another vegan cheese of your choice.
See the FAQs for more on creating these vegan sausage patties.
"These vegan breakfast sausages were amazing!! They smells SO good the whole time that I slapped a piece of Daiya cheese on one as soon as they were out of the oven and ate it standing at the stove! They are WAY better than the real thing!!!! Yummy spices without the grease and gristle and you can taste them to adjust spices before they are cooked! Thank you for the recipe, I will be making these again and again!" -Christine
How to make vegan lentil sausage patties + video
What you need (for exact measurements, check out the recipe box below). To see the video, make sure your ad-blocker is disabled.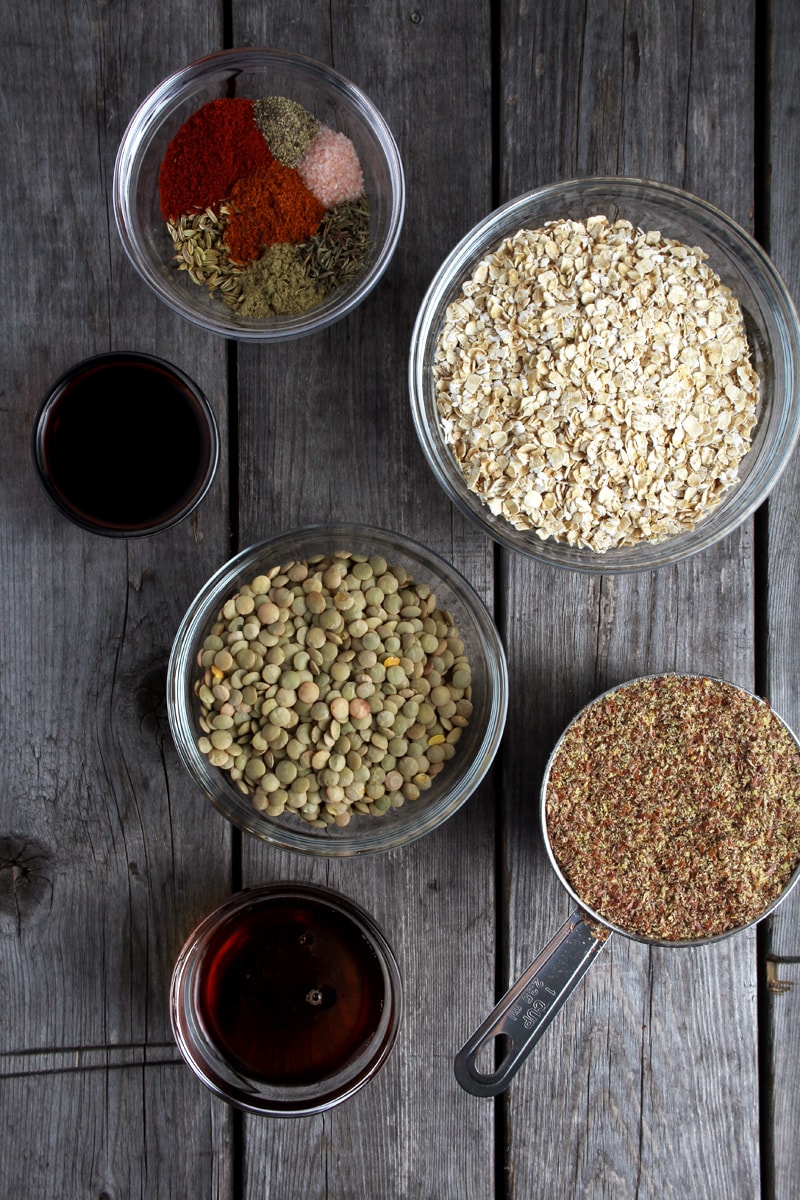 Lentils. I use classic brown lentils for the best texture + flavor.
Broth or water. For extra flavor, use a vegan beef or chicken bouillon cube.
Rolled oats. The smaller the oatmeal, the better your patties will hold together.
Ground flaxseed. This helps bind your patties and keeps them healthy and gluten-free. Yes, you really do need to use a whole cup.
Maple syrup. This adds a touch of sweetness, but is totally optional. Just keep in mind that if you leave it out, you may have to substitute with a splash of water.
Tamari sauce. You can also use soy sauce– tamari just keeps this gluten-free. If trying to do soy-free, swap this out for coconut aminos.
Spices: fennel seed, smoked paprika, sage, thyme, cayenne pepper, black pepper, and salt. These bring the flavor + feel of traditional sausage.
Extras: vegan cheese slices and English muffins complete this breakfast sandwich, but are totally optional.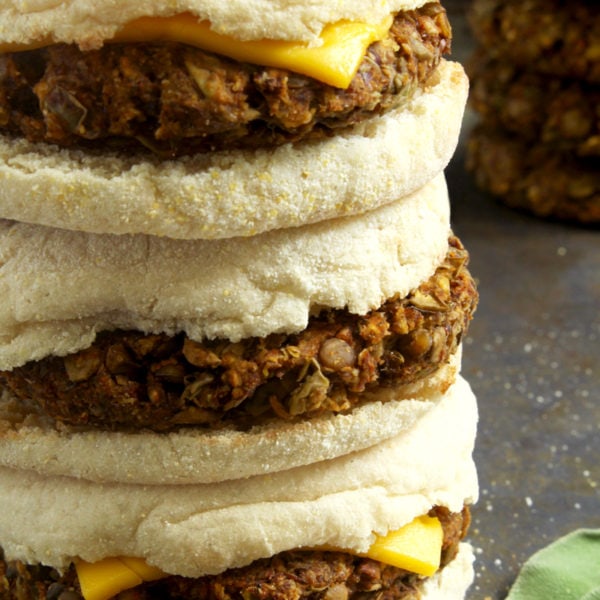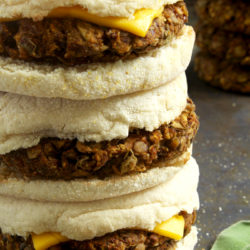 Vegan Breakfast Sausage (Lentils, Healthy, Gluten-Free)
This is seriously the best vegan sausage recipe EVERRRRR. Great on it's own or served on English muffins, now you can enjoy this classic protein-packed breakfast without all the junk. Naturally healthy, cruelty-free, nut-free, and gluten-free.
Ingredients
For vegan sausage patties:
1

cup

dried brown lentils

3

cups

broth or water

(I like using vegetable or vegan beef/chicken broth)

1

cup

rolled oats

1

cup

ground flaxseed

3

tablespoons

maple syrup

2

tablespoons

tamari sauce

2

teaspoons

fennel seed

2

teaspoons

smoked paprika

1

teaspoon

ground sage

1

teaspoon

thyme

½

teaspoon

cayenne pepper

½

teaspoon

black pepper

½

teaspoon

salt

( I use Himalayan pink salt)
Extras:
vegan cheese slices, optional

12

English muffins, toasted
Instructions
Rinse and sort lentils. Add to medium pot with broth and bring to a boil; cook on medium high for 15-20 minutes, until liquid is absorbed and lentils are cooked through.

Transfer cooked lentils to a medium mixing bowl and add the remaining ingredients. Mix until combined well. The mixture should be moist (for more on this, check out the video in post + the FAQs for tips).

Preheat oven to 400°. Using your hands, divide mixture into 12 balls, then shape into patties. Transfer patties to a baking sheet lined with parchment paper.

Bake for 15 minutes, or until lightly browned. If melting cheese on top, remove patties from oven after about 14 minutes and add cheese; return to oven for 1-2 minutes. Serve by themselves or with English muffins!
Notes
These breakfast sausages are 100% vegan, meaning they are meat-free, egg-free, and dairy-free. They are also naturally nut-free, oil-free, and gluten-free (if you want your muffins GF, make sure to purchase gluten-free English muffins).
Make them soy-free by nixing the tamari OR using coconut aminos instead. Just remember that this may change the flavor.
I topped my sausages with Daiya American cheese, but you can use another vegan cheese of your choice.
See the FAQs + video above for more on shaping these patties.
Nutrition Information
Calories:
171
kcal
|
Carbohydrates:
22
g
|
Protein:
8
g
|
Fat:
6
g
|
Saturated Fat:
1
g
|
Polyunsaturated Fat:
4
g
|
Monounsaturated Fat:
1
g
|
Sodium:
271
mg
|
Potassium:
320
mg
|
Fiber:
10
g
|
Sugar:
4
g
|
Vitamin A:
214
IU
|
Vitamin C:
1
mg
|
Calcium:
59
mg
|
Iron:
3
mg
Tried this recipe? Tell me about it + share!
Comment and let me know how it was! Then follow BVK on Pinterest @bohemianvegankitchen
Share this recipe with a friend by Email
Pin It!
Thank you for taking the time to invest in your health and happiness!