Cornbread stuffing is a southern staple.
And even though I was born down south, I never had it
once
growing up.
Perhaps that's because my dad is a damn Yankee and my mother is native to the only state named after a standardized test of basic skills.
Therefor, our Thanksgiving was more of a mod-podge of standard American dishes combined with whatever the grocery store was hawking that season, like red raspberry jello. Side note: I still love red raspberry jello (but vegan).
When it came to stuffing, my dad would actually stuff the turkey, in the same delicate manner you would stuff a toy bearskin. He did this because he said that's what stuffing is for. My mom meanwhile cooked the heart and gizzards in a saucepan of water over the stove. It smelled terrible.
What she did with them I don't know, because my memory fails me, but I'm almost afraid to ask at this point.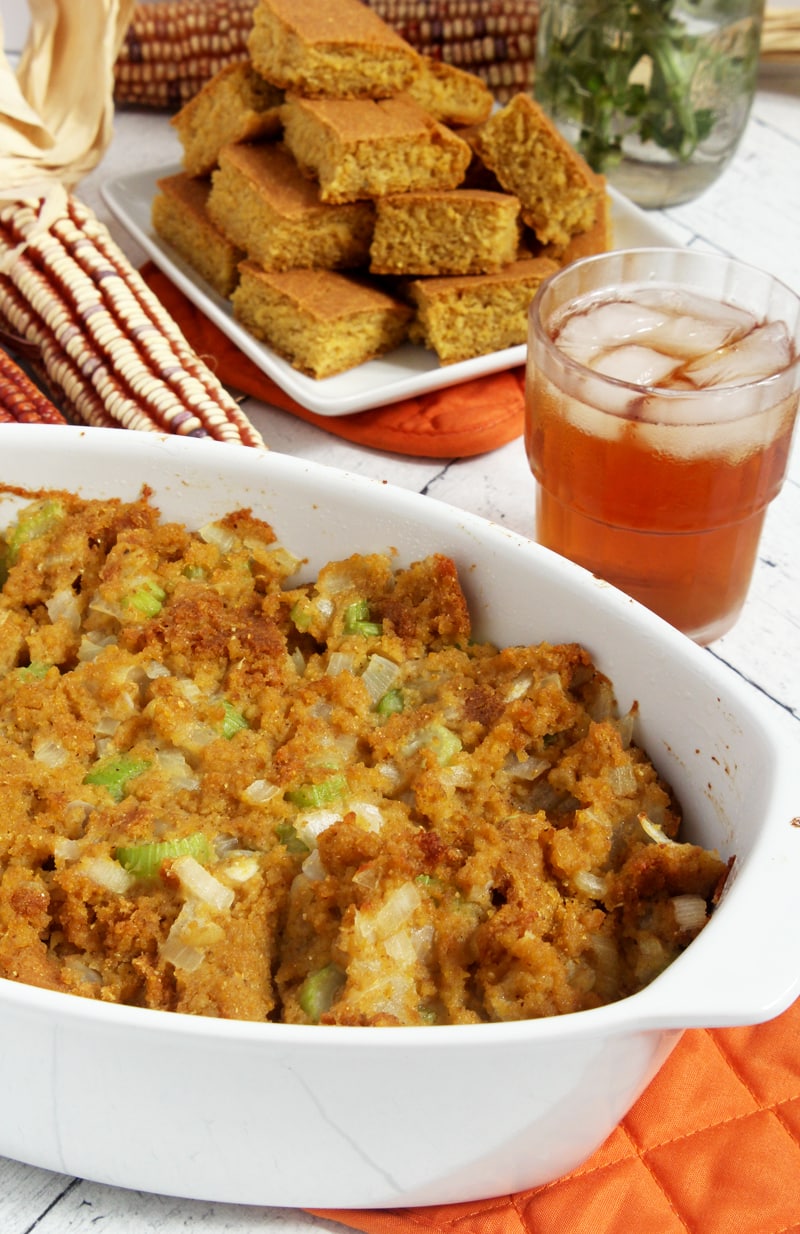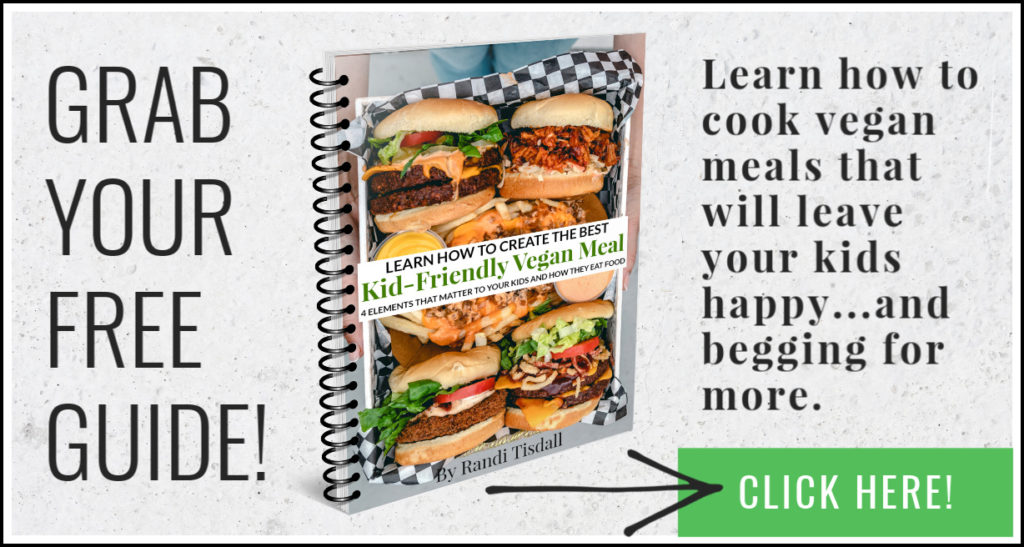 What I do remember though is the first time my husband showed up for Thanksgiving dinner, back when we were dating. Even though this new Thanksgiving was foreign territory, and he submerged himself in our customs just fine, the one thing he couldn't get over was the stuffing. His parents were also damn Yankees but never used stuffing to fill a turkey cavity.
Instead, his mom used a box of Stovetop stuffing (and I think she still does to this day).
I said Stovetop stuffing is like crunchy croutons, not stuffing. He said stuffing should be crunchy and not come out of a turkeys carcass.
Oh young love.
But even though our dietary preferences have changed over the years, my parents included, that doesn't mean we don't enjoy stuffing at our house.
Which brings me to cornbread stuffing, a dish that deserves a permanent spot in my Thanksgiving dinner. And if you're wondering, my hubby and I both agree it tastes amazing!
And BONUS: no turkey parts required.
Vegan cornbread stuffing that's also gluten-free!
Cornbread stuffing is the dish I never had for Thanksgiving growing up, but it's the dish I always want to have for Thanksgiving now.
Because amidst all the starch, sugar, and heavy on the gluten dishes served at the dinner table, this cornbread stuffing is free of refined sugars and naturally gluten-free. Using homemade cornbread with sauteed sweet onions and fresh celery takes this stuffing to a whole new level that you just can't get from using boxed cornbread, which is more like a crumbly cardboard.
But don't worry, making your cornbread is
a snap to pull together and tastes absolutely delicious, guaranteeing a win with this Thanksgiving staple.

Possibly the best part of serving this cornbread stuffing (besides the taste) is that no one would even know it's vegan and gluten-free if you didn't tell them, it's that damn good. Which is great, because you know there's always that one person on Thanksgiving who complains about veganism the moment they hear their favorite dish got a makeover.
Well, now you have the option of keeping the secret if you want. I promise I won't tell.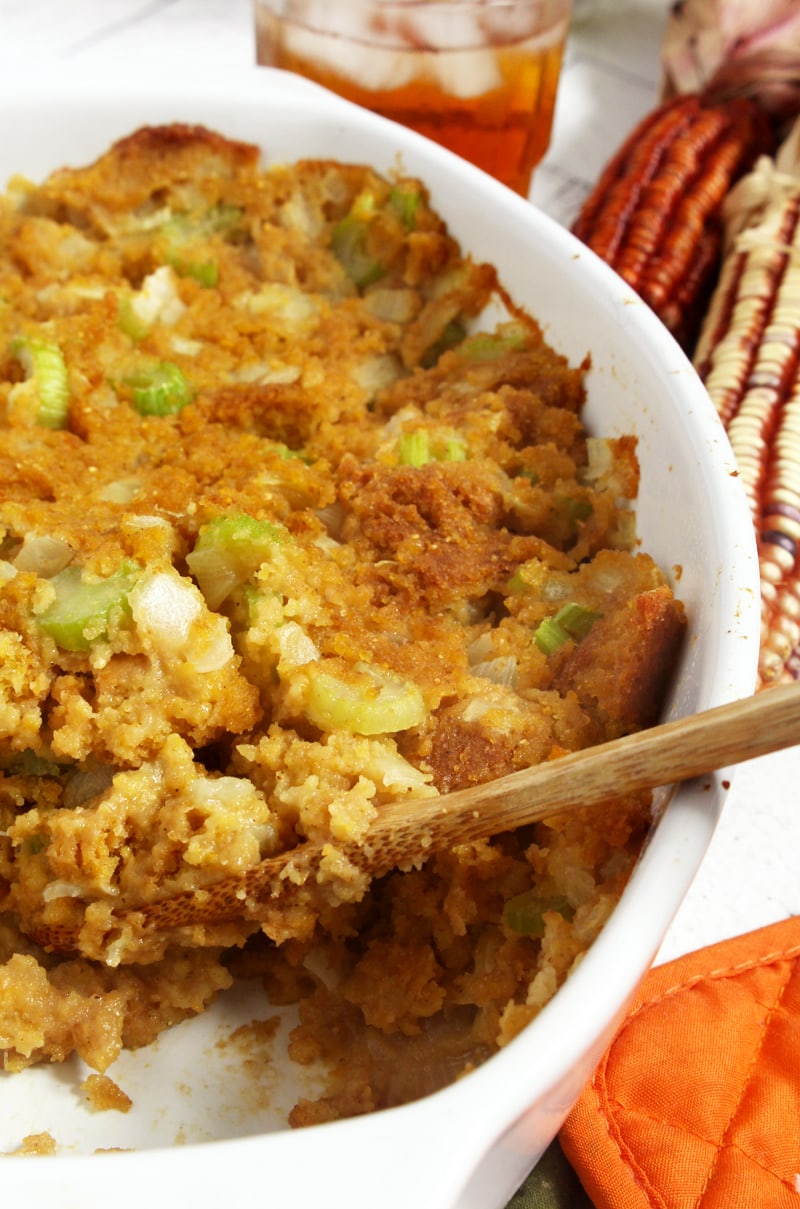 Allergy-Info & Substitutions
This cornbread stuffing is 100% vegan, meaning it is meat-free, egg-free, and dairy-free. It is also naturally refined sugar-free and gluten-free.
Need this to be made nut-free? Swap out the almond milk for another plant-based milk of your choice.
If you don't want it to be gluten-free, you could always swap out the gluten-free flour for regular unbleached all-purpose baking flour.
Want a little extra pop? Toss ½ C of dried cranberries in your skillet with the onions and celery for extra sweetness.
For another gluten-free vegan Thanksgiving dish, check out my no-bake vegan pumpkin pie by clicking here.
Want a good vegan Thanksgiving appetizer? Try my gluten-free cranberry vegan meatballs by clicking here.
I hope you enjoy this amazing vegan cornbread stuffing! Make sure to share your creation with me on Instagram by tagging me @bohemian.vegan.kitchen + using the hashtag #bohemianvegankitchen.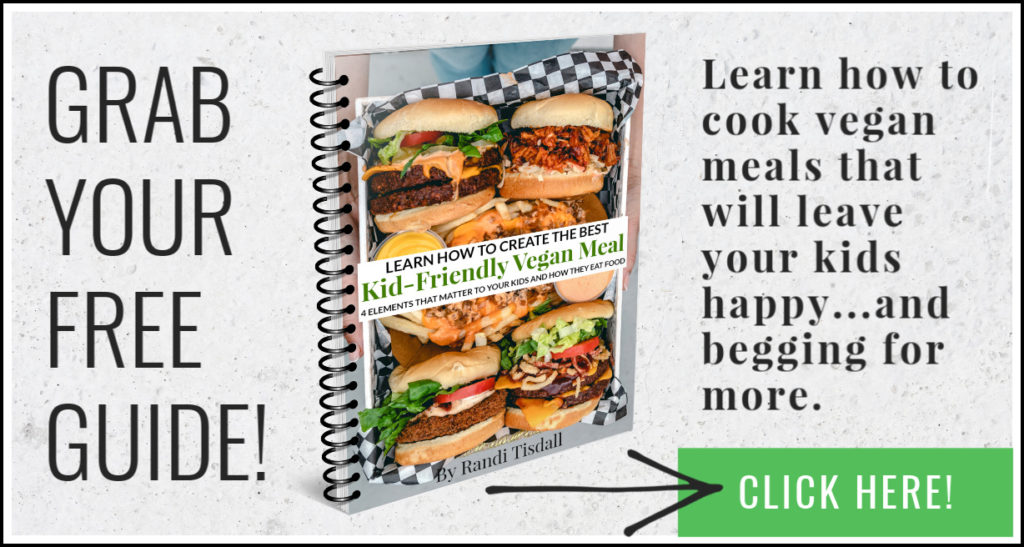 Need a delicious vegan and gluten-free dish for Thanksgiving dinner? Try this simple vegan cornbread stuffing, which is naturally gluten-free AND refined sugar-free! Easy to pull together, this cornbread stuffing is so good, no one will even know it's vegan.
Gluten-Free Vegan Cornbread Stuffing
Ingredients
For the homemade cornbread:
For the cornbread stuffing:
2

tablespoon

vegan butter

1

onion, diced

1

C

celery, diced
Instructions
First make the cornbread: Preheat oven to 425°. In a medium mixing bowl, combine dry ingredients (that's the first 7 ingredients) and mix until combined. Add in the remaining wet ingredients and stir until combined well- you can do this by hand with a whisk or with electric beaters. Grease an 8 x 8 baking dish with a touch of oil (or vegan butter) and pour batter into dish. Personally, I like to line my baking dish with parchment paper for easy removal. Pop in the oven and bake for 20-25 minutes, or until cornbread is slightly browned on top and a toothpick inserted into the middle comes out clean.


Once the cornbread is finished, remove from the oven and let cool on the counter for at least 20-30 minutes. In a large bowl, and using your hands, tear and crumble cornbread into bite sized pieces. Ideally, when making stuffing you want to leave out your bread overnight to dry out. This is totally optional! If you feel pressed for time, no worries! See the recipe notes below for more on this.


Once you're ready to make the stuffing, preheat oven to 375°. Heat vegan butter in a large skillet. Add in onions and celery, and saute for 3-5 minutes. Stir in your broth and bring to a boil. Turn off the heat and then stir in your cornbread crumbles until all the bread has been coated with the broth. Next, grease a baking dish (I used a 9 inch oval) with canola oil OR vegan butter. Transfer your cornbread mixture to your baking dish and pop in the oven for 20-25 minutes, or until the top of the stuffing is a nice golden brown.

Notes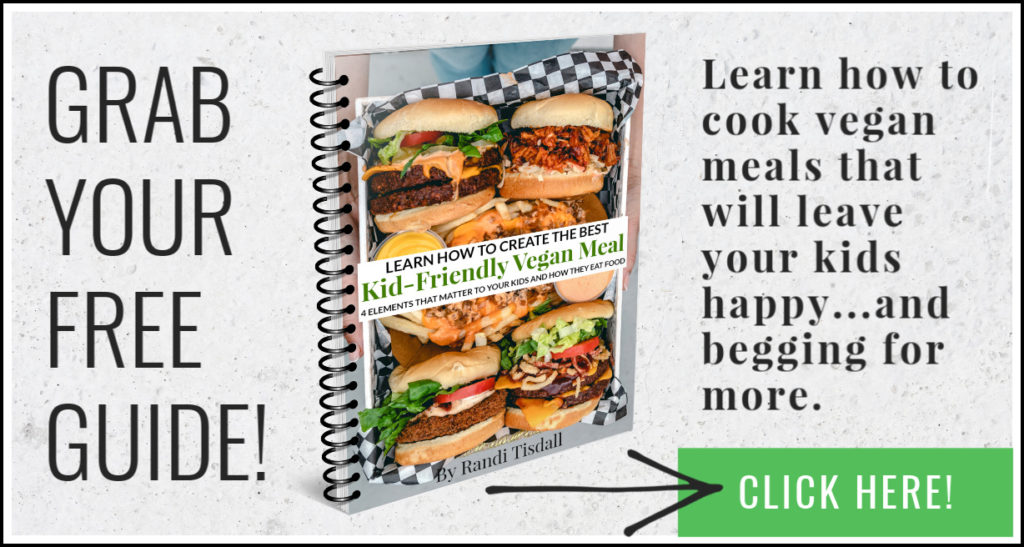 *Traditionally, stuffing is made with dry bread, which I like to do but I realize it's not practical for everyone. Please keep in mind that if you decide to make this all in one afternoon, your cornbread will not be able to hold the liquid in the same way it would if it was allowed to sit out over night. That being said, it really comes down to personal preference: if you prefer your stuffing to "soak up" the broth (and be a little more on the drier side), then you may want to allow a space in between for drying time. However, if you like your stuffing moist, you can go ahead and make this from start to finish in one afternoon. This stuffing will be a little "wetter" and resemble more of a dressing. I think it tastes good either way, so for me there is no wrong answer!
Tried this recipe? Tell me about it + share!
Comment and let me know how it was! Then follow BVK on Pinterest @bohemianvegankitchen
Share this recipe with a friend by Email
Pin It!
Thank you for taking the time to invest in your health and happiness!